Champions & #1 contenders
Seeking: Friction Spar Match
Mon Nov 20, 2017 6:40 am by Yori
Looking for a spar for
Alexa.
Howdy, I'm new to the forums and figured I should get my, and my characters toes wet with some good old fashion sparring. It can be a one off, or blossom into something else down the road for a friend/rival relationship. Alexa as a character is a fresh face, and an unrefined talent. I don't mind having someone at her skill level to have an event match, or someone superior to her to have a more one sided bout. I'm looking to use this regardless as a way to build …
[
Full reading
]
Comments: 1
Gonna be slow the next week or so... just had surgery IRL
Wed Nov 15, 2017 2:33 am by SleeperAgent94
Hey guys, got back from surgery today. Ruptured abdominal wall. In a LOT of pain right now, so posts will be VERY brief the next few days.
Comments: 6
Character updates.
Wed Nov 15, 2017 4:14 pm by Lotuswarrior
Since I'm starting to get a bit busier here, I'm trying to be a bit more professional. With that I'm going to overhaul my characters and update their profiles or release them all together. I'll post any images here of the characters I release, so that you guys/girls can claim them if you want.
Also looking for some characters to interact with outside of matches.
Comments: 0
Name: Neske Alapo
Sex: Female
Age: 21
Eyes: Green
Hair: Red (Dyed black currently)
Height: 5' 5"
Weight: 110 lbs
Nationality: Dutch
Alignment: Tweener
Entrance music:
Her own unnamed composition (in the real world: she- Electric Girl)
Wrestling Information
Preferred Attacks: Neske is essentially a lucky brawler, and more focused on her momentary opportunities than having favorite techniques.
Preferred Matches: She really doesn't give it enough thought to care, and she seems to be okay with anything.
Endurance: *****
Strength: **
Speed: **
Defense: *
Technique: **
Characteristics
Visual Appearance:
Neske in her ring attire, with her hair dyed black.
Neske in her street clothes, with her natural hair color.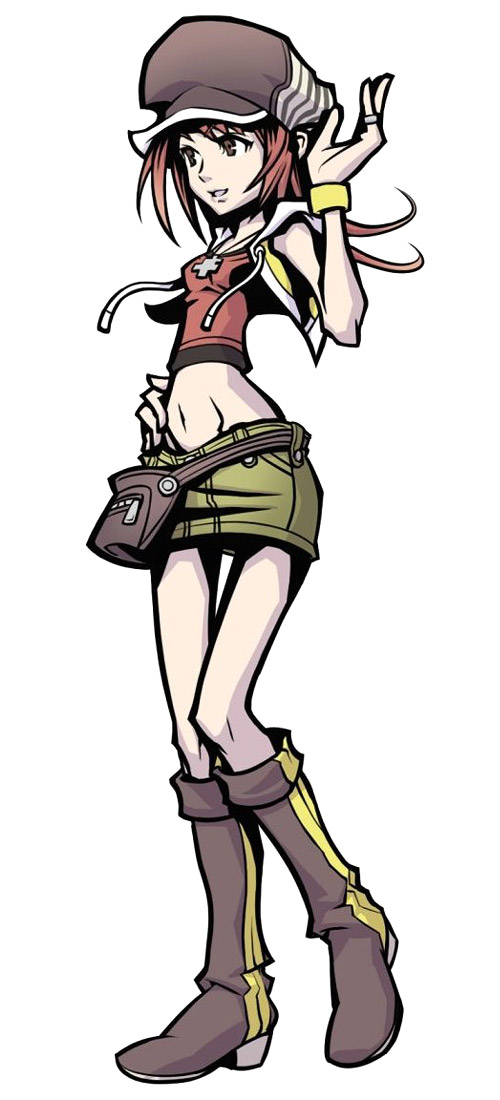 Neske at age 15.
Personality:
Neske is a very quiet and guarded girl to those she does not trust dearly, and this often causes her to come off as cold and unfriendly. There is some truth to that, too; she doesn't much care for small talk and if she feels you are wasting her time she will ignore you right then and there. To those she's closer to, however, it's like she's a different person. Perky and impulsive, she will jump on board something with just about no questions asked, which is how she ended up in the AFW to begin with. Despite this, she is a deep and perceptive girl, and her quietness has allowed her to sit on the sidelines and observe with an open mind. She's also a very sturdy girl psychologically, which has resulted in a strong tolerance to pain, as she can rationalize her way out of all but the most severe suffering.
Past/History:
Neske grew up in a boy's orphanage in the Netherlands, taken in by the owners after she was left on their doorsep. Despite this, her childhood was a happy one, and she was one of the few orphans to never really ask about her parents. Because she was the only girl there, many of the other orphans would protect her fiercely, which led her to become more quiet and reclusive by nature, only ever having (or really getting) to talk to those she grew up with. This also made her into a bit of a fighter, holding her own in the many scraps the other boys would get into. When she was 15, she was misdiagnosed with antisocial personality disorder, and this forced her into further seclusion, with most outsiders now even somewhat afraid of her. In her solitude, her solace was music, however, and in her teenage years it was next to never that she would be seen without a pair of headphones on. By the time she went off to live on her own, she needed money, and after spotting an ad for the AFW, and calling in a few favors, she took a flight to Japan, and began her new career in wrestling.
Fun Facts:
-Neske's main reason for joining the AFW is to kick-start her own music studio. Unfortunately, between her nervousness to get started and her poor spending habits, she always seems to be just out of reach of her goal.
-One of Neske's favorite parts of growing up in the orphanage was having so many brothers, as she would say. Of course, she was oblivious to the fact that more than a few of them saw her as more than a "sister," and more than a few people took notice of the fact that she didn't seem to be interested in any of them, or any boys at all, the same way.
-Having grown up with only boys (and getting more then her fair share of hand-me-downs from them), Neske tends to cross dress a lot. More often, she wears a mix of boys' and girls' clothing in a kind of haphazard mix. Despite this, though, she is actually quite conscious of fashion, and still tries to dress well.
AFW Information
Record:
Wins:
Losses:
Tag Team with Emily Blaskowicz vs Kohaku and Hisui Tokaji via Pinfall
vs. Akiha Kosha (Lightning tournament round 1) via K.O.
in 4-way cage match
vs Gabbie Desjardin (Tempest tournament round 1) via K.O.
Draws:
Championships/Accomplishments:
Friends:
Allies:
Rivals:
Enemies: Emily Blaskowicz
Crushes: Hisui Tokaji



Posts

: 1470


Join date

: 2015-01-05



---
Permissions in this forum:
You
cannot
reply to topics in this forum