Champions & #1 contenders
Highfly Flying Out Of Town
Tue May 22, 2018 1:31 am by HighFly
Hello everyone, I just wanted to inform all I have threads with that I will be gone from this coming Wednesday through Sunday. I won't be able to post consistently if at all during this time, but I will try to make up for it next week! I am sorry for the inconvenience to everyone.
Comments: 7
The Austrailian Mudslide is Back.
Sat Apr 21, 2018 6:20 am by Softsquad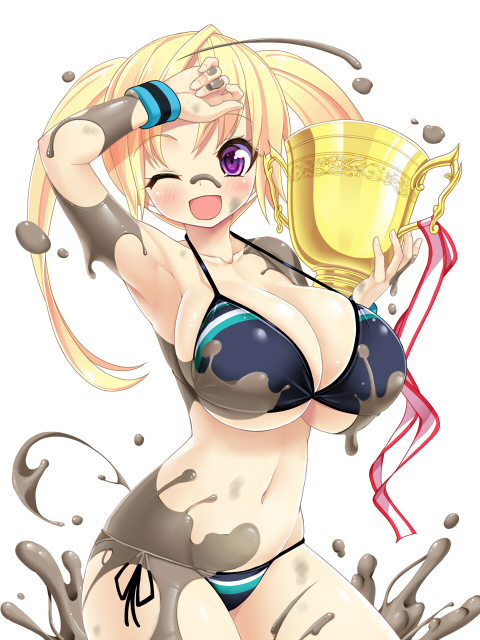 Granted that most of you won't know me or remember me, but I've had a few matches here and there some time ago. Well I think its time to become a regular around here and try to have some fun again, but at the same time keep coming back. Anyway I think its time to jump into some matches with Zoe Taylor, my mud wrestling character from Australia and get her back into the squared circle. Furthermore I will update my characters as I think some proper changes need to happen.
So if anyone would …
[
Full reading
]
Comments: 5
Page 5 of 12 •

1, 2, 3, 4, 5, 6 ... 10, 11, 12


"Nnghh..." Aira grunted as she fought a losing battle in trying to keep squeezing Minerva.

She needed to act fast. At best she only had seconds away before her hold was pried off, and then she'd be in problem again. Aira tried to turn them around, aiming to whip her opponent towards the nearest corner, thinking that should buy her some time. Unfortunately, it appeared that she didn't have as much time as she thought, or perhaps it's just exhaustion and everything else making her effort to toss someone bigger than her ineffective.

In any case, the short haired girl soon found herself being the one driven to the corner. She'd try to stop Minerva's advance, but it didn't take a genius to guess who's going to succeed here.

"Waaaahh...! Agh!" her lithe form crashed to the turnbuckle back first, and she'd slump there, her arms hung on the top ropes. "Uhhh..."
Minerva felt herself sandwiching Aira in between her back and the turnbuckle as she drove the smaller woman into the corner. Upon impact, the slender arms around the waist of the raven haired beauty untangled themselves from her, now moving to drape limply over the top ropes and keep Aira from falling in the corner.

Minerva turned to face her foe, grinning as she looked at the woman slumping before her. She cupped Aira's chin with her hand and leaned forward, lifting her opponent's head up while pressing her nice and tight against the turnbuckle. She then leaned her lips right in front Aira's, so that they practically touched. "Do you understand yet? You are hopelessly outmatched. You and your friend are nothing but toys for me to play with."

Emphasizing her point, Minerva would then once again press her lips to Aira's before sending her tongue forth to invade the woman's mouth. "Mmmmnh" she'd purr into the kiss, while her free hand would then creep up between Aira's legs. Slowly, it would then seek to snake into her bikini bottom to bring her hand right to her foe's wet pussy. And without any hesitation, two of Minerva's fingers would suddenly insert themselves into Aira's womanhood and begin to pump back and forth while probing her inner walls.
Aira desperately tried to push Minerva away from her once she felt less dazed, but her efforts were futile to say the least. The moment the taller girl turned around and cupped her chin while bringing their faces close to the point of almost kissing, she blushed deeply and gulped, her back felt a chilling wave from hearing her opponent's words.

"Gh... n-no way..." she tried to muster a little confidence, which was quickly melt again when Minerva leaned forward for another kiss. "Mmmm!"

She'd then feel the tall beauty's hand probing her nether region, and soon enough a couple of fingers were pushed into her moist sex. Aira moaned and writhed from the pleasure, unable to resist the sensation that quickly began to overwhelm her again. She did grab Minerva's wrist to try pulling the girl's hand away from her womanhood, but it felt like all her strength was already gone.

"Mmmmhhh....!"
Despite Aira's protesting, the woman seemed to be enjoying her treatment more than she'd probably like to admit. The moans she emitted into Minerva's mouth and the way her body squirmed under the raven haired beauty's touch was evidence enough of that, not even factoring in the increasing wetness between Aira's legs.

A hand grabbed onto Minerva's wrist, but its grip felt so weak against her that the tall woman almost laughed at the effort. She did break the kiss though, bringing her lips right by Aira's ear. "You see? It's futile. Just give it up." she said, giving her ear a lick. Minerva then began to kiss up and down all along her foe's neck, while her fingers continued to work on Aira's womanhood.

Knowing Haruka was still probably getting nice and flustered from watching them, Minerva began to add several sensuous moans of her own as she kissed Aira's body, while also picking up the pace with her fingers. She was going to try to push the trapped woman over the edge right there in the corner in front of her partner.
"Nnhh... n-no... ahh...!" Aira's protest was soon ended with her own moaning, her resistance crumbled almost instantly as she felt herself melting from Minerva's touch and words.

The short haired girl was now reduced to a writhing and moaning mess in her corner, and she felt her excitement quickly overwhelmed her frustration of being powerless. It was good to feel helpless, to let another beautiful girl having her way on her, and all those thoughts were helping the building of her arousal along with Minerva's increased pace.

"Haaaa....! I... mmhh... I'm going to...!!!" she cried in ecstasy, her back arched slightly, pressing her figure onto Minerva's some more while also thrusting the girl's digit deeper into her leaking sex.

Despite the blush on her face getting redder the longer she watched the action on the opposite corner, Haruka knew to take the cue. She shook her head, and after sneaking a glance to the refgirl who also seemed to be entranced by the sight of her partner being ravaged, she slipped herself between the ropes and rushed towards Minerva.

"Cavalry is coming!" announced the brunette before she attempted to shoulder charge the tall beauty from the side, aiming to shove the girl off her ecstatic partner.

Minerva had Aira right where she wanted her. Trapped, defenseless, and fully aware of Minerva's dominance over her. It was a beautiful sight as the smaller woman squirmed and moaned at the touch of the raven haired woman. She continued to work her tongue over Aira's body while her fingers thrusted into her soaking sex.

"That's it. Don't be shy. Let it all out." Minerva cooed, feeling confident she was about to be halfway to winning this bout. But there was one factor the Dane hadn't taken into account: Haruka. Each of her foes had opted to remain on the apron while their partner was in dire straights before, so a part of Minerva had just expected the brunette to stay in place and wait for her turn to be used like a good toy.

But that wasn't the case, and as she heard Haruka announce her arrival, Minerva glanced in the direction of the voice only to get a shoulder buried right into her side. "Ugh!" she grunted as the hit caught her off guard, causing her to stumble back and away from the corner, freeing Aira just at the last moment. "Tch..."

A brief moment of annoyance passed, then Minerva's expression was right back to its usual, arrogant, sadistic self. "How brave of you rushing in to save your partner, knowing she was just as utterly helpless against me as you were." she said to the brunette, a soft chuckle escaping her lips. "You know, I think this might be even more fun if I take you both on at the same time. Perhaps you might even present a bit of a challenge."

She then pointed to the ref girl to get her attention. "You there. You are not to disqualify or penalize these two for being in the ring at the same time. If you do, I promise you will suffer a fate many times more humiliating than what they will." The ref seemed to get the message, as a somewhat shocked expression formed on the woman's face. But Minerva just smiled before turning her attention back to the Dynamic Duo. "Now then, both of you, come show me what you've got!"
Aira already braced herself for what would be an explosive orgasm until she heard her partner's voice, which was followed with Minerva's fingers leaving her all too eager sex. She let out a moan of frustration and slumped all the way to her butt on the corner, and part of her was about to protest Haruka for what she did, although she was too exhausted at the moment to say anything.

Haruka expected some scolding from the ref, but their opponent silenced the official instead, while issuing a challenge for the both of them. She blinked her eyes in surprise, glanced at the ref who could only sigh, and then grinned at Minerva.

"Hmmph," the brunette snorted in amusement. "You might regret this, hun~ But so be it," she said gleefully.

Haruka wasn't so dumb to think that the match would be a walk with both of them taking on Minerva at the same time. Their opponent was strong after all, and was more than capable to toss them around individually as she had proven before. Both her and Aira were already exhausted while Minerva barely took ant damage as it was. Even so, this should make the match a bit more interesting.

Knowing that her partner still needed some time to be able to stand up again, she decided to position herself between Minerva and the corner where Aira was, going defensively for a change.

"Bring it on, then!"
It was quite amusing watching Aira slump down in the corner, with a look of frustration on her cute features. One would think she'd be thankful to Haruka for saving her from being eliminated from the match, yet the woman just looked more like a child who'd had a piece of delicious candy taken from them.

Minerva gave a soft laugh as Haruka answered her challenge with confidence. "Is that so? Well then, by all means, do try to make that happen." she replied. The numbers game would almost certainly become more of a factor now than it had been earlier in the bout, but the raven haired beauty still didn't doubt for a moment that she was up for the challenge.

She then watched as Haruka moved to stand in between Minerva and Aira to defend the woman. "Protecting your partner, huh? How noble. But I'm afraid it won't make a difference."

Whether Aira had begun her ascension back to a vertical base or not, Minerva would then make her move. Bolting forward, the raven haired beauty charged as fast as the could directly at Haruka in an attempt to plow her shoulder into the woman's stomach with a spear. But that wouldn't be all. If she managed to ram into the brunette, she'd continue her momentum in an attempt to drive Haruka back into her own partner, aiming to sandwich Aira in between the brunette and the turnbuckles.
Haruka just kept grinning even after hearing Minerva's taunts. She did manage to trouble her taller opponent for a bit before their strength difference played part after all. The brunette didn't really think that she's far too inferior to Minerva, even if her partner might considering her lack of experience.

That resolve soon faced a test as Minerva charged forward. Haruka readied herself, and once her opponent was close enough, she'd move to the side and drop down to her knees to avoid any potential collision with the bigger girl. That didn't mean she's sacrificing her still weakened partner on the corner, though, as her intention was to swipe Minerva's legs, aiming to trip the girl down before she could go any further. Hopefully, her opponent would fall right in front of Aira instead of crashing onto her.
Minerva's charge was intended to force Haruka to make a difficult choice in a small amount of time. Either she could take Minerva's attack head on herself and try to stop her from driving into her partner in the corner, or she could save herself by moving out of the way and letting Aira take the fall. On paper it seemed like a pretty good plan. Best case scenario, she'd take them both out together. And at worst, she'd negate their numbers advantage. Or at least, so she thought.

What she didn't count on was for Haruka to think well enough on her toes and under pressure to completely foil Minerva's plan altogether. But that's exactly what happened. Haruka dove aside, leaving Minerva to think she was going to be crashing right into Aira, doing away with any recovery she'd been allowed to make in the corner. Instead, one of Haruka's legs swiped Minerva's legs right out from under her, and a look of surprise overtook the raven haired beauty's features for a brief moment as her body fell to the mat.

"Ugh!" she grunted as she came crashing down like a tree that had its trunk chopped away. Solid as her gameplan had seemed, Minerva had failed to hit either of her bikini-clad adversaries. But even worse, she'd been brought down right in front of Aira, with Haruka no doubt close by as well.
Page 5 of 12 •

1, 2, 3, 4, 5, 6 ... 10, 11, 12


---
Permissions in this forum:
You
cannot
reply to topics in this forum