Champions & #1 contenders
Highfly Flying Out Of Town
Tue May 22, 2018 1:31 am by HighFly
Hello everyone, I just wanted to inform all I have threads with that I will be gone from this coming Wednesday through Sunday. I won't be able to post consistently if at all during this time, but I will try to make up for it next week! I am sorry for the inconvenience to everyone.
Comments: 7
The Austrailian Mudslide is Back.
Sat Apr 21, 2018 6:20 am by Softsquad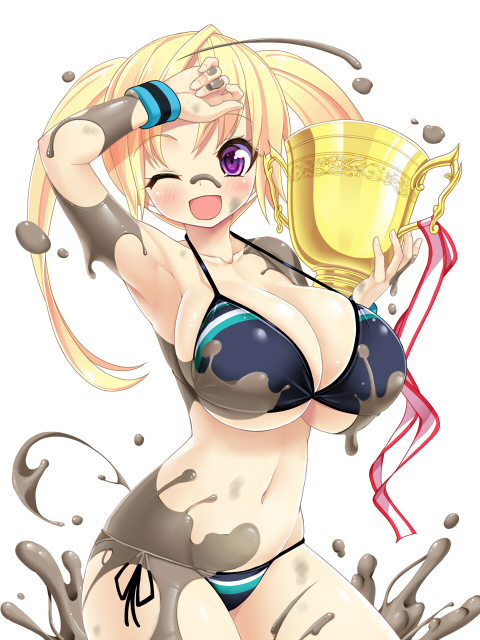 Granted that most of you won't know me or remember me, but I've had a few matches here and there some time ago. Well I think its time to become a regular around here and try to have some fun again, but at the same time keep coming back. Anyway I think its time to jump into some matches with Zoe Taylor, my mud wrestling character from Australia and get her back into the squared circle. Furthermore I will update my characters as I think some proper changes need to happen.
So if anyone would …
[
Full reading
]
Comments: 5
Page 1 of 12 • 1, 2, 3 ... 10, 11, 12


Hentai Elimination Match
Rules: A wrestler that has an or orgasm will be eliminated from the match.
        Striking is not allowed.
Victory Condition: Win by eliminating all opponent.

It's time for another match in the AFW and the arena's lights were dimmed significantly before the Dynamic Duo's theme was played on the speakers, much to the curiosity of the spectators. The name was a recent addition to the league's rosters, and having a new tag team was always nice since you got to see two or even more girls instead of just one. By the time the lights returned, the sight of a brown haired girl in pony tail and a short raven haired girl in their black bikini set was more than enough to prompt a loud cheers from the stands. They're both relatively small in comparison to AFW regulars, but that didn't really matter for the audience.

The brown haired girl looked more confident than her slightly taller partner, crossing her arms under her chest and smiled confidently to the crowds. The raven haired girl seemed a little uncomfortable on the other hand, but she did her best to muster a confident expression while placing a hand on her hip.

"Haru-chan... this is a bit embarrassing..." said the raven haired girl in a whispering tone.

"Oh, don't worry about that, Ai-chan~" replied her partner casually. "You just need to get in that ring and see some action to ease your nerves, heh~"

"Ugh, if you say so..."

Both girls proceeded to walk towards the ring, Haruka waving around to the crowds cheerfully while Aira was a bit more meek in her reactions. The whistling and stuffs didn't really help her nervousness, but at least she had her partner right next to her. Everyone probably had experienced this at some stage anyways, or so she tried to tell herself.

Once they slipped themselves into the ring, the Duos would wave around some more to the audiences, before settling on their corner to wait for the arrival of their opponent. Haruka was pretty excited and eager to meet whoever it was that would come out on the ramp, while Aira was hoping that it'd be an easy match to get a boost of confidence. This wrestling business was still relatively new to her, however, so getting someone just around her level might need a certain amount of luck, or so she thought. Still, she intended to give her best in her starting match.
Moments after the music of the debuting team died down, the silence in the arena was again broken as Minerva's music played, beckoning the entrance of the Danish amazon. Minerva stepped through the curtain and onto the stage to a moderate reaction, with many fans still unsure of how to feel about her following the few matches she'd participated in thus far. But the audience wasn't what was on her mind at the moment. Clad in a blue and white striped bikini and a blue coat, Minerva smirked as she began to walk down the aisle toward the ring.

The two women who awaited her in the ring were cute, no question about it. But not for a single second did any doubt creep into the confident amazon's mind, even with her opponents outnumbering her. She quickly noticed how one seemed nervous to even be there, while the other was brimming with joy as they stood together in the ring. Already the wheels in sadistic Dane's head were spinning, as she thought of all the different ways she could break the confidence of one woman, and exploit the meekness of the other.

Her piercing gaze never once left the two women as Minerva walked up the steps before stepping between the ropes to enter the ring. And rather than moving to her corner, she walked right up to her opponent, practically trapping them in their own corner as she towered over them. She wanted the duo to show them just how small they were in comparison, using her very stature to try to get in their heads a bit before the match had even started.

Her arrogant gaze slowly shifted from one back to the other as she took a good look at both women, before a small chuckle escaped her lips. "Good luck tonight." she said, her expression taking subtly turning more sinister as she looked at Aira again. "You're going to need it. That I guarantee."

Minerva then finally went into her own corner and removed her coat, setting it outside the ring. And as she turned around to face the duo standing across the ring from her, Minerva waited patiently for the bell to ring and to see which of her opponents would be the first to try to stand against her.
The arrival of their opponent slightly surprised the duo. There's only one wrestler coming out from the entrance instead of a team. Haruka even blinked her eyes a few times to make sure that she saw it right. Granted, the girl was bigger than them, and looked quite menacing on top of being beautiful, but number advantages could play a vital role.

"Interesting..." the brunette muttered.

She kept her confident smile while their opponent approached them on their corner, while Aira seemed to be slightly intimidated by the presence of the bigger girl. There's just something about that smile that got to her nerves. Despite being outnumbered, their opponent seemed to think that she was the predator in this ring. That bigger stature of hers without a doubt was the source of that confidence, and Aira sensed that it's not just that.

"And so do you, I think~" Haruka replied to the words of the taller girl, before glancing at her partner as their opponent left them. "I'll take her first, so you can do your thing on the sideline, heh~"

Aira gave a nod and slipped herself out of the ring while her partner skipped forward to the center, giving her taller opponent a naughty look. Haruka rarely tried to intimidate anyone, preferring to treat a match as fun and games instead of being too overly serious about it.

"I'm Haruka," she'd say to her opponent once they met in the center of the ring, before raising her arms up for a lockup invitation despite their size difference. "Even if you're alone, me and Ai-chan aren't going to take you lightly!" she taunted playfully.
Minerva merely giggled at Haruka's reply and watched as Aira then moved out onto the apron. The taller woman had never thought of herself as one who relied on luck to win her battles. And she was simply far too arrogant to change that way of thought today, despite being outnumbered.

Once Haruka made her way out to the center of the ring, Minerva walked out to join her, carrying herself with elegance in each step as if she were some kind of royalty. "Minerva." she replied, introducing herself after Haruka had done the same, before raising an eyebrow as her foe lifted up her arms for a lockup.

"Do you honestly expect to overpower me? How adorable." she said with a chuckle before tying her own arms up with Haruka's to complete the lockup. "It's wise to take your opponents seriously. However..." She then attempted to drive forward to push the smaller woman right back into the set of ropes behind her.

"By the end of this match, you two won't just respect me. You will fear me." She'd say, her sadistic nature and intents making themselves perfectly known both in the tone of her voice and the expression she wore on her features.
"Woaah...?!" Haruka yelped as Minerva immediately used her physical advantage by pushing her backwards the moment they locked their hands together.

She actually expect her opponent to play around at first, but this wasn't a completely unpredictable outcome either. The brunette just grin at the taller girl while trying to hold her ground as much as possible even if she's probably just slowing Minerva down at most.

"Hmmphh.. we'll see about that..." she replied cheekily, before suddenly twisting herself to the side.

Hoping to disrupt the taller girl's momentum, Haruka would try to break the lock up and whip Minerva to the ropes behind her instead. She'd charge forward as well, not wanting to give her opponent too much room and time to prepare herself should her move worked, aiming to dive low and scissor Minerva's legs to trip the girl to the mat face down.
Minerva couldn't help but give a slight chuckle in amusement as Haruka kept her confidence up despite being immediately pushed back in the lockup. But, using the raven haired amazon's momentum against her, the shorter woman then twisted aside and managed to whip Minerva into the ropes.

And as she came running back toward Haruka, she found the woman was already rushing right at her. And before Minerva could effectively react, her foe had already dove for her leg, and the tall woman quickly came falling down right onto her front. She managed to get her arms out in front of her to ease the impact. Naturally she wasn't pleased about being brought off her feet so quickly, but Minerva was still far from being worried.

"Sneaky little..." she muttered under her breath, already starting to pull herself back up toward a vertical base almost immediately after taking her fall, while also patiently waiting to see how Haruka would attempt to follow up the speedy takedown.
"Nice one, Haru!" Aira cheered from the corner as she saw her partner took down the tall Minerva smoothly.

Haruka might be small, but she knew how to use that to her advantage at times. The brunette just grinned as she watched Minerva starting to get up, having a plan of her own to keep her opponent down. She'd jump on the back of Minerva, aiming to splash her rear and sit on the tall beauty's back to knock some air of the girl.

The next part of her plan was to apply a Camel Clutch by locking Minerva's chin with her hands, but she could only do that if her splash was successful.

"Hyaahh!"
The initial takedown alone might not have been all that troublesome, as Minerva was already picking herself back up. But that wasn't where the brunette stopped, and Haruka's weight suddenly came crashing onto the back of the raven haired beauty.

"Ugh!" she grunted as her torso was pushed right back onto the mat again, and a bit of air was driven from her sails. Fortunately, Haruka wasn't a particularly large opponent, so the impact wasn't too terrible to bear. But she still had yet another problem on her hands, as her arms were then put into a camel clutch by the feisty woman.

"Aggh! You little pest!" Minerva grunted as she was being stretched back in the hold. This was a match that couldn't be won through submission, but the amazon was still irked that Haruka had managed to get this sort of early advantage. But she remained calm, and wrapped her arms around the thighs of the woman on top of her. Aiming to use her superior strength to her advantage, Minerva would then try to get her legs under her and begin pushing back up to her feet, all while carrying Haruka's weight on top of her.
"Hey, now, that's not very nice of you~" Haruka scolded playfully with a faked pout as she heard Minerva's words.

She kept her hold nice and tight, slightly stretching the back of her opponent by leaning backwards a bit more to make things difficult for the tall beauty. The brunette then felt Minerva forcing herself to get up while carrying her on the back, which made her eyes blinked in slight surprise.

On the hindsight, she probably shouldn't given that her opponent already demonstrated her strength during the brief lockup they got tangled in earlier. Haruka decided to let go of the clutch and attempt to get off Minerva before the girl could full stand up, not wanting to fall victim to a possible slam or anything that might follow up.
"Urrgh!" Minerva grunted in pain as Haruka leaned back and stretched her out in the camel clutch. But fortunately, she was soon on her way back to a vertical base. The extra weight on her back almost didn't even seem to slow the amazon down as she went.

Once she was almost back to her feet, Haruka wisely let go of the raven haired beauty and dropped off of her back. There were lots of things Minerva could've done with someone as light as her, but any and all of them would've ended very badly for the shorter brunette if they'd been allowed to happen. So for the moment, she'd avoided what could've been an early catastrophe for her team.

But Minerva wasn't about to just let her off the hook so quickly. And as soon as Haruka dropped off of her, the tall woman turned and whipped her arm around to try to catch her foe in a headlock. "Believe me. Me not being 'nice' is the least of your concerns right now." she'd say, before then attempting to throw Haruka toward the ropes on the opposite side of the ring with an Irish whip.
Page 1 of 12 • 1, 2, 3 ... 10, 11, 12


---
Permissions in this forum:
You
cannot
reply to topics in this forum