Champions & #1 contenders
The Austrailian Mudslide is Back.
Sat Apr 21, 2018 6:20 am by Softsquad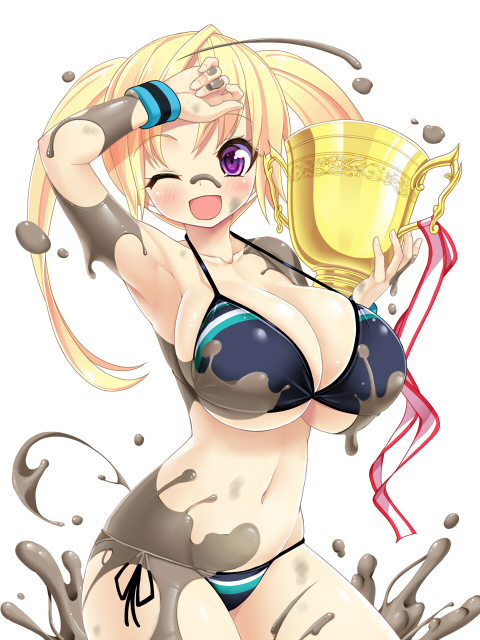 Granted that most of you won't know me or remember me, but I've had a few matches here and there some time ago. Well I think its time to become a regular around here and try to have some fun again, but at the same time keep coming back. Anyway I think its time to jump into some matches with Zoe Taylor, my mud wrestling character from Australia and get her back into the squared circle. Furthermore I will update my characters as I think some proper changes need to happen.
So if anyone would …
[
Full reading
]
Comments: 4
Looking for debut thread.
Sat May 12, 2018 9:28 pm by Hedgehawk
Hello All.
I am looking for a debut for my girl Trinity (http://www.afwrpg.com/t18107-trinity-cordova#495678).
This doesn't have to be a match, it could be a gym battle, interview or anything else. I just want something to help get Trinity off the ground. If you wanna plot feel free to reply to this message or fire me a PM.
Many thanks in advance and thank you for reading my message,
Hedge
Comments: 0
Page 6 of 7 •

1, 2, 3, 4, 5, 6, 7


The referee finally moved in to do her job and tell Mariko off, but it didn't make a difference this time - by the time she was close enough, Mariko had finally let go...only to blast Divine was with a deep and punishig knee to her stomach. It folded her in half at the waist and she gasped and wheezed as she bent forward with her mouth agape, and a thin line of saliva started to drip from her mouth. Divine felt markedly less sexy, all of the sudden. And she'd volunteered for this. Shit.

Divine started to fall forward, just wanting to sink to her knees so her wobbly legs wouldn't have to support so much weight, but Mariko wasn't having any of it. She kept Divine close. Kept her standing. And the next thing she knew, Divine was being wrapped up in what appeared to be the start of a suplex. She thought Mariko was trying to catch her off guard, that it was a trick, that she couldn't possibly be strong enough to pull it off.

She was wrong.

"Fuck!" She cried out as Mariko sent her sailing through the air and she came crashing down on the back of her skull, getting a clear view of all the cheering fans along the way. She couldn't hear them, though - her head was pounding too hard for her to make out coherent sounds.

Screw it, this match was turning into a giant pain in the ass. Divine started to pound her fist into the mat as she rolled from side to side - not tapping out, just pounding the canvas, like she was knocking on a door. The referee just looked at Mariko and shrugged, not quite sure what to make of it.
The back of Divine's head came crashing onto the mat, and the crowd went crazy. It may not've been the facesit they were waiting for, but that huge impact off of Mariko's suplex was still more than enough to get them cheering. Although, the crowd wasn't on her mind at all right now. But the Brazilian who'd threatened her beloved brother sure was.

The woman seemed to be in a pretty good amount of pain as she banged away at the mat. Something about it seemed peculiar, even unnatural. Perhaps Divine just wasn't used to being thrown around quite like that. Either way, she was down, hurting and vulnerable. Just the way Mariko wanted her. Time to put this bitch down.

Quickly making her way over to Divine's body as the woman rolled from side to side, Mariko lifted a boot and stomped it right down on the Valkyrie's chest to hold her in place while glaring down at her floored foe. And from there, she'd suddenly drop straight down to bring her thong-clad pussy crashing right onto Divine's face, with her shins pinning down the woman's arms. No warning, and no chance to let her take any deep breaths this time. "Be a good little slut and hold still for your mistress."

Holding Divine in virtually the same position she'd had Mariko trapped in moments ago, the Japanese woman would begin to grind her pussy nice and roughly against the Valkyrie's pretty features, while making sure she always kept some of her weight over the woman's mouth and nose to make sure she couldn't breathe. She'd already inflicted a good amount of pain on her opponent, now she wanted to add as much humiliation as possible as she tried to put her away.
Pain raged through Divine's skull as she rolled around the mat, her eyes screwed tight from the immense pain. A suplex. She could still barely Mariko even pulled that off. Where did she get the power to throw that kind of move with a frame like hers? It was insane.

She banged away on the canvas. "Come on..."

When the lights dimmed and Mariko's stood over her, Divine knew that only bad things were about to come, and she was proven 100% correct when the boot came crashing down on her chest, pinning her to the floor and riding down her struggles. She let out a long, agonized wail as the heel cracked her bones...or she started to, anyway. Most of the cry was cut off by all the ass in her face, as Mariko unceremoniously came crashing down.

Divine banged away on the canvas, even harder, as muffle curses were lost in Mariko's pleasing flesh.

She broke into a feverish fury as Mariko began grinding away on her head, aggressively mashing her face and making sure that Divine was intimately acquainted with every inch of her pussy. Not being able to breathe was actually the least distressing thing about it, and Divine was fully aware of the irony here. She'd done the same move to countless girls and guys before. Loved it. And now she was on the receiving end of one of the roughest facesits she'd seen in her life.

Divine madly banged away on the canvas, hitting so hard she almost thought her hand would crack

The referee finally came over and kneeled by Divine's head, making sure to stay far enough away that Mariko's bucking wouldn't be interrupted. "Are you trying to tap?"

Divine let out a screech into Mariko's pussy and glared at the referee, only to squint hard a moment later. After all that ruckus, all that noise, she finally opened her hand and tapped out properly, and the referee immediately signaled for the bell.
The wail Divine let out as Mariko's boot stomped onto her chest was music to the Japanese woman's ears, but it wasn't nearly as pleasing as what immediately followed. She came crashing down right on top of the Valkyrie's pretty face and immediately began grinding her pussy over the woman's features, causing all of her moans and screams to be muffled wonderfully underneath Mariko's weight.

"What's the matter? Not having fun down there?" she taunted as she continued to rock herself roughly over Divine's face and smother the woman. Struggle as she might, Mariko had a nice and secure position and wouldn't be thrown from it so easily. It certainly was ironic that the Valkyrie was being made to suffer in a position she'd put many others through before, though that irony was lost on the Japanese vixen. As far as she was concerned, this woman deserved every bit of what she was getting and then some.

Divine's hand began to smack on the canvas, and the ref girl knelt by Divine and asked if she wanted to surrender. And when the Valkyrie screeched into Mariko's thong-clad pussy in response and glared at the ref, the Japanese woman almost laughed at her foe's fury and discomfort. But a moment later, Divine tapped out, and the bell rang to bring the match to an end.

Mariko's music began to play over the speakers again, and though she stopped bucking and grinding on Divine's face, she didn't immediately get up. She stayed seated on her throne for a few more seconds just to enjoy that feeling before sliding back into a very high and tight schoolgirl pin, with her pussy pressing up right against the underside of Divine's chin as Mariko looked down at her defeated foe. "Don't you ever threaten my brother again, or I will make you regret it. Understood?"
The bell rang, the crowd cheered, Mariko's music played and Divine took in long gulps of air as she was allowed to breath fresh air again - as fresh as the air could get this close to Mariko's pussy, at least. She wasn't in danger of suffocation anymore, but that didn't mean she was clear of the woods - she still had one extremely pissed Japanese girl sitting on her neck, right above her completely prone face, pinning her down for all the world to see.

She gritted her teeth as Mariko gave her a peach press, thrusting her hips right into her chin and continuing her show of dominance. Divine sincerely hoped the bitch was enjoying her moment in the sun, because she had the strong feeling it was about to come crashing down right on her purple-haired head. "Yeah, bitch." She growled through her teeth, not even able to open her mouth all the way to retort. "I understand."

Divine was so confident because she could hear the audience booing, and she realized that could only mean one thing: her partners were joining the fun. Way later than they agreed on, but she'd take it.

Mako burst out from under the ring apron with Stone right behind her, clad in her biker outfit and wrapping her bike chain around her wrist as she went. She rolled into the ring and ran straight towards the center, dashing at full speed. Mako pushed the referee out of the way and swung her chained-covered fist towards the center of Mariko's back, hoping to take her down before she could put the pieces together.
The crowd cheered on as Mariko's victory was declared, but the Ishii sibling was completely ignoring them, and wasn't celebrating just yet. She was still sitting on her pinned foe's slender neck, pressing her hips right into the woman's chin just to show her how in control Mariko was. She wanted to make sure Divine understood not only that Mariko was dominating her, but also that she was someone you didn't want to piss off.

"Good girl." Mariko said as Divine answered through grit teeth. And it was right about that time that the crowd suddenly started booing. And this was one of those rare times it would've paid off to know for certain whose side they were on. Mariko still hadn't let her opponent up after the bell had rung, after all, so initially she just assumed the crowd was voicing their disapproval of her actions. How wrong she was.

The sound of approaching footsteps and the ref girl getting thrown to the mat caught Mariko's attention, and she started to look behind her when-- *BAM* Mako's steel-covered fist crashed right into the center of Mariko's back. "Aagh!" she shouted out in agony as the punch launched her forward and off of the Brazilian, bringing her crashing down onto her front on the mat. She winced as the lingering pain rocked her spine, and moved a hand over the spot that had been struck.

"What the hell...?!" she started, but answered the question for herself when she glanced back and now saw the other two Valkyries had joined them in the ring. Seeing the steel chain wrapped around Mako's fist and wrist, two and two were quite easily put together. "Shit..." she muttered, having a feeling this situation was only going to get worse before it got better.
Divine stayed on the canvas for a few moments after Mako knocked Mariko clean off her, rubbing her neck and wiping her face. She'd taken for granted her ability to breath without a Japanese woman sitting on her neck, and she wanted to savor the feeling. But after the moments passed and she cleared her throat with a few coughs, she sat up and glared at her fellow Valkyries, ignoring Mariko for the for moment.

"Fucking finally! Jesus Christ!" She threw her hands up and banged her fist on the mat. "This!" Bang! "Was!" Bang! "The signal! How did you miss that?"

"We didn't." Stone shrugged as she walked past Divine and came up behind Mariko. "Mako caught a stream of the match on her phone, thought watching you squirm was funny." She couldn't resist a snicker and a smirk herself. "To be fair, it really was."

"Oh, fuck you both." Mariko grabbed the nearest rope and started to pull herself up. "Kiss my ass, seriously."

Mako, of course, found that even more hilarious, and showed it with a loud laugh, way louder than you'd think a girl her size could make. "Sure thing. You gonna give us tips?"

While Mako and Divine went at each other, Stone reached down and lifted Mariko up with ease, then tried to put her in a tight reverse bearhug to secure her arms and hold her still. "Come on, let's get this over with."
Mariko's chest heaved as she tried to catch her breath while watching the Valkyries talk amongst themselves. Adrenaline and anger had been the driving force behind her in the final stretch of the match, but now that that was dying down, her fatigue made its presence more known. And that blast of steel right to her spine certainly wasn't doing her any favors either. She'd taken some shots in the past, but none of those were assisted by a steel chain. It fucking hurt, and that was an understatement.

Honestly, hearing the other women talking about how funny it had been watching Divine squirm under Mariko almost made the Japanese woman laugh a bit. Almost. She certainly had enjoyed putting the Brazilian in her place by making her tap out with that highly aggressive smother. But that would likely be the end of the enjoyment available to Mariko, as Stone then reached down for her.

The next thing she knew, the Japanese vixen was hoisted up with a pair of powerful arms wrapping themselves tightly around her, holding her arms against her sides as well. "Agh!" Mariko shouted out, the pain surging through her body making itself plainly known as she squirmed in the bigger woman's grasp.

"Let go of me!" she barked, kicking and writhing as much as she could in her confinement. But the chances of fighting her way out of this were slim to none. She'd seen what these three had done to that poor newcomer, Amy something-or-other and that friend of hers. If she couldn't find a way out, it seemed Mariko would have the misfortune of being the next one added to their list of victims...
Unsurprisingly, Stone was not inclined to let Mariko go just because she told her to. She held on tight and rode down the struggles, which were coming a lot harder and heavier than she'd anticipated...but, at the end of the day, one of them was bigger, stronger, and hadn't just got through wrestling an oddly vicious facesitting match. This wasn't a contest, and Stone emphasized the point by powering down on her hold and squeezing even harder.

"Hate to interrupt," She grunted with the effort and looked over her shoulder, as Mako and Divine continued to squabble. "I probably could do this all day, but I'd prefer not to. Hurry up."

Divine grumbled and made her way over, stomping as best as she could in her high heels as she made her way over to Mariko's front. She reached up and grabbed the Japanese girl's chin, holding her steady while she leaned forward. Her momentary annoyance was gone - she was back on top, now, and she had plenty of reasons to smile.

"You know what's coming next, don't you, bitch?" Divine licked her lips as Mako walked over from the other side, giving Mariko's ass a playful smack as she passed and whistling as it jiggled. "Tell you what - give me a kiss, make it good, and we'll leave you all alone. Sound good?"

Divine drew in closer, expecting a sweet taste to come over her lips soon...
Mariko tried with all her might to resist the bigger woman's clutches. But the difference their strength at the moment was just far too big an obstacle to overcome. And when Stone cranked down even more with the bear hug, a breathless gasp burst from Mariko's lips, and she fell practically limp in her captor's arms.

She watched from her helpless position as Divine stomped right over to her and grabbed her chin to keep her steady. The Brazilian seemed to be in a pretty good mood now that Mariko wasn't making the woman tap out to her pussy. She kept that little observation to herself though, and had a feeling it was probably smart to do so.

Her body gave a light jolt as Mako came over and smacked her ass, and she grimaced both due to the pain of Stone's arms crushing her and annoyance at Mako for that little spank. But her attention was back on Divine as the woman spoke, and now Mariko found herself having to make a tough decision. She sure as hell didn't want to kiss her, not after what she'd said earlier. But she also remembered how bad things went for the last person to be in this position when he'd initially resisted. Pride vs self-preservation...

For a girl like Mariko, who came a place with absolutely nothing particularly special about it, pride was hardly relevant. In situations like this, self-preservation always took priority, and it did so again now. At least, initially. As Divine's lips drew close, Mariko's eyes closed and she leaner her head toward the Valkyrie's letting her lips press right against the other woman's. But she didn't just want a kiss. She wanted a good one, so Mariko gave her just that. Her tongue would move forward and seek entrance into Divine's mouth, where it would start a brief tangle with her tongue for dominance. She'd moan into the kiss, even enjoying the sensation herself while letting her voice send soothing vibrations into the woman's mouth, before moving to capture Divine's lower lip between her teeth, lightly tugging on it.

But, that just also happened to be right when she became fed up with it. And abruptly, Mariko would bite down on Divine's lip! Fuck self-preservation. And fuck pride. She just wanted to hurt Divine some more, consequences be damned.
Page 6 of 7 •

1, 2, 3, 4, 5, 6, 7



Similar topics
---
Permissions in this forum:
You
cannot
reply to topics in this forum