Champions & #1 contenders
The Austrailian Mudslide is Back.
Sat Apr 21, 2018 1:20 am by Softsquad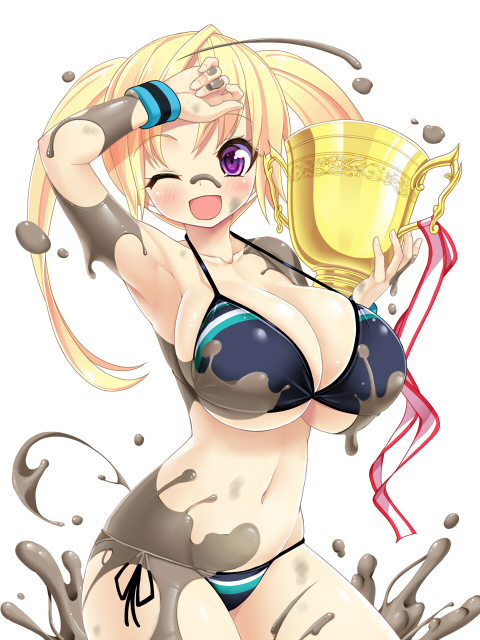 Granted that most of you won't know me or remember me, but I've had a few matches here and there some time ago. Well I think its time to become a regular around here and try to have some fun again, but at the same time keep coming back. Anyway I think its time to jump into some matches with Zoe Taylor, my mud wrestling character from Australia and get her back into the squared circle. Furthermore I will update my characters as I think some proper changes need to happen.
So if anyone would …
[
Full reading
]
Comments: 4
Looking for debut thread.
Sat May 12, 2018 4:28 pm by Hedgehawk
Hello All.
I am looking for a debut for my girl Trinity (http://www.afwrpg.com/t18107-trinity-cordova#495678).
This doesn't have to be a match, it could be a gym battle, interview or anything else. I just want something to help get Trinity off the ground. If you wanna plot feel free to reply to this message or fire me a PM.
Many thanks in advance and thank you for reading my message,
Hedge
Comments: 0
Page 1 of 7 • 1, 2, 3, 4, 5, 6, 7


-VS-
Match Type:
Facesit War
Victory Conditions:
Victory can only be gained by a facesit submission or KO.
* * *
Divine never thought she would be so glad just to see her own arm, but the moment the doctor finally removed the caste and her skin was allowed to breath for the first moment in weeks, she nearly cried with joy. She stopped herself, of course - Mako was there, too, and she would never let her live it down - but all the same it was a good feeling. It was amazing how you could take something as simple as being able to use both limbs for granted, but she'd learned the hard way how tedious things could be without. A task as simple as picking up a basket full of laundry became an irritating chore by itself, she had to learn how to write well enough with her left hand for people to at least understand her handwriting, and she couldn't even drive her own motorcycle. She had to rely on one of the other Valkyries to carry her anywhere.
It was the most annoying month of her life, and she wouldn't forget who she had to thank for it - Mamouru Higurashi. But the Valkyries had other goals these days, and he wasn't a part of them, so her revenge would have to wait until a more appropriate moment. But she wouldn't forgive, and she wouldn't forget...
Today, Divine had two priorities - first, she and the Valkyries were going to continue sending the message that they'd started sending with Mako's match against Nathan Weed, and second, she was going to make up for lost time and have some real fun in the ring.That was why she was dressed in a tight, black bikini that hugged her curves and a thong that put her firm behind on full display, that was why she came down to the ring without her motorcycle for once, and that was why she was more than ready to do a match that Stone or Mako wouldn't dare touch - a facesit match.
That crowd started to boo her when the music began and Ashanti's scintillating whispers echoed through the stands, but those boos died down when she actually stepped out and they saw what she was wearing. She winked and ran a few fingers over her lip from the top of the ramp, soaking in the strange mix of hate and attraction. On one hand, the crowd still remembered what had gone down with Nathan Weed last week, and there was still plenty of loathing left from that. On the other hand, well, it was a little hard to boo with legs like that and an ass like that in a bikini like that, wasn't it?
Too cute.
The heels on her leather boots tapped against the ramp's metal as she made her way down and slid into the ring, making sure to strike a few poses for her reluctant fans before she stood. Her hands slid down her body, along her pert breasts, past her taut stomach, over her smooth thighs, and she knew many eyes in the audience followed it down the path and enjoyed every second. Whether they wanted to admit it or not.
She held her hand out for the referee who politely helped her to her feet, and she made her way over to her corner with a few sauntering steps. Divine leaned against the turnbuckle and rubbed her thighs together, anxious for her opponent to arrive...
Last edited by acuya on Wed Mar 04, 2015 6:09 pm; edited 1 time in total
Things had been going exceptionally well for Mariko recently. After arriving in Tension only a couple months ago, she was already in line for her first shot at championship gold in the AFW. And the best part about it, without any shadow of a doubt, was the fact that her brother Yamato would be right there to share that opportunity with her. Not one expert had guessed the Ishiis would make it to the finals of the tag team tournament, and in fact, a good number of them predicted they would be eliminated in the first round. Yet despite all the odds being stacked against them, and with a bit of unlikely help from the Brat Pack, they all but made it. The finish line of that race was clear in sight. All she and Yamato could do was make sure they were good and ready when the day finally arrived.

Today was a good chance to build up some more momentum and morale for herself heading into the big title match. Although, this was going to be a very different kind of match altogether. This was the first time Mariko would be competing in a match in which  a wrestler could only win specifically through the use of a facesit. Though that didn't bother her one bit. She'd already turned more than one face around here into her personal seat before. The fact that it was a stipulation to win this match, for Mariko, only made things even more exciting.

Mariko's music began playing through the arena, and she got a much louder and enthusiastic response than she was used to as she stepped through the curtain and onto the stage. It was obvious by the initial expression on her face that Mariko was surprised, but she just chuckled and began her walk down the aisle. The younger Ishii sibling wore her usual attire: a short gold top with matching short shorts, pink thigh highs, and a pair of white boots. It wasn't anything the fans hadn't seen before, but it was still plenty revealing enough to get some whistles and cat calls from more than a few men in the audience, and the way Mariko's hips moved perfectly as she walked only enticed them even further.

Ascending the steps and entering the ring, Mariko moved into her corner, smiling confidently as she eyed the Valkyrie across the ring from her. She was beautiful, no doubt about it. And she couldn't help but remember during her and Yamato's interview with Patty when her brother mentioned wanting a chance to square off with the Valkyries sometime. Mariko couldn't deny the idea had interested her too, and now she'd have a chance to make it happen. Although, given the nature of the match it was probably a good thing Yamato wasn't there today. He had the day off, and had elected to stay go have some fun at the beach. Which meant Maiko had Divine all to herself.

"Well, don't you look all nice and dressed up. Did you do all that just for me?" Mariko asked, her voice carrying a playful tone that was reflected in her features. "I'm glad you did. I can already tell you'll make quite a beautiful chair." Giggling a bit as she spoke, Mariko would simply wait patiently for the bell to ring to officially get this match started.
Mariko Ishii. Finally.

Divine was not going to admit this at any point in the match - or ever - but she was actually a little fan of the buxom Ishii sibling. She'd seen her crossover match with the Friction girl and loved it quite a bit, and as a lover of sensual domination, she found it incredibly alluring. It was also a good sign that she wasn't against some tiny scrub of a girl here - this was a talented wrestler,  even before you took her voluptuous body into consideration. A strong body, a good form, an agile frame. All an excellent match for Divine.

"Maybe I did wear this just for you." She ran her fingr along the curve of her backside, making sure to draw the outline clear for Mariko. "After all, if I wore too much, you wouldn't get to feel my flesh against your face. Wouldn't have this softness rubbing up and down your nose. Wouldn't be able to do interesting things with your tongue."

Divine kept her distance as the bell rang and the make started proper. She paid it little mind, and kept on sizing up Mariko, from beautiful head to succulent foot. "A shame you didn't pay me the same courtesy." She pouted, her brows furrowed, a sigh ran out from her lips. "Don't you think  you're a tad overdressed?"
This was interesting to say the least. Never in a million years did she think anyone would refer to this attire as overdressing. It almost felt like she'd gone to some kind of parallel universe. But then again, Mariko watched that finger slide along Divine's rear, and listened to her alluring words.

"Courtesy" wasn't something Mariko was concerned would be an issue in a match such as this. Yet Divine made several good points. "You know what? I guess I am. Let me fix that real quick and then we'll get started." she cooed as the bell rang, stepping out toward the center of the ring. The Japanese vixen grabbed the undersides of her top, and much to the delight of the audience, slowly peeled it off to reveal a black bra.

Mariko twirled the top in the air before flinging it right at the Valkyrie standing across from her. And then, she turned her back to Divine, and gave her hips a nice little shake as she pulled her shorts down her legs, leaving only a thong that matched her bra. Kicking the shorts outside of the ring once they were by her ankles, she then placed her hands on her hips while turning back to face Divine again.

"There. I think this should be about adequate, don't you think?" She gave a playful wink to the Valyrie, before holding up a finger and motioning toward herself with it. "Now why don't you come on over here so your mistress can try her new seat out?"
Divine was sorely tempted to attack Mariko while she changed. It would've been the smart thing to do, the Valkyrie thing to do, and she'd no doubt get a fresh supply of bitching from Mako over the missed opportunity. The bell had been rung, anything was fair game.

Still, the sight of Mariko's strip tease was simply too stunning a sight to interrupt, so Divine let it happen uninterrupted. Things would get rougher later on, but for now, there was no harm in enjoying herself. She watched from the corner with crossed legs, and even caught Mariko's top when it was flung her way.

Divine took a long, deep whiff of that top, held it close to her nose and soaked in the scent. She might as well, really. Mariko's smell was about to become very familiar to her.

"Much better." Divine licked her lips, let Mariko's top hang on the top rope, and sauntered her way over to the center. As soon as she was close enough, her arms came up and she tried to catch her scintillating opponent with a collar and elbow tie up, trying to push into her and see how they measured up, strength-wise.
It was definitely a risk to go through with her little strip tease right after the bell had already rung. Mariko may not've had much of a chance to see the Valkyries before, but she knew enough about them to understand the dangers of turning her back on one. Yet she had a feeling this one wanted this match to be as hot and spicy as possible, which at least gave her some feeling of security at least.

Once the clothes were gone, Mariko grinned and raised an eyebrow as she watched Divine take a deep smell of the her top. "Glad you like it. You'll be getting plenty more of that scent before I'm done with you." she said.

When Divine set the top aside and moved on out to the center of the ring, Mariko crouched down a bit and kept her hands up. Entertaining and appealing as everything about this match was, it was still a match. And Mariko knew she'd have to treat it seriously as such if she wanted to come out on top.

She then lunged out with her arms right as Divine did, putting the two in the classic collar and elbow tie up with each side trying to push the other back. Their size was almost identical, but Divine didn't feel quite as physically strong as Mariko would've thought. Probably just meant she was more of a speedster, which if she was right, meant she would have to try to keep the Valkyrie grounded as much as possible. After trying to take a couple steps forward and push Divine back a bit, the younger Ishii sibling would then attempt to break from the tie up by swinging an arm around her foe's head to put her in a nice and tight headlock.
With a body like Mariko's, it was all too easy to forget that there was some style and skill to back it up. She hadn't become one of the top contender's for the tag belts on pure looks alone, and her brother hadn't carried her, either. She was good.

Divine knew this coming in, and expected her to put up a serious fight all of the way, but all the same, getting put in that headlock helped reinforce the notion. Just because the match was sensual didn't make it uncompetitive. She had a grunt - a rough, unladylike grunt - as Mariko pushed her across the ring, making a slow and steady advance. She ground her heels into the floor and tried to stop it cold, but by the time she managed, Mariko was already moving on to the next move.

She struggled in the headlocked and thrashed around, making her work for it. Divine put her energy into a forward surge and tried to ram Mariko's back into the nearest turnbuckle. Anything to make a little breathing room.
The steps forward were a nice bit of reassurance that Mariko could take an advantage through strength in this match if it came down to it. She didn't particularly specialize in power moves and certainly wasn't the strongest wrestler on the Tension payroll, but still, every little edge you can get helps.

Mariko naturally hadn't expected that Divine would just quietly accept being put in the headlock, and she had to put up a fight to keep the Valkyrie in her clutches once she had it locked in. "What? Not comfortable enough for you?" she teased while pressing the Brazilian's face right into the side of her breast, grunting as she continued struggling against Divine's efforts to keep her there.

But suddenly, it was Mariko's turn to start getting driven back. And her back was then driven right into a nearby set of turnbuckles. "Ungh!" she grunted out, but kept the headlock synched in. However, almost immediately the ref girl was coming to break them up, and Mariko slowly released the headlock while pulling her arms up. Now it just remained to be seen whether Divine would elect to ignore the ref and attack Mariko, or back away like the ref wanted.
Mariko was stronger than Divine was. Okay, that was slightly problematic, but only slightly. After all, Mamouru had been stronger, too, and that hadn't stopped Divine from smothering him unconscious underneath her jeans. There were many ways to work around a strength advantage, and Divine had quite a few of them mastered.

Backing Mariko into the turnbuckle worked just the way she intened, breaking the hold and setting her free. Divine took in a few deep gulps of air after she was released and made a note not wind up in that position again.Mariko had managed to pack quite a bit of deceptive power into her pleasingly slim body.

The referee, a small, blonde slip of a girl, stepped in between them and tried to make some space."Couple of steps back, couple of steps back!""

"I'm stepping, I'm stepping." Divine moved away from Mariko and let her index finger discreetly slide along the front of her thong, teasing her sex as they parted. It was a little pleasure, and the pain was quick to follow - she took a step back, only to push the referee out of the way and lash out with a hard slap, aimed right at Mariko's chest!
Mariko initially kept a cautious eye on Divine while lifting her hands up and waiting for her foe to back away. Based on what little she already knew about the Valkyries, she expected an incoming attack almost immediately despite the ref girl's intervention. However, somewhat to Mariko's surprise, for a moment it seemed the Brazilian was actually going to move away with a clean break.

Divine started to move back, drawing a faint purr from Mariko as the woman's finger slid right over her barely-covered slit. But then almost out of nowhere, the purr was replaced with a pained shout as Divine's palm struck hard against Mariko's chest, the sharp sound of the impact echoing throughout the arena, causing all who heard and saw it to wince and cringe in response. "AGH!"

The pained expression that formed on Mariko's pretty face lingered, and her hands came up protectively over the spot on her chest that had just been assaulted, which now stung like hell and had a big red mark on it. And her body began to sink and slump down further in the corner, with her back now resting more against the middle turnbuckle than the top.
Page 1 of 7 • 1, 2, 3, 4, 5, 6, 7



Similar topics
---
Permissions in this forum:
You
cannot
reply to topics in this forum