Champions & #1 contenders
Highfly Flying Out Of Town
Tue May 22, 2018 1:31 am by HighFly
Hello everyone, I just wanted to inform all I have threads with that I will be gone from this coming Wednesday through Sunday. I won't be able to post consistently if at all during this time, but I will try to make up for it next week! I am sorry for the inconvenience to everyone.
Comments: 7
The Austrailian Mudslide is Back.
Sat Apr 21, 2018 6:20 am by Softsquad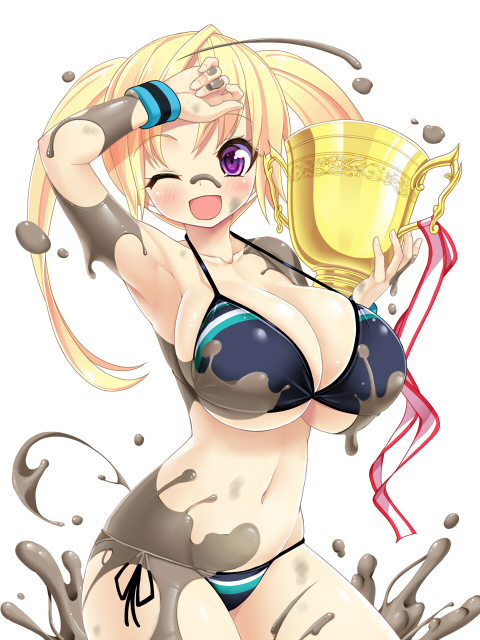 Granted that most of you won't know me or remember me, but I've had a few matches here and there some time ago. Well I think its time to become a regular around here and try to have some fun again, but at the same time keep coming back. Anyway I think its time to jump into some matches with Zoe Taylor, my mud wrestling character from Australia and get her back into the squared circle. Furthermore I will update my characters as I think some proper changes need to happen.
So if anyone would …
[
Full reading
]
Comments: 5
Page 1 of 3 • 1, 2, 3


Eka almost looked good in her safety goggles. It made her eyes look three times to big for her head and her ears look like they were popping out of her head. She was crouching in front of the desk, trying to get her Bunsen burner just right. The common core classes drove all of her fellow liberal arts majors wild but Eka honestly didn't mind. Her parents had always placed a lot of emphasis on education, precision, and academia and Eka took those values to heart. And chemistry was kinda fun in its own way. There were so many puzzles to solve and so much to mull over and consider deeply. She didn't like it anywhere near as much as she liked history or international relations but it had its quiet charms.

Long strands of her raven hair were bound back in a pony tail and her blue Tokyo University sweatshirt kept her warm. Tight dark jeans looked like they were painted on and black converses made sure her toes wouldn't get singed. Eka stood up and jotted some notes down in her journal. She felt the need to be thorough and cautious and safe. The experiment was going well. She had synthesized everything she had to and her lab partner was even paying attention most of the time. The lab was humming with activity but Eka hardly noticed everyone else. The Georgian girl was focused like a laser on the subject at hand.

She squatted a bit to get a look at her test tube again. It was quite pretty, really, turning different colors and swirling. The teacher's assistant was barking orders at the other students but Eka was really hitting her stride. Maybe if she was lucky and studious she would get the best grade in the class...
It had been a while since Lilith had done any experiments. She and Maya had been so busy working on their wrestling careers that the redhead didn't seem to have any time for fun. The Firehawk had decided to ask around backstage until she heard a couple of the pyrotechnics specialists mention that the University of Tokyo had a great lab. A few phone calls and a little money exchanged later, and Lilith was on her way into a laboratory.

Clad in safety goggles and a battle-worn lab coat covered in God knows what. One of the students who passed by her saw a splatter of crusted brown that he could have sworn might have been dried blood. Lilith merely gave a glance to the curious student and he scurried off to the other side of the lab where the other students were busy with their experiments.

Lilith looked at the supplies and reactants that she had brought with her. What was she going to do today? She shrugged her shoulders and connected the rubber hose to the gas valve, turned the valve, and put a lit match to the stream which quickly turned into a tall blue flame. The redhead laughed out with glee as a thought came to her head. She looked from side to side before grabbing a thin glass tube and stuck one end in a powdered substance she brought with her. A grin grew across her face as she put her lips to the clean end and aimed it at a slight angle upwards while facing the burner. The Firehawk blew into the tube, which spat out a cloud of powder propellant that quickly turned into a fireball aimed harmlessly into the air, but drawing the attention of quite a few students and the lab tech. Lilith simply laughed with glee as she took to the activity that she thought would get her blood pumping.

The irate lab technician rushed over to Lilith and received a quick hand to the face. "Think about what you're about to say because I will gladly aim the next one at your face or the sprinkler system, whichever you prefer." she said with authority in her voice as her red lipstick-coated lips smirked at the now silent tech.
The Georgian girl had a focus that was very hard to shake. She could devour whole books in an evening and studying was never a problem for her, provided she had her favorite classical albums to listen to. But then, at the critical moment, right when the solution needed to be watched a fireball shot into the air at the other side of the lab. Eka's blue eyes were wide with fright. Maybe somebody was in danger!

The girl who looked like she was the cause of fireball was even talking to the lab technician. There was a fire, surely, and Eka sprang into action. She traversed the lab as quickly as her Chuck T's and pumping legs would allow. Other students dived out of the way and notes and beakers went flying. The whirlwind of raven hair and misplaced bravery finally stopped a bit before the girl in question.

She was undeniably pretty and looked good in a lab coat. It wasn't as if Eka had a long look at her and instead flew at her, trying to tackle her to the ground. Eka patted her up and down, checking for signs of flame. "Are you hurt? Did any of you get singed? Do you feel a warm sensation anywhere?" The questions came quick, rapid fire, as Eka checked the woman for burns. The Georgian girl was genuinely concerned for this redheaded woman. No one was going to get hurt on her watch.
Lilith, the woman dubbed as "The Firehawk" by a cult group of fanatics, was having fun watching the lab technician stumble speechlessly at her threat. She made a motion to grab to glass tube again, just to see if the tech would jump. As expected, he did towards the tube while holding it down to the table. He began begging for her to at least consider the safety of the students.

"Relax, you empty pair of glasses. I'm just having fun. Do you think I'd be making fireballs if I didn't know what I was-whoa!" the pyromaniac was cut off as she went flying towards the floor of the lab. The hard ground caught her, but she was also crushed a bit from the sandwiching of her body between the tackler and ground.

She felt her body being patted frantically as her eyes opened to see a flurry of raven hair moving about and asking quick questions. "Calm down, girl. I'm fine. I was just having a little fun," Lilith said with a slight aggrevation in her voice. Who was this girl to tackle her so hard to the ground? "Now can you do me a favor, hero? Please get off of me."
Eka backed off of the girl. "Oh, I am sorry..." Eka got off of the woman and looked down at her. The second chance look at her revealed a little bit more about her. She only got a fleeting look before she leaped in the air. But she did look nice even if she did look a little bit...what was the word? Manic. That's it. A crowd was forming around them. Half of them were fellow students that Eka bowled over in her attempt to 'save the day' and the other half were curious onlookers, trying to see more fireballs and flying tackles.

"I just thought there was some trouble. Please accept my apology." Eka extended a hand to try and help the woman she just tackled to the ground up. "You have an interesting sense of fun," Eka said with a smile, "And my name is Eka. Eka Guramishvili. Nice to, err, meet you."
The scowl on Lilith' face seemed to make her look like she was ready to throw a haymaker right at the raven-haired tackler. It certainly felt like doing so would sort of even the score, but as the girl got up and started explaining herself, Lilith couldn't help but feel bad for wanting to punch somebody so genuinely concerned.

She grabbed ahold of the extended limb and accepted the help to her feet, grabbing at her back in the process. "It's all right, um, Eka?" she accepted with curiosity at that name. "That's a rather unique name. I can't say that I've heard one like it. Where would a girl like you learn to tackle like a bull?" she added with the slightest smile to her face. She wasn't quite prepared to give her name out though. Too many people in the world had a price on her head and that name could trigger somebody's memory.
Eka was happy to see that the girl gracefully accepted her help, but didn't like seeing her hold her back. The Georgian girl didn't want to hurt anybody, quite the opposite. She wanted to wrap her arms around the woman in a hug but held back; she didn't know the woman at all. Or at least, not yet, Something gave her a good feeling about the girl and about today.

But that wasn't to say it wasn't a good tackle. It was pretty textbook and probably pretty painful. Eka chuckled. "I am glad to hear you are alright. But yes, I was born in Georgia, the country. I learned to tackle in Alabama, the state. But yes, my name is Georgian. I got my name and this," Georgia ran her finger through her hair, "from my parents. But where are you from? And where did you learn to shoot such fireballs? Because that takes some skill, yes?"

Eka usually didn't mean to pry. But the girl seemed, well, interesting. Like she had a good story to tell.
Lilith was rubbing the back of her neck still. That tackle did seem to do her something fierce, but the Firehawk was used to taking bumps like that whether in the ring or on a mission. As the Georgian girl introduced herself further and explained her origins, Lilith began to think she wasn't any sort of threat.

"Yeah...I'm alright," she repeated as she removed her hand from her neck. What a strange pairing to have been born in the country of Georgia, but raised or at least trained in the neighbor state of the state that shares a namesake. "I'm from a little Mediterranean island near Greece. I...didn't know my parents. I was raised by...er...monks. I pretty much taught myself everything I know..." As passionate as the redhead was, she was never very comfortable talking about her past. Those words that left her mouth were about as much as anybody other than a select few close to her knew. Her hand had returned to her neck as she looked down at the ground at the end of her statement.
The woman was still rubbing her neck. It was a good tackle, sure, but Eka didn't intend to harm the girl. Maybe she could do something to help. "Do you want something for your neck? I am sure we could find some ice around here. I did not mean to make you hurt..." The woman then talked about her past. She didn't seem to want to divulge a tremendous amount but breviloquence was no great sin. It just made her more interesting in Eka's eyes. Why would she not tell her name? She didn't seem that rude.

"Hmm. I will call you Phoenix. It is Greek, yes? And you are one with fire, it looks like." Eka smiled. She was feeling like joking around a little bit. The Georgian girl imagined the monks she grew up with weren't a bunch of kidders. But it was impressive that the girl had managed to shoot fireballs and that she had apparently taught herself. "Can you show me how to do that?" Eka pointed to where the fireball came from. Her notebooks and experiment wasn't going anywhere after all.
Lilith hadn't realized that her hand had been continually rubbing her neck. It was more out of nerves than it was out of pain now, but it was actually still bothering her. Her hand quickly darted to her side the moment Eka pointed it out. "Oh! No! It's fine. I...errr...." Lilith found herself stammering before she quickly went to her bag and pulled out a little unmarked tube and a large bandage. "I can, um, just use these and it'll go away eventually," she quickly said before shoving the tube and bandage back in her bag. There was no time for that now.

She couldn't help but laugh a little at the nickname. "You're actually not that far off from what people call me," Eka didn't seem like the type who would be out searching for a bounty, but The Firehawk couldn't risk somebody else in the class hearing her. She had even registered for the lab time under a pseudonym. She shot a glare at the lab tech who by now was afraid of the redhead and scampered off while shooing the onlookers. Her voice lowered so that the remaining students couldn't hear, "You can just call me Lilith."

Once the Georgian woman asked for the redhead to show her the fireball trick, the mercenary couldn't help but crack a smile. "Certainly! Just...stand back," she said with a tone of excitement in her voice as she looked for the tube. She grabbed it and dipped it into the opened container of the powdered substance. "See..normally this stuff would burn slowly, but if you force the molecules to spread out from each other, where every one is contacting oxygen..." She got down to a kneeling position and angled the tube up in the air and at the bunsen burner before blowing into it and shooting the powder upwards into a second, brilliant fireball!
Page 1 of 3 • 1, 2, 3


---
Permissions in this forum:
You
cannot
reply to topics in this forum