Who is online?
In total there are
38
users online :: 9 Registered, 0 Hidden and 29 Guests :: 2 Bots
acuya
,
axe2029
,
BloodstalkerZ
,
Cicilia
,
Daaharu
,
LunarWolf
,
SimplyMoon
,
Tarantulust
,
Teenwrestler
Most users ever online was
390
on Tue Jan 02, 2018 3:02 pm
Champions & #1 contenders
Highfly Flying Out Of Town
Tue May 22, 2018 2:31 am by HighFly
Hello everyone, I just wanted to inform all I have threads with that I will be gone from this coming Wednesday through Sunday. I won't be able to post consistently if at all during this time, but I will try to make up for it next week! I am sorry for the inconvenience to everyone.
Comments: 7
The Austrailian Mudslide is Back.
Sat Apr 21, 2018 7:20 am by Softsquad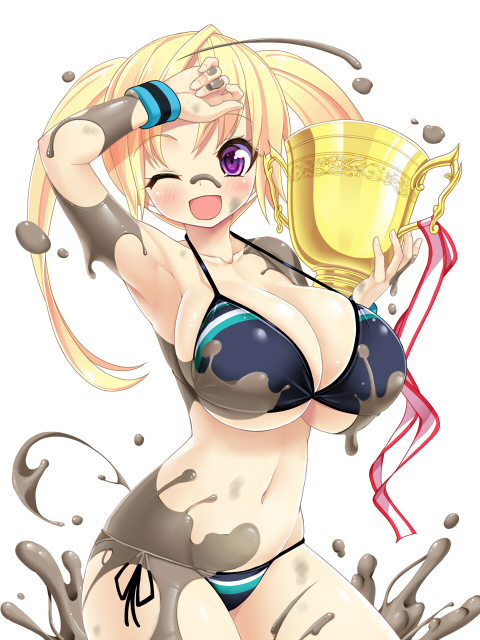 Granted that most of you won't know me or remember me, but I've had a few matches here and there some time ago. Well I think its time to become a regular around here and try to have some fun again, but at the same time keep coming back. Anyway I think its time to jump into some matches with Zoe Taylor, my mud wrestling character from Australia and get her back into the squared circle. Furthermore I will update my characters as I think some proper changes need to happen.
So if anyone would …
[
Full reading
]
Comments: 5
Page 1 of 6 • 1, 2, 3, 4, 5, 6


Drake lost a match recently, but it wasn't all that bad. Sure, she was new to the federation - he was her first match in Japan, as far as he's aware. But it didn't bother him as much as he thought it might. The girl's a strong competitor. She earned the right to be on top that night. And in the midst of their struggle for dominance, sparks flew. Sparks flew and the entire arena saw it.

What has Drake hanging up is this thing with Irene; and what he could even consider it. Sparks flew with her, too, and she didn't hold anything back. But then there were those... complications. Boundaries and compromises. It's not wise to throw himself into something that could go a similar route. Maybe he needs to just stay single.

These thoughts swirled around in Drake's mind as he stared at his phone earlier this afternoon. He told Julia he'd call her. He had every intention to. But now he's finding himself almost overwhelmed in nerves. He hardly knows her, but she does seem like a sweet person; worth getting to know, right? And it'd be a jerk move to not even call. So maybe the right route to take here is vagueness. Just let the pieces fall naturally into place.

'God, it's like highschool all over again.'

Fortunately, there's a carnival the next town over. It'd be a nice way to blow off steam while getting to know her, and give them both plenty of distraction if things go south.

So the call was made. Julia was invited to meet him at the carnival (largely because he doesn't have a car in this country), and not arriving together made it seem less date-like and more innocent.

At this point, the sun is setting over the horizon. Drake waits by the carnival gates for Julia, wearing a white button-down dress shirt with undone sleeves, completely untucked, and with the top button or two left open. Black slacks and matching sneakers almost finish off the outfit, but for a heavy gray winter jacket. It's a far cry from the near-nudity of his wrestling gear.
The ride back to Tokyo following her AFW debut had been a long one. Julia had managed to pull out a big win against a talented young man, though it had come with a price, as the blonde American's back was in quite a bit of pain over the next few days. But something else from that match had stuck with her just as much, and that was Drake himself. The two had hit it off in the ring in a way Julia had never experienced in a match before, and the sparks that flew couldn't have been more obvious even if a display of fireworks had mysteriously gone off in the arena at the same time.

With that match now days behind her, though, Julia couldn't help but wonder if she had gone too far too soon. After all, they'd only just met. And she wasn't even a Tension wrestler. The thoughts lingered ever since she'd left the arena that night. But, it seemed she might finally have a chance to figure things out a bit, as Drake called him and invited her meet him at a carnival, and of course had accepted. Not a date, but she would at least be able to spend dome time to get to know him better.

She spent probably a little more time than she needed standing in front of the mirror and making sure her makeup was just right. Wearing a pair of tight jeans (which just so happened to show off her legs and butt rather nicely), as well as a long sleeved red shirt, a pair of cowboy boots, and a white coat, Julia got in a taxi which took her straight to the carnival.

The blonde spent most of the ride staring out at the beautiful sunset that coated the sky, but it wasn't long before they arrived near the carnival. Exiting the car, Julia took several deep breaths before starting her walk toward the place. "Just relax. It's not a date or anything. Just stay calm." she told herself as she walked. Soon she saw Drake by the carnival gates. And though his attire wasn't anywhere remotely near as revealing as his wrestling gear, he still looked incredibly handsome. Nothing less to be expected from a model. But upon sight, it felt like all of Julia's insecurities washed away, and a smile formed on her lips as she walked toward him. "Hey there, Drake!" she called to him, waving an arm while drawing closer to him. "Hope you haven't been waiting too long. How've you been?"
Drake's hands slip into his pockets as he waits, quietly wondering if his directions were clear enough. Or if she got cold feet. He wouldn't blame her. It was her first match - possibly even her first mixed match - and her opponent started necking with her right there in the center of the ring. His fingertips nudge the cellphone around in his pocket as he contemplates calling her again...

That's when a familiar voice cuts him out of his distracting thoughts. "Julia!" The buxom blonde is met with a bright smile. He couldn't hide the fact that he's pleased to see her even if he tried, the smile reaching his eyes. "Nono, not long at all!" -Ish. The point is, however long he was waiting no longer matter. He takes a moment to look her over, from those girlie cowboy boots, along her tight jeans, that shirt, and ending with her smiling face before finally assessing, "You look beautiful." And it's true. He may have a preference for what she wore in the ring, but... that's for obvious reason.

His hands finally leave his pockets. "Sorry to drag ya out of town for our meeting. I thought a carnival would be fun, though. Been a long time since I hit one of these, y'know? But I did promise I'd call you," he wags a finger at her, "and I totally did."
"Well thank you!" Julia replied, the faintest of blushes forming on her cheeks as he complimented her appearance. "I'm just glad you recognized me without the mask. And you're lookin' quite handsome yourself there." she said, giving him a playful nudge. He did indeed look every bit as nice as she said, and then some. And the fact that she knew just what lay underneath those layers only made it even better, though she tried to keep her mind off of thoughts like that as much as she could.

"Yeah, ya sure did." Julia said with a giggle, sliding her hands into her coat pockets to keep them warm as she stood by him, with a bright smile practically mirroring his own. "And don't worry about it! I love carnivals! Back home carnivals that came to town sometimes let us set up a ring and hold a few matches. Though I doubt I'd be up for something quite like that tonight though."

Again soft laughter escaped the blonde's lips. "Well, now that we're here, how about we go take a look around!" she said cheerfully, excited both to see what sort of things would be waiting for them there at the carnival, and to have a fun time with Drake in the process.
The fact that this is the first time he's seeing the luchadora without a mask isn't lost on him. She has a very pretty face, blemish-free and... is that a blush? It causes him to smile a hint more.

Drake steps forward and attempts to lace his arm with hers to hook at the elbows and begin 'escorting' her into the carnival grounds. "You know I'd love to get you in the ring again," he notes, "But it's pretty chilly out here. We'd warm up while we wrestle, but.. you get it." He tilts enough to bump his shoulder into hers. Being stiff and shivery in a match doesn't exactly wow an audience. "Besides, I'm a California kid. I like my warmth!"

Whether she's allowed him to link his arm with hers, he'll lead her deeper into the grounds. People seem to be in high spirits, and it's fairly crowded, causing him to stick pretty close by Julia's side. Not that he's complaining. "Speaking of which," starts the young model, "where are you from? What got you into professional wrestling?"

His pace slows as they near some games, almost certainly rigged for failure. But he's giving each one a sincere look-over. "And what kind of games do you like? That ping-pong ball throwing one? The water gun thing..?"
The small blush had almost died down, only to return again for a brief moment as Drake hooked his arm around hers. It wasn't anything extreme, especially considering the things they'd already done in the ring. But Julia hadn't been sure what to expect with him today, and it caught her off guard just a bit. But she quickly got over it and smiled while walking by his side into the carnival, chuckling as he spoke and bumped her with his shoulder.

"California, huh? Well, I know what ya mean. I'm a New Mexico girl, and we like it pretty warm too." she replied. "My parents actually started their own promotion there in Albuquerque. So me, my brother and sister were all pretty much born into it." she explained as they walked through the crowd, hardly even noticing the surrounding people. "I started practicing wrestling and gymnastics when I was little, and just kept training from there. Spent a couple of years in Mexico, then started wrestling for the place my parents started up. What about you? How'd you get started?" Julia could've talked all day about her time wrestling back home, but she was just as interested in hearing about Drake's background.

And as he asked about the games, Julia looked them over as well. "Hmmm... Ooh! Lets do that one!" she said excitedly pointing to the "water gun thing" Drake was talking about. Several targets were lined up with water guns aimed at them, with the simple objective being to shoot your target with enough water to propel a doll attached to a metal pole behind it up to the top first.
"Yeah, I caught some of that on your profile," Drake notes. Of course he looked her up before their match. "And you so have the luchadora thing going. Mask, high-flying... gotta be exciting down there, where it seems that's what most of the people do." Beat. "High-flying wrestling, I mean. Not that most every Mexican is a wrestler." He screws up his expression. "That'd be cool, too, don't get me wrong. It's just-" He's rambling. Crap. "Oh! The water thing!"

Thank you, Julia, for a proper distraction.

Drake finally breaks from her arm to hurry up to the counter, his wallet already out and yen notes set down to cover them. Once the wallet is replaced, he hunkers down over the counter at his specific, plastic-and-metal watergun. It's an awkward position, requiring him to basically bend over and stick his rear out, but at least she'll have to do it, too.

While she gets set up, he lets the topic adjust over to himself. "You got an earlier start than me, but we've got some similarities in our lives. My mom's a fashion designer, but my dad's a professional wrestler for a local fed' in L.A. I started training professional wrestling in around... late middleschool, I guess. I was always gettin' in fights, so they needed an outlet for me..."
Julia listened as Drake began speaking, only to start stammering seconds later in an attempt to avoid accidentally something a tad on the racist and stereotypical side. The blonde couldn't help but giggle as he struggled with the words, but the model quickly saved himself by changing the focus to the carnival game.

As their arms separated, Julia hurried over to the counter along with Drake. And as he moved over the water gun in an awkward position that forced him to push his rear out, the luchadora couldn't help but sneak a glance at it. But then she would soon move to grab her own gun, her body positioning mirroring Drake's as she adjusted the gun a bit.

While they got set up, a few more began wandering over to the counter, giving the two a bit more time to talk before the game would start. Julia glanced over at Drake and listened intently while he spoke, remembering the part about his father form the research she'd done on him before their match. "Heh. You sound kinda like my brother. He was always getting into fights back in school too. What about your dad? Did he ever train you any himself?"
"You bet your sweet-"

Drake glances to her, noting her bent position, and ultimately landing his gaze on her pert rear. He only allows himself a brief, brief glance, though, hoping to go unnoticed. "Anyway!"

"I started actual professional wrestling when I turned eighteen, but... that was an uphill battle from the start."

Everyone appears to be settled in, so the carnie signals the game to begin! Drake squeezes the trigger to train his jet of water onto the target. It's about the most basic thing in the world, requiring only a steady hand the ability to resist trying to turn the gun onto your neighbor.

"You might'a noticed, but I'm not huge. I'm kind'a young. I'm a male model. These things don't win over your typical audience, and the, ah..." He pauses to ensure his jetstream is going where it's supposed to. "...traditional managers basically treated me like a kid. So after a year of just treading water, I went for something else and wound up here!"
Hearing Drake's sentence come to an abrupt end, Julia looked at the model through the corner of her eye, and couldn't help but smirk a bit when she saw where he seemed to be looking. She was tempted to give her hips a nice little shake, but decided that might be a bit awkward with so many people around.

But then Julia listened again as he started to talk about his start in wrestling, only to be interrupted by the start of the game. Squeezing the trigger of her water gun as well, a stream of water was fired at Julia's target and began to propel the doll up. However, Drake started speaking again, and Julia once again began to listen carefully.

"Well, it must've worked out well for ya if you 'wound up' on the biggest stage in wrestling though, right?" she said with a chuckle, only to notice immediately after that she'd lost focus with her aim and was now missing the target completely. "Kyah!" she suddenly shouted, quickly adjusting her gun again, but it was too little too late. And only a couple seconds later, a bell sounded as Drake's reached the top first. "Aww, no fair..." Julia said, pouting cutely and childishly.
Page 1 of 6 • 1, 2, 3, 4, 5, 6


---
Permissions in this forum:
You
cannot
reply to topics in this forum