Who is online?
In total there are
42
users online :: 11 Registered, 1 Hidden and 30 Guests :: 1 Bot
acuya
,
axe2029
,
Cicilia
,
Harrier
,
Hedgehawk
,
ja15ke
,
Mystery Dragon
,
Old_Man_Tai
,
Person
,
Teenwrestler
,
Vcom7418
Most users ever online was
390
on Tue Jan 02, 2018 2:02 pm
Champions & #1 contenders
Highfly Flying Out Of Town
Tue May 22, 2018 1:31 am by HighFly
Hello everyone, I just wanted to inform all I have threads with that I will be gone from this coming Wednesday through Sunday. I won't be able to post consistently if at all during this time, but I will try to make up for it next week! I am sorry for the inconvenience to everyone.
Comments: 7
The Austrailian Mudslide is Back.
Sat Apr 21, 2018 6:20 am by Softsquad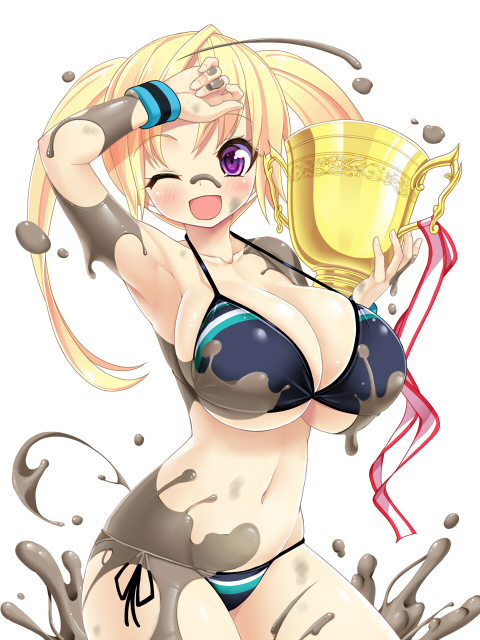 Granted that most of you won't know me or remember me, but I've had a few matches here and there some time ago. Well I think its time to become a regular around here and try to have some fun again, but at the same time keep coming back. Anyway I think its time to jump into some matches with Zoe Taylor, my mud wrestling character from Australia and get her back into the squared circle. Furthermore I will update my characters as I think some proper changes need to happen.
So if anyone would …
[
Full reading
]
Comments: 5
Page 2 of 3 •

1, 2, 3


Victoria couldn't help but feel embarrassed and even a bit nervous as she opened up to Natasha about the issue that had been bothering her. Based on their conversation thus far, it wasn't as if she'd expected Natasha to laugh at her or anything like that. But then again, it wasn't the kind of topic people generally bring up while talking to someone they've only just met. And just because Natasha was the hentai champion didn't automatically guarantee she'd be comfortable speaking about this sort of thing right while in the middle of a meal.

Fortunately, she was every bit as understanding as Victoria could've possibly hoped she'd be. And the smile on the blonde's lips gradually became less and less forced as Natasha spoke. The fact that she was capable of mixing fighting and hentai so interchangeably and so naturally was something Victoria envied. If only she could've been like that too. But then again, there's only one Natasha Loclear, and it made perfect sense to her that most people just aren't the natural that Natasha is when it comes to things like hentai, or at least being proficient with both that and more traditional fighting styles at the same time.

When Natasha offered to answer her questions, Victoria thought for a moment. It wasn't that she didn't have any questions, but more that she wasn't sure which one of the seemingly countless ones swimming through her mind to start with. But after a few seconds, she managed to pick one. "How do you stay focused when an opponent starts doing...those kinds of things to you?" she asked. Really, that was the issue it all seemed to come down to. If she could just find a way to keep her head straight in those embarrassing situations, that would alone would solve a lot of her problems. Though of course, that's likely much more easier said than done.
There wasn't much left of the glorious breakfast feast she had put together at the buffet line, just a couple sausage links and a piece of bacon all that remained. The funny thing was she didn't even remember eating half of what had been on her plate, it seemed she had become so caught up in her conversation with Victoria that she hadn't been paying attention to what she was eating. She had assumed she would make a quick stop at the cafeteria just to eat breakfast before heading out for her workout that day but Victoria had changed her plans in a good way, she was quite pleased to have found someone who wanted her help for a change.

She finished off what was left on her plate and then pushed it aside, clearing the space in front of her so she could rest her arms upon the table as she spoke with Victoria. The woman's question was a simple one but it was also one of the most important parts of hentai wrestling. If someone couldn't keep a calm head amidst even the most sensual of action then they would have trouble against those who had no problem using hentai tactics even in the normal matches.

"That is the heart of the matter no?" Natasha replied, her native french accent finding its way into her voice for a moment before she corrected it. "Well I don't know how others do it, but when I was growing up my mother always preached keeping a calm head and taught me meditation at a young age. When I'm in a match, no matter if its getting caught in a submission hold or a hentai one, I picture myself as still water, pain and pleasure may cause ripples but I will always return to a natural calm state. Keeping myself calm lets me stay focused on the task at hand, that and experience doesn't hurt either."
Victoria had almost completely forgotten her food altogether by this point, and was now focused only on the conversation with Natasha. A small bit of her pancakes and eggs remained, as well as a strip of bacon and roughly half the milk in her glass. But she'd eaten enough to sufficiently satisfy her hunger for now anyway. Whatever Natasha had to say was bound to be much more important.

"Mhm." the blonde answered with a nod. She did notice Natasha's accent forcing its way out for a moment, and though she elected not to immediately comment on it, she liked it. It was just as pretty as the hentai champ herself. But she listened intently as Natasha spoke about handling herself when caught in holds, nodding her head as the woman talked. And she was glad the blue haired woman put hentai holds on the same level as normal holds, at least for the purposes of this conversation. It was a small, subtle detail which Natasha may not have even included intentionally, but it set the thought in Victoria's head that escaping hentai holds was often just like escaping normal submission holds. It was going to take practice, but Victoria had a feeling if she could get a hang using that mindset, she'd start faring much better in her matches as a result.

And that brought another question to mind, one that caused her to start blushing again as she sheepishly hesitated to ask. "Still water, huh? I like that." she said with a small smile, trying in vain to push down her nervousness so she could ask her next question. "U-um... I'm sure it'll take some practice to get the hang of it. But I don't want to just use my matches for that practice, you know? So I guess...I mean, if it's alright with you, er..." The closer she got to her point, the more she started to nervously shift and stammer, before she finally somehow managed to force her question out. "W-would you be willing to...help me practice?"
As they spoke one of the cafeteria staff who was waking past stopped at their table when he saw the nearly finished plate of food in front of Natasha, asking if she was finished. Natasha politely nodded and replied with "yes thank you" as the man took her plate, silverware, and glass before turning to Victoria to ask the same question of her. Whether she told the man yes or no the worker bowed his head and departed leaving the two women to continue their conversation.

"Thats actually the inspiration behind my nickname here, Rain. But its more than just keeping a calm mind, the water imagry I mean, even when I'm going on the attack I see myself as a swift river crashing against a stone. No matter how strong the stone might be water will wear it down, sometimes it just takes patience and knowing to strike at their weakest point." Natasha said while reaching for the glass that was no longer there out of instinct, laughing softly when she realized what she had done. "I'm glad to hear that, you're actually only the second person here to ever ask me about it."

What Victoria asked next caught Natasha a bit off guard but it wasn't long before she was smiling and nodding her head. "Well how could I refuse such a request? Plus its not every day someone proclaims themselves to be a big fan of mine, so of course I'll help you out."
After the staff member took Natasha's plate and silverware, he turned to Victoria and offered the same. "Oh, yes, thank you." she said. There was still a small amount of food left on her plate, but she'd eaten all she'd wanted for now. And besides, she was far too interested in speaking to Natasha right now to even pay any mind to what remained of her food. It likely would've just ended up sitting there anyway.

Victoria listened intently to each word that left Natasha's lips, nodding along as the girl spoke. As she described the mental image, the blonde began to picture it in her own head. And somewhat to her surprise, it all made perfect sense. It was almost as if the entire scene as Natasha described it was playing out right in front of Victoria. And what's more, she found it all incredibly...soothing. Only a moment ago she was feeling rather nervous about talking to someone she looked up to so much about this subject, and suddenly she just felt as if she'd enjoyed an incredibly relaxing massage or something. Getting it to work in the ring like that would no doubt take practice, just like she said. But she was already feeling good about it.

But she was then brought out of her train of thought when she heard Natasha agree to help her, and once again the blonde went from relaxed to surprised fangirl in the span of about three seconds. "R-Really?! You will?!" she replied, literally resisting the urge to burst from her chair and shout with joy. "Oh wow, I... Th-thank you so much! I can't tell you how much I appreciate it!" How she managed to stay composed enough to only stammer the brief amount she did was anyone's guess. Perhaps the advice was already helping out more than she thought. "So, um... What happens now?" she asked, already more than a little curious to find out how Natasha would be helping her.
It was for the very reaction Natasha recieved from Victoria the moment she told her she would help her train that Natasha loved helping people, the sheer joy she saw in the woman's face was well worth whatever effort it would take to get her more comfortable in a hentai situation. There was more to why she was helping her though and Natasha knew herself well enough to recognize it. She had helped people before, those who loved hentai but needed improving mostly, but Victoria reminded the Frenchwoman a lot of her old love Heather, especially in how she could be shy and nervous one moment and nearly jumping for joy the next. Natasha had come only for a bit of breakfast and then a light workout, but what she had stumbled across instead was far more interesting, she was excited though she suspected Victoria had her beat there.

"Well thats a good question actually." Natasha said in answer to Victoria's question, having to take a moment herself to think about what to say. "Well theres two types of training I think you could benefit from. The first is endurance training, which as you might already suspect involves pushing you sexually as far as you can go repeatedly. The idea here is not only to increase how much stimulation you can take before orgasm, but get your confidance in what you can take up as well so you aren't shy about mixing it up so to speak."

Natasha paused there to let it sink in for Victoria before continuing on. "The second is more about technique so you know what to do to get out or at least fight back when you find yourself in a hentai hold. Like I said earlier hentai wrestling is mostly about studying the holds and knowing how to counter them, no one ever just stood or lay there and let someone work them over, they had to be trapped first....or at least they don't until the end of the match. Which do you think you could use more right now?
As easy as it was for Victoria to get flustered over erotic thoughts and situations, she probably should've attempted to brace herself for what Natasha was going to say. Should've, but didn't. Victoria listened intently as Natasha spoke, eager to find out what sort of ways a hentai champion like her could help the blonde. And once the Frenchwoman described the endurance training, all sorts of mental images started flooding the blonde's head that caused her to blush more and more by the second. She was going to be getting the help she needed, but it wasn't like Natasha would just magically take her extreme shyness away. No, that was going to require her to go through the very things that made her shy in the first place.

But, aside from the intense blushing and a nervous gulp that soon followed once Natasha finished, Victoria managed to stay relatively composed. Fortunately Natasha allowed her a moment to digest the thought and cool down from it, because the blush started to return again once she explained the second option, though not as intensely as with the first. But now that she'd heard what both types of training where, it was decision time, and the blonde took a moment to think them over.

After several seconds of careful consideration, Victoria had her answer. "I could do with improvement in both areas, but I think...the second is what I could use more. I haven't been in a full-on hentai match yet, but I've been in things like humiliation and smother matches. And it's always right when my opponents start putting me in...those kinds of holds that I just shut down and start losing my focus." she said. "If I just had better technique for that kind of stuff so I had something to fall back on in those situations, that would be huge."
Natasha could see Victoria's face turning a deeper shade of red as she explained what she felt were the two best options for helping the woman to overcome her troubles with hentai matches, the Frenchwoman smiling softly but not giggling at her as that wouldn't help the woman at all. If Victoria thought Natasha was just going to laugh at her problems the whole time then she would just get more nervous than she already was, that wouldn't help at all. So she acted as if she didn't notice, explaining both options in great detail to make sure Victoria knew exactly what she was getting into with each one, that way there wouldn't be any surprises or at least very few of them.

Just judging from the hue of red her face turned when she discussed each option Natasha had a sense Victoria was leaning towards the first one, an assumption that was proven correct a few moments later. Natasha wasn't sure herself which route would be better for her as she didn't know Victoria beyond meeting her at this table, but the woman's reasoning made sense to her so she wasn't going to push for the other option. "So your biggest problem at present is how to escape from smothers and the like? Okay I'll make sure to go over that in detail amongst other things. I don't suppose you'd want to get started today?"
Victoria wasn't sure how she might've reacted if Natasha had actually laughed at the visibly growing more flustered with practically each sentence uttered by the Hentai champion. Although, the Frenchwoman was likely right to assume it wouldn't have done anything to help the blonde. But fortunately, she'd never have to find out for sure. Natasha had managed to keep any and all signs of laughter in and undetected by Victoria, along with any signs of amusement that might've deterred her in any way.

In response to Natasha's question, Victoria gave a confirming nod. "Exactly. I think that's what I need to work on most right now." She hadn't really given much thought to when to suggest starting, though she didn't have anything planned for today anyway. When better to start then? "Yes, today would be perfect. I-I mean, if that's alright with you, of course!" she said, wanting to start as soon as possible while also trying to be considerate of Natasha's time as well. She could be a very busy person for all Victoria knew, and the last thing the blonde wanted to do was try to act like her own time and problems were more important than Natasha's. Still, she seemed to suggest today would be alright, so hopefully suggesting it wouldn't be an issue.
It certainly wasn't the kind of workout Natasha had planned on doing today but it would do, especially since she would be helping a newcomer to the AFW understand a hentai match better and hopefully this would get Victoria to participate in a few of her own someday, Natasha was always on the lookout for new talent for the hentai division and Victoria looked like she could do well if she practiced a bit. "It is no bother at all Victoria, I came down here for a workout anyway and theres few better than the very training you just asked for. But lets not use the main gym, I would think a private wrestling room would be best don't you?" Natasha asked, knwoing the woman wouldn't want to have spectators watching them practice, even if they were other wrestlers.
Page 2 of 3 •

1, 2, 3


---
Permissions in this forum:
You
cannot
reply to topics in this forum