Who is online?
In total there are
31
users online :: 4 Registered, 0 Hidden and 27 Guests :: 2 Bots
Cirno
,
Lobo
,
scorn53
,
Underdog21
Most users ever online was
390
on Tue Jan 02, 2018 2:02 pm
Champions & #1 contenders
Posting delays
Sun Jun 24, 2018 12:14 pm by Harrier
Dear posting partners and people who are waiting for an reply from me by PM,
I am terribly sorry that you have to wait for my replies for so long.
Maybe the one or another from you knows the situation, you were flying high for some weeks posting wise and then you hit rock bottom again because of some RL BS and then you barely manage to churn out enough creative output for a meager 100 words post in a week and you ask yourself how you could have seriously overextend your supply lines so much. …
[
Full reading
]
Comments: 0
Kawaii Opportunities
Sun Jun 17, 2018 3:04 pm by Daaharu
Hey, guys!
With the kawaii title match at Avalanche taking on an interesting wrinkle with the interruption by the Brat Pack, we are moving forward with the overall kawaii storyline, and at this point I'd just like to take stock of what kawaiis are out there that are interested in participating in a cohesive storyline.
Can't make any promises about titles or what exactly each girl's given role would be. We can talk a little more about the specifics of where the story is going soon, but I …
[
Full reading
]
Comments: 3
Match for Takeichi
Tue Jun 12, 2018 6:13 am by GrandAkumaShogun
So with my other two guys having their own matches I figure I should do something with my first character on here, Takeichi Mori. If anyone is interested feel free to post here or get in touch through a pm so we can plan it out. I can either have Takeichi remain a jobber or begin to work him towards being a more serious competitor.
Comments: 1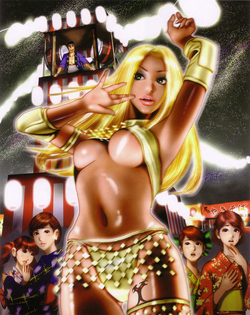 ★★★Sista A  -  The Harlem Nightmare★★★
Full Name:
Aisha Goodison Taylor
Sex:
Female
Age:
32
Eyes:
Dark Brown
Hair:
Honey Blonde (naturally black)
Height:
5"11'
Weight:
142 lbs
Nationality:
United States of America (Houston, Texas - formerly lived in Atlanta, Georgia)
Alignment:
Heel
Entrance Music:
No More by Aisha
Strategy:
Sista A wants to win. Period. As such, she does everything in her power to come out on top. When the ref is watching, she'll batter you around with fierce punches, knock you the ground, kick you, stretch you, break. When the ref isn't looking, she'll throw low blows and rake your eyes. A fair fight isn't a real fight, in her eyes.
Style:
Street Fighting
Type:
Brawler
Preferred Attacks:
Strikes and submissions, mixed with basic grapples, and cheating.
Preferred Matches:
NHB matches, and she excels at streetfights and backstage brawls. Does hardcore matches, and will even get involved in Hardstyle Hentai matches when the occasion calls for it. The dirtier, the better.
Physical Statistics
Endurance:
★★★★★ - Years of streetfighting and wrestling have given her some thick skin.
Strength:
★★★★- Throws hard and heavy punches, and can whip around smaller opponents with ease.
Speed:
★★ - Not all that quick, but can rattle off combos with decent speed.
Defense:
★★ - Where she starts to falter. Aisha does great on offense, but can get carried away and leave herself open. She's very vulnerable to reversals.
Technique:
★★★ - While she's picked up a few things from her experience, she's still rough around the edges.
Wrestling Statistics
Strikes:
★★★★★ - Aisha's strongest suit. It's not uncommon for her opponents to the leave the ring with a black eye, win or lose.
Submissions:
★★★ - Has some decent submissions. One she gets you down, she can keep you there.
Powerhouse:
★★★ - She's stronger than she looks, but she doesn't like to throw her opponents around too much.
Aerial:
★★ - Rarely goes airborne, and keeps it simple when she does.
Counters:
★ - Her weakest suit. Tends to do poorly against more technical wrestlers.
Favored Moves:



Strikes

Leg Trip
Running Knee Lift
Roundhouse Kick
Elbow Drop
Lou Thesz Press
Spear
Dropkick

Submissions

Camel Clutch
Body Breaker
Drop Toe Hold
Half Nelson Sleeper
Side Leg Lock
Hopping Arm Bar Takedown

Grapples

DDT
Belly to Belly Suplex
Belly to Back Suplex
German Suplex
Bulldog

Signature Moves
-Mach Strike:
A simple, but effective combo. When Sista A gets an opening, she throws out two quick punches to her opponent's stomach, then finishes up with a gamengiri, dropping them flat.
Finishing Moves:
-
Superbitch Punch
- Essentially, the classic Superman Punch.  Sista A rushes at her opponent, jumps up with her leg extended, then jerks it back while throwing a punch in the same motion, firing a punch with incredible force towards the opponent's face. It takes good timing and a little luck to set up, but if it works, it's worth the effort.
-
Triangle Hold
- Sista A wraps the back of her right leg around her opponent's head. She jumps and scissors her opponent's head with her other leg to bring them down on the mat. With her legs still around her opponent, Sista A transitions to a kneeling position and pulls on her opponent's right leg, hyperflexing the hip and stretching their knee, while she squeezes away at her foe's head.
Characteristics
Appearance:
No longer caring too much about a wholesome public image, Sista A dresses in whatever passes her fancy, often the most revealing, most eye-catching, sexiest outfits she can find. She has no problem putting her body on display, and tends towards things that accentuate her best features.
And high-heels. Always high-heels.
Personality:
There's been a little change in Aisha.
After coming to the AFW and going through a bitter losing streak, she's had a reality check. Instead of fighting what the AFW is, she'd decided to embrace it. That means debauchery, cheating, vice and all the nasty little things that the organization promotes.
Sista A just doesn't care. She doesn't care what you think. She doesn't care about the rules. Her one and only concern is being number one, and in anyone or anything in her path is just an obstacle that will be removed, by any means nescessary.
History:
Aisha was born in Atlanta, Georgia as the only daughter of Lamorris and Melissa Taylor. When she was only about ten, Aisha's mother developed lung cancer, and the family spent the next two years fighting it. Unfortunately, after a couple of years, she lost the fight and passed away. Aisha's father was extremely distraught by this and requested a transfer in his job as a mailman to get away from Atlanta. He managed to find a good opening in Texas, and was sent there.
Back in Atlanta, Aisha always enjoyed being the big fish in a little pond, ruling the roost at her old school and impressing the other students with her blossoming vocal talents and fighting skills. In Texas, though, things were a different story. Here, she was the new girl, the outsider trying to fit in, and even though she made a good show and clawed her way towards the top, there was always one girl who came out ahead: Dixie Clemets.
The two were constantly on each other and beefed repeatedly, grade after grade, all through school. Not just taunts and chest-thumping, either. They fought hard and they fought often, and even though some of their battles were quite intense, they were never as definitive as Aisha would have liked.
Aisha graduated (despite constantly missing school thanks to suspensions) and went on to ply her trade in the music industry. She quickly rose to fame and fortune, dominating the R&B genre and taking her spot as its top diva. She won multiple awards and her albums went platinum, but there was always something nagging her: Dixie Clemets. They still had a score to settle.
It was an itch that desperately needed scratching, and she finally got the chance when she saw that Dixie was joining up with the Rumble Roses and becoming a full-fledged wrestler. It took a little convincing to get her agent to push the idea, but Aisha joined Rumble Roses and brought her own unique style and flair to the company. Financially, this was a masterstroke - Aisha proved to be immensely popular in Japan. She turned out to be quite good at wrestling and enjoyed it immensely. Personally, it gave her the chance to exorcise some demons.
It took no small amount of prodding, but Dixie finally relented and agreed to their overdue match. It was a long, brutal battle that the ring could barely contain, but in the end, the bell rang and the true victor was named: Dixie won. Despite losing, though, Aisha had no hard feelings and finally managed to forge a real friendship with the cowgirl. They were still rivals, but there was genuine respect there, now. Aisha was, for the first time in a long time, truly satisfied.
Then Rumble Roses went down, taken out by the monster that was the AFW. Aisha tried to stay true to the company and refused the AFW's offer to sign her, thinking she could make it with the remaining Roses and form some smaller groups, but that never worked out. Eventually, she had to accept that her time as a wrestler was done.
She went back to her music career and tried to make it with that, but she hit a roadblock when, during an interview, she referred to the inspiration she'd cited in various albums as the 'late, great Aretha Franklin'. Aretha Franklin was, of course, still very much alive, and did not take kindly to this. This started a backlash that dogged Aisha's career and snowballed into bigger problems.
Her sales took a hit, and her agent convinced her that a little revamping was in order. She started calling herself 'Sista A', and her next album,
Showbiz
, had a more mature, darker, sexual theme that was meant to attract older males, but that backfired and alienated the loyal fans she still had. She gave movies a shot, playing a villain in the time-traveling Indiana Jones knockoff
Arabian Nightmare
, but that flopped. Finally, she decided to just follow her gut and fired her agent, feeling that her best chance was a return to form. The Japanese audience had always been good to her, buying
Showbiz
and receiving it well even when it tanked everywhere else.
So, finally, Aisha made her way into the AFW and accepted their contract. She wanted to wrestle again, she wanted to sing again, she wanted to dance again, and, maybe most of all, she had a few demons to exorcise. The AFW has a few rats who'd abandoned the Rumble Roses ship when it was sinking, and she'd like to have a little heart-to-heart with them…
!-UPDATE-!
After a disastrous start in the company, Aisha found herself adrift, unable to get her act together and break a crushing winning streak. After a humiliating defeat by Teresita Vega, Aisha reached her lowest point, and that was when Anesthesia took advantage.
Appealing to Aisha's pride, Anesthesia convinced her to team up, and use their combined power to crush anyone who dared oppose them. It was a tempting offer, and with her career rapidly going down the toilet, she had little reason not to take a big step.
Aisha left. Sista A took her place.
Standard Attire:
Arabian Nightmare:
Fun Facts
+ The tattoo on her thigh is a leftover from her 'Showbiz' album. Her agent thought it would make her look edgy and tough, going along with the new look. She once hid it, but now prominently puts it on display.
+ Fuck Aretha Franklin.
AFW Information
Record:
Wins: 1
Losses: 4
Draws:
Championships/Accomplishments:
Winner of six Grammy Awards and one Razzie.
Relationships:



Friends:
Allies: Anesthesia: Sista A and Anesthesia have formed into a tenuous alliance, with the latter serving as a manager of sorts while Sista rejuvenates her career.
Rivals:
Enemies: Dixie Clemets - Now, more than ever, Aisha is looking to put Dixie in the ground, and prove that she's the best Rumble Roses ever produced.
Crushes:

Last edited by acuya on Tue May 17, 2016 8:32 pm; edited 2 times in total


Similar topics
---
Permissions in this forum:
You
cannot
reply to topics in this forum