Champions & #1 contenders
Summer Splash interest in Natasha Loclear?
Mon Apr 09, 2018 11:30 pm by daemongirl
Well my girl hasn't missed a summer splash yet, would anyone be interested in a match with her? Open to just about anything match wise, just pm me!
Comments: 1
Been Out with the Flu
Sun Apr 22, 2018 7:47 pm by daemongirl
Just letting those I have threads with know I've been out with the flu since early last week, but I will be back to posting tomorrow.
Comments: 0
The Austrailian Mudslide is Back.
Sat Apr 21, 2018 6:20 am by Softsquad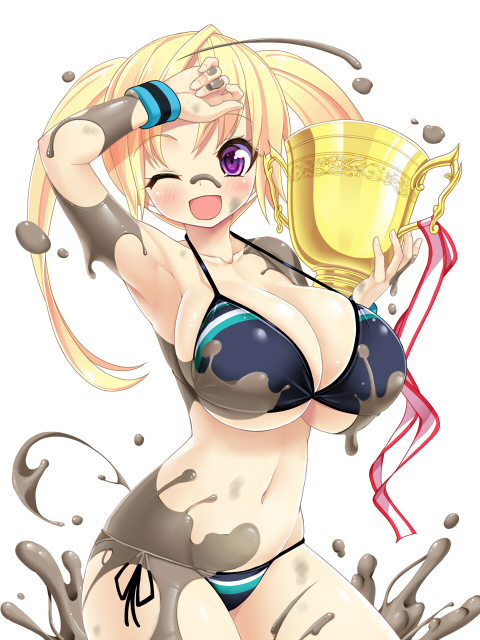 Granted that most of you won't know me or remember me, but I've had a few matches here and there some time ago. Well I think its time to become a regular around here and try to have some fun again, but at the same time keep coming back. Anyway I think its time to jump into some matches with Zoe Taylor, my mud wrestling character from Australia and get her back into the squared circle. Furthermore I will update my characters as I think some proper changes need to happen.
So if anyone would …
[
Full reading
]
Comments: 0
Page 2 of 3 •

1, 2, 3


Valley had to admit, she had a point there: Claire Beaumont was about as atypical as wrestlers got, especially in the AFW. The company needed more wrestlers that looked like wrestlers.

They'd barely been wrestling for a minute - if you could even call it wrestling at this point - but this was already turning into one of the more interesting matchups Valley had ever been in. Here was this statusesque stunner, calm and confident, presenting herself like a living challenge to be overcame. Valley loved a good challenge, and she had plenty of moves to try on Claire. One of them would work, she just had to figure it out.

Her train of thought was derailed when Claire effortlessly lifted her up and Irish Whipped her towards the ropes, no doubt setting up for something devastating yet decadent. Valley was almost curious what sort of move she'd go for, but not curious enough that she would stick around to see it. Not when she had much better ideas in mind.

Instead of simply bouncing off the ropes Valley leaped towards them and planted her feet on the middle, going through the springboard motion she'd done a million times over. She pushed down and flipped back before gravity could drag her to the canvas, and flew towards Claire with a moonsault. Her vibrant hair glimmered in the ceiling lights, her arms straightened at her side like an eagle in full flight, and her taut body formed a perfect arch as she came crashing down on the lovely giant.
Claire's eyes widened as Valley Doll's form gracefully somersaulted towards her. Despite her prior preparations, the giantess hadn't accounted for something quite like this.

Yet, Claire reassured herself of one thing: La Géante Fantastique never flinched, not even in the face of adversity! She stubbornly steeled herself, and attempted to fight past her obvious surprise. In that split-second, her choice was an obvious one; she'd attempted to utilize her strength and catch her dazzling opponent right out of the air!

Valley Doll's slender form would splash spectacularly with the giantess, but Claire's arms would snap around the woman's torso desperately. To her credit she secured a tight hold, but her opponent's considerable momentum immediately made the gesture incredibly awkward. Claire reeled sharply, her feet stumbled. A defiant cry left her lips, but all of La Géante Fantastique fathomless splendor would not stop her opponent this time.

The giantess fell, toppling backwards to hit the canvas with a loud grunt. Valley Doll, of course, followed suit and slammed directly atop her. Buried beneath her opponent, Claire could only offer a pained groan into the shapely hips that seemed to further obscure her senses.
_________________
Friction:
| Toph's Backstage Pass!
This was risky. Even for Valley.

Going airborne and letting gravity do the work was always a toss up, with so many ways a move could go wrong that many people asked her why she even bothered. Valley felt like she got better returns than most wrestlers out of it, but even so, she typically waited until the latter half of a match to start busting out the best moves. Rarely in the first few minutes, and almost never with an opponent she hadn't even really hurt yet.

But, like Claire had pointed out in her own, unique way, this was hardly a typicaly woman she was dealing with. Typical strategies wouldn't cut it. Valley would have to get a little wilder than usual, and she relished the opportunity.

Fortunately, the gamble paid off, in no small part thanks to Claire's tendency to try and tank her attacks. It wasn't the most graceful landing of her career and it knocked some of the wind out of her, but that was a pitttance to pay. The giant had fallen, and the initiative was Valley's for one, precious moment. "Is that enough passion for you, ma belle?" Valley gave Claire a quick pat on the stomach and smiled her way with a fiendish look. Couldn't resist.

She didn't waste another moment and slid back, rubbing her body along Claire's as she went, hoping her fine and fiesty opponent wouldn't mind some intimate contact to go along with their words. Valley sat behind the giant's head while she laid on the mat, grabbed her by the chin, and brought her powerful legs around her neck. She placed her right ankle under her left knee and tried to secure a figure-four headscissor, one of her best submission moves. Kicking wasn't the only thing her thighs were good for.
From her sprawled position, Claire would hardly miss the suggestive and subtle caress of Valley Doll's body. Regardless of her disadvantageous predicament, the giantess felt a gentle and alluring urge of reluctance begin to befuddle her better judgment.

Of course, once Claire's opponent coiled her supple legs around her neck, she immediately felt the negative affect of her sudden captivation. A sharp gasp left her lips. Claire tensed, reaching instinctively to pry herself free from her opponent's squeezing embrace. Unfortunately, the bold blonde proficiently locked in her punishing headscissor. Valley Doll's initial round of crushing pressure would be enough to bring a uncomfortable groan from the floundering giantess. The referee astutely rushed in to acquire any signal of Claire's submission.

La Géante Fantastique answered the woman's attentive concerns with a loud, blusterous, scoff. After all, this match was just getting started.

With a burst of strength, the captured giant would swivel fiercely within Valley Doll's clutches; turning completely around between her opponent's legs, and bringing her face into Valley Doll's hips. Admittedly, it was quite the flattering vantage point, but Claire did not relent. Shifting deliberately to rise up to her knees, she'd offer a coy grin from between the pretty woman's thighs, "... Très bon--very good, indeed."

"Ah, but!" Claire stubbornly continued her jovial banter, despite her clear discomfort, "One must always be careful when dealing with la passion, chéri..." Potentially foreshadowing what would come next, the indomitable woman would make her next move quickly. Still hunched over between Valley Doll's legs, Claire would rise undauntedly to her feet with one powerful motion--planting her feet firmly and thrusting her curvaceous posterior into the air. The giantess then reached down for Valley Doll's arms--or anything she could readily get her hands upon--before outright swinging her opponent up and off of the mat in one impressive motion.

With Valley Doll swept up to abruptly sit atop her shoulders, Claire hesitated only a split-second before swinging the blonde right back downward--driving Valley Doll into the mat with an explosive sitout powerbomb! Upon impact, La Géante Fantastique would simply allow her opponent's legs to sag, and straddle her hips, while her fallen foe settled between her thighs. Leaning over Valley Doll with a limber motion, Claire stretched easily to press her opponent's shoulders squarely to the mat for the pin!
_________________
Friction:
| Toph's Backstage Pass!
The crowd cheered as Valley secured the scissorhold and locked it in tight, putting her thunderous thighs to good use. It wasn't just the move itself that had them throwing some adulation her way - scissorholds were nice, but hardly that unique. It probably had to do with the fact that she'd used this particular hold five matches in a row, now. Which meant that the crowd was starting to recognize it and see it coming. Which meant, by wrestling law, that she was required to give it an official name.

Valley was pulled back to reality by Claire's delicious groans of pain. Not that she got any pleasure from hurting the towering titaness, but after the little display they'd stared with, it was more than a little satisfying to not just drag her down to earth, but keep her there. She was impressive, no question, and she knew the referee's concerns were misplaced - this match would end with a bang, not a whimper. For now, though, the ball was firmly in her hand.

For now.

That rapidly changed when Claire spun around and turned to face Valley. She clamped down hard, trying to fight it, but there was a thin, slippery sheen of sweat on her legs that made that a losing battle. She could keep Claire from escaping, but couldn't secure her position. The smile on her face was not a good sign

She furrowed her brow and muttered under her breath. "Crap."

It got worse when Claire grabbed hold of her arms and held tight, locking her in as she began to rise. Whatever she was about to do - and Valley could make some educated guesses - there'd be no escaping with her holding on like this. No reversing. No fighting.

Her brow dropped even further down. "Craaaaaap."

Valley could feel her guts shift around as she was hauled into the air in one, mighty motion, as Claire put her daunting power on full dispay. She wasn't all that heavy, only 150 pounds, but to be able to lift her and lift her so well...Claire's strength was amazing. If Valley wasn't so consumed with shock and fear, she might have even congratulated the French femme fatale.

Instead, her eyes widened as she was brought careening down to earth at mach-two. "Crapcrapcrapcra-"

She hit hard enough to bounce on impact, staring up at the ceiling through her hoisted legs. Her arms laid out at the sides as she rapidly blinked and her mouth struggled to form coherent words...and failed. All it could do was hang open, gaped and groaning.

"1...!"

The referee's shrill counting voice was enough to restart Valley's brain. She was upside down. She was getting pinned. She was about to suffer the quickest non-screwjob defeat of her career, and she needed to escape. Preferably in the next two seconds.

"2...!"

She kicked out as soon as the referee's hand began to rise for the final count, flopping off her shoulders and landing on her chest. She couldn't do much more than that at the moment, but at least she'd bought herself some time. "Still have some left, I think. Having fun, big girl?"

Claire couldn't see through the hair covering her face while she laid flat, but Valley was smiling. Even through the copious amounts of pain.
"Of course, how could I not? I share this ring with such radiant beauty," she chirped pleasantly, never missing a beat--seemly unfazed by Valley Doll's narrow escape.

Claire had felt the tremors that shook the entire ring when Valley Doll collide with the mat. She had also felt the alluring cringe that rocked her body upon impact. La Géante Fantastique was astutely aware of the kind pain she could inflict inside the ring. Wrestling was a truly hazardous sport, especially when she was involved. Of course, Claire took no pleasure in the solitary act of causing bodily harm, but no one could blame her for having a little pride in her work. She was good at her job, after all, and more importantly she looked even better actually doing it.

Thankfully, Valley Doll seemed to be taking things in stride. Well, as much as one could hope to take things in stride after getting squarely powberbomb'd by a self-described giant. Claire smiled at the thought, and nonchalantly reached for the blonde's ankle.

Her motions became swift and full of practiced finesse. Shifting up from her seated position beside Valley Doll, she would throw her leg right over the back of her prone opponent. Once straddling Valley Doll's back, La Géante Fantastique would pull up, and curl, the woman's captured leg, effectively lifting Valley Doll's hips right off the mat. She'd finally secure the limb by tucking Valley's boot neatly into the confines of her armpit. With the majority of her single leg Boston crab completed, Claire would lean back, allowing her voluptuous rear to sit heavily atop her opponent's shoulder blades; further bending the unfortunate woman's back.  

"Yes, it is a wonderful day, indeed, ma pêche. Non?..." There was an unmistakable bite in giantess' teasing tone. She'd crank the smaller girl's leg firmly, increasing the pressure on Valley Doll's lower back. Regardless of the impromptu contortion, Claire's free hand came to rake gently at the flesh of her opponent's stretched and thoroughly exposed thigh.

Claire hummed with a satisfied murmur.
_________________
Friction:
| Toph's Backstage Pass!
Ah, Claire was enjoying herself. Good. Valley had been joking around for the most part, but she did genuinely care about the two of them both getting something out of this experience. The Frenchwoman was a lively, vivacious opponent, and it made Valley think back to her first match with Haley: competitive, but with a friendly air, and no small amount of heat bubbling under the surface. Sexy, but without making the match less of a challenge. The best sort of competition.

That was one of the main reasons she was still smiling, even though it felt like Claire almost drilled her head straight through the canvas. That, and Claire being a relentless and fiery flirt, whose soothing words sent chills down her spine, despite the pain that accompanied them. "Have to watch it with talk like that." Valley placed her palms flat and started to push up. "You might give an innocent girl like me the wrong idea."

Or the right one. Woof.

Claire was in control, now, and she wasted no time in asserting dominance in her own, unique style. Valley started to struggle and crawl when the leg came over her back, suspecting what was about to happen, but it was a fruitless effort. The giant was having her way, and there wasn't much she could do about it other than endure.

Fortunately, she'd been wrong. Valley was expecting a full Boston Crab, but Claire settled for the Single Leg variation, leaving one of her best weapons free. Not that it would make all that much difference at the moment, but this was shaping up to be a hard match. She'd need all the breaks that came her way

"I've had better..." Valley managed to not think too much about the fine, fulsome rump that was rubbing against her shoulders, or the silky voice of the temptress bending her in two, but the nails caressing her thigh were too much to ignore. Valley bit her lip and shuddered at the sensation, enjoying a moment of bliss before the pain dragged her screaming back to reality. She clenched her teeth and started to pull forward, making a desperate attempt to reach the ropes.

"If you're going to give my leg that sort of attention, would you mind going a bit higher with it?" She squeezed out a few words between grunts. "I have this terrible itch..."
Claire was by no means what most would consider a submission specialist. However, in her previous years, the giantess had sought out to diversify her arsenal with an assortment of potentially debilitating holds; most of which made good use of her strength and size. With the brunt of her weight rested upon Valley Doll's slender back, Claire insured her opponent's attempts to escape--successful, or not--would likely be quite the rigorous investment.

"Fear not, Valley Doll!" Claire grinned and continued to take advantage of her opponent's plight. With an agonizing tug, she would lean back with all of her crushing weight. Wrenching her opponent's limb, she'd offer her teasing words once more, "I do believe I know of this unbearable itch you speak of."

Claire's free hand glided down the alluring and strained form of Valley Doll's thigh. The sultry touch of her fingertips would dare to tickle her opponent's bare flesh until they finally met the resistance offered by Valley Doll's tight-fitting shorts. Seemly unperturbed, Claire slid her hand just under the sweaty, elastic, fabric and gently groped her inner thigh; her proximity growing dangerously close to her opponent's groin, though Claire would never quite breach the sanctity of Valley Doll's most intimate area.

The crowd, of course, cheered the deviant spectacle. Claire, with her ever-poised beauty, responded to the adulation with a simple, coy, smirk.
_________________
Friction:
| Toph's Backstage Pass!
Even though Valley had only known Claire for a short time, she felt like she had a fairly good grasp of the woman's tastes and tendencies. Enough that she wasn't surprised when her request was met and those teasing and pleasings fingers did, indeed, start to journey southward.

What did surprise her was just how far Claire was willing to go. A scandulous gasp mixed in with her groans as she was caressed where the lights didn't shine, and pleasure worked its way through the crashing waves of pain. Instead of lessenign the pain, it only seemed to enhance it, as if her mind was having trouble processing the conflicting sensations and sent distorted signals to the rest of her body. It was maddening, and Claire's boldness made it worse. Even Haley hadn't been this brazen, didn't mix so much sensuality into their match.

Not that she minded. Not one bit. "Much better." Valley pushed her forehead against the canvas as she tried to tune the agony out. "Have to repay you for that...later..."

She had some ideas on that front, too, but they'd all be moot if the match ended here. She was lucky - it was a small mercy that the ropes weren't that far away. If they'd been a foot or two farther, Valley might have just tapped out then and there, but, as it stood, she could make the trip. Just barely.

She inched forward, struggled and sweated for every bit, until she finally got close enough to the ropes and reached out, snagging the bottom one and holding on like it was her lifeline.
Much better? Valley Doll's response tickled the French belle thoroughly. She laughed; it was a pretty, breezy, sound.

La Géante Fantastique continued to eagerly test her opponent's flexibility, right until Valley Doll finally secured the rope break. Of course, Claire had taken note of her opponent's sweet struggles for liberation. Given her size and strength, she could have offered some convincing discouragement to her opponent's efforts to escape.

But, then again, where was the fun in that?

Claire diligently respected the referee's rope break, though there was certainly an air of reluctance in the gesture. She eased Valley out of the torturous hold slowly, allowing her deviant hand to gently caress the woman's thigh as it slipped out from under the tight confines of her shorts. Regardless of the mildly seductive nature of the hold, Valley Doll's successful escape would bring an excited clamor from the crowd. Climbing slowly away from her opponent, the giantess once again towered over Valley Doll with a thoughtful expression, "Oh, my. Look how the crowd cheers for you, chéri." Claire would feign a pout.

"Ah, but it will be La Géante Fantastique who steals their hearts in the end," making her bold declaration, a poised smirk proudly graced her visage once more.

"And do not think you alone are safe, mademoiselle," enthralled in her own antics, Claire readily brought both of her hands together in front of her chest; joining her fingers to form a makeshift heart. "Your heart will be mine as well. This is non-negotiable, oui?"

For the time being, it seemed the charismatic titan had shifted gears and was now content in offering her opponent a different kind of pressure, even if it was perhaps just as potent!
_________________
Friction:
| Toph's Backstage Pass!
Page 2 of 3 •

1, 2, 3



Similar topics
---
Permissions in this forum:
You
cannot
reply to topics in this forum