Champions & #1 contenders
Summer Splash interest in Natasha Loclear?
Mon Apr 09, 2018 11:30 pm by daemongirl
Well my girl hasn't missed a summer splash yet, would anyone be interested in a match with her? Open to just about anything match wise, just pm me!
Comments: 1
Been Out with the Flu
Sun Apr 22, 2018 7:47 pm by daemongirl
Just letting those I have threads with know I've been out with the flu since early last week, but I will be back to posting tomorrow.
Comments: 0
The Austrailian Mudslide is Back.
Sat Apr 21, 2018 6:20 am by Softsquad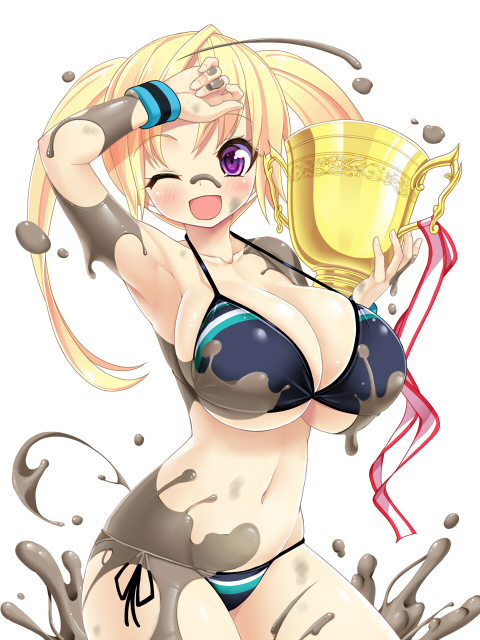 Granted that most of you won't know me or remember me, but I've had a few matches here and there some time ago. Well I think its time to become a regular around here and try to have some fun again, but at the same time keep coming back. Anyway I think its time to jump into some matches with Zoe Taylor, my mud wrestling character from Australia and get her back into the squared circle. Furthermore I will update my characters as I think some proper changes need to happen.
So if anyone would …
[
Full reading
]
Comments: 0

Daisuke was having a rough week, mostly having to do with that humiliating loss against that nobody,commoner girl Amy.The pair had bumped into each other randomly in the AFW Tension gym, the bump lead to some harmless banter, which lead to some not-so harmless fighting in the ring. It was true, the wrestling prince never gave this cute blonde a chance against him in the ring but she did manage to do a number on him, even knocking him out cold in the middle of the ring. Her tactic was rather unique, she relied more on her fists and kicks than technical wrestling and next time Daisuke would be well aware of that. Still, something had to be done to avenge his loss.

Her attitude was also something that annoyed him, Daisuke's arrogance was something that usually got to other people and frustrated them. Instead, reading her good-bye note in the gym he actually was a bit puzzled. What did she mean by "Dont ever change~"?. Perhaps she just liked fighting against arrogant people or maybe she found it appealing to wrestle someone who is wrestling royalty, according to himself.

There were no serious injures to either wrestler, some icing on his head and sides was all that was needed to get the wrestling prince back up and going. So here he was, tonight, in the Tension arena ready to call Amy out to an official wrestling match...no spar,no playing around, simple and standard one on one official AFW wrestling match.

Daisuke was wearing a loose black sporty vest, a pair of black sweatpants with two parallel white lines running across the side from the waist all the way down and white sneakers. He was walking through backstage, rolling his shoulders and stretching his neck. Looking confident, calm and composed. After his music cued, he didnt do much show-boating at all, he simply walked down the ring ramp ignoring the fans as he got near ringside and stepped up on the steel steps to enter the ring. He leaned over to the ropes signalling the ringside staff to hand him a mic, they obliged and quickly gave the prince what he wanted.

He still didnt look impressed, raising an eyebrow at the staff guy and glaring at him but was quick to turn back to the middle of the ring, mockingly dusting off the mic with his thigh to remove the "filth" before using it himself. "Alright, I'm here to address a problem. Last week, a miracle happened. Yes, thats right....a miracle. Some nobody, a third-class wrestler wannabe actually managed to KO me in the middle of the gym room ring. Yes, that happened I admit it...Hell had probably froze over that night as well." he said, before taking a dramatic pause and continuing on .

"So now, I'm here to right- the wrong. Lighting doesnt strike twice in the same direction. What im saying is, that little commoner won via a fluke. I AM....kind enough to give this girl the opportunity to get her first OFFICIAL AFW wrestling debut against wrestling royalty, such as my self. So I've laid down the challenge, is this ditsy girl brave enough to accept the challenge?" he smirked arrogantly as he pointed towards the area which connected the backstage to the AFW arena. "So come on Amy, your prince commands you" he added an arrogant taunt, knowing she probably cant resist such a challenge.
Amy was in a green room with Nathan. Neither of them had any matches, but they were required to attend each taping, even while on the bench. Both were fit to fight, but Nathan didn't seem to have any particular interest in setting up a match, while Amy just had no idea how to go about it. So they sat quietly like this every week, dressed in casualwear, waiting to be released from their obligatory attendance. They sat in chairs; Nathan sat in his normally, absorbed in a book, while Amy sat on hers backwards, head resting on her arms, her eyes glazed over, fixed to the television feed of the ring, which had no sound, but did have live English captions.

"Hey, what superpower would you…"

"We've done that one before. I'd pick flight, you'd pick ice powers, you'd win in a fight because ice attacks are good against flying Pokemon, we're not Pokemon, and why do we always have to be fighting anyway, shut up Nathan..."

"Well fuck, Nathan, excuse me for trying. How are you not bored?"

He lifted his book slightly, eyes still on the page. He was used to this. "What about that cellphone game you just downloaded?"

"I beat it."

"You could download another one. Or here-" He reached into his backpack and tossed Amy a thin blue book. Amy squawked as it hit her in the face. "That one's about the history of the festivals in a small town a little ways south of here. Try not to lose it; it's from the library."

Amy put the book down. Not happening. "What if we had a little spar, instead? Come on, Nathan, you're bored too, admit it."

"I'm really not."

"Yes you are. You're just... afraid... of…"

Amy trailed off. After a moment, Nathan finally looked up, and saw that Amy's posture was tense, and her expression stormy. "What's wrong?"

"That fucker!" Without warning, Amy leapt up and dashed out of the room. A moment later, a harried production assistant burst into the room. "Amy-san?"

Nathan waved him away, eyes glued to the screen, his book forgotten. "She saw."

---------------

Minutes passed, and the crowd was getting antsy. Would this mystery girl show? Maybe she was scared away. Then the speakers came to life.

"... no I don't have a song picked, just click play, it's already on shuffle. It's fine, I'm confident in my music tastes. 'Live mic?' Sorry, I don't… oh…"

Overthrow by Strife began to blare out over the crowd, drowning out any other backstage conversation that may have occurred. Amy walked uncertainly out past the curtains, mic clutched tight in her hands. Her expression was anxious, and flyaways floated about her face. She was wearing street clothes- jeans and a light blue windbreaker over a white t-shirt. This, coupled together with her failure to pick out entrance music beforehand, made her feel wholly unprepared. When she saw Daisuke strutting about out in the center of the ring, however, she found her voice again. She waited for the music to die down.

"The fuck, dude? -oh shit, can I say fuck?" She turned around for some guidance, but of course she was all alone on the ramp. She turned to face the ring again, then stopped.

The first thing she noticed was the crowd. Wherever she looked, she could see eyes observing her every move. She could hear thousands of hushed conversations about her occurring all at once, and together they converged into a deafening roar of whispers. She felt as if she were the only person on Earth.

The second thing she noticed was how hot it was under the arena lights. What else could explain the thin sheen of sweat forming around her face, neck, and shoulders? She wiped her brow. Yup, it had to be the lights. Amy swallowed and lifted her mic again.

"Uhh... hi everyone. My name's Amy. I wrestle for Friction, but I also wrestle for Tension. Today's my first day out here in front of the cameras and everything. It's very nice to meet you." The response was polite, but unenthusiastic. It seemed as though the crowd had yet to decide how to react to her. Amy turned her attentions to the Prince, slightly relieved. Talking to a single person was way more her speed than addressing an arena full of people. She cocked her head to the side.

"Hi Daisuke. You're looking much better today. Less… knocked out. How's your head?" A handful of laughs rang out from the crowd, and Amy felt encouraged, and she could feel herself relax a little more. She began to pace the top of the ramp.

"To start, I wanna let everyone in here know that our fight last week only happened because that man there in the ring bullied me into one. He disrespected me, he disrespected my possessions, and then he challenged me to a match. I think it's telling that he left this part out, but that's fine. We all know how things turned out."

"'Am I brave enough?' Now, I don't usually respond favorably to such obvious provocation, but you know what, it was pretty brave of you to call me out here like this after I handed you your ass last week. It takes a big man to admit that a 'ditsy girl' knocked you the fuck out in a fair fight, even though she was barely half your size. That sort of honesty is behavior I want to encourage."

"And yeah, maybe it was a fluke; I'll be the first to admit that I'm a pretty lucky gal. Maybe every punch I landed on your chin was a fluke. Maybe every reversal I pulled was a fluke. Maybe whole damned thing was a giant steaming pile of flukes, but, you gotta admit, that makes for a lot of flukes." I gotta stop saying fluke, Amy thought to herself. The word's starting to feel weird in my mouth. Amy stopped pacing and squared her shoulders to the ring.

"So yeah, Daisuke, wrestling prince, I accept your challenge. This isn't how I had planned to make my AFW debut, but I'm looking forward to showing the world exactly how our spar last week went down. I'm looking forward to proving to you that my win was more than just a fl... by chance. And I'm looking forward to picking up my first official AFW win."

She let her hand drop, the microphone feeling hot in her hands. The crowd seemed to have warmed up to her now, and there was a noticeable swell in appreciation. They seemed to like her confidence. Maybe some of the noise was from people who couldn't believe that the frail-looking girl at the top of the ramp could have done anything to hurt the solid-looking man in the ring. Or maybe they were just interested in seeing her get squashed. Amy let a smile play on her face, letting the crowd's buzz wash over her.



Posts

: 956


Join date

: 2009-01-19



After making the open challenge, all he had to do was wait. Wait for Amy to respond and he was sure she wont be able to refuse his royal invitation. After a waiting for a bit, we had a backstage malfunction as Amy began to speak out in the mic that controlled the surround sound arena music, which was probably a bit embarrassing for her. Daisuke raised his eyebrow at that moment of confusion and looked around before her theme finally kicked in and the blonde finally made her way into the arena, standing right on top of the ring ramp as she stared him down from the ramp towards the ring.

Daisuke began to walk towards the ring ropes which faced the ramp, leaning on them as he glared back at with a smirk. He laughed out a bit as she began to introduce her self rather formally , clearly this was a new experience for her and she probably had butterflies in her stomach. After a few tense and nervy moments, she did find her cool and began to reply back to the prince's comments about her earlier. He gritted his teeth in anger and shook his fist at her when she mentioned how he was feeling after last week's KO episode, the crowd laughed much to his anger.

Daisuke listened to her replies without saying a word, she probably did have a few good points there. She was half his size and it wasnt possible that everything that she did in the ring with him were flukes, still for his own ego the wrestling prince would still call them flukes nonetheless. She was still managing to get under his skin as she spoke openly about his embarrassment in the spar, sarcastically mentioning about how it takes a man to admit a hard loss against a ditsy girl like him.

Still, he tried to keep his cool after all that was said and done. Finally, after collecting his thoughts he finally spoke back without breaking eye-contact from Amy who was still on the top ring ramp."Heh nice speech there little girl. So you managed to beat me in the spar yeah yeah bla bla, but this is different. With a crowd, with a ref, with the added pressure of your first match. let's see if you have what it takes to win when it matters the most, in the official stage where it counts. So its settled then, you and me one on one in this ring. You're going to need more than luck this time" he arrogantly spoke back as he threw away the mic and gave her the death stare.


If you ever want to get a crowd going, hit'em with a mic drop. Daisuke threw his, and the sound engineers, ever the professionals, killed it before the landing could blow out everyone's ears with the feedback. But the effect was palpable. Thousands of heads turned from the ring and toward Amy at once, creating a very disconcerting human wave along the sides of her vision, and the rising "ooh~" and general bustle of the crowd further hammered Amy's concentration. This all only served to accentuate Daisuke's point- that fighting in the ring, in front of a very loud, very hungry crowd, would be very different than a quiet spar in the gym. Amy would never admit it, but the Prince had finally said something that shook her confidence.

Amy lifted her mic, then lowered it again. Finally, Amy bit down hard on her lip. Whether he's right or not, I totally dominated his ass in the gym, she reassured herself. It doesn't matter where we fight, or who's watching; the results are always gonna be the same. Amy felt her face stretch into a smile. I got this.

Amy raised her mic a second time. "Alright Princey, you got it. I'll see you next week." She blew him a kiss, winking and popping a leg up for good measure, and turned toward the exit. She raised an arm to wave good-bye, her back to the ring, as she disappeared behind the curtain. Then her voice sounded again, as deep as she could make it- so, not very deep at all. "Keep your face pretty for me for when I cave it in again." Then evil cackling.

-------------

Back in the green room, Nathan facepalmed.



Posts

: 956


Join date

: 2009-01-19



Clearly, Daisuke had managed to get under her skin by getting her a bit nervous. He could see her hesitating when she raised her mic and then lowered it back down. The wrestling prince only nodded his head with a smirk on his face, appreciating his own efforts to talk smack to Amy.

However, it didn't take long for the blonde to regain her confidence, she probably did some fast confidence gathering self pep talk or something. Whatever it was, it worked! She found her feet again and was quick to strike down the wrestling princes efforts to get her nervous for their upcoming match, much to the disdain of the prince.

Still, he knew how to present himself in the ring and how to keep things cool. "Alright then, it's settled. I'll see you IN this very ring....next week" he said throwing his mic to the ground. He was still inside the ring, he waited for Amy to make her exit first before bending down to the ring ropes and making his exit.

As he was halfway out of the ring, he heard Amy talk in the backstage mic again. His eyes widened as sweat trickled down the side of his head. That last remark, really get get to him. "Ngh! damn that bitch, I'll show her the difference between wrestling royalty and common trash" he said to himself before making his way out of the ring and heading back to the backstage area. He had alot of preparations to do to beat her, mainly because of their last encounter where he ended up unconscious

---
Permissions in this forum:
You
cannot
reply to topics in this forum