Champions & #1 contenders
The Austrailian Mudslide is Back.
Sat Apr 21, 2018 6:20 am by Softsquad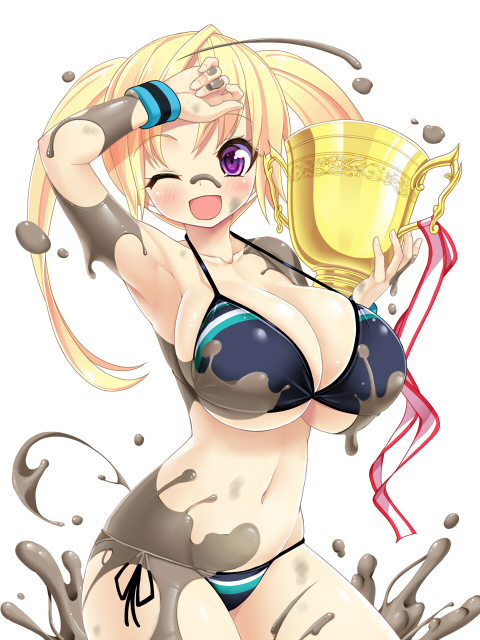 Granted that most of you won't know me or remember me, but I've had a few matches here and there some time ago. Well I think its time to become a regular around here and try to have some fun again, but at the same time keep coming back. Anyway I think its time to jump into some matches with Zoe Taylor, my mud wrestling character from Australia and get her back into the squared circle. Furthermore I will update my characters as I think some proper changes need to happen.
So if anyone would …
[
Full reading
]
Comments: 4
Looking for debut thread.
Sat May 12, 2018 9:28 pm by Hedgehawk
Hello All.
I am looking for a debut for my girl Trinity (http://www.afwrpg.com/t18107-trinity-cordova#495678).
This doesn't have to be a match, it could be a gym battle, interview or anything else. I just want something to help get Trinity off the ground. If you wanna plot feel free to reply to this message or fire me a PM.
Many thanks in advance and thank you for reading my message,
Hedge
Comments: 0
Page 1 of 3 • 1, 2, 3


Eka turned around again and sighed. Here she was in the halls of AFW and she was lost. Hopelessly lost. She loved finding a quiet office here to study and read and do her school work. The problem was the quiet office was tucked in this massive labyrinthine complex and Eka couldn't quite remember which way she came. She took off her crimson University of Alabama jacket and shoved it in her backpack, revealing a black tank top that complemented her jeans nicely.

She hauled her backpack up on her shoulders and continued on. The books she had were beginning to get a bit heavy and she was tired. The human sardine can of the subway was beginning to feel downright appealing compared to this. All she wanted to do was be back on her own bed, eyes closed, listening to some classical music and resting. But that might as well have been on another continent.

Eka turned into a massive hallway. Everything seemed ornate and beautiful and Eka was awestruck. She scanned the walls which were adorned with paintings and photos. There was one photo of a blonde woman and a redhead pummeling each other and another of women she had seen on TV. It occurred to her that maybe one day she would be in one of those photos and wrestlers would look up to her. A maudlin smile played across her lips. Maybe one day, but that day was a long time from now. Only one win in four matches wasn't quite enough to hack it.

The Georgian came across a big door, rosewood, it looked like. The placard next to the door had in block print a name: Lukretia Von Creuzfeldt. The big bad boss lady. Eka raised her hand to knock on the door but something held her back. Lukretia was a bit errr...intimidating. That was the right word. And Eka was just a new girl with ridiculous hopes and dreams. Not a complete nobody but getting there. She lowered her head. Hell, Eka would be surprised if the General Manager even remembered her. Eka raised her eyes again. This was her chance to change that, even slightly. This was her opportunity to reverse her fortunes, even if only a little. And it would be rude not to say hi.

Eka rapped on the door twice and listened for a response.
The nameplate said Lukretia Von Creuzfeldt but as Eka timidly opened the door after a gentle knock, she would not be greeted by the face of the infamous General Manager. Instead, as it opened, there was a very tall, statuesque blonde greeting her with a friendly smile.

"Guten tag!' She chirped in German as she smiled at Eka. "Come in! Come in!" She said and ushered the girl inside. There was a lavish office set up with another door leading to another office. Hilde Von Creuzfeldt was Lukretia's secretary and she pulled Eka into the office.

"Coffee? Tea? Water?" She asked as she went right to her little stand to make up whatever Eka wanted. "I am guessing by the knock that you do not have an appointment?" She asked while she busied herself. "Not everyone does, at least their first time. Usually they learn to make an appointment after their first meeting." She said almost cryptically despite the soft chuckle.

"So, what do you need to see Ms. Von Creuzfeldt about?" She asked.
Eka had no idea why she expected Lukretia to just open the door. Of course she had someone do it for her. The boss lady probably had a whole army of maids and attendants and concubines and god only knows what else. "Um, hello." Her voice was higher pitched than it should have been and Eka cringed at how stupid she sounded. "Water, please." Eka didn't need any more caffeine. The thermos rattling around her backpack had been filled with coffee and she was already a bit jittery. Eka hoped it was the caffeine that was nearly making her jump and not nerves.

The Georgian chuckled nervously along with the woman. "I do not have an appointment. I just saw the name tag and wanted to come in and..." And what? Make a fool of herself? No. To try and chat and butter the manager up a little bit. To see if that got her anywhere. "I just wanted to say hi. This is polite, yes?"

Right. Politeness. She could do this. "I am Eka. Eka Guramishvili." She gave a brief nod as if that accomplished anything and extended her arm for a handshake. Try as she might she couldn't quite make eye contact with the tall beautiful blonde woman. It was just too much.
Hilde deftly poured the water and slipped the glass to Eka. She gave her a smile and then strode back to her desk and began clicking away on her keyboard.

"Ahhh, Ms. Guramashvili." Hilde said with a practiced tongue. As a German and a businesswoman, she was no stranger to the more... unique... Eastern Block surnames.

"Let me see if Ms. Von Creuzfeldt is available." She said and hit her intercom button.

There was a quick exchange of German between Hilde and the intercom box with Eka's name coming up briefly from Hilde. After their conversation, Hilde smiled at Eka. "It seems that Ms. Von Creuzfeldt has some free time. You're free to enter, Ms. Guramishvili. Good luck!"
Eka gladly accepted the glass of water and took a long drink. She felt that was a solid excuse to not talk. The Georgian woman really didn't know how to respond to the tall German (she had to be German, right?) woman that currently seemed to be in control of this space. The German they were speaking seemed quick and forced and mean to Eka's ears; she thought that was a bad augury of things to come. And the smile that the woman had...it seemed malicious. But maybe Eka was looking to far into all the little things and worrying too much. She tended to do that. So Eka smiled back and headed to the door.

Good luck. Those words rang in her head. Luck? What did that mean? Before opening the door she closed her eyes and breathed in. There was no reason to be nervous, surely. This was all just in her head.

She opened the door and peered around it timidly, not entirely sure what was going to be on the other side. "Hello? Mrs. Von Creuzfeldt?" Maybe calling her Missus instead of Miss was a mistake. It seemed more respectful in Eka's head. But there was no going back now.
Lukretia didn't even look away from her computer as Eka poked her head in. "Ms. vill do, Fraulein. I assure you zat I vill never be married." She stated matter-of-factly. "Come in." She said tersely. "Und close ze door behind you. Schell, quickly." She didn't like having her door opened.

She let silence fill the office as she continued to work. Eka had obviously come with something to say and Lukretia's time only required she be at her computer. It didn't mean that she couldn't leave her ears open for whatever urgent matters Eka had.
Eka did as she was told, softly closing the door. She had hoped they would have gotten off on a better foot. But she could still make it up. Probably. "Um, sorry. Miss. Miss von Creuzfeldt." Eka trailed off at the end there. She wasn't quite sure what she wanted to say. The Georgian adjusted the straps of her backpack. It was rude to just go sit down, she thought. Lukretia hadn't offered her a seat. So she stood there, like an idiot she reckoned, gawping at the impeccable woman in front of her.

"I was just uh, a bit lost," she chuckled a little bit, "And I saw your office and I just wanted to stop in and say hello. You saw me at the Beat the Clock Challenge, yes? I did not win but I tried my hardest. And at Avalanche, I was in the dark match, but I still went as hard as I can. I was just hoping that you would like it, and..." And she was rambling. Lukretia probably saw her as some supplicant or a starry eyed idiot. And she wouldn't be that far off the truth. "And I just thought I would come in and say hello. How are you? You must be a very hard working lady, yes? Because I am working hard, too."

Eka would have been happy if Lukretia looked at her. The Georgian looked at the blonde woman advertently, looking for some signs of joy or anger or anything.
Lukretia paused her typing when Eka began to speak. She turned her head and looked at the girl raising an annoyed eyebrow at the words Eka spoke. "You thought zat I vould like it and... vhat?" She said.

Lukretia slipped out of her chair and stood up. She wasn't a tall woman, but her presence in any room made her always feel like the giant. She tilted her head and her blue eyes stared at Eka's.

"Vhat do you vant from me, Fraulein?" Lukretia said as she stalked towards the Georgian. "You have come to zis league und you have 'done your best,' right?" She said. "Und now? You have said hello..."

Lukretia was right in front of Eka, staring up at her, pressing her backwards against the door with her body. "Is zat it?" She asked, her lips forming into a wicked smile.
Eka got her wish. Lukretia looked at her. A drop of sweat began to run down the side of her face. Lukretia had such an imperious presence that she began to feel the heat. The Georgian told herself it was quite stuffy in the room, that it was hot, that it wasn't the General Manager heaping the pressure on her.

"And I don't know. I just wanted to make you proud of the product that you work so hard for and I wanted you to know that I like everything here very much and that every day I am getting better and I don't have anything to ask of you not really and this office is wonderful and you are wonderful and there have been so many good matches lately and how 'bout that Entropy Title match or the big Title match and and and..." The torrent from Eka's mouth could hardly be controlled- it came out at a spitfire pace and her Georgian lilt set all of her words on a rollercoaster that bounced and rode her speech beyond her. Eka hoped that Lukretia had this particular effect on everyone. She hoped that people were so intimidated by her power and beauty that they just babbled on.

And worst of all, the domineering woman was moving towards her. Eka moved back slowly until her backpack was pushed up against the door. Her body tensed up involuntarily and she closed her eyes. She opened one and looked at Lukretia. "Um, yes. That is it. If you want that to be it. Ma'am."
Lukretia didn't stop moving forward, just because Eka had run out of real estate. She didn't say a word until she could no longer bear Eka's stammering attempts at brown nosing. She finally put a forceful finger to Eka's lips and narrowed her eyes.

"Fraulein." She said in an almost annoyed tone. "If you desire so badly to kiss meine ass, you had better be prepared to use your tongue." She said as she let her finger slip. She touched it against Eka's breast and pushed it into the soft flesh.

"You might do better off learning your vay around zis facility, Fraulein." She said as she pushed a knee between the girl's legs. "Because I believe you should never vish to stumble into meine office on accident again."

Lukretia tilted her head. "Pride is somezing I rarely feel for ze vast majority of wrestlers under meine employ. If you vish to earn meine respect, I am certain I could put you through ze ringer. If you survive, I assure you zat I vill hold you in high regard." She said with a sinister grin as she looked up at Eka.

"Now, Fraulein, vould you like to continue vith your pitiful idle chatter? Or shall I undress so you can get to business?"
Page 1 of 3 • 1, 2, 3



Similar topics
---
Permissions in this forum:
You
cannot
reply to topics in this forum