Champions & #1 contenders
Serious apologies to everyone....
Mon Mar 19, 2018 1:59 am by Cy_Man
To those who I RP with, I just want to say that I am terribly sorry for all my delays that I constantly do. I just have been SO unbelievably busy as of late that I hardly have any free time to be able to attempt to make posts to our threads. I really needed to get his off my chest badly, and it makes me feel like a complete piece of shit for doing this all the time. If you don't want to RP with me, I completely understand, there should be no reason or excuse for me to have to keep you waiting …
[
Full reading
]
Comments: 1
Explanations and Apologies
Sun Mar 18, 2018 10:02 pm by acuya
Okay, so.
As some of you may have noticed, the Entropy Title Match from last year's Summer Splash has come to an abrupt conclusion.
The reason for this is because my match with Lies was taking too long, and with the next Summer Splash coming up, the Entropy Belt needed to be put in play for this year.
I won't get into the specifics of WHY that happened, suffice to say it ultimately comes down to my fault, I think. For those who haven't been here long, back in the day, I had a problem with …
[
Full reading
]
Comments: 1
A match for Takeichi
Mon Mar 12, 2018 7:31 am by GrandAkumaShogun
Since both Imai and Takeshi are currently involved in matches I was wondering if anyone is interested in taking on my first wrestler I made for here, Takeichi Mori. His profile says he's a jobber but I intend to change that and hoping a match can help with that. Anyone interested please get in touch with me on here in a pm.
Comments: 1

Name: Rachel Carin
Sex: Female
Age: 24
Eyes: Blue
Hair: Black with colored streaks (she re-dyes the streaks constantly, so the color is not important)
Height: 5' 4"
Weight: 110 lbs
Nationality: Canadian
Alignment: Face
Entrance music: "The Devil Within" by Digital Daggers
Wrestling Information
Strategy: Rachel's idea of strategy is, "If you can take a beating, you must be good in a fight, right?"
Style: Street fighting. A little on the dirty side but mostly because she doesn't know better.
Preferred Attacks: Hitting the other girl. That's about the extent of her preferences, really.
Preferred Matches: Rachel likes the idea of hardcore matches, because, to her, the fewer rules she has to worry about, the better. Since she needs the money, though, she'll sign up for whatever she can.
Endurance: *****
Strength: *
Speed: **
Defense: **
Technique: *
Characteristics
Visual Appearance: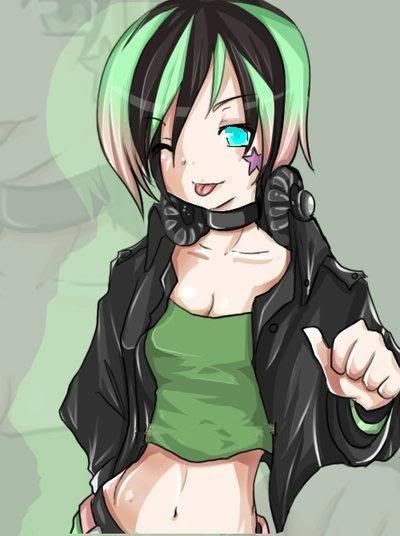 Personality:
In the ring, Rachel tries to put on a tough face at the beginning, hoping that her iron will will carry her where her fighting skill (or lack thereof) can't. This almost never lasts, though, because her natural empathy makes her almost more concerned for her opponent than herself. Still, if there's one thing Rachel isn't, it's a quitter- even when she should be. Even if she can't always deliver a good hit, she can take them like a pro, and has a bad habit of getting up long after she should have stayed down. Virtue of this fact alone might be the root of what fanbase she has... other than those who simply enjoy seeing a girl like her get torn to shreds.
Outside the ring, she is very compassionate and good at connecting with others, though at times she can be a bit of a shut-in. Rachel also has the habit of making decisions without thinking them over, which is how she got involved with the league to begin with, and this tends to get her into more trouble than not. She likes to play it fast and loose, and is pretty open to people's vices.
Rachel's natural empathy also makes her unreasonably forgiving, for good and for ill. While this has won her the sympathies of some people that would normally hold a grudge, she also finds herself caught up with people that have hurt her badly.
Past/History:
Rachel has always been on the receiving end of life. When she was an infant, her mother passed away, leaving her to grow up with a single father, struggling to support his family. She's been in a number of unhealthy and abusive relationships, and by the time she was in high school she was running with a pretty rough crowd. The only true and consistent friend she has is Alex Withers, who offered to join her in Japan as her tag-team partner.
Spoiler:

Rachel on the night of her high-school prom.
Rachel got involved with the AFW after owing some outstanding debts to the wrong kind of people. Unable to hold a job and running out of options, her dealer and ex boyfriend, Dave, suggested signing up for the AFW. Since the league covers most of the outstanding costs (like travel and hospital bills) and she doesn't need to win to get paid, Rachel figured it was a decent enough idea. So Dave signed up as her manager and the two of them (as well as Alex) flew off to Japan.
Since Joining the AFW:
Wrestling Attire:
A belly-hoodie and jeans, sometimes a baseball cap. She will always wear the collar that belonged to her mother, even when the match type expressly forbids it. She often forgets to wear underwear, she never wears shoes (despite it almost always putting her at a disadvantage). Since the attire restrictions are pretty much nonexistent, Alex has also convinced her to go topless for some matches, "like a dude would wear to a fight."
Fun Facts:
-Rachel suffers from clinical depression, though she keeps it a secret from almost everyone.
-Though she doesn't believe she'll ever achieve it, Rachel dreams of getting a degree in psychology.
-A big pillar of her friendship with Alex Withers is their sexual orientation. Alex would often get picked on for being gay; Rachel, being bisexual, could easily relate.
AFW Information
Record:
Wins:
Losses:
Vs. Mari Fuuma via submission
Vs. Serina Kashibara via submission
Vs. Amy Poford via pinfall
Tag Team Match with Maddie Hanezawa vs. Elsa Grey and Haruna Saitou via submission
Vs. the Violator via submission
Handicap match with Alex Withers vs. Killer King via submission
Vs. Hayasui Koridae via handcuff
vs. Akiha Kosha via KO
AV 15 Mongolian Horde match
vs. Ivan Komorov and Juni Acker via submission
vs. Kyoko Akan
Draws:
Championships/Accomplishments:
Friends: Alex Withers, Amy Poford, Hayasui Koridae
Allies: Alex Withers, Amy Poford
Rivals:
Enemies:
Crushes:
Last edited by Clobber Jobber on Thu Nov 10, 2016 11:07 pm; edited 15 times in total



Posts

: 1487


Join date

: 2015-01-05



Approved!

You may make matches and rp as you like.

Though, Alex's picture isn't showing and has less detail to it. (which is why I approved Rachel instead)



Posts

: 27333


Join date

: 2009-04-02


Age

: 97


Location

: VIP Box inside the AFWDome





Similar topics
---
Permissions in this forum:
You
cannot
reply to topics in this forum