Champions & #1 contenders
Reduced Post Rate
Tue Jun 27, 2017 12:14 pm by RadiantKarna332
For those who are currently roleplaying with me in threads, you guys may have noticed my reduced post rate. I'm sorry for being so late to inform you guys about this, but due to some real-life businesses, I have no choice but to post infrequently compared to usual. I'm so sorry about that.
So, I will return to my normal schedule next week, so please don't worry about me not posting. Have a nice day.

Comments: 0
Active Kawaiis
Sat Jun 24, 2017 1:25 am by Daaharu
Hey, guys. I'm hoping to get a sense from everyone of where the active kawaii girls are at. No guarantees or anything, but I am looking to figure out who is out there consistently making matches because we are looking to inject some new blood into the kawaii title scene, and I don't want to have tunnel vision on just the players and characters I know.
So, if you've got a kawaii girl who's had at least one match and is currently active, can you let me know either here or via PM or IM? This …
[
Full reading
]
Comments: 6
Ending RPing
Sun Jun 25, 2017 7:04 am by KillerV
After I finishing up couple of threads, I am officially done RPing here. I apologize to you guys currently with me and even the future ones. But I am just tired of it, not going into too much details as it makes me feel like ranting so much, rather not.
But will still be here just to read n respond, as for Trillian, wont able to contact me soon, rather send PM here instead.
Good luck with everything.
Also, NOT gonna give King, rather not see people using him like
[
Full reading
]
Comments: 7
Page 1 of 5 • 1, 2, 3, 4, 5

Kelli rode up on her motorbike and maneuvered into a small car park beside the "Cafe Silk", supposedly one of Melissa Seller's favourite haunts... It was a Thursday afternoon, not a meeting by night like last time it would seem. The purple haired Italian stepped off of her bike and made sure it was locked up while a couple of passer-bys took the moment to examine the short scrappy tomboys from behind in her skin tight full body biker leathers. She simply snorted and continued as if she hadn't noticed them taking an interest, she had more important matters at hand...
Dear Ms. DiVanetti

I would be most grateful to share your company tomorrow afternoon 3pm. There is a simply delightful cafe (the Cafe Silk) which does mocha lattes that is to die for. It is just on the outskirts of Kyoto central on the corner of mains street.. You can't miss it.

Tata deary
Ms. Melissa Sellers
The letter as usual from the GM from Tension was light on information... Kelli could already bet that the other members of Thorns of a Rose had received similar correspondence and would be on their way here, if they hadn't already arrived. Kelli looked at her wrist watch.
"Damn.." She hissed, sit was 2:56 pm.. Not that she cared all that much, but as she had turned up early the last time it would have been good to turn up late... Just to make sure that she didn't look too eager to be here or anything.
Reira had grumbled to herself all through her train ride, and during her light walk from where she left the train to the cafe itself. She had reason too. She never really liked following orders, just one of the reasons she had failed in her attempt to join the JSDF. She liked to do things her way and her way only.

Still, Melissa Sellers had given her the chance nobody else would, and she owed her for that, hence why she agreed to work directly for her. Which meant having to follow orders. The redhead veteran could understand that, but that didn't mean she had to like it, especially orders like this. Meet at some cute little cafe over latte's? She was the contender to the Tension Title, not some teenager heading to the freaking mall.

Checking her phone for the time, she grumbled yet again as she realized she was almost perfectly on time, 2:58, as she came to the front of the cafe itself, resisting the urge to groan before she walked in.
A stairway lead up to a dark wood porch at the entrance to the cafe, the shade that the overhang created coupled with the tone of wood kind of concealed the Italian small figure that was leaning up against the wall just inside with her arms smartly folded just under her breasts

"So you're going to be the new girl huh..?" The voice came as Reira started to ascend... It was a pointless question, she had of course seen the events of the Tension Battle Royal in which Melissa came out to congratulate her. Plus the fact that she was appearing here wasn't going to be a coincidence, an upper class cafe like this... If Reira was anything like her, she wouldn't ever be hanging around a place like this.
Aoi had, of course, arrived fifteen minutes early. Her small mug of tea was sitting in front of her chair. While she waited, knowing she would have to after she had become accustomed to how Melissa worked, she had gone off to powder her nose only to return to find the two "rougher" members of the Thorns having arrived.

"Reira-Sama, Kelli-sama." Aoi said, bowing to both girls as she slipped past him towards where their table was situated. "Melissa-sama always knows how to pick the most exquisite locations for things. I'm sure we'll be treated to another fine celebration after all of our hard work." She said, her pretty smile never leaving her perfectly red, lipstick coated lips.



Posts

: 27333


Join date

: 2009-04-02


Age

: 97


Location

: VIP Box inside the AFWDome



"You could say that, I guess...Didn't I see you get fucked by that "Thunder" guy once?"

Reira replied, as her and Kelli entered the cafe. Kelli was, while not as big a name in Tension as she used to be, still a pretty big name, only that been around in Tension since its early days. The girl was tough, and Reira could, at the very least, respect that.

This cafe though....she didn't feel too comfy in it. It wasn't her kind of place at all. She blinked as Aoi gave her a respectful greeting, leading them two the table they were to meet at. Personally, she wasn't sure what to think of Aoi. She had seen the woman get a spot at Tensions first real PPV event, sucking off some worthless jobber guy to an easy victory. Reira wasn't sure how much wrestling ability she had, but she didn't think highly of what she had seen so far.

"So...who else is in this...group...again?"

She asked Kelli, picking her chair and sitting down.
Kelli squinted her eyes

"No.. I don't know what you're talking about." She hadn't faced anyone called Thunder before and wasn't too keen on the derivative tone Reira used when she suggested the Italian had been fucked by them. Kelli moved up to the table and sat down, the cafe had shaded windows so as to only allow moderate lighting in and give the inside of the cafe an almost romantic feel to it. She nodded a greeting to Aoi, but only voiced an unenthusiastic "n'yes..." to her comment about the venue they found themselves in.

"There's Emi, Angela and Poison... I don't know if you could call them nurses thorns as well."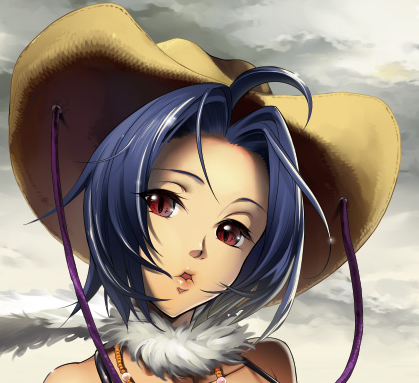 Just as Emi's name was mentioned she walked into the room wearing her newest accessory. "Hey, what's up?" Emi would say with a smile on her face as she looked around the room at her teammates. "Who are you?" Emi said as she noticed a new girl standing there with the other Roses.
Emi was expecting their boss to be here to congratulate them on their win over the pathetic Clyde Gastin but As Emi looked around again all she saw was this new girl, Aoi, and Kelli. "So, anyone know why we are here?" Emi said as she took a seat by the other Roses.

_________________
Characters

The Den



Posts

: 8276


Join date

: 2009-03-02



Oh god there was more of them...of course there was more of them.

Barely holding back a groan, Reira turned toward the cafe's newest entrant, looking her up and down. She didn't really know anything about Emi, but she didn't seem all too impressive.

"Name's Reira....I'm...*sigh* I'm the new member..." She said, though as to her other question, Reira only shrugged in response.

"So...do you girls actually do anything other than just beat up that pathetic cowboy?"

She asked, being her usual abrasive self.
Kelli couldn't help but smirk at Emi's brand new accessory

"Heh.. looking good cowgirl." She snickered, knowing that Clyde would probably be livid if he knew she was using it as her trophy. Reira poked in with another question after her obviously pained admission of being the new girl... It seemed to be in much the same vein as her earlier off hand comment about that "Thunder" guy.

"I don't know..." Kelli mused as if thinking seriously about the correct answer before giving it to the red head when she was far from attempting to give her any sort of satisfactory answer. She folded her arms and turned towards Reira

"Do you actually do anything other than just snipe and snide?" she threw back at the red head in much the same format as Reira had put her question to them
"As a matter of fact, I do."

Reira replied, allowing herself a slight smirk as she looked the biker girl

"I win. Just like I won that Battle Royal, and just like I'll be winning the Tension Belt off that clown John Mitchell. Once its mine, I'll be calling the shots around here too."

She said, a cocky expression on her face.
Page 1 of 5 • 1, 2, 3, 4, 5


Similar topics
---
Permissions in this forum:
You
cannot
reply to topics in this forum