Champions & #1 contenders
Highfly Flying Out Of Town
Tue May 22, 2018 1:31 am by HighFly
Hello everyone, I just wanted to inform all I have threads with that I will be gone from this coming Wednesday through Sunday. I won't be able to post consistently if at all during this time, but I will try to make up for it next week! I am sorry for the inconvenience to everyone.
Comments: 7
The Austrailian Mudslide is Back.
Sat Apr 21, 2018 6:20 am by Softsquad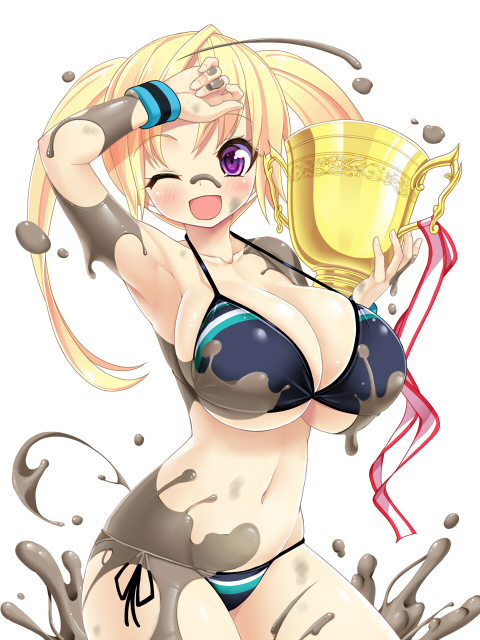 Granted that most of you won't know me or remember me, but I've had a few matches here and there some time ago. Well I think its time to become a regular around here and try to have some fun again, but at the same time keep coming back. Anyway I think its time to jump into some matches with Zoe Taylor, my mud wrestling character from Australia and get her back into the squared circle. Furthermore I will update my characters as I think some proper changes need to happen.
So if anyone would …
[
Full reading
]
Comments: 5
Page 3 of 6 •

1, 2, 3, 4, 5, 6


"1...!"

The referee had barely begun to raise her hand for another count when Bryan kicked out, forcing to flop to the side and roll on her back. She stayed, there and watching him as he rolled out of the ring and took a breather on the outside, gathering himself and probably wondering what kind of car just slammed into him. She could sympathize, she'd been there. Had one of those matches where you're just overwhelmed, can't get things together. Probably happens to everyone.

So she'd feel a little bad about making it worse. But not so bad that she wasn't going to do just that.

She stood back up and made her way to ropes, slipping through middle and the bottom while Bryan was pacing back and forth. Kozue stood up on the apron and made sure the distance was right - exactly right - for what she had planned, to avoid something nasty like, say, smashing face first into the barricade.

Looking good. Now, for the followup.

She jumped off the apron and landed on Bryan's chiseled shoulders, wrapping her thighs around his neck to keep from slipping of. She enjoyed the piggyback ride for about half a second, before she jerked back and sent him flying away ass over teakettle, going for the reverse hurricanrana.
With Bryan rolling out of the ring and taking a breather it effectively put a grinding halt to the quickened pace of the match, killing the flow and earning the constantly tripped up male model  more than his share of boos and jeers from the audience. Bryan seriously just needed a few friggin seconds to collect himself and devise a plan of attack that didn't involve Koz running circles around him. He seriously needed to stop comparing Koz to Lucy, they both got speed to their game, but Koz was just fuckin relentless with it...

B-ry scratched the back of his head and paced outside of the ring briefly, but a strategy would hardly start to form before the slippery ninja girl took advantage of his rookie mistake and lept onto the back of his shoulders with enough forward momentum that he almost tripped up and face planted. "Wha-hey!!" Some wild flailing of his arms and a few steps forward saved him from once again losing his balance, though now Ninjette had her lean thighs tightening around his neck while also supporting her lightweight but still fuckin heavy body. He grasped her ankles and groaned from the literal weight on his shoulders, briefly reminded of the same setup but in a pool party a few years ago. Though he had a feeling this wouldn't turn out quite as well for him…

As Ninjette forcefully jerked back Bryan went ride along for the ninja girls ride, floating and flipping backward through the air before landing head first on the mat with a hard hitting thwack. His well sculpted frame slumped over in a heady daze, squinting while holding his aching head as the crowd was rallying behind Kozue something fierce by now…
Last edited by killcarrion on Thu Jan 08, 2015 11:08 pm; edited 1 time in total
When Kozue jumped on Bryan's shoulders and he stumbled forward, she had a horrifying moment when she thought she'd severly underestimated just how steady his legs were and how capable he was of holding sudden weigths getting dropped on his shoulders. The reverse hurricanrana was a good move - hard to predict, rarely seen, and it couldn't be countered into a powerbomb like the normal one. The only flaw was that it required the person she was jumping on not to fall forward and slam her face into the pavement.

Fortunately, Bryan was made of sterner stuff, and he stayed in place long enough for the move to work. She went down, he went flying up, and the crowd went wild.

It was a good feeling - not just the move itself, but knowing that she managed to pull it off in an actual match, when it really mattered. All the hard work and time spent, finally coming to a head. Kozue looked over her shoulders with a smirk as she stood back up. Yeah, he'd be down for a little while. No harm in enjoying the moment.

"Banzai!" She threw her fists up toward the ceiling and the crowd cheered along with her, showering her with a quick round of applause and bombarding her with camera flashes.
If Bryan's rookie status wasn't immediately obvious before, it damned sure was now. With Ninjette's quick, methodical strikes picking away at his legs and her seamless reverse hurricanrana nearly flipping him out of his shoes, the ninja girl was basically just showing off for the audience at this point. Whatever Rocky Balboa training regimen Kozue mentioned on that lonely pier was paying off and then some, Bryan not expecting to be quickly taken out of his game by the toned ninja girl not having any issue making him look reeeeally bad right now.

"Sunnova…" Bryan wearily glanced upwards to catch Kozue standing over him and hyping up the crowd with her Japanese war cry, the audience eating it up and asking for seconds. A decent sneak peek at that curvy ass of hers, but other than that it was not exactly an encouraging sight to say the least.

Groaning from the head pains and twisting to his sides, B-RY knew he needed to turn things around and stop letting Kozue play her game. Keeping up with Koz once she's sprinting around at Mach 2 was just not gonna happen. Gotta slow things down and ground this high flying kunoichi….

B-ry took his sweet time getting back up, seemingly struggling to just to get his feet beneath him, all an effort to lure in Koz even if it meant playing to her sympathy. Once on one knee and if Ninjette took the well-acted bait, Bryan would swiftly rise up and wrap his arms around Koz's slender waist and lift her off of her feet in a constricting bearhug. Bryan would jerk in the hold and flex his muscles with a hardy grunt, compressing their bodies tightly together and hopefully draining some life out of Kozue.
Kozue didn't catch all that much wrestling before she joined the AFW on a whim, but when she did, she always thought the wrestlers were stupid when they showboated and played to the crowd. It wasn't like they got some sort of supernatural powerup from it, it wasn't like taking the time to play to the crowd was going to help you win the match. Why bother? Play to the crowd after you win. If you win.

But now that she was actually down here, now that she had the lights on her, now that she had the fans cheering her name and throwing smiles her way...it was easy to get caught up in the moment. Kozue had had the initiative, Bryan was down and reeling. She could indulge.

But not for too long. They were on the outside of the ring, so the referee was doing the slow count, already working her way up to three. There wasn't any real danger of either of them losing the match that way, but all the same, it would probably be best for her to move the fight back in there and stop playing around on the outside.

"All right, big boy." She turned away and started to saunter towards him as he came back up on wobbly feet. "Let's take it back-"

She wasn't the only one in this match who could throw a trick or two, and she figured that out quick  when Bryan surged up and caught her in a bearhug, trapping her arms at her side and squeezing her like a skinny tube of toothpaste. Kozue let out a sharp cry as he powered down the hold and gave her a firsthand demonstration of what all that eyecandy could do. In another situation, this might have been intimate - the way their bodies rubbed against each other, his chest slid against hers, their thighs mingled. If there was any intimacy to be had, here, though it was getting smothered out by the mountains of pain being heaped on it. "Fuck..." She writhed in the hold, searching for some give and finding none. "Fuck!"
Never let it be said B-RY didn't have the acting chops to headline a major motion picture, Ninjette buying his lowly, downtrodden performance hook, line and sinker. He wasn't totally beaming with pride over the fake out, but desperate times and all that shit. Though in all honesty there wasn't that much to improvise, Bryan still lite-headed and quite rattled from being embarrassingly chucked to the mat head over heels by the light weight ninja girl. Bryan hoped she was just messing with him about going all out...it was only his second match and the first was against an 18 year old British teen still recovering from her last match!! Some difficulty curve...

"Hrrgh!!" By no means a roided out brawler like Killer King, the flexing of his muscles still kept Ninjette locked in place and yelling obscenities right into his ear with his head resting on her shoulder. With each of her squirms and fidgets, B-Ry grit his teeth and responded with exaggerated jerking motions to wear her down, shaking her from side to side before tightening the embrace once again. Her swaying chest bounced and compressed against his pecs, the hug getting slightly steamy as a result of the skin contact. The shared body heat from their abs breathing against each other causing a slight sheen of perspiration….

"7!"

Bryan perked his head up as the ref seemed to yell that count out number louder than the rest to get their attention this time. He seriously lost track of time during all this, confused from the sudden urgency to get back in the ring. But he doubted many would blame him, kinda hard to stay focused in that type of….up close situation with someone as smokin as Koz. A flustered expression over his slightly reddened face, B-RY liked to live on the edge and decided he had time for one more move before sprinting back in the ring. Setting down the limp ninjas feet on the mat, Bryan attempted a shoulder charge into her taut abs against the side apron.
Bryan's body was rock solid, and Kozue could attest from first hand experience. She struggled. She squirmed. She stretched. But there was no getting out of this hold until he let her go, and no way to tell when that would be. She couldn't even get her legs in the proper position to kick him in his weakest spot. Not that she would stoop that low, but it just showed how well the move was locked in. Movement was simply not happening.

At least he didn't seem to be getting the typical male reaction to rubbing a girl this hard and having her this close. This move was awkward and embarrassing enough without having something long and pointy prodding at her thigh.

When she heard the referee count, Kozue would have breathed a sigh of relief if her lungs hadn't been so compressed. She figured Bryan would take it as a sign and move the match back inside the ring, which wouldn't make things all that much better for her, but at least it would take her away from objects to potentially have her head smashed against. When he set her down, she expected him to do just that. Instead, Kozue's back was introduced to the apron, at ramming speed.

Kozue tried to put up a little struggle as Bryan tackled, her, but it was too late. She hit and she hit hard, sending white hot pain all up and down her spine. Her body jackknifed for a moment, she let out a banshee wail to go along with the blow, and then she slumped forward on Bryan's shoulders. Not the most elegant pose, but at least his muscles were soft and nice to lay on..
Were it not for Bryans amazing mental prowess in such matters, Kozue just might have felt that offensive protrusion in his pants if the bearhug was locked in for much longer. Consider it amazing self-control on his part, the fear of a ring out being just what he needed to get his mind back in the match and off of the suggestive rubbing that went right along with that move. One he was now sorely tempted to add to his repertoire…

Bryan himself winced from the shoulder tackle and piercing shriek that came along with it, keeping his finely sculpted frame pressed against Kozue to keep her pinned against the mat, more out of habit by now after having their bodies feel up on each other for so long. Ninjette was looking particularly worse for wear, exhausted and slouching against him as if the was the only thing keeping her from tipping over for a face plant onto the mat. Earlier in the match B-RY might've felt a tad guilty from bringing the pain like this, but after all the damn tripping and flipping he figured he knew Koz was someone you don't take lightly and expect to walk away without a boot up your ass and a loss on your record.

"8!"

With little time to spare, slow count or not, Bryan eased up off Ninjette and lifted the winded ninja girl up and over the apron. Perhaps copping a feel of that smooth backside of hers on the way up…in his defense, it was the most practical part of her body to get a rather tight grip on, and if he loses the match, now it won't be like a total loss.

Hopping up on the apron and ending the count out, Bryan decided to take his own shot at some decent aerial tech, leaning back with a firm clasp on the top rope before vaulting over attempting an elbow strike on Ninjette's abs or lower back. Whichever side was open to attack after getting her fine ass inside the ring…
It really was amazing how quickly a match could turn on you if you weren't careful. One minute, Kozue had everything well in hand, total control, dominating Bryan to the point of kicking him and his perfectly quaffed hair out of the ring. The next minute, she's slumped over his bronzed shoulder, fighting for the next breath and wishing the world would stop spinning. She was far from done, but a few more attacks like that, and that status was subject to change. At least she couldn't complain about Bryan not taking her seriously. What's an ass-kicking between friends?

She couldn't put up much resistance as he rolled her back into the ring, but it wasn't like she would have if she could - that was exactly where she wanted to go. Win or lose, the last thing she wanted was for the match to end by a damn countout. So, that was appreciated. The way he tried to sneak in a little squeeze as he did it? Maybe, maybe not. Kozue would mull that over when her head wasn't being pounded, after an aspirin and a cup of herbal tea.

She rolled over to her chest and started to push up, hoping she could get back to her feet before Bryan made his way in, maybe catch him by surprise. The first sign of trouble was the way the crowd started to roar, as if they were anticipating something about to happen. And since Kozue wasn't doing anything more dramatic than trying to stand up...

An elbow drop, right in the middle of her back, the sort of thing she would have applauded if she'd been in the stands. Here, she just let out a little yelp and flopped off to the side as she rolled away to the center of the ring and came to a rest, one hand nursing back while her wincing eyes stared at the ceiling.
Bryan was sorely tempted to leave Kozue hanging out there and potentially earn himself an easy count out victory, one which was pretty damn likely with the Ninja girl a flattened mess against the apron. But as a proper showman he knew better than to end a match in a as lame a fashion as a count out, plus whatever bragging rights he'd score over winning wouldn't be worth jack if he didn't pin or make Koz tap out.

"Wooo!! Let's go baby!!" Bryan was really feeling himself after connecting with that flying elbow drop, on one knee and slapping an open palm over his right pec and riling a good chunk of the audience back to his side. It was a relief to finally be on the board and score some offense over Koz after being manhandled so easily early on. Definitely warranting a little showboating and playing to the audience considering how firmly Bryan wrestled back control of the match.

Working over the audience allowed Kozue ample time to roll over and get a breather from the model athlete, considering now a good time to flip the tables on Ninjette. Soon after Kozue would settle onto her back and stare blinkingly at the ceiling, Bryan would rush over and drape his back over her modest chest. Hooking up both her legs behind her knees, raising them up and pressing his weight down onto her, B-RY was going for an early pin. Though unlike when Koz tried to pin him earlier, Bryan felt there was a slim chance this pin could actually work.

"1!"
Page 3 of 6 •

1, 2, 3, 4, 5, 6


---
Permissions in this forum:
You
cannot
reply to topics in this forum