Who is online?
In total there are
34
users online :: 10 Registered, 1 Hidden and 23 Guests :: 2 Bots
anime_hentaifighter
,
Cpkeyes
,
Gator_Tooth
,
killcarrion
,
LadyX
,
Lobo
,
LunarWolf
,
SleeperAgent94
,
starvalentine
,
Vcom7418
Most users ever online was
155
on Sun Oct 09, 2016 8:33 am
Champions & #1 contenders
Belated Apologies
Sun Mar 26, 2017 9:58 am by Clobber Jobber
So, I'm not super fond of doing non-match threads because it messes with my organization, but I feel I owe everyone an apology. I just kind of up and dissapeared for, what, a few months? With the exception of one wave of posts, I've been super quiet, and a lot of threads have been held back because of me. So, I'm sorry to everyone about that, and I'm going to at least get another wave in.
To explain myself a bit, I've had a few things going on that slowed me down. For the first couple months, …
[
Full reading
]
Comments: 0
Looking for debut matches/RP's/microphone exchanges/Gym sessions/What have you
Sun Mar 26, 2017 6:14 am by JohnnyFlash
Hey gang!
According to our wonderful administrator
Person
I am happy to report that both
Buzzy Armstrong
and
Johnny Flash
have been deemed acceptable. Woohoo!
Logically, the next step would be to get their proverbial balls rolling with their respective debuts. I am interested in any kind of
match
,
promo segment
,
gym meetings
,
backstage
elbow rubbings, or whatever else have you with either of the two boys. I could always just do an open promo but I am up for ideas and story building with …
[
Full reading
]
Comments: 2
i am sorry
Sat Mar 25, 2017 2:51 pm by xalex
Hey guys
I won't talk much about it just wanted to put it out here
I need to step back from are dramatically because of stress in the uni and some problems of mine
I will keep working on the ppv matches I am in and maybe one or two more but to the rest I need to say sorry
Thanks for understanding
Comments: 4
Katrina smiled to herself as she climbed up into the ring, it wasn't often she was wrestling in the actual ring, most of her matches were backstage. Either way, the crowd reaction was one of mixed feelings as she stood there, taking in the crowd before her. "Wow...Me in a triple threat match...This is gonna be a whole lot of fun" she said to herself. As of now she stood there wearing a camouflage bikini top that did it's best to hide those large breasts of hers, in addition she also had her bottoms that seemed just a little tight, it gave a good view of her butt as it bounced and jiggled along with her chest as she walked around the ring, waving towards the crowd and awaiting her opponents.



Posts

: 583


Join date

: 2012-07-11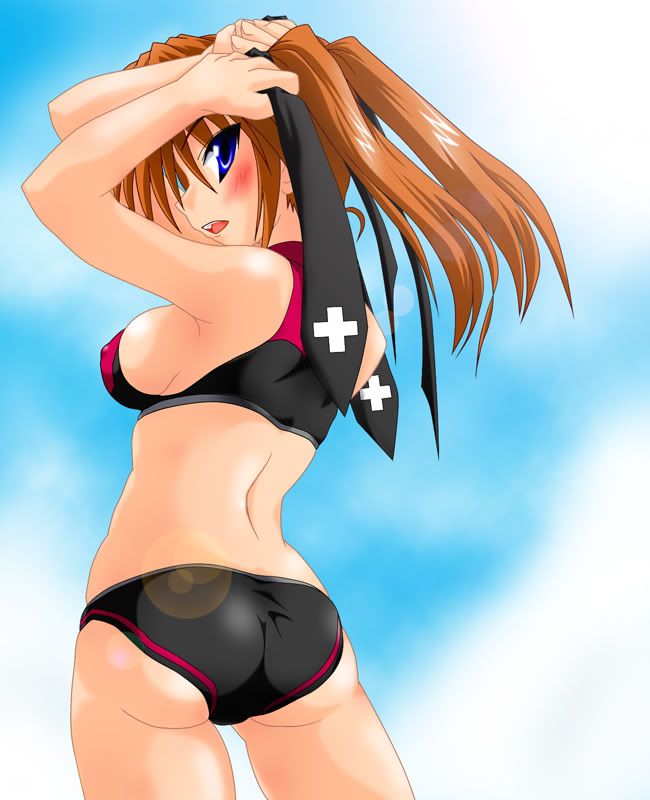 Tia was ready to go heading out towards the ring. The girl had been called into a surprising match out of nowhere, but was ready to go. A triple threat match wasn't something she'd done before, but at least it meant she could let someone else take some of the embarrassment and not so much herself. She kind of liked her swimsuit for this match although wearing one in public was always a bit embarrassing.
Either way she spotted her opponent giving a slight nod as she got closer. Seemed like someone that Tia would have to keep a close eye on and not take lightly. "Hey!" She called out when she got to the ring and slid inside. Looking around at the crowd a bit and curious about the third member of this show.



Posts

: 2240


Join date

: 2011-03-16


Age

: 29



Well, this was a weird get-up. A bikini, a cardboard(?) hat and a wand. Her first outing into the AFW stadium and it'd be with not one, but two skimpily dressed girls? Sounds like great fun!

Lotte hummed to herself, making her first entrance into the ring, with a bright expression and quickly jumping over the ropes. Seems like she was last in. Oh well, last in, last out. Or something like that. Who had time to remember stuff like that?

She scanned around at her two opponents-to-be. One of them was blonde, rather short... and had a very nice bust. The other was just as sexy, about her height and looked just sliiiightly embarrassed about her attire. "Heya! You two like magic tricks? 'Cuz I have a trick to make all your clothes disappear!" She said with a smile, tossing her toy wand behind her with a twirl.
_________________
Friction Roster:
(K for Kawaii)
+ Two, sprite coming soonTM



Posts

: 3256


Join date

: 2013-08-10


Age

: 66



Katrina eyed her two opponents, the first was a girl who didn't seem much taller than herself. She certainly liked the swimsuit she had on and loved the way her hair was done. "Hey there girl, glad you could make it today...well I guess ya sorta had to bein' you were in this match and all, I hope we have a lot of fun!"

Just as she said that, she'd turn to see...a witch? Well that certainly was the prettiest one she had seen, and she seemed to be in a pretty up-beat mood too! "A magician huh? Got any magic that'll help ya win today?"




Posts

: 583


Join date

: 2012-07-11



Tia could only shrug at the implication of this girl pulling a magic trick with their clothes. "That's alright, I'm good with keeping this on." Although Tia wasn't the type to go around in that outfit in the first place, outside of a match or a trip to the beach.

The other girl wasn't too bad, a bit weird but not that bad. "Well I definitely didn't want to forfeit." The girl smiling a little. It was unusual to have fairly friendly opponents like this. Unusual people, but not bad people at all.

"I don't have any tricks, but I'll try to keep the match interesting." The girl inserting herself into this strange discussion, while trying to keep the focus of the match in mind.



Posts

: 2240


Join date

: 2011-03-16


Age

: 29



"Hmm, it's no good if I don't get any volunteers." Lotte smiled back, the taller of the two seemed a bit on the shy side, but willing enough to compete. The shorter blonde was a lot more into the match, she'd have to watch out for her.

"I might have a few, but I certainly wouldn't try to cheat! Gotta strip you two down fairly, uphold my honor and whatnot." The banter was pretty friendly, considering what they were about to do to one another, but that was just fine with her. Her eyes shifted between her two lovely-looking opponents, trying to decide who to go after first in the side of her mind.
_________________
Friction Roster:
(K for Kawaii)
+ Two, sprite coming soonTM



Posts

: 3256


Join date

: 2013-08-10


Age

: 66



---
Permissions in this forum:
You
cannot
reply to topics in this forum