Champions & #1 contenders
Found my HHH
Wed Feb 22, 2017 10:40 pm by starvalentine
Comments: 3
Something I've Noticed
Tue Feb 21, 2017 10:06 am by scorn53
I'm not sure if anyone else has noticed, but every few weeks the same user joins the site, creates a few profiles and matches, then promptly leaves. I've only noticed because they follow a very similar profile template (and call it weird, but the use of black font), albeit they've now edited their latest one because they cannot delete it.
Upwards-
http://www.afwrpg.com/t14743-auriel-jessamine
Scarf-
http://www.afwrpg.com/t15951-maxine-rolanda
Their most recent name was 1 12 12 or something …
[
Full reading
]
Comments: 9
To get this out of the way..
Tue Feb 21, 2017 10:50 pm by Mystery Dragon
Recently theres been something wrong with me. I fell sick some time ago, as I usually do in the spring time due t several reasons and recovered but haven't really been the same since. Some days I'm completely fine and others I can barely remember what I was doing 5 minutes ago and constantly feel down or not just not well for whatever reason, I even passed out in my dorm just to wake up in the dining hall. Ive had myself checked and they cant see anything wrong with me so I don't know what the …
[
Full reading
]
Comments: 2
Page 1 of 8 • 1, 2, 3, 4, 5, 6, 7, 8

Standard Match: Won by pinfall, submission, or K.O.

Nick sat in the locker room backstage. He was there a bit earlier than he needed to be. Oddly enough, this was a much more quieter environment than the Tension dorms. Lately, the animatronic parts that he wore (Ears and tail of a dog) were starting to short out. He couldnt really connect any dots to figure out any reasons for this to happen. He sat on a bench, working on them. They werent too complex. To him, at least. He fiddles with them with a small screwdriver. A couple of other tools were by his side. Unfortunately, he still hadnt the time to get them both fixed. Time had flown by, and now...He had a match to go to. Surely, they'd be fine.

Metallica's "Of Wolf and Man" plays through the arena, and Nick runs out. He looks out at the crowd with a big smile. After losing in his previous and first match, he was raring to go and to prove himself again to the world that he was strong. Running down the ramp, he gets into the ring by jumping through the ropes. The dog goes to his corner and awaits his opponent.
As Nick was making his entrance, his opponent was in the shadows and observing him from her position. She would flash a toothy smile and licked her lips and teeth before zipping them up in her gag.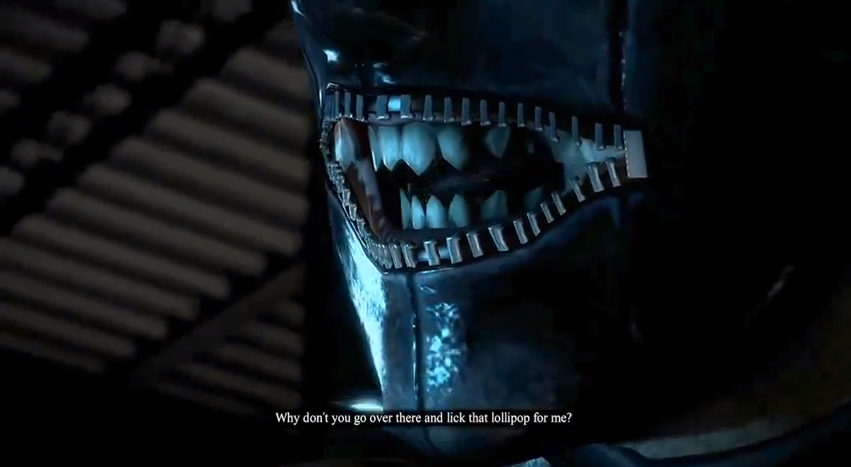 When she got the call that she's up next, the girl would immediately stand up and walk over to the entrance of the walkway.
In the arena, the lights suddenly went dark and there was a sound of a howling wolf throughout the place. Then, there were glowing pink eyes nearing the front of the walkway. When "Lust Battle (edited for Wolfess" from Dead Rising 3 started to play, the lights would come up to reveal her...Wolfess.
(without the cyber look)
She was walking like a wolf ready for the hunt and she was doing so in a seductive manner. She would eye the audience from the left to the right as the sound of seductive female laughter came on in the music. As soon as the beat came on, she would immediately perform a little sexy dance on the floor before continuing on her own two boots. She continued making her way to the ring and then go back on all fours to seductively walk between the bottom and middle ropes. She would stop at the middle of the ring to unzip her gag to reveal her teeth as she howled up to the lights.
"HAROOOOOOOO-HOW-HOW-HAROOOOOO!!!"
_________________
Focusing on good old fashioned basics and just having fun. Nothing else and nothing more.
The World of Dynamo
Nick really had to work on some sort of entrance. But, that was not relevant right now. What truly caught his eye was his opponent. She seemed to have the same enamorment of a dog-like attire that he did. He couldnt help but notice how she seemed to be doing things in a sexualized manner. The laugh caused Nick to jump a bit in his spot.

He knew that this was going to be an interesting fight. Nick watches her walk through the ropes and into the ring.

He waits for her to finish that amazing howl before trying to speak to her. "Amazing. Just truly amazing. What is your name, miss?"
As soon as she was done, the wolf girl would turn to Nick in hearing him speak. When he complimented her and asked her what her name is, she would simply show seductive eyes and a smile as she walked over to him. "Moi?" Based on her accent, the girl is French. "Hmhmhm, my name eez Wolfess. It eez a pleasure to meet you. May I ask your name, handsome?" Wolfess even batted her eyes at Nick to see if he'll catch onto it.
_________________
Focusing on good old fashioned basics and just having fun. Nothing else and nothing more.
The World of Dynamo
The eyes. Beautiful. But, Nick did to need to pay attention to that. This was a match, after all. And Nick knew this. He learns that she was French out of the get go by her voice. He breifly wonders why she was moving closer to him, but stops wondering when asked his name.

"Nick." Though he caught the eye battering, but the message was lost
Last edited by IndigoDragon on Sun Dec 21, 2014 6:51 pm; edited 1 time in total
Wolfess began to pout angrily as Nick didn't see how she was flirting with him. This guy looks like a tough case to crack open. Still, it wouldn't stop her from fighting him.

"Okay, Nick. I hope you are ready. You'll make zhis fight all ze better to...eat...you...weez." The sound of her licking her lips under that gag would be enough for one to be aware of as Wolfess went to her corner. She would stretch a bit until the bell rang.
_________________
Focusing on good old fashioned basics and just having fun. Nothing else and nothing more.
The World of Dynamo
If this dog had fur, it would stand on end on the back of his neck with that comment. He wouldve spent much time trying to decipher its meaning, if he had that time. Nick would turn around and contemplate a strategy.

It wad then he would hear that sound. It made him wonder what would transpire here tonight.
As soon as the bell rang, Wolfess would slowly turn her head towards Nick and would go down on all fours. She would perform her seductive walk towards the center of the ring, anxious to start this fight and perhaps make this other dog hers. Wolfess would stand back up and her eyes would narrow towards Nick as she raised her hands up.

She was offering a test of strength to see how tough he is compared to her.
_________________
Focusing on good old fashioned basics and just having fun. Nothing else and nothing more.
The World of Dynamo
Nick takea a step forward, arms taken up and ready. He wouldnt let her get any advantages on him. He eyes her walking. She was on all fours, something that he had attempted to practice before. But, it wasnt near as good as her's was.

Nick's muscles tense when she stands up so quickly and offers hi a test of strength. He was weary if the idea, but had a back up plan if things went awry. He'd walk forward and lick up with Wolfess, pushing with his arms.
As soon as their hands and fingers locked with each other, Wolfess would feel his strength coming through. In turn, she would push back with the same amount of strength. To add some fun of her own, she would lean her face in close and said, "Hmhmhm, good start."

If Nick got caught off guard with that, she would try to push even harder to make her opponent go down on his knees.
_________________
Focusing on good old fashioned basics and just having fun. Nothing else and nothing more.
The World of Dynamo
Page 1 of 8 • 1, 2, 3, 4, 5, 6, 7, 8

---
Permissions in this forum:
You
cannot
reply to topics in this forum