Champions & #1 contenders
Highfly Flying Out Of Town
Tue May 22, 2018 1:31 am by HighFly
Hello everyone, I just wanted to inform all I have threads with that I will be gone from this coming Wednesday through Sunday. I won't be able to post consistently if at all during this time, but I will try to make up for it next week! I am sorry for the inconvenience to everyone.
Comments: 7
The Austrailian Mudslide is Back.
Sat Apr 21, 2018 6:20 am by Softsquad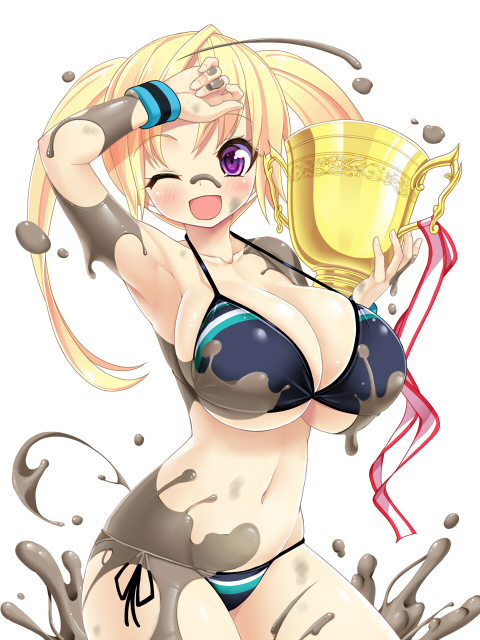 Granted that most of you won't know me or remember me, but I've had a few matches here and there some time ago. Well I think its time to become a regular around here and try to have some fun again, but at the same time keep coming back. Anyway I think its time to jump into some matches with Zoe Taylor, my mud wrestling character from Australia and get her back into the squared circle. Furthermore I will update my characters as I think some proper changes need to happen.
So if anyone would …
[
Full reading
]
Comments: 5
Page 3 of 6 •

1, 2, 3, 4, 5, 6


"Wha-?!" Miss USA called out as her dropkick only barely managed to graze the Miko, and left her to drop to the mat with a small thud.

*How in the world did she see that coming!?* she exclaimed to herself, mentally.

Before she could think any more on the matter, Mikoto seized on of her legs, then wrapped hers around it before falling back onto the mat, applying an excruciating leg bar. It stretched out her knee, causing an alarming amount of pain while the Japanese woman twisted her ankle. Marilyn let out a sharp, wordless shriek of pain. Part of her training was to endure painful submission holds, but this one was particularly nasty, targeting two places on her long leg

Her hands went to her head clutching at it as she screamed out "Auughhh! No!" as the ref asked if she would submit.

Mikoto flicked back her hair strands blocking her face to keep an unobstructed view of Marilyn and the contorted limb she was bending in her grasp. She strained to maintain the hold through whatever thrashing came from the intense pain on her opponent's disjointed knee, tightening her thigh muscles with a renewed effort.

One arm wrapped around the ankle while the other twisted it in the ankle lock, though at the moment Mikoto made sure not to apply as much pressure as she normally could to not make the move truly excruciating. She was confident she wouldn't need to go that far to force a submission out of Miss USA, noticing earlier how desperate Marilyn was to escape a simple full nelson made her assume that she wasn't too adept at countering submissions and draining maneuvers.

"Easy there!!...just submit if it's too much for you!!" Sweat beaded from her forehead as she honestly pleaded for Marilyn to give in if she wasn't ready for this type of maneuver, not wanting to injure the American any more than she had to.
"Eat me!" Miss USA replied crudely, to both Mikoto and the ref who asked if she was going to take the Miko's advice and give up.

*Never surrender!* she reminded herself. It was something she vowed to herself once she put on the mask for the first time. Once Marilyn put on the colors, she felt like she represented something more than herself. She represented liberty, freedom, and most of all, the pride of everyone who believed in those ideals. As such, she may be defeated, or knocked out. Those were failings of her body. But never, ever, would Miss USA say the words 'I quit'. To her, it would be a failure of her will. And that, she vowed, would just not happen.

Sitting up, and leaning forward, Miss USA desperately balled up her fist and swung it hard at Mikoto's face, trusting her superior reach to try and carry the blow through!
Whether she was aware of it or not, the American wrestler's unorthodox moves and brash attitude were earning her a larger following as the match went on, a decent sized section of the audience cheering her on at her flippant response towards Mikoto's earnest concern for her well-being.

The priestess hardly found it as amusing however, clenching her teeth while twisting her ankle slightly further to the side to hopefully break through her opponent's stubborn pride. Miko could respect Miss USA for resisting the urge to submit to her last breath, but not at the cost of serious injury. She could feel Marilyns leg muscles tightening under the immense twisting strain, not wanting to be the one to teach her opponent about the dangers of not submitting when caught, but it was a lesson better learned from her than from someone who wouldn't be so understanding. Unfortunately the priestess would have shut her eyes during the redoubled effort, not noticing the errant fist until it collided with her jaw and whipping her head to the side.

"Nnngh!!" Mikoto rolled along with the momentum from the swift coldcock to her cheek, her entire world rattled as she abandoned the hold and sat upright with her legs folded beneath her. Cupping her jaw with her head bent low, the priestess was seeing flashing stars dance round her head, and not just the ones on Miss USA's patriotic bikini outfit.
Gasping in relief, Marilyn crawled away from Mikoto, making her way to the ropes.
*Holy crap! That...that was bad!* she thought to herself. *That...I've seen the girls who are trying to be submission wrestlers work on that move, but I had no idea!*

Once in the ropes, Miss USA would use them as a ladder to make her way back up to her feet. However once up, her knee buckled alarmingly when she tried to put weight on it.
"Oh...ow! Fuck me!" she breathed aloud, softly as she realized that the limb was definitely not working as intended. She took a few steps while holding onto the ropes, heavily favoring the wounded leg. The referee asked if she still wanted to go on.

Dimly, she recalled the head trainer's teachings about dealing with pain in the ring
"You are, at some point, going to be in a match where you're injured, or you'll hurt so badly that you'll think you are. As rookies in the AFW, there's a good chance you will be matched against someone who is more than capable of dishing out a grievous amount of pain. What do you do? You suck it up ladies! You're not just newbies, you're trainees taught here by the AFW itself! You're all here to fight for some reason or another! Remember it! Then you grit your teeth, and you fight past the pain! Your body should follow your will, not the other way around! With that being said, there are limits to...."
However, the impressionable and, what some would say, reckless nature of Marilyn had tuned out the speech after that as she considered those words.

Leaning down, she rubbed the area of her knee soothingly before shaking the limb vigorously. Looking at the referee, Miss USA gave her a defiant smirk.
"I didn't hear a bell. Did you?" she replied.

Stepping away from the ropes, Miss USA began to moving towards Mikoto, hobbling somewhat, but apparently determined to keep the match going.


"Ah…owww…" Mikoto crawled onward until she found her own set of ropes to lean against, draping her head over the middle rope briefly while she collected herself. It wasn't so much the force behind the blow that left her reeling, but also the shock of having never seen it coming in the first place. Luckily for her Miss USA didn't have the strength of someone like Chris Morgan behind those fists, her match with the phenom definitely setting a benchmark for how much punishment she could take.

Miko steadied herself upward with assistance from the ropes, beginning to feel frustrated at how the American rookie narrowly avoided what she felt was a surefire submission win and how her method for freeing herself wasn't exactly the most respectful towards her opponent…though any lingering resentment faded away once she turned to witness the hobbling American shakily approaching her. Mikoto's eyes widened in concern that Miss USA was perhaps pushing herself behind her capabilities, stepping toward her to meet Marilyn in the middle of the ring.

"Wait...please, you're obviously not well, Miss. There's no shame in acknowledging that you're injured and walking away for now before you make it worse. There…" With her arms at her sides the priestess would look down to concernedly observe the injured limb, briefly reminded of Suzu and her own damaged leg. In a cruel bit of irony, Miko would be reminded of some words of wisdom from Suzu way back when the Tsunami was a mentor to her when she first broke into the business. Advice she feared Suzu wasn't heeding herself nowadays. "There are limits to what you can take no matter the conditioning or willpower behind them. The human spirit may be boundless, but the human body has limitations...
"You know.....there was a guy in World War Two, an American army general by the name of George S. Patton. He once said that you should never let the body control the mind. The body is always tired, and will always give up. But if your mind never tires, than the body won't either." Marilyn said, recalling some of her high school history class. "Besides....if there is something Americans need a reminder of, it's this thing called courage."

With that, Miss USA readied herself for battle. She knew that her power advantage was the one thing she had over Mikoto, since the Japanese woman had proven faster than her, even when both of the American's legs were working. But, her power couldn't be fully utilized when part of her vertical base was out of order. Marilyn wracked her brain, trying to come up with a strategy, but came up with nothing.

When in doubt, attack. Another quote from the war general she had admired in her school days came to mind. But she had to be careful....Mikoto had shown herself to be able to deliver punishing submission holds, and despite her brave words, Marilyn had no desire to withstand another one. As she moved forward, she kept her good leg ready. Once Mikoto began to move towards her, and got within range for it, Miss USA would leap at her, pushing off with her uninjured leg, while cocking her arm back. The attack would come suddenly, and hard as Miss USA looked to deliver her signature superman-no, wait, Supergirl Punch!


"I was only trying to...*sigh*...never mind. I had hoped that prideful stubbornness was an ugly American stereotype you may have outgrown..." It was with a defeated breath that Miko raised her arms in a relaxed posture at her sides and feet separated in a basic judo stance. Inwardly Mikoto anticipated that Miss USA would not simply throw in the towel that effortlessly. If someone as spirited as her wouldn't submit when nearly every pressure point in her leg was disjointed than why now when she was just enjoying her freedom? Though if Mikoto's reply felt a bit sharp-tongued, it may have been due to Miss USA's reference to World War Two, hardly a moment any Japanese citizen would draw any patriotic compassion from.

Whatever strong front Marilyn was portraying couldn't hide how much damage that submission did to her. Marilyn's weak spot was now evident to anyone with eyes, her considerable speed robbed of her and limiting whatever offensive plans she may have for the future. Mikoto may have had reservations in the past about exploiting an opponents injury, but her last match with Suzu was a hard learned lesson in determining whether Miko could stomach being ruthless when the time came for it…and right now she needed to be.

Her dash forward towards Miss USA stopped on a dime when her American adversary sprung to life and through the air just above the stunned priestess. Mikoto stood there wide-eyed and just as stupefied as everyone else in the audience before Miss USA implanted her SuperGirl punch right into the side of Miko's face with enough power to level her to back to the canvas. The recoil bounced the priestess' upper torso off the mat to stare at the audience with a spacey, glazed over look in her eyes before slumping back down, spread-eagled and groaning. Whereas before Miko saw stars from Marilyn's last blow to her face, now she was seeing a colorful array of stars and stripes…
Last edited by killcarrion on Fri Dec 26, 2014 4:22 am; edited 1 time in total
Marilyn had to bite back a comment about her being disappointed at what she viewed as the racism of Japanese society being an ugly trait she had to endure, both as an American and a half Japanese woman. But she remembered, she was here to rise above those sort of sentiments, and promote good relations while she was at it. So instead she remained quiet, and kept moving slowly forward.

Mikoto broke into a short, fast run towards the wounded American. The motion was what Miss USA was waiting for, and she propelled herself forward, driving her fist into the side of the Asian woman's face as she executed her Supergirl Punch. It was a move she could do by instinct, and it's motions were all done by habit now. However, habit and training worked against the rookie. Miss USA brought her leg under her so she could land on it and remain standing. Belatedly, she remembered that it was the same leg that the priestess had damaged! Landing on it brought another shriek of pain from Marilyn and she toppled over, rolling onto her back and clutching at the leg. The fans that were supporting her called out to Miss USA, trying to get her to get moving and try to cover the stricken Mikoto, but the purple haired wrestler continued to hold her leg, as she gritted her teeth against the agony in her knee at the moment!
In what could best be described as a direct response to Mikoto as to whether or not Marilyn still had the willpower and fortitude to continue the match, her Supergirl punch served the dual purpose of rousing her worried fans back to a fever pitch and flooring the priestess with yet another clock to the jaw.

Squinting her eyes from the dazzling ceiling lights above, the blinding fixtures only exacerbated the throbbing headache she was nursing. The giant spin laid the groundwork from the dizzying spin cycle treatment, the earlier wallop got the head pains starting, and the American's signature punch pretty much sealed the deal.

"Nnngh..." Her weary head lolled to her side with a cringing face if she were having a bad dream. One which she may be acting out as the rookie wrestler was somehow becoming more of a threat as the match wore her down. Even with the extra time to recover given from Miss USA's crash landing Miko remained relatively lifeless. Synchronized claps and stomps urged the wrestlers back to their feet, Miss USA's fans desperately rooting for her as she may very well have this career altering match with a W.A. veteran won already!!
Page 3 of 6 •

1, 2, 3, 4, 5, 6


---
Permissions in this forum:
You
cannot
reply to topics in this forum