Champions & #1 contenders
The Austrailian Mudslide is Back.
Sat Apr 21, 2018 6:20 am by Softsquad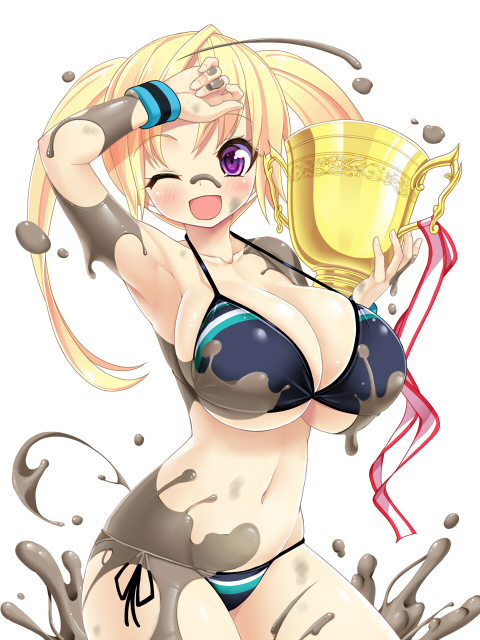 Granted that most of you won't know me or remember me, but I've had a few matches here and there some time ago. Well I think its time to become a regular around here and try to have some fun again, but at the same time keep coming back. Anyway I think its time to jump into some matches with Zoe Taylor, my mud wrestling character from Australia and get her back into the squared circle. Furthermore I will update my characters as I think some proper changes need to happen.
So if anyone would …
[
Full reading
]
Comments: 5
Highfly Flying Out Of Town
Tue May 22, 2018 1:31 am by HighFly
Hello everyone, I just wanted to inform all I have threads with that I will be gone from this coming Wednesday through Sunday. I won't be able to post consistently if at all during this time, but I will try to make up for it next week! I am sorry for the inconvenience to everyone.
Comments: 5
Moonhearts Promo intro thread is O p e n.
Mon May 21, 2018 4:21 am by XSirenX
Feeling brave?, lost?, or without a thread to post in?, hit up the newest Moonheart if any of those apply!
CLICK HERE
What Moon has to offer?, many things...:
Comments: 0
Page 1 of 2 • 1, 2


Kozue sat on the edge of a pier, legs dangling off while she stared up into the sky. Ragged jeans, red and white sneakers, her denim jacket wrapped up tight. Not exactly typical beachwear, but then, Kozue wasn't there for a day of fun in the sun, was she? You could figure that out from the fishing kit beside her.

It had been a long, exhausting week. Junko had warned her that training would be difficult, but she'd either not stressed it well enough or Kozue hadn't been paying enough attention. Probably the latter, to be honest. Whatever the case, Kozue was hurting. Arms. Legs. Back. Chest. All sore and burning from an intense workout. Actually, no, that wasn't really accurate, was it? Several days of intense workouts. Hard, sweaty, demanding routines, exercises she never even knew existed, going until her muscles screamed for mercy and then continuing to go after that. The past few days had been a hazy blur, her first week in Taylor's dojo. Wrestling Boot Camp. And as soon as this day was over, it was right back to the pain, whether her body was ready or not.

But not today. Today was her day. And since she'd sworn off licentious libation for the time being, that meant she had to find fresh, new ways to fill her free time. So why not fishing? Kozue had always wanted to give it a shot, just to see what it was like. But aside from a shitty minigame in Sonic Adventure, she'd never had the chance. Always looked calm and relaxing - just you, the shore, the tide and the time. A way to contemplate. Meditation, in a sense. Like yoga, but with fish.

She stretched out her arms and sat up, taking a quick look through her inventory. Bait, a few lures and extra hooks, a manual to give her a few tips, and, of course, the rod and reel. About as ready as ready was getting.

She set her iPhone to play some music off her Temptations playlist, then cast her line into the deep, blue sea. "I know you want to leave me, but I refuse to let you go..." She sang along as best she could and started to play the waiting game.
With unseasonably warm autumns in Japan came a few things. More pay days for lifeguards and a renewed interest in the numerous picturesque and sandy beaches along Japan's coastline. Crystal waters and serene backdrops with an ethereal radiance that would inspire artists to paint the most resplendent portraits…

…would not be noticed by the rowdy gang of jocks tossing a pigskin along the sandy turf, blending into the raucous chattering's of a fairly busy shoreline teeming with families and burgeoning youths wearing suggestive swimsuits and teeny weeny bikinis.  Those same machismo fueled lunk heads, were living breathing stereotypes of "Dude bro" culture, tribal arm tattoos, nose rings, and backward baseball caps were everywhere. Sectioning off their own private area for some foosball, one member of their group stood out from among the rest as having no ink or ridiculous looking metallic nose adornment. A tat or piercing would endanger his modeling career...and well, some guys just shouldn't wear jewelry.

"Dewd…saw that spiral?!1" Dressed in dark blue swimming trunks with an unbuttoned matching blue Hawaiian shirt littered with palm trees, Bryan heaved the football back to his fellow model compadres and enjoyed the time off from work to soak up some sun at….the exact same place he came off from work. That same beach was where his last modeling gig took him a few days ago, also running into a determined and clearly smitten interviewer who ambushed him there. Bryan was still getting situated for his extended stay in Japan for his promising career change in AFW, so when the guys left it to him to decide on a place to chill, his choices were kinda limited on that front.

Honestly the time off with some simple leisure activity was just what the doctor ordered. The culture shock from the  big move was wearin him down, learning Japanese might have maybe been a good idea before agreeing to all this. Plus his debut match was on the horizon….not that he was nervous that his entire future in the fashion industry as well as his prospects as a potential leading man in films would be decided within the next few mon- *Shit…..threw it into that kids sandcastle….looks pissed…..*

Wincing from his errant throw, B-RY glanced to his right to notice an extended pier leading out into water. He followed it along with a bored look on his face until he came to the curious sight of someone actually fishing off the edge of the pier. Definitely a senorita….the curvy rear end was a dead giveaway. A tad peculiar, this lady going so far out of her way to seclude herself from the rest of the world. Whoever this lovely lass was, it was apparent to the thickest numbskull that she might have wanted to be alone...

"Hey, uh…T.O. guys!!. Gotta go see about a lady~…" Bryan confidently stated before turning his back to companions to sharpen his skills at sparking up a conversation out of nothingness. He could use the practice and some light chatter may soothe some of his nerves over his upcoming debut. Girl had a fine body in any case, from what he could tell from behind. And like he always told people who said they were nervous about talking to women..."You always lose 100% of the time when you don't try."

Now only a feet away as his strapped sandals clomped on the wooden pier, he overheard the soulful 60's music being played from the mystery lady's ipod. *Heh…wonder if she knows she has a pretty cute singing voice.* Stepping to her side, Bryan would squat down to bent legs and actually start singing and snapping his fingers for as long as it takes until the soulful singer noticed him.

"If I have to beg and plead for your sympathy, I don't mind coz' you mean that much to me…" Hoping the mystery lady wouldn't suffer from a jump scare from the sudden company, Bryan would extend his hand for a handshake with a non-threatening and well-practiced grin on his face.

"Hey, name's Bryan. This seat taken?" Bryan said with an underlying smile, knowing fairly well that no one was with her.
Kozue felt the pitter-patter of little feet behind her, but she didn't give it too much thought. It wasn't like she owned the pier or anything, and there were plenty of fish to go around. She'd been hoping for a little privacy, but so long as whoever-this-was didn't get too loud, she didn't have a problem with it.

So she was a little surprised when she started hearing the guy sing along with her. Wasn't quite expecting that.

She looked over her shoulder to see him and gave her a quick look over. Handsome guy. Almost too handsome. Just from a glance, she could tell he was the sort of guy that took a lot of pride in his body. Kozue'd seen plenty of muscle in her time with the AFW, but rarely was it so sculpted and statuesque. Nice hair, perfectly quaffed. Nice smile, teeth clean enough for a reflection. Pleasing demeanor, overall.

"Oh, hey...Bryan." She gave him a light shake, just in case she had to pull the hand away quick. Never hurt to be ready in this city, and it was the nice ones you had to watch out for. "Kozue. And nah, it's not taken, man."

He was incredibly forward, but it wasn't like she could fault him for being eager. Not too many men had barked up her tree since she arrived in Japan, so the least she could do was humor him.
*Phew…she speaks English, thank the matrix. Consider that ice...broken. Gotta sneak your introduction in within the first few seconds of meeting her. Put yourself on a first name basis right out of the gate and boom, you're already seen as less of a threat and she's put at ease with lowered defenses. In like Flynn…*
Now that B-RY was within arms' distance and could get a closer view of her, Bryan glanced Kozue over quick enough to soak her in but not long enough to get caught staring. A rookie mistake if there ever was one. Girl certainly had a thing for denim, dressed more like she was about to work on your tractor trailer than chillax at a beach. The tight pants did show off her slim thighs, and along with the toned abs the demure lady with the sky high pony tail was still quite the looker despite the workman's clothing. What did immediately raise an eyebrow was her manner of speech, sounding more like one of the guys than one of the vapid airheads than Bryan works with. Curiouser and curiouser...
"Well thank ya kindly. Hope ya don't mind the company,
promise not to scare off the fish…
" Bryan would whisper that last part as he leaned forward to peek past his dangling legs towards the cerulean water below. Not a fish to be seen….He looked back towards the rolling waves ahead with his hands propping himself from behind and spoke up before there was any dead air.
"….Ya know...not to sound like an asshole here…if yer really jonesin for some seafood, Japan's kinda got a monopoly on the whole enterprise. Pretty sure you can buy fried fish at the post offices round here...unless you're ready to clean it, gut it, descale it, de-bone it, de-turd it yourself…all that fun stuff…" Bryan coyly quipped with a sarcastic tone, crossing his fingers in hopes of getting a rise from Koz.
Kozue let the line go out a little further as Bryan sat down and eased his way in. Let it sink deep, see what was biting further down. "Don't mind it, sit wherever you like." He seemed nice enough. Clearly hitting on her, but she'd be lying if she said she didn't appreciate the attention, at the very least. It was nice to talk to a guy without having to worry about his hellspawn of a wife getting up her ass.

"'De-turd it'?" She glanced his way out of the corner of her eye with a little chuckle. She got what he meant, sure, just a weird way to put it. "You say the sweetest things. But, yeah, it's a little messy, not looking forward to that part. Not just fishing for food, dude." Ha. Rhyme. "If I was I'd just sell all this crap and splurge at the sushi bar down the street. It's a sport. For fun. In theory."

She spared a hand and reached over to her fishing kit, snagging a bag of peanuts. She set it down between them and popped a couple in her mouth, adding a little crunch to the conversation. "You new in town?"
Bryan looked on as Kozue eased up on the line to let it go further off shore. He was no aquatic expert but he figured although the waves were fiercer she might have a better chance of snagging some tuna if she set the hook as far away as possible. Bryan wanted to ask if fishing so close to a noisy coastline was a good idea….but decided against it at the risk of him being right and making Kozue look bad.

"Yeah, I feel you. But the second you wanna splurge at the sushi bar I'm buyin. I dunno, I've always thought people who go out of their way to fish tend to have a lot on their plate. But as for me, guess I was never hooked on it." Bryan smiled to himself, hoping the fishing humor wasn't lost on Kozue. Now that he was sitting here though the relaxing atmosphere was already soothing his nerves. Maybe there was something to this…

"Hah…yeah I don't look the part of your average islander, do I?" B-RY sat back up and looked down at his flashy, touristy get up before looking over at the bag of roasted nuts. Seeing the subtle offering as a sign of good will, he reached in and started cracking one open. "Yepper, moved out here on a wing and a prayer a few weeks ago. Expanding my horizons, man. I mean, ya can only be a devilishly handsome male model for so long before the scene can start to get stale. Mayhaps you're aware of some of my work…Vogue, Apollo, GQ….yepyepyep, you name a mag and I've you might've seen my face on the cover~…" B-RY's ego was threatening to get the better of him again, flashing Kozue a sparkling toothed grin he's mastered in his best photo shoots with his chin supported by the side of his index finger and thumb in hopes of the ninja girl recognizing his work.
Hot damn, not even two minutes and Bryan was already trying to buy Kozue dinner. Either he was desperate as hell or she looked a lot better in tacky denim than she'd imagined. "Hooked on it." She threw him a little smile. Corny, yeah, but the effort was appreciated. "I see what you did, there. Cute."

She let the go out for a little bit and held position while she looked him over. She certainly could buy that he'd been on a magazine cover, he had a face for it. But... "Nah, sorry, don't recognize it. I read magazines like that when I get bored in the doctor's office, that's about it. More of a Thrasher, Huck, Concrete sort of girl." She spared a hand and started flipping through her music again, craving something a little harder. "Skateboarding mags." Yeah, that needed a little clarification.

She moved the music to a little Danger Doom, but kept it low enough for them to talk over it. No reason to drown the guy out.




"...Ah….y-ya sure? Cause the GQ one was…n-nevermind." Bryan's cocksure smile deflated to a barely maintained grin. Not even a passing familiarity? Nothing? Well…..guess it IS asking a lot for someone off the street to recognize him from his still extensive body of work.....wait, she called him cute!! He thinks….whatever, he's still got the mojo~.

B-RY would glance over to notice her fidgeting with her Ipod. No es bueno. A sign she's losing interest in the conversation? Better steer things back to her interests, post haste!! "Oh, a fellow shredder huh? Man I havn't touched my ride since I got here, gotta look up some skate parks man. Something to break up the monotony of all those wrestling training sessions. Those goddamn mat bumps..." B-RY would rub his lower back just thinking about all the times he's had to fall flat on his ass, afterwards shuffling and clapping his hands together to let the shells in his other hand from the peanuts fly away in the breeze.

"So, you a casual skater or prof?"
She shook her head with a little smile. The devil on her shoulder loved that look on his face, and the angel was getting a kick out of it, too. "Sorry, loverboy. You've got a cute face, but I'm pretty sure this is the first I've had the pleasure." She gave him a quick glance. "Don't read too much into that last word."

Kozue wasn't all that surprised that Bryan was a wrestler. This was, what? The third time she'd just so happened to stumble onto a fellow wrestler at a random spot. Even with the AFW's massive roster, that was a weird thing to happen so often in so little time. Almost like they were drawn together by fate, by some inexorable force. Either that, or wrestlers were just really unimaginative people.

She looked him over for a moment, her lazy grin still holding. "You're a skater. And a wrestler. And a model. Triple threat." She let a little incredulous tone sneak into her voice. She actually did buy all that, just wanted to toy with him. "I appreciate the thought, but you don'thave to try that hard to impress me, man."
Bryan raised an eyebrow at how nonchalantly she accepted his unintentional admission of adding 'wrestler' to his growing list of job experiences. Kozue seemed damn near unflappable, cool as a cucumber with sunglasses. It was starting to make him seem overeager, now that he thought about it…

"Heh…alright, fair enough. I'll reel it in then…" B-RY coyly grinned back towards Kozue as his fishing puns kept coming, although that one was completely unintentional. Honest. Though seeing Kozue smile like that was sort of putting things at ease for him…it was worth sticking around just to see how much longer he can keep up brightening her day.

"So…..what made you wanna come out here and spend the day hooking some bass all by your lonesome instead of chilling with your friends? It's gotta be kind of heavy if such a lovely lady is willing to spend the afternoon secluding herself from the world?" Bryan was going out on a limb assuming Kozue was having a hard time with something, but he always thought anyone who looks like they have nothing to say are actually just waiting for someone to listen.
Page 1 of 2 • 1, 2


---
Permissions in this forum:
You
cannot
reply to topics in this forum