Who is online?
In total there are
39
users online :: 11 Registered, 0 Hidden and 28 Guests :: 1 Bot
acuya
,
Alienrobit
,
Daaharu
,
ja15ke
,
killcarrion
,
Link-mon
,
Lotuswarrior
,
Mystery Dragon
,
Panzermause
,
Person
,
Yori
Most users ever online was
390
on Tue Jan 02, 2018 2:02 pm
Champions & #1 contenders
Dunno the best way to find a match so this is my request~!
Wed Jan 24, 2018 6:23 am by Alienrobit
Anyone who would like to brawl with my new, and only character [For now] for their debut please message me~
http://www.afwrpg.com/t17737-marcella-the-top-heavy-brawler
Figured I should probably leave a link to her sheet as well, and private matches are also fine! Just trying to get a feel for the flow of rp round dese parts.
Comments: 0
Looking for matches or rps for my characters
Tue Jan 23, 2018 10:41 pm by kiranar
I am looking to see if I can get more active on here I have a few characters I made some of the pictures I have or lack of pictures is only because I haven't found anything suitable for them. PM me if you have an idea for matches or rps
Celeste Savage Friction matches mainly see Carpathian Impaler link for her profile
Chesslara and Ginely Rilynth friction matches singles or tags
Shalana zebs mostly Fur and Feathers or alternative matches unless a daring opponent wishes to face
[
Full reading
]
Comments: 0
Looking for a debut (Tag Match)
Sun Jan 14, 2018 10:29 pm by Person
I am looking for a debut for my new tag team:
Rulers of Divinity
Something to build them up before I start their main feud.
Comments: 0
Page 1 of 5 • 1, 2, 3, 4, 5

Match Type: Standard
Winning Conditions: Pinfall, Knockout or Submission
This is it...
Avery Shields was mere moments away from making her first debut in the AFW. Her excitement was nearly palpable. It wasn't the first time she had fought in front of a crowd. But a crowd this
size
? All of those eyes on her. The thought was thrilling and also unnerving; she could feel the butterflies dancing in her stomach.
Relax, once you get in the ring all of this will fade away like it always does.
The thought was comforting--she just hoped it was actually true. She wouldn't be left alone with her thoughts for long, however, as her cue soon came; her intro theatrics burst to life. It was showtime. The redhead bounced energetically into the aisle, at first, before going into a light sprint towards the ring.
Don't do anything to make yourself look like an idiot, Ave...
It was rather cutely her first thought; she had to play it cool!
However, the roar of the crowd and the dazzle of the cameras quickly got the best of the tattooed youth. Avery couldn't help slipping a nervous chuckle before she gave a pretty grin, easily climbing into the ring to pump a single fist into the air. The cheers that followed were magical. The feeling was fanastic... this was what she lived and breathed for!
Content with her small outburst of showmanship--and with her heart still thumping in her chest--Avery gave her gloves a couple firm tugs before she immediately began some simple stretches. Her fair skin practically glowed under the standium lights, constrasting heavily with her vibrant red hair, tattoos and the stark black of her sports bra and tatami shorts--which displayed a trail of brightly-colored, tribal, fire rising up along her right thigh. Avery continued to loosen up though her keen brown eyes waited quite eagerly for her opponent to ineviably make her entrance.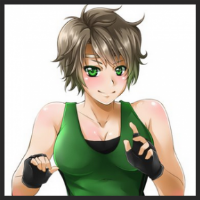 Competition isn't about winning. It's about doing your best. It's about improving. Defeats can be victories, in their own ways. They can teach you things about yourself you never knew you needed to know. They make you better. Stronger. Smarter. It's how we handle ourselves in defeat that shows who we really are as athletes.
That's what Blossom kept telling herself, anyway, as she laced up in the back and waited for her turn to come out. They were the same words her coach used to give to her, back when she lost her first few matches in school. She was small, shrimpy, still having a tough time hanging with the boys. It was the pep talk she desperately needed at the time, and it encouraged her to keep going and eventually help take her team to State.
They felt more hollow, now. She'd come back from her injury as a better wrestler than before. She knew it, no question. But she still couldn't get that elusive victory. She was still coming up all too short. And, truth be told, it was starting to wear on her. Just a little.
She finished tying up her shoes right as a stagehand gave her the thumbs up - she was on. One more time, one more chance to get a real win. Stand up. Stretch. Smile.
It's coming up
It's coming up
It's coming up
It's coming up
It's coming up
It's coming up
It's coming up
It's DARE!
Blossom burst out from the back to the sound of some decent applause, enough for her to hear over the
music
blaring behind her. Despite her streak of loses, they  always did greet her well...though, she was starting to wonder exactly why that was. She knew they could be more than a little pervy, sometimes, and it was starting to occur to her that they might enjoy seeing her lose more than they cared to see her win.
But that was too cynical, so she threw the thought away. She came down to the ring with her bright smile on, waving out to the crowd as she rolled in under the bottom rope.
Blossom bounced up, looking bright and shiny in her green wrestling singlet, and gave her opponent a quick look over. Taller than her by about half a foot, nothing new there, but she actually seemed younger than Blossom. That was a switch. Not that you could guess it by looking over her body alone. The girl looked well-trained and hard muscled, firm and fit. The fiery red hair and tattoos were a nice look, too. Made her look like a wild girl. Tough. Real tough.
Blossom gave her a little wave and walked her way. This could be fun.
"Hey! Welcome to the AFW." She extended her hand for a shake as soon as she was near enough, hoping her opponent was the sporting type. Win or lose, it was always best to wrestle with people who enjoyed the sport and loved a good match. She also hoped she was right about this girl being brand new, or else her welcome would look a little awkward. "Blossom Fields. What's your name?"
As her opponent's entrance exploded across the stadium Avery couldn't hide the twinkle of excitement in her eyes even if she wanted to. Just like any good fighter, Ave quickly began to evaluate her opponent keenly.

She's surprisingly... normal? Kinda cute, even.

It seemed like an underwhelming first impression but it was, in fact, a compliment. Even though she was a rookie, Ave was more then aware of the kind of mismatching that occurred in the AFW in terms of size and weight. Not to mention there was no lack of borderline psychopaths. The youth literally had no idea what she'd be thrown against for her very first match. Blossom was a pleasant surprise in that regard. She may be a little shorter but she was built nicely, Avery could see that. She was definitely a fighter. The young redhead's excitement only grew at the fact.

An assortment of mostly awkward greetings ran through Avery's mind as she watched the girl climb in the ring, thankfully, Blossom was first to offer a rather cheery welcome. Avery couldn't help but give the girl a pretty smile and a reserved sigh of relief.

"Thanks!... I'm Avery, Avery Shields. Call me Ave, you know, if you want."

The tattooed youth would glance down as Blossom offered her a handshake. Avery, of course, would oblige--though she'd soon hesitate. Bringing both of her hands to clasp Blossoms hand briefly, she'd help the other girl ball up her fist. With a satisfied smile, the redhead would bump her own fist firmly with Blossom's. Handshakes never seemed quite "appropriate" to Avery when it came to being inside the ring. She had a feeling this was more of Blossom's and her style.

"Don't hold back. Because I won't." Avery offered the words confidently with a cute wink. She settled into a loose, bouncing, stance as she eagerly awaited the starting bell of the match.
Blossom recoiled, for a fraction of a second, when Ave reached out to grab her hand instead of just shaking. You really never could be too careful in the AFW. She'd been blessed to come across mostly good, wholesome wrestlers in her matches so far, but she knew there were plenty of dirty players in the game, people who wouldn't hesitate to get an easy shot in before the bell rang. She always came into a match smiling, but she kept some healthy caution in the back of her head, too.

Fortunately, Ave didn't seem to be a bad one.

Blossom burst out into giggles as she took Ave's fist bump, and she topped it off with the customary fist explosion, even throwing in a sound effect for good measure. "Boom, psssh!" She wiggled her fingers about as she stepped back and made some space. "I think I do want to call you Ave, it sounds cool. And you look cool. So I hypothesize this will be cool."

She gave her opponent and potential friend a solid nod, then moved into a squared stance. Feet slightly wider than shoulders, knees bent, back straight, butt down, head up, hands out. Good, solid position, something to test Ave with before things got ready crazy. Ready, ready, ready.

And she smiled the whole time. "Come at me!"
Avery couldn't help but admire the girl's enthusiasm, it felt almost flattering. When it came to fighting, Avery didn't need much encouragement but Blossom's cheerful hype certainly fueled the fire.

She's right, this is going to be fun.

Hearing her opponent's beckon--and not being one to disappoint--Avery quickly and confidently made her approach. The redhead brashly came straight for the brunette just as she had asked, initiating a solid lock up. Avery's impressive physique would flex as she clashed with her opponent firmly. The two would share a brief moment as their strength was left to square off against one another. Avery would grin, Blossom was no pushover.

However, the young girl would suddenly dip low, disengaging the lock up, and immediately thrust her shoulder forcefully into Blossom's abdomen. Colliding with her shorter opponent, Avery would wrap up the girl's waist with one arm while hooking one of her legs with her other arm before effectively lifting Blossom right up into the air--if only for a moment--to swing and drive the girl straight down, back first, to the mat with a fierce tackle.

That had to sting!

It felt like a solid takedown but there no telling just how Blossom would react. Ever the opportunistic, however, Avery would look to further take advantage of Blossom's predicament by eagerly attempting to mount the other girl to the mat where she could further take control of the fight.
Ave was tall, strong, tough and feisty, but Blossom was plenty of all that, too. Except for being tall, of course, but she actually found that not to be a very big problem in most of her matches. It made duking out and going fist to fist a pain, but she didn't have much skill in that area. As long as she kept things close and personal, she felt confident about hanging with the best. In theory. In practice, life was more complicated

That was put to the test when they met in the middle, colliding in a mass of muscle that seemed to shake the ring. Blossom was taken aback, just a few feet to the rear, as Ave poured on the pressure. Usually she enjoyed a strength advantage and there was no need to go all out at the start, but that wasn't going to work here. Ave had the power to put her down and keep her there.

She planted her feet to dig, glad that she'd decided to stop coming to her matches barefoot, and tried to push forward. That turned out to be a mistake. The next thing she knew, Ave was out of sight but not out of mind. Blossom couldn't see her from this position, but she sure felt her shoulder plow deep into the gut.

She was taken off her feet and hit the mat hard, getting more than a few winces from the audience at the impact. Blossom asked Ave to come, and oh boy, did she come!

She fought the through the stun and moved as quick as she could when she felt Ave going for the mount. She planted her feet, bridged her back, and jerked to the side, looking to throw her off before she could move into a proper mounted position. While Blossom wanted to see what Ave was capable of, she would have preferred to do it while they both were on their feet.
Avery's momentary triumph faded as Blossom's defensive bridge impressively bucked the young girl from properly setting up her mount. The girl knew how to throw her weight around, that was for sure. The redhead rolled briefly away before bouncing straight to her feet. Avery, however, would relent. She could have spent all day trying to keep Blossom on the ground but that wouldn't have been exactly her idea of fun.

"Did you like that?" Avery coolly brushed aside some stray hair from her face, "I hope so. There's still more to come."

The tattooed youth boldly spoke the playful, even dorky, taunt and followed the comment by raising her hand and motioning with a come get some gesture. The crowd seemed to enjoy the spectacle as a few chants for both girls began to fill the arena. Avery once again flashed that pretty smile as she felt herself getting more pumped. It had started as soon as she had set foot into the ring. She could just feel it. She was in the zone, baby! She was determined to give these people a show.

Avery just hoped Blossom could keep up.~
Last edited by Toph on Sat Nov 01, 2014 1:42 pm; edited 1 time in total
If Blossom wasn't so busy panting with exertion, she would have breathed a sigh of relief when she managed to shove the bigger and brawnier Ave off her. That could've gone so bad in so many ways in so little time, it wasn't even funny. Ave was definitely no pushover, and while she couldn't imagine who trained the tough redhead before she came to the AFW, she knew that person took pride in his work, whoever it was. Someone had taught this girl well.

She rolled up and got to her feet fast, old wrestling reflexes taking over, but there wasn't a big need to rush. Ave was giving her a chance to rise up and get her bearings, make a little space after getting taken down so quick, and Blossom would gladly accept the gift. "I hope so!" Blossom slid back and moved into her crouched stance once more, feeling more solid about it now that she'd gotten a feel for the way Ave move. "I haven't gotten started yet."

And with that said, Blossom did, indeed, got started.

The first step was going to be closing the distance without getting whacked away by Ave's super-arms. Tricky, but Blossom had learned a few moves for exactly that purpose, and the baseball side was one of them. She jumped backwards and bounced off the ropes for a little added momentum, then came at Ave with all the speed she had, ducking down at the last second and shooting out her legs for a low dropkick to the knees.
It seemed Avery's opening takedown had left quite an impression on her opponent who was panting rather cutely. Blossom had maintained her composure admirably, however, the redhead could see the kind of exertion the exchange had required out of the girl. Avery decided she needed to keep that pressure applied until she completely overwhelmed the other girl... It was a thrilling train of thought.

Don't get too cocky. You haven't won anything yet...

As much as she enjoyed indulging in such confident whims, she knew better to underestimate her opponent. She still had see what this chick was capable of, after all! As Blossom made her recovery and slipped deliberately into her stance, Ave's focus would be intently on the girl. The youth's brown eyes sparked with surprise and interest as Blossom suddenly threw herself into the ropes for momentum before charging the redhead head-on.

Oh! Look at her go!

It was exactly the kind of thing you could only hope to see in a wrestling ring. Now, this was more like it! Now was not the time for admiration, however. Avery was in for another surprise as her short haired opponent soon threw herself into a kind of slide tackle. The youth gave a yelp as Blossom's momentum knocked her cleanly off her feet. The contact stung but it was the fall that could really hurt you. However, in Avery's situation, her choice--or lack thereof--was fairly simple; she toppled forward landing right on top of her assailant.  

Perhaps, Blossom desired some more quality time on the ground with Avery after all. The girl's technical finesse quickly took over as she sprawled heavily on top of the other girl before quickly shifting over her in a cross mount; forcefully laying perpendicularly over Blossom's chest. Though she'd attempt to lock and pin the girl, and her arms, to the mat Avery certainly wasn't going for any kind of pinfall here. Instead, she quickly drove one vicious knee directly into the side of Blossom's exposed ribs.

Gah, sorry!  

She couldn't help but mentally give the apology during her attempt. She feared saying it out loud would have likely only sounded patronizing.
Okay, so these sort of moves weren't exactly standard Greco-Roman wrestling fare. Somehow, Blossom doubted Coach Hartman would approve of her sliding around the ring like a hooligan, wanting her to stick to basics. And if she was going up against someone more her size and shape, that might be the best idea. Keep it simple, stay away from the flash. But pro-wrestling was an entirely different beast. It was a lesson she'd learned when she started out in the AFW, a  lesson she was still learning, and she'd have to apply that knowledge here to muster up even the smallest chance of a win.

The gambit paid off - sort of. She did get close to Ave and the bigger brawler did go down. Getting fallen on, though, wasn't in the plan, and while she wasn't quite as heavy as Blossom was, she still had enough weight to make the crash more than uncomfortable. Getting kneed in the side certainly didn't help things, either, and Blossom let out a harsh cry as her ribs paid the price. Even with one blow, she could have sworn something was cracking.

MMA. This style of fighting was bold, brash, but effective. She was still confident about her ability to deal with it, but she couldn't get put down too many more times like this. She did her best work on her feet.

Blossom was close to Ave, though, and even though her arms were locked up tight, she had plenty of power left to summon. She braced her shoulders on the canvas and pushed up hard, trying to shove Ave away with one mighty push, then roll her away to freedom.
Page 1 of 5 • 1, 2, 3, 4, 5


Similar topics
---
Permissions in this forum:
You
cannot
reply to topics in this forum