Champions & #1 contenders
Summer Splash interest in Natasha Loclear?
Mon Apr 09, 2018 11:30 pm by daemongirl
Well my girl hasn't missed a summer splash yet, would anyone be interested in a match with her? Open to just about anything match wise, just pm me!
Comments: 1
Been Out with the Flu
Sun Apr 22, 2018 7:47 pm by daemongirl
Just letting those I have threads with know I've been out with the flu since early last week, but I will be back to posting tomorrow.
Comments: 0
The Austrailian Mudslide is Back.
Sat Apr 21, 2018 6:20 am by Softsquad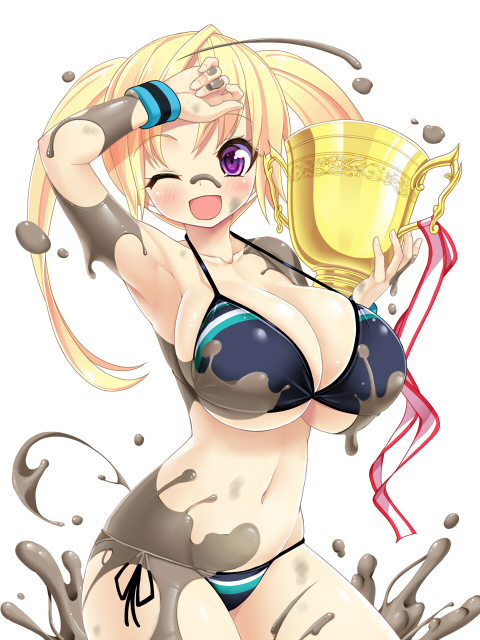 Granted that most of you won't know me or remember me, but I've had a few matches here and there some time ago. Well I think its time to become a regular around here and try to have some fun again, but at the same time keep coming back. Anyway I think its time to jump into some matches with Zoe Taylor, my mud wrestling character from Australia and get her back into the squared circle. Furthermore I will update my characters as I think some proper changes need to happen.
So if anyone would …
[
Full reading
]
Comments: 0
Page 3 of 8 •

1, 2, 3, 4, 5, 6, 7, 8


Kozue hadn't even considered the possibility that she didn't have to do the springboard. Taylor was doing them, so she did them, too. Made sense in her head, though her pounding heart wasn't helping her reasoning capabilities.

Damn it, she was going to have to get off the sauce for a while. Bar-hopping was out.

Kozue pushed that thought aside and nodded Junko's way, then Taylor's with a bit more reluctance. Cutting the springboards out made a big difference, and while there was still a corner of her black heart that got annoyed everytime she saw Taylor take flight and rule the air, she managed to keep it contained. She simply repeated Junko's advice through her mind, over and over. Not a race, not a competition. Endurance.

Kozue stuck to simple running and managed to keep moving. Still breathing hard, but not quite as bad now that she switched the focus from outracing to just pushing herself. She fell into a good pace and waited for Junko's word.
Junko continued to pace and whistle. It was starting to become rhythmic for her and providing a cadence for the girls. She was even pretty good at speaking in a way to let her keep whistling.

"See what training and discipline can do?" Junko was starting out specifically talking to Kozue. "If you want to achieve an advanced level of success you must be able to do the basics without it even being a thought. You prepare here. You win here. This is where victory is decided. Experience in the ring, win or lose, helps dictate where the focus should be here. The goal isn't a match, it's a career. We're here for the long game, ladies."
Taylor settled into a rhythm, letting her legs carry her through each short lap of the ring, and then began to up her pace. She tried to find what was comfortable for her, and then do more than that. She was breathing hard as she ricocheted back and forth, and more than anything else she focused on taking even, controlled breaths.

"If you don't... want to get killed... in the ring..." She said through heavy breaths. "Die... everywhere else..."

It was a line that was scratched on a page somewhere in one of her notebooks. Maybe it wasn't deep or anything, but it made sense to her.

She hit the ropes, and then tucked into a forward roll under an imaginary clothesline or kick. "Being great... takes... your whole life."

Something Taylor had learned recently. She had been dividing her time, between a husband, a career, a fledgling t-shirt business, and the youth program. She had held off on making anything official with the new youth organization, the one Lukretia had set her up with, because she was beginning to think that even though she was devastated when Asia Youth Foundation gave her the boot, it may have been good for her. She had her whole life to do what she wanted, but right now was for wrestling.

Johnny always came first. But Johnny supported her in her career, and she gave everything she had to give to it. The burning in her lungs from running ropes was the least of it.
Damn, that was a good saying. Kozue couldn't explain why Taylor saying it irked her so much, but it did. Maybe she saw it as condescending, even though it probably wasn't meant to be. Maybe because it seemed so obvious of a way to approach things, she was kicking herself for not going this hard before. Maybe she just didn't like the idea of Taylor giving good advice.

Whatever it was, it was petty, and she'd have to get past it. Taylor was right, Junko was right. She'd left home early, and she'd never really grown up. She was still that bratty little girl from Jersey in a lot of ways, and that was fine when she'd been on the run. But now she was settling down. That meant digging, going hard, and dedicating herself - her entire self - to something for the first time. Japan was her home, now. Wrestling was her career. The 'long game'.

"Right." It was all she could manage to blurt out as they ran, and she focused on the steady metronome of Junko's whistle for help. Now that she'd gotten the pace down, she felt more comfortable in pushing it. Not going crazy just yet, still waiting for the signal on that, but she moved a step faster, held her head up a little higher, pushed harder with her strides. She knew her body had a little more to give, just a matter of finding it.

"Right." She threw a handspring into the mix, just to see if she could pull it off like this. Nothing too complex, just a quick flip forward and a bounce of the ropes, followed by a back elbow to nothing but the air. Timing needed a little work, but it felt good. She spun out of it and kept on with the regular routine.
"You feel it." Junko continued between whistles. "That feeling of the ropes against your back. You've felt it a thousand times before. The ropes are NOT forgiving. They are working hard to beat you down. Your body is too but the ropes are much better. You will feel good after you've run yourself ragged, proud of a hard day's work out. You'll be sore from the running but it will be the good kind of sore. The ropes, however, are tiny fists, punching you, working you over without a thought. What they bring will not be pleasant. They are trying to saw at you, batter you. They can't be broken. They are taut and tough as nails. Their pain will last beyond the pain of invigoration."

Junko went quiet again, blowing her whistle and pacing back and forth. After a long moment, she stopped and took one long breath, blowing hard into her whistle. "Ok, ladies, you can start to ease out of it. decrease your pace, slow your rhythm. Keep running until you are jogging, keep jogging until you're walking. I'll be right back and then we'll bring it in for a moment."

Junko turned and shuffled quickly out of the gym.
Taylor snorted at Ninjette's little show, but she dutifully ran the ropes until Junko headed for the door.

She rebounded off the ropes and threw her body into an aerial cartwheel, followed by a back handspring that brought her nearly to the ropes. She was facing away from the ropes when she jumped back to perch on the top rope. She balanced there for a moment, and then with a hop she spun around to face outside the ring. She sprung off in a flashkick backflip, stuck the landing in a crouch, and then kipped up into a capoeira jackknife kick, one arm hugging her leg and the other palm on the mat.

When she swung back to her feet, she clapped the dust off her hands. "Mothafucker..." She muttered, and slipped out of the ring to find water.
Kozue started to put the brakes on as Junko left, coming to a slow stop and working her way to a jog. That was the plan, anyway. She had to take a stop in the middle of the ring, though, when Taylor busted out Guile's Flash Kick along with something that looked straight out of Tekken. For some reason.

It was impressive, and Kozue watched the whole thing with her hands on hips, trying to commit it to memory. Maybe she could do one or two of those moves, but together, right off like that? No. Sure as hell not right now.

She bit her tongue, since she suddenly felt the need to hurt something and her own body was the only thing available. Kozue huffed through her labored breathes and kept on, walking from one side of the ring to the next as her pounding chest started to slow back to gentle taps.

"All right." She bounced off the ropes and started another slow lap, her head low as she went. She wasn't even sure Taylor was in the room, still. Even if she wasn't, it was good to speak in full sentences, again. "Sensei mentioned other girls joining, right? How big you think this'll get?"
Last edited by acuya on Sun Oct 26, 2014 7:08 pm; edited 1 time in total
"Big, fufu."

Junko said. As quickly as she left, she was back with a small tray. On it were two water bottles filled with water and just a little extra in it for taste and to give it a bit more of oomph to the water. There were small cups with what amounted to a handful of mixed nuts as well.

"Biggest." She corrected. "As big as possible." She also said. "The point isn't to be the largest, it's to be the best. If it's just Taylor all by herself and she's the best, then it's right where it needs to be. If it's a hundred girls and they are all the best, then it's right where it needs to be. We're about quality here, not quantity."

She then looked at Kozue. "Speaking of." She said. "Now that we're here, I think that I can sufficiently start to pry into your personal life a bit, Kozue-san. Why don't you give me a short run down of your day. Week. month. I can see where you're at physically well enough with the rope running but I need to get a handle on how you're behaving to really punch up the best way to tackle ... you... for lack of a better term. I'd also like to illustrate a point. Unfortunately since you're the first entrant into the Higurashi Dojo, you get the pleasure of being the first example, fufufu~"
Taylor almost bumped into Junko at the door, and helped herself to a water and some nuts. She took one long drink and came back to her gym bag.

"I'll take some notes, mom." She pulled a notebook and a pen from her bag and leafed through to an available page, drawing a line across underneath what was already there.

At the top she wrote "Ninjette training", and then looked attentively at the ninja.
Kozue lit up when she saw Junko come back with the water she needed and the nuts she wanted. She rolled out of the ring even faster than she'd entered and took a bottle, along with a palmful out of the bowl. "Domo arigato gozaimasu, sensei." She said with a small bow, as she backed away to the ring. "Love nuts."

She sat on the edge of the apron and let her legs dangle and swing back and forth, listening and sipping away while Junko laid it out. She was back in fufu mode, but still talking some serious shop, and Kozue nodded along with it. Having some other girls around would be good for her sanity. Junko was growing on Kozue fast, but she was still craving someone her own age to talk to. Someone her age that didn't have the personality of a rabid pitbull.

Kozue cast a curious eye on Taylor as she started to write. Not just for the notebook, but for Taylor calling Junko 'Mom'. She hadn't given it much mind the first time she'd heard it, but now with the second time and the way Junko had called her 'daughter' the other day, it was making her wonder a few things. They did seem close. Closer than she would have guessed at a glance.

She'd finished off the bottle by the time Junko switched the topic, asking Kozue about her routine. A lie almost fell out right on the spot, but she flicked a nut in her mouth before she had the chance. It wasn't about impressing anyone, it was about improvement. Go with the truth.

"Day, week, month." She flicked a cashew up and caught it, chomping it down quick. She used to do this trick all the time, cool to see she still had it. "Okay, well, 'day'. Wake up, smack my shower around until it spits out hot water, get cleaned up, eat a pop tart or Cheerios or something, take a run to the Tension gym and work out there. Work on my moves, hit the weights some, slug around the bag. Then I run back home, get cleaned up again, hit the bar and have a pint, go home and maybe play something until I konk out." Almond now. Up it went, right between the lips, crushed along her teeth, down into her belly. "'Week'? That's the routine, pretty much. I go harder on weekends, double up on the run and try out some new moves. Maybe go swimming if the weather's good. If I've got a match coming up and I know who I'm taking on, I'll go by the library and see if I can find a match or two for the guy I'm wrestling, learn something from it.  Don't have internet at my apartment, best I can do." Peanut. Flick up, catch, chomp, swallow. "'Month', about the same. I get, like, a match every three or so weeks. Sometimes I might take a trip and do something fun, like visit a game tourney or a brewery, stuff like that, but that's the general grind."

She fished around her palm, ordering some of them up. "Is that good?" She grunted and would've smacked her forehead if her hand wasn't full. Even she knew that 'good' wasn't the right for it. "I mean, is that about what you wanted to me tell or do you want me to get more specific or..."
Page 3 of 8 •

1, 2, 3, 4, 5, 6, 7, 8


---
Permissions in this forum:
You
cannot
reply to topics in this forum