Champions & #1 contenders
The Austrailian Mudslide is Back.
Sat Apr 21, 2018 6:20 am by Softsquad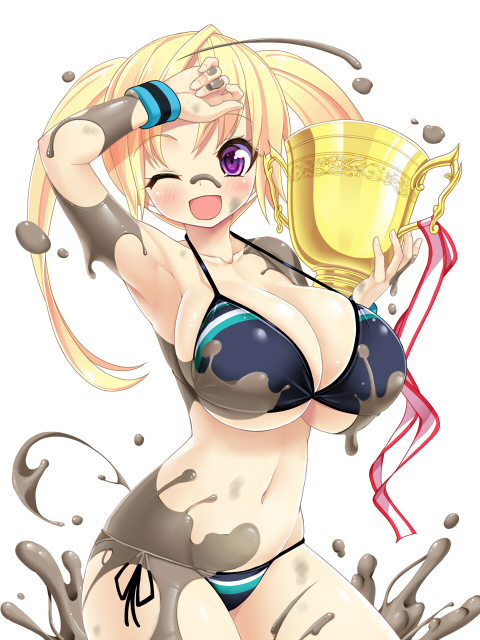 Granted that most of you won't know me or remember me, but I've had a few matches here and there some time ago. Well I think its time to become a regular around here and try to have some fun again, but at the same time keep coming back. Anyway I think its time to jump into some matches with Zoe Taylor, my mud wrestling character from Australia and get her back into the squared circle. Furthermore I will update my characters as I think some proper changes need to happen.
So if anyone would …
[
Full reading
]
Comments: 4
Looking for debut thread.
Sat May 12, 2018 9:28 pm by Hedgehawk
Hello All.
I am looking for a debut for my girl Trinity (http://www.afwrpg.com/t18107-trinity-cordova#495678).
This doesn't have to be a match, it could be a gym battle, interview or anything else. I just want something to help get Trinity off the ground. If you wanna plot feel free to reply to this message or fire me a PM.
Many thanks in advance and thank you for reading my message,
Hedge
Comments: 0
Page 4 of 5 •

1, 2, 3, 4, 5


Dixie continued chowing down on her chili, listening to Taylor talking about how all the Roses had influenced her. It was humbling, in a way.

She cut in halfway with a laugh. "It weren't that impressive, tossing Benikage across the ring. Girl didn't weigh a single damn thing. Ah wouldn't be surprised if some of the bigger kawaiis around here could toss her around!"

She took another drink and another bite of food, going quiet again so that Taylor could talk about her Summer Splash match. "Oh, ah watched it. Most of the locker room that was still stuck here in Japan was watchin' it. Y'all two nearly killed each other out there. Damn impressive match, though. After ya hit yer DDT at the end, ah didn't think either of ya were gonna be gettin' up!"

She waved down the waitress as she passed by again, and ordered another pitcher to replace the quickly dwindling one already on the table, then took another swig from her mug. "Ah've seen yer crab. It's pretty good. Seemed to mess Angel up a pretty good bit. Hell, you were doing a pretty good job of messin' her leg up in that fight. Ah know ya couldn't really watch, but she was limpin' the whole way back to the locker room."

The cowgirl grinned back at Taylor, a more cocky look then before. "Ah prefer the two-legged crab though, myself. Ah'd like to say ah'm pretty slick with that. Not as much as my cloverleaf, but still damn slick."

She took a few more bites of her food, then spoke up again, softly. "Ah'll have to give you a first-hand experience with it, next time we fight..."
Taylor raised an eyebrow and smirked at Dixie. She wondered if maybe she was just a little bit sore over losing. She couldn't blame her, really. Taylor wasn't great at losing, herself.

"As if you could catch me," she teased. "I do need to work more with my friend Cassie on being more... careful, I guess. Not getting caught in stuff. I'm always go, go, go, sometimes I don't slow down enough to really see the situation. Like with Angel, I kept trying to go faster and just put her down, and I didn't stop to think maybe I needed to change things up. So... Maybe you could catch me. But maybe I'd just knock you out first." She shrugged, and then winked and drained the last of her beer.

She grabbed the pitcher and refilled her mug. "I always liked Benikage, actually. She had balls. She was little, but she went all out. And she wore like... practically nothing, which I have like a weird respect for. It's guts. When I first started really training my body, I started with my legs because I wanted thighs like hers."

She giggled. It seemed silly now, but back then it was such a dream. She felt so lucky that she had actually made her dreams a reality... most of them anyway. If she had a big fat belt around her waist, she'd be closer to content. She wondered how many of her old idols she could work over in the ring now. It was a thrilling thought.

"I like the single because there's less setup, and more freedom with the positioning. And you can really get sick angles with it and do some damage. Even if they don't tap, you can still take a lot out of them. Like with Angel," she nodded gravely. "Man... My mom told me to stay away from her legs. Don't go after the legs, too strong. She did kick the shit out of me... but next time, I'm taking her legs home with me. That's her big weapon? That's her strength? Fuck that, I'm taking it away from her. Then what? We'll see how tough she is without that. Without her safe place, the thing she's confident in. I'm going to beat her. I'm going to take her apart and break her, and she's gonna give me a pin at the end. I've got a lot going for me, yeah, but no one has got guts like me. If I can move my little finger, I'll use it to fight you. When I beat her, it's gonna be bloody, and I promise she won't have that cocky goddamn smirk."

She took a breath. Her cheeks felt warm. She took a long drink to calm herself back down, and then tasted her chili. She had already eaten as much as Dixie had drank. She didn't know how Dixie was that big without eating more, but Taylor's hummingbird metabolism always kept her hungrier than most.
"Ya think ya can knock me out?" Dixie asked, squirming anxiously in her seat. She wasn't really sore over losing. Maybe just a little, a tiny bit. It was more like she was getting excited at the thought of going up against Taylor again. Of course she wasn't just going to take a loss like that and let it go! "Ya can try, girl, but if yer aimin' to knock me out, you'd better be comin' in fast and hard." She lifted one one of her arms, flexing it with a grin, slapping her muscle with her other hand. "Cause if ah'm aimin' to knock you out? Well...yer ass had better be ready for a brawl." She didn't mention that when they had fallen out of the ring earlier, and had just started slugging at each other, that she had enjoyed that. It felt good to get into a slugfest like that with the girl. It had been a while since she had been able to do that.

She lifted her mug again and finished draining it, then set it down to start on finishing her big bowl of chili. She shook her head at Taylor, though as she starting going on about Angel again, setting her spoon back down and looking at her with a serious expression across her face.

"Listen. Don't get too caught up on 'er legs, on takin' them out. If yer too damn focused on hitting 'er where it hurts like that, then she's going to come after ya another way. Ya spend too much time trying to get at 'er legs, then she's gonna catch on and change up 'er strategy. Ya need to go after whatever you can, got it?"

She lifted her spoon again, gesturing at Taylor with it as she continued. "How many other people ya think that's fought, that have tried to go after 'er legs? Most everyone knows that's 'er strong point." She dug her spoon into her bowl, getting a big heaping spoonful of the chili, lifting it up to her mouth and sticking it in, the spoon clean a moment later when she removed it. "Tryin' to do that is jes' playin' into her hands. She'll be ready fer that, especially since ya messed up 'er leg so bad last time. Ya get what ah'm sayin'?"
Taylor scowled. There were not many things in the world she hated more than being told she couldn't do something.

"I'm not stupid," she said firmly. "I'm not planning on just running at her legs until I die. I've got a notebook full of stuff about it. I think about it every day. I work on this shit in training. She's been winning a lot lately, but who's the last person to actually take something away from her that matters?" She shook her head. She didn't like the turns this conversation was taking. Maybe the beer had something to do with it.

"Look, I don't mean to just talk about Angel all night. I've just got Angel on the brain. I... can't stop. It drives me crazy sometimes. But you understand, right? Like, the thing I want is right there, and I can't have it. Or at least... it was right there. Maybe I won't even get another chance." Which would be completely, and utterly heartbreaking. "Did you ever go through anything like that when you were going after the title before? Like, have you ever come so close... and failed. And then... what do you do?"

She looked at Dixie with earnest blue eyes and forgot about her food for the moment while she waited for her answer.
Dixie looked a little sheepish again, her cheeks turning red as she looked away from Taylor in embarrassment. "Sorry. Ah didn't mean it that way, didn't mean to treat ya like ya were stupid or anything. Ah know ya ain't dumb, it's just..."

She grabbed the pitcher, filling her mug back up and taking a long, hard drink from it. The last thing she wanted right now was to upset Taylor or make some kind of enemy out of her. "Ah think yer a good kid. Yer damn good in the ring, and ya seem to have a good head on ya." She looked back at Taylor and gave her another short shrug, then looked away again. "Hell. Might jes' be the beer talkin', but ah think ah'm growin' fond of it. It's been ferever since ah've been able to jes' sit and talk with someone like this, and dammit, ah don't think ah could bear seein' ya gettin' yer ass kicked again. Ah know that shit would ruin ya, and ah don't want to see that."

She looked back at Taylor once again, and nodded at the girl. "Ah was young, and ah was strong, and ah was tough, but when I started in the Rumble Roses, ah was nothing. Ah got a few lucky wins here and there, but for a long time, it was rough. Ah've always been a big wrestlin' fan, but that shit doesn't mean you can actually wrestle, and ah learned that the hard way. Ah weren't from no wrestlin' family like Reiko and her sister, ah didn't have the experience that Teach had in the ring, ah didn't have no fancy karate training like Benikage or Makoto or anyone. It took me a damn long time to get good enough to actually get a shot at the title...and when ah did? Reiko's sister kicked my ass all over the ring. Ah got cocky, and she made me pay for it."

She sighed, taking a deep breath to try and calm herself. She was getting worked up, and needed to calm it down a little. "But ah learned from it. Ah hit my trainin' twice as hard. Ah got Reiko to spar with me every damn day. Ah picked myself up, and ah forced myself to get better."

"Then? When ah finally got my second chance?" A grin crossed her face, and she leaned back, motioning at her waist as if a big, shiny belt was there. "Fujiko didn't even know what hit 'er. Ah walked out of there as the champ and with my head held high."

She then leaned back forward, the cowgirl staring right back into the eyes of the younger blonde. "And that's exact what yer gonna do it. Ah know it, and you know it. Next time Angel and you fight, yer gonna be walkin' out with gold around your waist, and she's gonna be left broken and beat behind you."
Taylor stared silently back at Dixie while she spoke, wide-eyed. A chill ran down her spine with the thought of things happening like that for her too. It enticed her to daydream, but she caught herself.

"That's gonna be me," she said quietly, and nodded. "If something happens, though, and I don't get it, I'm not going to fall apart. I won't die. I'll get to the gym and make changes and try again, and again, and again. Until someone just gives me the belt to get rid of me." She laughed. "But I won't have to, because I'm going to get what I want this time... I just hope I get another shot."

She breathed a sigh and smiled at Dixie. "Okay, enough Angel talk. No more. I'm done. Promise. So... question. If you weren't wrestling, what would you do? And... do you know Clyde Gastin? Or Bonnie? Do you Texas gals all get together and like... I dunno, talk about cattle and mow the lawn and barbeque and stuff?"
Dixie thought about Taylor's question for a moment before answering. "Ah'd probably go back to the police force. Spent some time there before ah moved on to the Roses, y'know. That badge ah wear to the ring ain't jes' fer show."

She smiled when Taylor brought up Clyde. "Yeah, ah've met him. We ran into each other in the gym, ages ago. Ah took the train up to the Tension complex to use their gym a while back. Ah was in kind of a bad mood and didn't want to deal with people, figured their gym would be less crowded. He's a nice guy, kind of shrimpy, but a nice guy. He spent almost the entire time actin' like a giant fanboy over me!"

"Never met his sister though. We only ran into each other once more after that. Ah let 'im borrow some of my old Rumble Roses DVDs. He still has 'em, too. Ah should probably get those back sometime." she continued, frowning when she remembered the DVDs.

"What about you though, huh? What would you be doin' if ya weren't wrestling?"
"Oh shit, you're a cop?" Taylor exclaimed with a bright-eyed laugh. How much trouble would that have been if they had met when Taylor was still watching her on TV?

"Clyde's alright. I don't know Bonnie at all, really. I imagine she's like him. He's... I don't really invite him to parties, if you know what I mean."

She put her fork down and held up both hands while she prepared herself to answer when the question was flipped around on her.

"Well... Have you ever heard of the Jackie Joyner-Kersee Foundation? I want to do that. If I never wrestled, I wouldn't have all this money, and the fame and stuff. I can do a lot of stuff now that I would never have been able to before, and really... That's a bigger deal to me than just being the biggest and best wrestler... though I want that too. Heh." She stuck out her tongue.

"I want to... Like, in New York, boxing gyms tend to be in rough neighborhoods. The Bronx and shit. And sometimes the gyms help keep kids off the street and out of trouble. I want to do that, but with wrestling and stuff. Not just wrestling, I mean, but... I just want to start a place where kids can go who maybe don't have anywhere else to go. For kids who don't want to go home, and don't have people around to talk to, who can help them be healthy and teach them stuff. Really... I want to do that more than I want to wrestle, not that I don't love wrestling. When the time comes, I know it'll kill me to give it up. But wrestling is right now, and that stuff is later. I'm not going to do anything big like that while I'm still trying to wrestle."
"Was a cop. Ah quit to come wrestle. Ah don't really regret it, but some days ah do miss it." she corrected, then shushed up to let Taylor finish speaking. She dug back into her chili bowl once more, finally chowing down on the last few remaining spoonfuls, listening silently to Taylor's goals for the future.

When Taylor finally finished, Dixie looked at her, and gently smiled. "Ya know what, Taylor? Yer a good girl. Yer a damn good girl, and don't let anyone ever tell ya otherwise. What yer wantin' to do? That's an admirable goal. The world could use a few more people like you in it." She set her spoon down, and pushed her bowl aside, crossing her arms on the table in front of her.


"Don't ever lose sight of that goal, and don't ever let anyone try to take that from ya, ya hear me?"
"I won't." Taylor took a moment to chow down some more broccoli. She washed it down with some beer, though she really felt like she should have water. She was a compulsive water drinker.

"I don't have really great experiences with cops, to be perfectly honest. But that little sheriff's badge just looks so adorable on your little cowgirl vest," she said, with a sly grin. "But yeah, I don't really think it's that, it's just that stuff really sucked for me growing up, and some people helped me get better, and I just want to do that for other people."

She shrugged, and as her phone buzzed from her pocket, she was suddenly overpowered by a paralyzing yawn. "Oh, man." She blinked several times as she pulled out her phone to check the message. "You might end up carrying me to a cab, but that's cool. It's no problem for you."

The text was from Cassie. It read "How's your date going with your new gf? Are you in love? Are you going to marry her?"

Being ripped on by Cassiebear was always a little surreal. She responded swiftly. "Fuck you".

She gave Dixie an apologetic smile. "Sorry. So anyway, this is a pretty great night for me, man. Thanks for getting your ass kicked and coming out with me. Like, I don't think I've ever beaten anyone like I beat Brittany. Everything just clicked. And with you, that was so much fun. I love that we just fuckin' scrapped it out, ya know? It feels so awesome. I feel like, we're like... I dunno, kinda close now, after we got to beat the fuck out of each other. I got a killer headbutt, by the way. My head's hard as shit."
Page 4 of 5 •

1, 2, 3, 4, 5



Similar topics
---
Permissions in this forum:
You
cannot
reply to topics in this forum