Champions & #1 contenders
Summer Splash interest in Natasha Loclear?
Mon Apr 09, 2018 11:30 pm by daemongirl
Well my girl hasn't missed a summer splash yet, would anyone be interested in a match with her? Open to just about anything match wise, just pm me!
Comments: 1
Been Out with the Flu
Sun Apr 22, 2018 7:47 pm by daemongirl
Just letting those I have threads with know I've been out with the flu since early last week, but I will be back to posting tomorrow.
Comments: 0
The Austrailian Mudslide is Back.
Sat Apr 21, 2018 6:20 am by Softsquad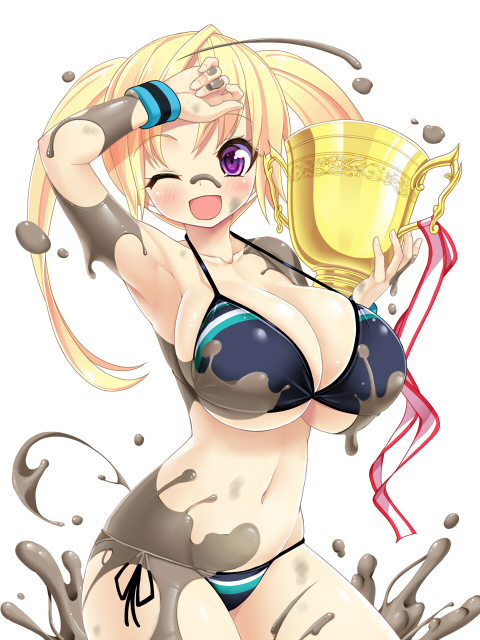 Granted that most of you won't know me or remember me, but I've had a few matches here and there some time ago. Well I think its time to become a regular around here and try to have some fun again, but at the same time keep coming back. Anyway I think its time to jump into some matches with Zoe Taylor, my mud wrestling character from Australia and get her back into the squared circle. Furthermore I will update my characters as I think some proper changes need to happen.
So if anyone would …
[
Full reading
]
Comments: 0

Reposting the full match posted in the older forum :P 

Standard match: Win by pinfall or submission.

Lt.Lukas
Eka stood in the cool hallway leading up to the entrance ramp. The Georgian bounced up and down, trying to get her muscles loose and ready. She shadowboxed and tried to pump herself up; it was her first match and she wanted to start off hot. Only one chance at a first impression, she thought. She looked up and smiled, trying to soothe her nerves. She knew next to nothing about her opponent, other than she was fairly new as well. She shook her head to get her long raven hair out of her face and ran a hand through it. Her makeup was perfect and she looked good in her tight black and pink pants and her black bikini top. At least she was good in the looks department, she pondered. An official looking person gave her a nod and she approached the entrance to the ramp.

Eka's eerie entrance music came on over the arena's loudspeakers. Eka gave a pause and grinned. She waited a beat, to let the brass come in. At precisely that moment she made her entrance. The audience had to give her some credit for her flair for the dramatic, surely, she thought."Wrestling out of Birmingham, Alabama, Eka Guramishvili!" boomed through the PA system. The announcer didn't fumble over it and a look of surprise flitted across her face. Eka walked out with a smile on her face and her hand waving. The audience cheered a bit, but didn't give their all for a newcomer. For a second she stood wide eyed, unprepared for the amount of fans that were here. As Eka walked down the entrance ramp the look on her face hardened to a look of determination. This was the big leagues. No time for a bright eyed idiot here, she thought.

Eka bounced into the ring and gave one last wave to the fans, who reciprocated with one last cheer. Eka stretched her arm with a windmill and eyed the entrance ramp warily. "Come on out, Mariam," she said to no one in particular.

=======================

Giles F. Ahrun
It didn't took too long for Guramishvili to see her opponent once her intro is finished. Some random rock music starts to play in the arena as the newcomer was announced through the PA by her full title and name: "And now, introducing her opponent. From the remote lands of Greece. Having 6' of height and 220 lbs of pure muscle, she's the 'Greek Lioness of Pankration'!! Mariammm Aaaaglaiaaa Leeeeeaniaaaaa!!!"

And the so called lioness walks in. Wearing a golden singlet along with matching wrestling boots and kneepads and a white jacket with a stylized lioness' head stamped on its back, Mariam walks camly towards the ring with her hands stuffed inside the jacket pockets. The blonde and blue eyed greek looks at the ring and the opponent she's about to fight with a smile. Not only because she's looking forward for it but also because she's eager to show the world the long and almost forgotten art of the Greek MMA. She apparently don't pay attention for the cheering crowd who was rooting for her in this fight but this impression is gone as she climbs the ring's stairs and turns around to wave for those wishing her luck. After that she slides between the ropes and removes her jacket exposing completly her torso and her endowed chest as well. She then looks at her opponent keeping a smile.

-So... You're the one called Guramishvili. - she says spelling her aparently complicated name without error (mainly because she 'trained' how to spell Eka's last name properly) and denouncing her strong Greek accent while she walks towards the smaller and far younger woman. - I'm pleased to meet and fight with you... And I wish you good luck and a good fight. - She ends her sentence offering her hand to Guramishvili.

=======================

Eka was left speechless by Mariam's entrance. 220 lbs, 6 feet tall and ripped to shreds. Eka would have to fight the match of her life is she wanted to have any chance against this woman. She picked up her dropping jaw with her hand. Ont only was she a physical monster and was incredibly good looking as well. She didn't pander to the fans and Eka respected that. Eka couldn't help but bit her lip as Marian revealed her golden singlet. The woman was well endowed. Perhaps she was a lioness between the sheets as well, she thought with a grin.

Eka met Mariam's handshake with her own. She tried to maintain a firm grip to show this woman she was not afraid of a good squeeze. "I am. And you are Mariam Aglaia Leania. Nice to meet you as well." Her Georgian lilt shone through despite her constant effort to Americanize her speech. "Good luck to you. Honor yourself in your fighting." Eka winced at the last little statement she made. It just seemed to come out and Eka prayed Mariam didn't find it too cheesy.

Eka withdrew and took a step back. She finally had a chance to look Mariam up and down. The golden lion was tall and stocky and if she was pincered between her arms or legs it might spell her doom. Eka let out a long breath. Eka would have to make sure she always had a better center of gravity and leverage if she wanted to beat this woman. Groudn game was usually an advantage for Eka, but she was not so sure against this opponent. Mariam might put her in a bind if they were on the ground together. Eka gave an unsure look as she signalled to the referee she was ready to start.

=======================

-Honor is all, my dear. - She said with a soft smile before she steps back towards her corner and waiting for the referee state the begining of the fight. She felt Eka was feeling a bit intimidated because of her muscular build and maybe her good looks. If that's really the case, she might have the fight at her hands. But she don't thinks too much about it. She don't want to act cocky. She don't want to be defeated by her own arrogance. Not because Eka is smaller it means the fight is going to be easy. She readed and watched several fights where the apparently weaker contestant won and even the nature had examples of it. Being honorable and humble comes first.

And so the referee announces the start of their debut match. Mariam walks towards the center of the ring expressing a serious face as she approaches her opponent as she raises her arms with her hands opened not really giving a clue about what she might try to do with her younger opponent.

======================

The bell ringing reverberated around the arena as the two wrestlers approached each other. It must have been difficult for the Greek woman not to look down on her. She was obviously quite experienced and had a body like a goddess. Eka was here at AFW to prove she was quite the contender as well. Mariam had her arms up and gave off an inscrutable look. No telling what she was about to do. Eka took a step forward and raised her arms into a ready stance as well. Eka knew she was sure to lose a contest of strength. She breathed in sharply and went in for it despite her doubts. A loss was a sure bet but she had to show this woman and all of AFW that she was undaunted.

She closed the gap between them in one step and tried to meet her hands with Mariam's. "Show me your strength." she said through gritted teeth. "Show me what those muscles can do..."

=======================

Mariam kept looking at her opponent and she notices the Georgian Princess raising her arms with her hands opened as they approach. Staring coldly at her, she apparently was going to accept the hands and perform the test of strenght.

However, for Eka's surprise, what she got instead of a strenght contest was the feel in have Mariam's arms wrapping around her torso and starting to hug and squeeze her firmly.

Guramishvili just got lucky despite this big mistake since her arms are still free so she could still fight back. If wasn't for this, possibly the 'Debut Fight' could be called 'Curb Stomp Debut Fight'.

======================

Mariam closed in on Eka and wrapped her up before Eka had any chance to react. She squealed as she was taken by strong arms and gasped and moaned as Mariam began to hold Eka with her massive arms. This was far from ideal. Eka's plan to hip toss Mariam after a brief contest of strength flew out the window, giving way to a panic stricken mind. She thrashed against the larger woman to no avail for a second. After the initial panic subsided, Eka realized how manageable the situation was. She twisted her body as much as she could and opted to try and throw a full force elbow at the side of Miriam's head.

=======================

-This is just a small fraction about what my muscles can do to you, Eka!

She stated with a firm voice as she continues to squeeze and even pump her arms around Guramishvili frame as she looks up at her... Then Eka managed to twist her body to the side and shoot down her elbow on her head.

-AUGH!

Mariam took the firm blow and she releases her foe as she steps back rubbing her head while she looks at Eka.

=======================

Eka staggered as she hit the ground and grabbed her aching sides. Every breath felt like a dagger in her lungs. She took a step back and looked again at her opponent. Eka didn't doubt Mariam's boast for a second as she gazed upon the larger woman. The blow with her elbow caused her funny bone to rattle inside her arm. She didn't cradle it. No weaknesses. Not in front of an impressive Mariam. The squeeze was a wake up call and Eka was now fully awake.

"I am not so weak myself," she bragged, running forward. Cameras flashed in the background as Eka leaped into the air and attempted to tackle the larger woman to the ground with a form tackle.

=======================

Mariam noticed despite her frame, Eka knows how to hit hard altough she needed to "charge" her attack to have the desired effect.

Then she looks at her going for a the form tackle. The impact didn't helped much to take her down by itself but it made her to move backwards a bit and fall as Eka's arms around her legs made her to trip and fall.

=======================

Eka's heart pounded faster and faster each step she took towards the amazon. The lioness was stalwart and Eka's relatively tiny frame almost failed to knock her down. Her legs flying in did the trick and sent the pair crashing to the mat. There were perhaps more elegant, more effective takedowns but Eka was more than happy with this awkward affair. She let out a war woop as they collided with the ground. All matches had their flow and the Georgian knew she had to act quickly if she wanted to get it flowing her way.

She bounced up, adrenaline surging through her veins. Eka leaned over and attempted to grab one of Mariam's powerful legs. If she could secure the grasp she would attempt to roll Mariam over on her belly and put her in a toe lock.

=======================

The Lioness got taken down and looks at Eka falling on top of her. As it happens Mariam tries to wrap her legs around Eka's body but she was too quick (or maybe Mariam was too slow) to be caught there and she bounced up without any problem.

But when she tried to grab at one of her legs, Mariam tries to stay still while she uses her other leg to curl up and snap a kick on Eka's body. She might be slow with her legs but even so it would take less time than Eka trying to roll her over.

=======================

Eka was more than ready to put the hurt on Mariam. She had already imagined the pictures of her; Eka, beautiful and precise, with Mariam in a toe hold crying out for pain. It would make a nice cover piece or a fold out, she bet. All of those fantasies came crashing back to reality as Mariam delivered an upkick. Eka was too busy imagining and being proud of herself to even worry about it and had a healthy blow to her chest for her troubles and was sent flying down to the mat.

She groaned as she hit the ground and lay spread eagle

=======================

Mariam sent the firm kick on Eka and looks at her flying down in the mat. She isn't going to be defeated all that easily specially in the beginning of her first match in the AFW. She then starts to get up. Fact is, being so muscular and trained her body more to sustain damage and having her striking training focused more on punches than kicks denounced she's slow to move or get up. And if Eka isn't too stunned for receiving that kick, she could probably get on her feet first and make another offensive against this strong lioness.


=======================

After a pause Eka returned to her feet. It wasn't a slow move, but she did feel a dull ache from the squeeze and the kick. Eka moved forward again, this time with a little more discretion. In an attempt to gain some control, Eka would try to grab Mariam's arm, move in behind her and get her in a chicken wing.

=======================


Mariam tried her best to get up quickly but when she did, Eka already grabbed her arm and moved behind her grunting as she was put on the chicken win,g feeling the pressure on her shoulder joint.

=======================

Eka blinked. She was honestly a little surprised that she managed to secure the chicken wing. The grunts of the larger woman seemed to pained and Eka applied more pressure. A bead of sweat dripped off her brow and hit the ground. This match was already intense and Mariam was sure to ratchet up the pressure. Eka used this grinding submission to get a bit of a breather and formulate a plan.

Eka exhaled on Mariam's shoulder before elegantly unfurling the hold and sending Mariam towards the ropes.

=======================

Mariam winces and grunts as Eka added even more pressure in the hold while she tried to break free from her hold...

But then she feels Eka's breath on her shoulder before she undoes the chickenwing and tries to irish whip the lioness towards the ropes... But as she does it, Mariam attempts to hold on Eka's hand with plans to revert the Georgian's plans and send the younger woman towards the ropes instead.

=======================

Eka was so ready to let go. She was ready to catch the lioness coming off the ropes and hip toss her when they met. That plan was foiled as Mariam pivoted and sent Eka towards the ropes. For two strides she wondered what happened. The next step saw her bouncing off the ropes and turning to face Mariam. Another two steps and she would be in the Lioness' grasp once again. Sweat began to flow as she took those two steps, completely unprepared as to what was coming next.

=======================

Mariam looks at the running Georgian after she managed to reverse the Irish Whip. She remains still just waiting for Guramishvili to get closer. If she had more room to perform a more leaborated move she would gladly do it but judging by how Eka strides back and forth, Mariam didn't had much choice other than nail her with a quick attack. That attack being a stiff elbow strike aimed at the Georgian's sternun, just above her chest.

=======================

Eka saw a mighty elbow coming to her, no doubt a revenge elbow from the one she threw to get her out of the bind. Her mind raced to try and figure out a way to avoid the imminent pain. She threw her hands up in vain to try and slow herself down or to stop the elbow. The elbow collided with her and she was sent to the mat in pain. Eka rolled around on the mat, swearing in Georgian and clutching her chest. The blow took all of the wind out of her. More importantly, she thought, it had completely halted any momentum she might have had. She rolled on her back and looked up at Mariam.

"Care to join me?" She got her arms into a ready stance. She caught her off guard one time and wouldn't catch her off guard again. Even if she was on the ground, where Mariam could show off her strength, she had to get a submission or two in to have a shot.

=======================

Mariam mentally smiles as she manages to nail her elbow on Eka's chest and hears her Georgian swearing as she rolls away from the lioness.

But soon Mariam blinks her eyes and makes a surprised expression as she looks at Eka actually INVITING her to fight in the ground. Yeah. It would be interessing to have some mat wrestling but the fact she's fighting against someone with a less developed build than her might be two things. Or she's being brave enough, or she's just going nuts. However she won't judge her actions and let the flow of the match determine this.

-Want some mat action, hun? Sure, you'll have it. But I wonder if you could handle it... - she says as she tries to drop on top of her but with a little twist: As she falls she tries to drive her fist squarely on her gut. Let's see how the Georgian Princess will react to this.

=======================

Eka was reminded as to why she so rarely boasted in the form of 200 or so pounds coming down on top of her stomach. Mariam threw a punch as she was crashing down causing even more damage. What was once a chance at gaining an advantage became a fight for her in ring survival. Eka hoped Mariam crashing down on her butt first didn't make the papers as she tried to figure a way out of this. Thrashing wouldn't work, as the woman was clearly stronger. She might be able to grab and bend something.

Or she could cheat. No, never. Not against this woman. With an aching pain in her tummy and a growing since of urgency she made an attempt to grab at her opponents hand and twist for a wrist lock. Eka grunted as she went for it, feeling herself slowed by the pain and praying her opponent couldn't react in time.

=======================

Mariam managed to land her fist down on her gut. While not really straddled on her, the lioness tries to crawl on top of her while she tries to swing another firm punch on her opponent. Not going full force on her since she's aware if she decided to go fully offensive with someone like Eki, she could possibly hurt her badly or even kill her. She isn't fighting in the ancient times of Greece where Pankration tournaments never punished the fighters if one ends up killing another, but in modern times. This would be terrible for her life and for the AFW reputation as well. Even so the punch would leave a nice bruise on Eka's body.

Thanks for Mariam's cautious nature in not exceed herself, Eka actually managed to grab her hand and twist it on a Wrist Lock making the Lioness to yelp in pain.

=======================

Eka earned a nice punch for an attempt at Mariam's wrist. The woman was really piling it on now. She didn't doubt in a different time and place she would be unconscious after a punch like that but a surge of adrenaline and a desire to stay in this match for the time being made her power through it. It was a shame to leave such a mark on a beautiful body but Eka would have to endure.

The wrist lock was a crude yet effective hold and more importantly one that yielded a fair amount of control to the subduer. Eka would attempt to twist and turn her opponent until she was off of her, or at least out of the range of her vicious arms. The camera zoomed in on the mass of struggling women as Eka attempted to ensure her freedom of movement for a little while. What she would do with a potentially captured lion, she wasn't quite sure yet.

=======================

Mariam yelps more in pain as her wrist get twisted around and actually forcing her to roll off her. Once Eka was free from the Lioness muscular body, the Greek tries to roll her own body hoping to nullify Eka's hold and, unless if the Georgian tries to keep her held, roll away from her getting on her knees, looking at her foe. Wanting to continue the fight in the mat just as Eka requested.
=======================

Eka did manage to roll Mariam over which she was happy about. Mariam managed to roll all the way out of it, which Eka wasn't happy about. She was on her knees and at the ready. Eka made up her mind in the ring. She already got a wrist lock and a chicken wing on Mariam. She would have to get an arm submission if she wanted to win this match. Throws and the like wouldn't work. Eka could feel herself breathing deeply. The audience was on the edge of their seats trying to get a good view of the brawlers as they were set to tangle once again.

"You are shiftier than you look." Eka braced herself, hoping she could get a quick counter to whatever Mariam threw at her.

=======================

Mariam looked at her with a smile at the compliment and nods at her.

-Thanks. You're not bad either... I feel you have some greco roman knowledge, right? This makes things more intresting, you know? - She then leans down a bit, placing her hands in the mat for support, pratically getting on all fours, and staring her with an almost seductive look while she gesture her hand for Eka to come at her. - C'mon, Eka. I'm giving you the mat wrestling you wanted... Do you think you can really tame this lioness here? Huh? Do you think you can get past my 'claws'? - She dared just waiting at her opponent's reaction.

=======================

"I sure do. All of us Georgians are nuts for it." Eka inched forward probing Mariam for any weaknesses. There were none. Eka wrinkled her nose. Mariam gave off predatory vibes and the look in her eyes was downright sensual. This lioness was tough to tame but even lions weren't invincible, she thought. The crowd egged them on, looking for a bit of excitement between the wrestlers. Eka crouched down on all fours, a foot away from Mariam.

"I think I can, Mariam. I am not some little mouse that cowers from the lioness." Eka smiled as she said the cheesy line. Mariam was sure to appreciate an Aesop reference. Mariam might appreciate her bounding in the air and twisting, trying to leap on her back and secure a choke. Eka surprised herself at the quickness of her actions, but she needed Mariam not to anticipate it.

=======================

Mariam sees ler heaping and tries to swing a fist on her opponent but Eka was quick enough to avoid it. The next thing she felt was her body pressed against her back and her arms wrapping around her neck.

The Georgian was simply riding on Mariam's back as the Greek tries to grab one of her arms wanting to ease her choking attempt while she straightens herself up, still on her knees while Eka continued to squeeze her a bit more. She's definitively going to perform her countermeasure tactic to force Eka to release her in one way or another.

=======================

Eka held on as tightly as she could. Mariam's strong arm grabbed hers and she felt her grip weakening. She reapplied pressure only to have Mariam pull harder. The struggle could only be described as titanic as both women used their muscles to strain against each other. Mariam straightened up and Eka wrapped her legs around Mariam's waist to try and hold on.

Eka felt her grip slowly loosening around Mariam's hips to try and get even more pressure on her. She stiffened her body and tried to hold on to her opponent as best she could.

=======================

Now that's a very interesting scene to witness. The smaller fighter literally riding on a bigger woman as if she was an amazon trying to tame a wild horse... Or in this case, a ferocious lioness...

Mariam was gaining control in protect herself from the choke hold while her opponent does her best to tame her. Despite the mountain of muscles she is, still there's some tactics you don't really need big strenght to overcome your opponent (altough it helps a lot).

As Mariam kneels up, she felt Eka's thighs wrapping around her hips and squeezing her. She tries to pry her arms further not wanting to be dominated by her (or at least dominated so easily) while she endures the body scissor.... Then, if Mariam manages to pry the arms away from her neck safely, she'll just try to put her foot in the mat and push up, jumping backwards wanting to drop on her back pratically sandwiching the Georgian between the ring mat and the 220 lbs of lioness' muscle.

=======================

Eka could have guessed what was coming but couldn't really do anything about it. Eka's eyes widened as Mariam left the mat. Even as they were in the air, Eka was already wincing. Eka's body collided with the ground with a sickening crash and Eka cried out in pain. 200 plus pounds of wrestler would have that effect on a girl.

Eka's chest had been impacted over and over. For a second she was too hurt to do anything about her opponent.

=======================

Mariam grunts as she falls over Eka and she rolls away, kneeling up as she looks down at her opponent. The greek lioness consider her options and decide to show she knows to fit some submission holds as well as she tries to grab one of Eka's feet while she wraps her legs around Eka's grabbed leg, laying on her back. If Eka don't do anything about it she might have a hard time to endure the Ankle Lock Mariam is intending to fit. Untill she manages to show endurance enough to get a ropebreak or manages to force the lioness to let her go in one way or another.

=======================

Eka was too incapacitated to do anything as she was deftly put in an ankle lock. Eka gritted her teeth and formed fists with her hands to keep from crying out in pain. She looked around for any chance at escape. The ropes were far away and Eka doubted she could drag them both all the way over. Another shiver of pain was sent through her body.

The air in the arena was intense. Eka moved to tap and held herself at the last moment. No, she thought. I've been in this position before, there is a way out of it. She extended her leg as much as she could to take the pressure off. A good start, she thought, but she had to counter it. Mariam's strong legs were wrapped around Eka's leg. She grabbed the top one and attempted to pull it across her body to get Mariam's toes tight against her armpit. If she could do that she would get her forearm under Mariam's heel, put her hands together and push her heel to her chest, effectively putting Mariam into a submission move of her own.

=======================

Mariam might have made a bad choice in try to go for a submission instead of something more effective to finish this fight with a win (specially for someone of her size and build) as Eka works her way to counter her submission hold with another of her own. But truth is, Mariam was enjoying to fight her and didn't wanted to end it quickly. Despite Eka's smaller frame and build, this woman is showing a determination Mariam didn't used to found when she fought wrestlers as small as Eka.

The lioness winces hard as her opponent works her way to fit the painfull lock and she tries to quickly pull that leg away before Eka manages to add even more pressure on her hold.

=======================

Surely the fans would have been more impressed with high flyers and body slammers she thought. But they went nuts for a counter submission. Odd, but reaffirming. Eka smiled as she held the lock, looking to for eye contact with Mariam. She wanted to see if the Lioness' enjoyment matched her own. She didn't mind the pain or the sweat or anything else. This is what she was here for.

Eka held on desperately as Mariam struggled against her. A quick pull out of it proved to much for Eka as the more powerful woman worked her way out of the hold. Well, if Mariam wasn't afraid to try, Eka shouldn't be afraid to try either. Eka put her hands on the mat and tried to yank her own leg out.

=======================

Mariam managed to pull her leg away from Eka's back and vice-versa... Altough Eka had to work a bit more to finally get out of her hold.

The lioness get on all fours and tries to chase her opponent wanting to grab her good leg, having plans to hurt her further if she manages to get a firm grip on it.

=======================

Eka attempted to scramble away to safety. Her frantic flight fell fruitless as she was snatched up by Mariam. The leg pull must have taken more energy than she thought. Eka would attempt to roll to the side to get away from Mariam.

=======================

-Oh no, I won't allow you to get away...

Mariam said with a more firm voice as she tries to hold Mariam's leg firmly as she tries to roll away. She tries to drag her close and actually helps her to not only roll to the side but roll her so she would be laying on her gut. If she does, Mariam tries to, while still trying to keep the hold, move and sit down on Eka's back and raise her leg up in a single half-crab... She don't does it full-force, of course, but even so a half-strenght single crab might bring a world of pain to the Georgian. Unless if Eka forms a quick plan to botch the lioness' attempt to hurt her greatly.

=======================

Eka's attempt at escape collapsed as Maraim held her leg and pulled it into a devastating single leg boston crab. Her cries echoed around the arena as she demanded release. The ropes were closer now, but still might be a little too far away. Eka grimaced as her opponent yanked on her leg.

She still wasn't ready to tap though, not like this. She kicked her leg out, desperate to get out of this jam. The woman was heavy on her back and her leg was aching, dangerously close to pulling a muscle. She tried to claw her way to the ropes unthinkingly going for what she thought she could get.

=======================

Mariam keeps the pressure on the single crab untill she starts to feel Eka crawling under her. She really admires Eka's tenacity to continue fighting and she apparently don't do much to prevent the Georgian Princess to crawl towards the ropes. But when she was about to get the ropebreak, Mariam decides to raise her leg just a bit further to increase the pain in the hold.

=======================

"Aaaahhhh!" She reached the ropes just in time. Mariam applied the hold like she had never felt it before. She looked at the ref girl who did her best to wave Mariam off of her.

=======================

Mariam looks over her shoulder and notices Eka grabbing the bottom rope while the ref girl orders the Greek to let her go. She does it immediately (even before the ref girl shouts her order) and she crawls away from her opponent before she turns around and faces her on a kneeled position.

The lioness looks at Eka just wanting to see her condition... Bear Hugs, elbow shot, a fierce gut punch, being pancaked... She wonders if Eka is still in condition, or even determined, to keep on fighting.

=======================

Eka stood up, using the ropes as a crutch and breathing heavy. Eka's debut wasn't going spectacularly. She looked over at her opponent who looked like she was ready for more. Hell, she was already kneeling down again, ready for another tussle. Eka winced in pain. Another submission or two and she was surely out of it. Hell, another move or two and she was out of it.

Eka got down on her knees. She had worked Mariam's arm and shoulder. A victory here would have to go through that. She got down on all fours and pawed the mat. She almost growled at the lioness. There wasn't a lot of fight left in her, but there was enough dammit, and she wouldn't give up. "You think you have won? Not yet. Not by a long shot." Eka's taunt was more to give herself a boost than it was to intimidate her opponent. She inched forward, seeing if she could find a chink in Mariam's armor.

=======================

Mariam legitmate smiles at her statement and clap hands.

-Guramishvili.. You're really a determined woman... I admire you in not giving up even after all the moves and holds I've done on you. A lot of girls like you I've fought before coming here screamed submission just after a good couple moves from me. Regardless of this fight outcome, you'll gain more glory and you'll be more loved than me, that's for sure. But... - she goes on all fours, looking directly at her. - I'm still determined to win here. And I'll do whatever I can (and I will) to defeat you.

Mariam's eyes stares right at Eka as she crawls back a bit more, paying attention on Eka's movements so she could attempt to react properly at her next move as needed and still aware Eka might try to put more abuse on her arm and shoulder.

=======================

Eka paused for a moment. "You underestimate yourself. You have covered yourself in glory. But do not think I will go easy..." Eka maintained eye contact. This woman was intense, almost too intense. Eka tried to gain some intensity in her own face, although she was sure she looked ridiculous.

Eka breathed in. Time for one or two last gambits. Any more from Mariam and she might be done for. Eka leapt forward in an attempt to grab Mariam's worked over arm and yank it into an armbar

=======================

Mariam looks at Eka leaping towards her and she felt her worked over arm being grabbed. But in the meantime, the lioness shoots her other hand and tries to clamp it around Eka's lower face, pressing her thumb and index finger roughly on her jawbone as she fits an Iron Claw.

=======================

Eka had expected some resistance but hadn't expected anything like this. The Iron Claw was hardcore devastating and conpletely out of left field. She released her grip on Mariam's other arm in shock. It was a humiliating move and she couldn't even scream. She gripped her opponent's arm and tried to yank it off to little avail.

Desperation was beginning to set in. She tried to push at Mariam's elbow and hoped she had enough energy to get her off.

=======================

Mariam continued to squeeze Eka's jaw and crawls forwards wanting to force her opponent to stand on her knees. As it happens, Mariam releases the hold just at the same time she tries to send a firm punch on her gut, wanting to leave her winded.

=======================

Eka escaped from the Iron Claw only to be punched in the gut. She instinctively grabbed her stomach, a dangerous move so close to her opponent.

=======================

Mariam thinks her opponent had enough punishment during this fight and she looks at her holding her gut after that stiff punch. She don't plans for a fancy finish in this fight. Proof of that is the quick European Uppercut she tries to nail on Eka's chin, hoping the Georgian lays on her back with the strength involved on it. If it's the case, Mariam just tries to crawl towards her, straddle her torso and hold her shoulders pinning her down for the count.

=======================

The mat was cool to the touch and the lights above were blinding. She held her stomach which left her exposed chin wide open which Mariam took advantage of. She saw stars as she struggled to hold on to consciousness. The room spun above her. She was barely aware of the lioness on top of her.

She let out a low moan as the ref girl plopped down and started counting. One!!! she bellowed.

=======================

Mariam looks down at her opponent barely conscious and she tries to lean forward, wanting to put her weight down on her shoulders. She was smiling. Not with mockery or disrespect. She really enjoyed to fight her and she wanted for this to continue... Well... She can always request a rematch later...

The Golden Lioness continues to pin her in the school boy pin while the ref girl shouts "Two!!".

=======================

Eka looked up at a smiling face and came to her senses. Mariam was on top of her, pinning her. Eka kicked out, as much as she could with 200 pounds of woman on top of her.

=======================

The crowd started to go wild thinking Mariam already won the match but the referee after slapping the mat for the 3rd time quickly got up and gesture her hand to her shoulder indicating Eka MANAGED to at least raise her shoulder during the count. As shocked as the crowd, Mariam looked down at Eka and grinned at her.

-You really don't give up, huh? - She asked while she tries to grab Eka's by the arm and get up pulling her on her feet. - I hope you don't mind if I get a bit rougher from now and then. - She says giving the Georgian a firm push, nothing else, while she waits for her. - Come forth when you're ready.

=======================

Eka was stood up, more unconscious than unconscious. Everything seemed so distant as she grimaced. Strong hands pushed her back to reality. She was wrestling a large Greek lioness in a match and she had to win. Right. "Not even in the face of annihilation."

Eka crouched into her fighting stance and looked Mariam dead in the eye. She might be overmatched but she would never give up. The sweat had officially become a deluge now and her heart was ready to rip itself out of her chest. One more good submission. That is all she wanted. One last chance to work Mariam's tried arm. Eka was completely insouciant as to what the crowd was doing. The world was just Mariam and Eka at the moment. Eka crept forward, trying to secure an elbow and collar tie up. "I am afraid I will have to be a bit rough myself."

=======================

Mariam stares Eka back without flinching and raises her hands slightly as Eka moves in and locks up in the elbow and collar hold. The Greek holds her back and suddenly she tries to push the Georgian towards the nearest corner, wanting to stun her as she shoves her back roughly against the turnbuckles.

=======================

Eka flailed as she was pushed back and crashed into the corner. Tying up with Mariam was a little dumb in retrospect. She leaned against the corner, chest heaving and eyes closed.

=======================

Mariam makes sure on her statement on being rough with her and as she manages to trap her in the corner, the lioness tries to raise her knee wanting to hit her gut. Not only that, but if the sudden strike loosens Eka's lock up, Mariam will break it before sending two fierce cross palm strikes on her face. She could perfectly punch her face but it would be overdoing for the moment. Even when she stated she was going rough on her.

=======================

"Uhhhh..." The knee impacted her gut. This woman was a lot stronger than she looked, which was terrifying as she looked obscenely strong. She reached down to hold her aching gut and was slapped twice, left right, across her face. For the first time in this match, a rage happened to Eka. She would try to deliver a knee of her own, wherever it may land.

=======================

-Unngh!

Mariam winces as her ribs get slammed by her knee, forcing her to step back a bit and raising her arms. She felt, despite of her condition, Eka managed to land a good blow on her body... Maybe those palm strikes infuriated her? Quite possibly. No woman likes to be slapped in public.

=======================

The knee connected. It wasn't a hard knee or a particularly good one but it connected. Eka gave Mariam a push and went for the two legged drop kick as much to gain herself some space as it was to impact Mariam's aching ribs again. Eka needed some space to swoop in and try another submissions. Bulbs flashed as Eka leaped into the air and the crowd held their breath. Eka held her breath as well as she aimed the kick right at Mariam's damaged chest.

=======================

Mariam was pushed and she winces as she get drop kicked on her ribs again stepping back a bit further granting the Georgian some breathing room. The lioness tries to keep calm just hoping to nail a good move on Eka as soon the opportunity comes in.

=======================

Eka bounced up, ready to gain more traction. Her dropkick didn't even knock her down. Mariam stood there, more or less unfazed. Crap. Time to do something completely nuts. Eka took one giant step and jumped up, using Mariam's strong shoulders to help lift her into the air. If she could get up and over her, she would wrap her legs around Mariam's neck and pull her arm into an octopus hold. It was completely bonkers and might leave her completely exposed, she thought. The thought quickly passed as she hauled herself up. If she can get this she might be able to make her tap.

=======================

Mariam blinks as Eka pratically climbs up using her own body as a support to perform it. This might be the opportunity Mariam was waiting for to put the Georgian Princess down for good.

The lioness attempts to get a hold on Eka's body: one arm trying to snag her neck while the other grabs her thigh. If Mariam acts quickly enough, she'll hoist Eka over her head parallel to the ring's mat. Things might get really ugly for Eka if she don't manages to escape from this hold because certainly Mariam will drop her stomach down to her knee in a Gut Buster!

=======================

It occurred to Eka halfway through her attempt that this was a really bad idea. Massive hands clutching Eka's arm and throat all but confirmed it. Eka figured out what Mariam meant by tougher with a devastating gut buster. Eka saw stars as she rolled on to the mat. Her stomach had been worked over too much, she thought. No way she could do anything now.

=======================

-Sorry, hun. But I had to do it.

Mariam says while she kneels down in Eka's side and sandbags down on her chest in a cross body pin while she hooks one of Eka's leg and hoist it up. The ref starts to count.

=======================

One!!!
Two!!!

The referee girl counts. Eka lays there, dead to the world. She had imagined her debut match going better. She had also imagined not going against a Greek lioness. Movement wasn't a possibility at the moment as pain coursed throughout her body.

=======================

Three!!

The crowd goes wild as finally the match ended with Mariam being the winner. Huffing a bit, the lioness kneels up and looks down at Eka before she stands up and waits for the Georgian to get up although she's tempted to give her a hand to help to show some more sportwomanship but for some reason she don't. She showed to the public she isn't a mean fighter and most of them believed Mariam have a good reason to not offer help after that beatdown.

=======================

Eka held her aching body. Jesus Christ, she would be covered in bruises in the morning. She looked up at Mariam, practically glowing with the lights of the arena behind her. The three count, heard only a second ago, fell like nails on a chalkboard to her ears. She grimaced. There was only one chance at a first impression and it looked like Eka completely botched it. Despite the woman's size, she never felt like she was overmatched.

She sat up and cast a glance at the fans. They were all still cheering for the lioness. One or two less mistakes, one or two stronger submissions, and they would be cheering for her. She propped herself up on her hands and looked at the ref, who looked back at her. A quick nod was sufficient to let her know that Eka was alright, wounded pride notwithstanding. She stood all the way up, groaning, and cast a nervous glance at Mariam. What could this titan say to her? She ran her fingers through her long hair and remained silent.

=======================

-I was hopping for you to get up on your own, Eka. - she smiles. - Even after all that abuse you suffered you endured this fight without squealing for submission. I don't really know who set up this match. But I'm sure you've won this match as well despite your loss.  - she gently puts her hands on Eka's shoulders and turns her around. - behold the ones cheering for you.

=======================

Eka looked up at the fans. They were cheering quite vehemently. They might not be chanting her name but they surely enjoyed the match. And Eka supposed it was true. She did go for pretty long against 200+ pounds of fury. The hand on her shoulder was strong and reassuring. She stole a glance at Mariam she was practically beaming with pride. Eka flashed a wan smile herself. While it wasn't quite up to snuff, Eka did get in some serious damage. Enought to build off of for sure.

"I think they are cheering for you. Good match." Her voice was pitchy. She was tired and aching. The adoration of the crowd and the prospect of respect from her opponent were the only things keeping her going. Her heart rate began to creep down to a more human pace.

=======================

-"Cheering for me too" you mean. - She keeps her smile and looks down at her. - If you want to fight me again, Eka, know you're more than welcome to do it. I'll be looking forward for you to suprise me with a great submission hold. - she says as she turns around and heads out of the ring, giving Eka a last wave with her hand as she walks out of the arena.

=======================

Eka sighed as she watched Mariam walk up and out of her sight. She doubted she would fight Mariam again. At least not anytime soon. She needed to get stronger, more wily if she wanted to have a chance against such a warrior. She stood alone in the light of the ring with her hands on her hips. She reflected: she needed to be more cautious, and quicker to capitalize. She fought hard though and took Mariam the distance. So at least it wasn't all bad, she thought.

She slipped out of the ring and walked up the entrance ramp. A sullen look appeared over her face. Frequent trips to the gym would be a necessity, on top of all of her work from school. She wasn't in Alabama anymore. If she wanted to make a splash she would have to put in a lot of work. Hard work. The noise of the crowd subsided as she entered the backstage area. Her steps were slow and heavy. She sat on the bench and let the doctors begin to probe her. She was positive she didn't break anything, but she would regret the pain in the morning, surely. She sat back. Eka looked forward to getting one over Mariam. She would be less trigger happy, and show less careless bravado. That's all it took. She sighed as she was cleared by the doctor. All fine. Except for pride.

Mariam Aglaia Leania wins via pinfall.



Posts

: 122


Join date

: 2008-05-08


Location

: Brazil





Similar topics
---
Permissions in this forum:
You
cannot
reply to topics in this forum