Champions & #1 contenders
Summer Splash interest in Natasha Loclear?
Mon Apr 09, 2018 11:30 pm by daemongirl
Well my girl hasn't missed a summer splash yet, would anyone be interested in a match with her? Open to just about anything match wise, just pm me!
Comments: 1
Been Out with the Flu
Sun Apr 22, 2018 7:47 pm by daemongirl
Just letting those I have threads with know I've been out with the flu since early last week, but I will be back to posting tomorrow.
Comments: 0
The Austrailian Mudslide is Back.
Sat Apr 21, 2018 6:20 am by Softsquad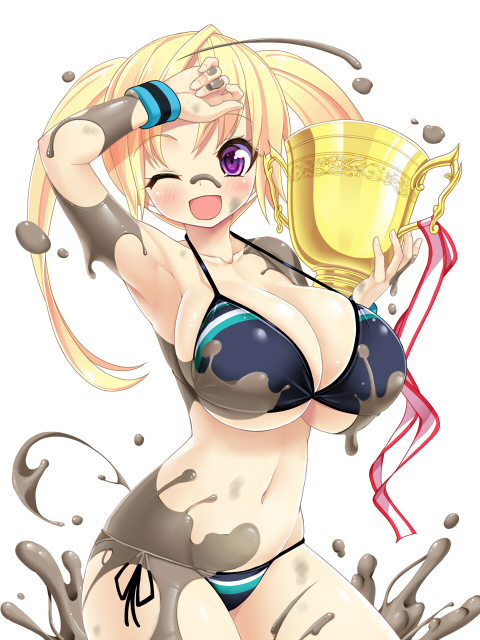 Granted that most of you won't know me or remember me, but I've had a few matches here and there some time ago. Well I think its time to become a regular around here and try to have some fun again, but at the same time keep coming back. Anyway I think its time to jump into some matches with Zoe Taylor, my mud wrestling character from Australia and get her back into the squared circle. Furthermore I will update my characters as I think some proper changes need to happen.
So if anyone would …
[
Full reading
]
Comments: 0
Page 1 of 2 • 1, 2


Match Type: Hardstyle Hentai
Winning conditions: First to make her opponent orgasm wins.

Continued from here.

Akashi watched as Andrea marched down the ramp and slid into the ring. She was jarring off at the mouth and Akashi raised an eyebrow at her words. Were there REALLY girls like that? That just made her grin as the metalhead approached with her acoustic guitar. Akashi backed away as Andrea continued to talk. She was wary of the guitar but she expected Andrea to at least wait until the match started before she started with the foreign objects and crotch kicks.

Still, she had to admire Andrea's spirit. She was just looking for a fight and Akashi liked that. She was ready go to her corner and get ready for the match when Andrea screamed out loud and charged at Akashi. Akashi raised her arm to try and deflect the acoustic guitar as it came crashing tinot her, smashing into her arm and following through to her head, causing her to crash to her knees, already down before the bell rang!

"Ughn!"
Last edited by Tatyina on Wed Oct 08, 2014 12:45 am; edited 2 times in total
Andrea swung the The Acoustic gutair down upon Akashi like she was some sort of Warlord, dueling wtih a rival king, unleashing her fury with a mighty battle axe. The guitar shattering and crumbling around Akashi's arm and head, making the sumo fall to her knees.

"Heh!" Andrea sneered gleefully. Dropping the neck of the shattered guitar to grab to handfulls of Akashi's hair, pushing her head back while Andrea drew back her hips before pulling Akashi foward, thrusting her hips forth at the same time to ram her camo pants covered crotch right into Akashi's face!

"UGNH!" Andrea grunted erotically, crotch bumping Akashi with the intent to humiliate, daze Akashi and get herself going.
Akashi was stunned after taking the shot with the guitar. She was on her knees in front of the metalhead but Andrea seemed to want to pick up where she left off in the HBR. "NNgh!" Akashi grunted as she felt Andrea grab hold of her dark, curly locks.

Akashi tried shaking away the haze from the guitar only to feel Andrea's crotch jam into her nose. "Ngh!?" A grunt of confusion escaped Akashi's lips before she was smacked again. There was pain in her scalp as well as her nose as she was humiliated in front of everyone with Andrea's lewd behavior. All Akashi could hope to do was push her hands against Andrea's hips and try and shove the metalhead off of her!
"Haha! Yeah!" Andrea cried after striking Akashi. "Like that~?" She cooed, feeling Akashi push against her hips. The Metelhead relatated by trying to lift up right arm, crooking it before trying to slam her elbow down atop of Akashi's skull like a mighty hammer

She intended to sexually humiliate Akashi after thrashing her of course.
Akashi thought she had a good position to shove Andrea off of her but the elbow came crashing down on Akashi hard before she ever even pushed. Or if she did push, nothing happened. it was hard to tell as her face buried itself into Andrea's crotch and her arms dropped,, clutching at Andrea's pockets.

"Shimata..." Akashi moaned into Andrea's groin.
"That's it! Keep at it! Show Japan what kind of woman she really is!" Kelly shouted, now at ringside, slamming her palms on the mat over and over as she encouraged her countrymen.

"Too easy!" Andrea exclaimed, feeling a rush of power as she had the former champion all dazed and slumped against her, face buired into her crotch. Prompting Andrea to give a few mocking thrusts towards Akashi's face before trying to grab her hair again, pull her head back finish her assault with a powerful knee lift right towards Akashi's chin!

"RAAAGH!"
Akashi could barely hear Kelly's voice but she could certainly hear Andrea's. Unfortunately, there wasn't a whole lot she could do about it as she felt her locks grabbed once more and her head jerked away. Akashi's face was punished by the knee and she flopped back away from Andrea, still int he metalhead's grip.

Her palms came up and pushed against Andrea's crotch just to keep her from being able to thrust in her face again. Her breath was shallow and her head ached but there was still some life in her yet.
After striking Akashi, Andrea shoved her back to make her fall on her back. Though she had to force her foe into a climax, it seemed like Andrea wasn't fixated on that just yet.

Standing over Akashi, Andrea jumped up and tried to slam her boots into her plump but muscular belly with a double foot stomp!
Akashi flopped on her back, clutching her head when Andrea let her go. As she watched the looming shadow of the metalhead out of the corner of her eye, Akashi's muscles tensed. She knew full well what it looked like when someone was about to leave ground and Akashi wasn't going to stick around to see what Andrea was up to.

Akashi rolled, turning her big body away from Andrea as she heard the crash of boots next to her. Akashi didn't stop though. She continued to roll, knowing that if she stopped, Andrea would be on her again. She wouldn't have time to try a counter attack so she continued to roll, hoping that she could roll right out of the ring where she might buy a few moments respite.
Postby Lobo on Thu Sep 18, 2014 6:05 pm

Andrea went for the double stomp towards Akashi's muscully gut... She rolled away!

Her combat boots hit with a thud on the mat as the big sumo rolled away, Andrea wanted to follow but Akashi ended up right out of the ring.

The Metalhead grinned, stood in the center of the ring and flexed one arm for the crowd. "Uhn! Oh Yeah! See how tough I am, dipsticks?" Taunted Andrea, grinning widely at her foe who stood outside the ring, kissing the air between them briefly. Andrea had all night to humble Akashi.

Meanwhile Kelly backed up, not wanting to comment while Akashi was OUTSIDE the ring with her.
Postby Tatyina on Thu Sep 18, 2014 6:35 pm

Akashi rolled out of the ring and pulled herself to a standing position, She made sure that she kept one eye on Kelly while she kept the other on Andrea. Thankfully the metalhead seemed content to be lewd and yell a lot and not actually come after the Sumo. Akashi took a moment to catch her breath and address Kelly.

"Oh, so NOW you're content to just watch?" She said, grinning at the Blonde. "Why don't you scamper off let me work over your horny chihuahua? Your legs will get tired trying to hold up that big head of yours if you stand the whole match."

Postby Lobo on Thu Sep 18, 2014 6:44 pm

Kelly blinked at Akashi as she addressed her before her eyes would narrow. She then took a deep breath, stuck out her tongue and blew.

"Plbbbbbbb!" And that was Kelly's childish response to Akashi as she walked around the ring to be opposite of Akashi's side so she could be left alone.

"CMON! WE AIN'T GOT ALL DAY, DWEEB! LETS FIGHT!" Whether it was rough sex or a bar room brawl. A fight was a fight and Andrea wanted one. "C'MON!" She growled, stomping her boot on the canvas.
Postby Tatyina on Thu Sep 18, 2014 6:58 pm

As Kelly slunk away, Akashi focused her attention fully back to the loudmouthed metalhead. She slipped into the ropes and cracked her knuckles. There weren't any guitars left for Andrea to break over her skull anymore. "Alright. She said as she began to crouch, resting her big butt against the ropes.

"Let's see how you fair when I can actually fight back!"

Akashi bent her knees and charged at Andrea, putting all her effort into a charge and screaming as she ran at Andrea and aimed a hard sumo slap right at the girl's breast. However, unlike how she usually fought, she wasn't just trying to slap Andrea and shove her back. If she could get her palm on the girl's tit, she'd squeeze hard and try and crush it in her hand while forcing her backwards towards a corner.
Postby Lobo on Fri Sep 19, 2014 3:26 am

Akashi got back in the ring, Andrea was ready but she didn't have much a gameplan at all. So when Akashi went into her screaming battlecharge that took the metalhead off guard. she found herslef taking a hard plam to her tit. "Uugh!" She exclaimed, taking the blow with a grunt before she felt Akashi's mighty hand give her ample tit a hard squeeze.

"AUUUUGH!!" Andrea groaned, her body arching as Akashi crushed her breast, pushing her hips forth as she staggered back against the corner, howling as her tit was squeezed so roughly.
Postby Tatyina on Fri Sep 19, 2014 3:37 am

Akashi couldn't deny that it felt good. However, it seemed like Andrea had been enjoying Akashi's rough tit treatment a little more than she probably should have been. That was... interesting.

The big sumo reached up with her sluggin hand and squeezed Andrea's other tit. "Don't tell me you're going to cum already?" She purred. "We've barely even had any foreplay."

With that, Akashi would plunge her tongue into Andrea's mouth while still firmly holding onto both breasts and try to ram a knee between the metalhead's legs. Maybe it would have gotten her a warning or a DQ in a normal match, but it seemed like Andrea had wanted this match for a reasons that didn't JUST involve breaking her expensive equipment.
Postby Lobo on Fri Sep 19, 2014 11:26 am

Dazed by the punch that had Andrea drooling against the corner, Andrea left wide open for another rough squeeze to her tit. "NY-YAAHN!!" Andrea mewled as she felt double the pressure on her breasts, her face all scrunched up with pain and pleasure as she looked to Akashi, hearing the sumo fighter's purring words that made metalhead blush somewhat. To be asked if she was going to cum already, in such a confident, dominant tone. It was hot and it reminded Andrea of her amazing loss to Akashi at the hentai blitz royale.

Deja Vu soon followed as Akashi pressed her lips against Andrea's mouth in a hot, firm kiss, her tongue seeping between the American's lips to tangle with her own, moist tongue. "Mrhm-HURRMMPH!"..." The kiss and firm grip on her ample breasts, earned a heavy moan from Andrea as her eyes fluttered rapidly within the embrace before a sudden knee interrupted the bliss, blasting Andrea right between the legs!

Her eyes crossed and she slumped against Akashi immediately, whimpering within the kiss from the pain as she tried to cup her crotch. Reduced to a ragdoll for the sumo to play with at the moment as she tried to recover.
Postby Tatyina on Fri Sep 19, 2014 12:22 pm

Now with Andrea slumped against the turnbuckle, Akashi leaned forward, pressing her weight against Andrea's body. "Mmmnnnn..." She moaned in the kiss, slapping around Andrea's tongue like a bully and pushing it deep into the metalhead's mouth as if she were trying to shove it down Andrea's throat. Her hands mashed and twisted at Andrea's tits as though she were somehow trying to knead and caress them.

After a few moments of that, Akashi let go completely and flopped forward, snaking her arms around Andrea's body and reaching behind her to grab the turnbuckle. She pulled with all her might, establishing a grip on the turnbuckle and mashing her whole body against Andrea's as her leg began to grind roughly against the metalhead's crotch while she attempted to squeeze the cum out of the girl like the last drop of toothpaste with her body all while forcefully slapping around Andrea's tongue.

"MMmnnnn...."
Postby Lobo on Fri Sep 19, 2014 1:37 pm

Andrea felt light headed as Akashi continued the arousing kiss, the pressure and arousal on her entire body increasing as the mighty sumo pressed harder into her. "M-Mrr...Hrmmph..." Andrea felt like a slutty ragdoll, she tried to push against Akashi's tounge but with the sumo's weight on her, Andrea felt a bit out of breath and the kiss wasn't helping that at all. She could only stand there, trying to fight and having her tongue just bullied all around her mouth like nothing as her ample breasts were kneaded so firmly. A grip stronger than any man she'd known. It was hot and part of Andrea craved this as much as she wanted to fight and return the favor to Akashi.

But suddenly, The sumo flopped forth and snaked her large arms around Andrea's body and pulled. "-HUMMMPH!!" A chuck of air left Andrea's lungs in an instant as the sumo pulled forward with all her might and smushed herself against the metalhead, roughly grinding her raised leg into Andrea's crotch as was flattened by Akashi, feeling absoutely breathless as she was squeezed and kissed and grounded into oblivion. Any sounds of protest were halted as her tongue bullied repeatedly.

Andrea was overwhelmed and she let Akashi have her now. She couldn't fight back. She had been completely decimated. "Mrr...Mrrph...Hrmm..Mmmh..." She mewled and whimpered almost breathlessly, twitching against Akashi before her eyes would suddenly roll up as she released a mighty howl into Akashi's mouth. Her hips bucking violently as her pants were stained by her flooding juices, a climax that went right to her brain,  slumping limply into Akashi's embrace, barely conscious but completely out of it. And if their lips parted, Andrea's drooling tongue would seep out instantly, her eyes completely glassy.

And though Andrea's climax was heard. The ref needed to see it.
Postby Tatyina on Fri Sep 19, 2014 2:00 pm

Akashi ground herself hard against Andrea's body, undulating with her hips and torso while pulling as hard as she could on the turnbuckle poll. Her cheeks were red as she stole Andrea's breath and he knee was pounding Andrea's crotch.

Akashi was both surprised and not surprised when Andrea popped. The metalhead was wound so tight with pent up sexual aggression that bursting so early in the match was probably what she really WANTED. She just needed someone like Akashi who could touch all her buttons.

Akashi pulled her hands up and turned away from Andrea, walking away almost casually and leaving Andrea to flop in a pool of her own juices.While the ref "made sure" Andrea climaxed, Akashi waved for a microphone and turned to face Kelly. She grinned devilishly.

" Will the representative from Arizona please step forward. She's next in line for an ass kicking."

Akashi laughed at Kelly and took a step forward. "But seriously. That was a joke. My nipples didn't even get hard." It was a lie. After that, Akashi was pretty horny. "Are you ready to stand and face Japan or are you just going to slink away again?"
Postby Lobo on Fri Sep 19, 2014 5:36 pm

Andrea was left a stupefied mess thanks to Akashi's sexual assault and with no one to lean against, the metalhead would limply flop to the mat as Akashi walked away, falling face first to the canvas, sprawled out and giving a brief twitch on the mat, soundly defeated yet again by Akashi as she laid on the mat, groaning wearily as the ref girl looked her over before calling for the bell. A chorus of cheering cries being heard from the crowd as Akashi quickly dispatched the American in such a sexy fashion. Another girl from the states added to the board.

Kelly had been shaking her head the whole time. She couldn't say she had 'faith' in Andrea but she had expected and hoped for more out of someone who acted so tough. Seeing her a slutty face mess on the canvas was just embarrassing to look at. Clearly hentai matches were not Andrea's forte, either way, it was her fault for letting go of her early lead.

Soon enough, Akashi addressed her and the blonde clicked her tongue at the Japanese fighter. She then turned her mic back on.

"I'd be surprised if ANYTHING was hard on your pudgy body!" Kelly quipped. "And I WILL face Japan!!" Kelly shouted. "...At a later date." A flux of boos soon followed.
Postby Tatyina on Sat Sep 20, 2014 12:16 am

Akashi had never heard a fat joke in her life. Kelly sure was ahead of the curve with the insults but even Akashi had to admit that Kelly was quick on the draw with a sharp zinger. She grinned as it seemed like Kelly was about to slink away again. She was smiling but inside she was pissed. After what shed done to Taylor, she wasn't certain that IF she got hold of Kelly she'd be able to stop until the blonde as a gooey paste.

"You're smart enough to know what I'll do to you, I'll give you that, Conway-san. But if you think sneak attacks will ever get me or Taylor-san off your back, you're delusional. You're running out of places to hide and people who have your back. You're going to get caught sooner or later and we can endure your potshots until you do." Akashi growled into the microphone.

AkShi then raised her fist in the air. "NIPOOOOOOOOOOOON!!!"
Page 1 of 2 • 1, 2



Similar topics
---
Permissions in this forum:
You
cannot
reply to topics in this forum