Who is online?
In total there are
25
users online :: 2 Registered, 0 Hidden and 23 Guests :: 2 Bots
Cy_Man
,
Yori
Most users ever online was
390
on Tue Jan 02, 2018 2:02 pm
Champions & #1 contenders
Summer Splash interest in Natasha Loclear?
Mon Apr 09, 2018 11:30 pm by daemongirl
Well my girl hasn't missed a summer splash yet, would anyone be interested in a match with her? Open to just about anything match wise, just pm me!
Comments: 1
Been Out with the Flu
Sun Apr 22, 2018 7:47 pm by daemongirl
Just letting those I have threads with know I've been out with the flu since early last week, but I will be back to posting tomorrow.
Comments: 0
The Austrailian Mudslide is Back.
Sat Apr 21, 2018 6:20 am by Softsquad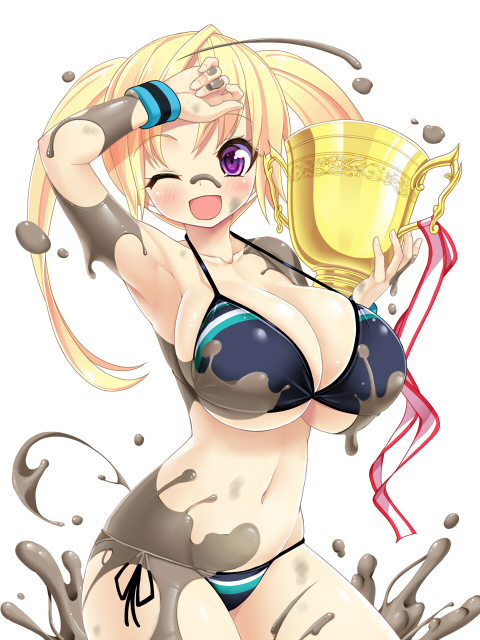 Granted that most of you won't know me or remember me, but I've had a few matches here and there some time ago. Well I think its time to become a regular around here and try to have some fun again, but at the same time keep coming back. Anyway I think its time to jump into some matches with Zoe Taylor, my mud wrestling character from Australia and get her back into the squared circle. Furthermore I will update my characters as I think some proper changes need to happen.
So if anyone would …
[
Full reading
]
Comments: 0
Page 2 of 8 •

1, 2, 3, 4, 5, 6, 7, 8


The move wasn't perfect - Carmen still couldn't jump high enough to make it hit like it was supposed to, and she lacked the punch that most high-flyers had. In a perfect world, that would have knocked Kyo on his butt instead of just staggering him. But, all the same, Carmen was damned proud of herself for getting the dropkick as good as she had it. That was the second time she'd used it in a match and the second time it caught her opponent off guard, a good sign that she was breaking some ground with her wrestling style. There were still wrinkles to iron out, of course, but she felt like she was building on a solid foundation.

Carmen wasn't the talkative type, so she didn't say anything as she rose, but the smirk on her face spoke chapters. She popped up and closed the distance on her him with a little leap, taking the fight to him so he'd have as little chance as possible to recover. This time she went with something more basic. Just a bread and butter combo, a simple jab followed by a thundering right cross, simple but powerful.
Kyo's midsection throbbed dully with pain, but he had taken worse, and he knew that Carmen was just warming up. He could tell as much by the slight smirk she gave him. That was just fine-- he was getting warmed up as well, and he figured that they might as well get to know one another before they tried going for the win.

He was still only partially ready, however, when Carmen came darting in, hitting him with a jab that he was too slow to counter. His hard-taught instincts kicked in, and he twisted to the side, his arm swiping up to deflect Carmen's right hook, before completing his spin to hopefully nail the Latina in the back of the head with an elbow strike.
Even if it was just a jab, Carmen relished the feel of her fist on Kyo's face, the satisfying sensation of her taped fist on bone. Kyo could was tough, he could take a punch, but Carmen was sure the head trauma would take him down after a while. Her blows would weather him away, then she could drop the hammer with a solid punch, put him out for the ten count in a photo finish.

Her confidence bit her in the ass when she lunged in with a hook, underestimating Kyo's agility and getting a good demonstration of why that was such a bad idea. He darted out of her vision for the briefest of moments, but even that was enough for him to land a hard blow on the back of her head and send an echo through her skull. She stumbled forward as the shot messed up her equilibrium, and she found herself grabbing on to the ropes and leaning against them for support.
Kyo's elbow slammed against Carmen's skull with a satisfying thump, and as he turned around, he saw his opponent stumble dizzily against the ropes. He suppressed the urge to smile. Clearly, Carmen was learning the hard way not to underestimate him, though he knew from experience that he should avoid doing the same with his opponent-- even if Carmen did have a more limited fighting style, he could tell that she knew how to make her punches hurt.

Following up after Carmen, Kyo grabbed for her arm while she was nice and dazed, and whipped her across the ring. He wouldn't bother waiting for her to bounce back, instead running to intercept her, raising his arm to feign a clothesline before twisting, hoping to nail her with a spinning kick to the chest or midsection.
Carmen wasn't sure if she should be impressed or irritated. Probably somewhere in between.

Kyo's skill and versatility were strong stuff, more well-rounded than she initially pegged him for. If he had been dominating her with submission holds, that would be one thing, but so far he was taking her in pure hand-to-hand, straight up striking, turning her strongest suit. And while the fight was still young, he was already taking a commanding lead.

She wound up getting tossed around and bounced off the ropes, and even if she had the wherewithal for another dropkick, she wouldn't have been able to fire it off. Kyo was on the ball this time and lashed out with a spin kick before she even had the chance to react. The wind rushed out of her as the blow landed right in her stomach, and she dropped down to her knees as a coughing, hacking mess. Carmen tried to push back up, but it was slow going, and there was no telling what' he'd get up to while she was rising...
As Carmen crashed down onto her back, Kyo took a few seconds to circle her, watching her warily. This was a few seconds that Carmen used wisely, gingerly starting to push herself back upright. A part of Kyo wanted to rush in an not give her time to recover, but the more honorable half of him wanted to wait and give her time to rise, to let her get back into this fight on an even footing.

As Carmen got back up to her knees, practicality won out. Grabbing Carmen by the arm, before suddenly dropping down to his knees, twisting sharply at Carmen's arm and trying to bring her down to the mat as well with an armbar.
Carmen knew she was in trouble when she felt Kyo grabbing her arm. Nothing good could come from that, especially not with a match like this. Sure enough, Kyo brought her back down to the mat, and she found herself in a submission hold. At less than three minutes in the match. Goddamn.

She let out a short scream as he locked it in, but managed to bite down and cut that off before it got any louder. Not that it mattered. Getting into a submission hold would have been bad enough, but this particular one was targeting her best weapons, and there was no way Kyo had chosen it randomly. He was taking her apart, and the longer she spent in the armbar, the worse her chances would be.

Desperate, needing a quick out, she tried to slide over and bring him along with her, reaching out for the ropes, stretching for them with every inch she had... "Comeoncomeon!"
Kyo kept his breath controlled and regulated he neatly trapped Carmen's arm, wrenching it back in such a way that it pulled at her muscles and put strain on her shoulder blade. Predictably, Carmen refused to take this lying down, digging her elbow and knees into the mat and starting to pull them both towards the ropes. Her determination was admirable, and Kyo felt a little bad about what he was going to do next.

Relaxing the armbar, Kyo swung his legs foward, scissoring Carmen's arm, before leaning against the Latina's back and pressing her down against the mat. His ams slid across her chin and temple and locked, wrenching back on her head as Kyo locked her tightly in a crossface, even as she made the crawl towards the ropes. "Give up," he whispered, though he knew that Carmen was not going to tap out so early in the match. He would have been disappointed with her if she did.
And just when Carmen thought it couldn't get worse, it got exponentially worse.

Carmen wasn't sure what to call the move that Kyo locked her in. Maybe she didn't know it, maybe it was just the way that agonizing pain made thinking a little difficult. Either way, it didn't really matter. It was excruciating, that was all Carmen needed to know, and it felt like Kyo was going to rip her head her head clean off by the neck.

"Chinga tu madre, puto." She doubted Kyo spoke Spanish, but the harsh tone in her voice would probably give him the general idea of what she was saying. She clamped her teeth down hard and kept the slow but steady crawl to the rope, fighting for every single inch she could get. At least he wasn't ripping her arm off anymore, so things were starting to look up. Kind of.
by acuya on Thu Sep 18, 2014 12:43 am
And just when Carmen thought it couldn't get worse, it got exponentially worse.

Carmen wasn't sure what to call the move that Kyo locked her in. Maybe she didn't know it, maybe it was just the way that agonizing pain made thinking a little difficult. Either way, it didn't really matter. It was excruciating, that was all Carmen needed to know, and it felt like Kyo was going to rip her head her head clean off by the neck.

"Chinga tu madre, puto." She doubted Kyo spoke Spanish, but the harsh tone in her voice would probably give him the general idea of what she was saying. She clamped her teeth down hard and kept the slow but steady crawl to the rope, fighting for every single inch she could get. At least he wasn't ripping her arm off anymore, so things were starting to look up. Kind of.
by Underdog21 on Fri Sep 19, 2014 6:56 pm
Kyo clenched his teeth as he leaned back, his crisscrossing arms wrenching back tightly on Carmen's head as he worked the crossface further. Underneath him, the Latina girl groaned, but continued to stubbornly pull her way towards the ropes. Kyo had to give Carmen credit, she was certainly resilient-- a fact that she proved further by giving him an undoubtedly nasty retort to him in Spanish. He just hoped she didn't say anything negative about his parents or family-- otherwise, honour would demand that he start getting really mean.

Even as he cranked the pressure on Carmen's neck and upper back, the Latina girl barely managed to latch one bound hand onto the lower rope. Without waiting for the ref girl to tell him to do so, Kyo released Carmen and rolled back up to his knees. "Not bad," he breathed, grabbing at the arm he had stretched earlier, "but this match has just begun, Rodriguez-san." And with that, he would pull Carmen back up to her feet, before sliding an arm around her head, aiming to set her up for a quick and effective suplex to keep her stunned.
by acuya on Sat Sep 20, 2014 2:07 am
It wasn't Carmen's way to use that sort of language, especially with a nice guy like Kyo. More of her brother's sort of thing. But being put in excruciating pain didn't exactly give her the most charitable mindframe.

He'd done a good job working over her arm, but it could get back to working order - she just needed time. A fair bit of time. And until that time passed, she would have to hang on. Kyo was right , the match had just begun, and she had no intention of being his whipping girl for the rest of it. "You're damn right."

As Kyo lifted her up and tried to get her in a suplex, she reached out and used their proximity to the ropes as an advantage, grabbing hold of the top rope with all the grip she had. It wouldn't exactly do wonders for her aching arm, but it would keep her grounded and give her a chance to shot her elbow out behind her, trying to catch Kyo in the side with a wild blow.
by Underdog21 on Sat Sep 20, 2014 1:33 pm
Kyo had hoped that the armbar, followed in quick succession by the crossface, would soften Carmen up enough that he would be able to suplex her without incident. He was very quickly proven wrong: before he could lift the Latina girl up, she grabbed for the rope, almost unbalancing him as she yanked them both towards the edge of the ring. "Tch," Kyo grunted. He was about to try to muscle Carmen back away from the ropes when her elbow lashed out, nailing him in the side with a glancing blow that still sent pain shooting through his ribs.

"Gnnh..." Releasing Carmen, Kyo backed away, breathing a little harder now as he tried to hit Carmen with a retributive kick to the midsection.
by acuya on Sat Sep 20, 2014 7:37 pm
Carmen had the presence of mind to see the kick coming, not that it would do her any good - she'd managed to keep herself from getting slammed, but only because she was so close to the ropes, not because she'd even come close to recovering. She was still hurt from the submission holds, too weary to jump back like she needed to in order to avoid the kick. Kyo hit and it felt like a grenade went off in her side, spreading pain all through her chest.

She could use that to her advantage, though. She couldn't get her arm down fast enough to block, but she figured she might have some luck wrapping up his ankle before he could pull it away. If that worked - if - she'd push forward and shove him towards the corner, and then...then, she had no clue what she'd do. One step at a time.
by Underdog21 on Sun Sep 21, 2014 11:51 am
Carmen was obviously still reeling from those successive submission holds, as her response to Kyo's kick was fairly slow. His booted foot slammed against her gut, but to Kyo's surprise, Carmen was not sent reeling-- instead, she took the blow directly, and used their positions to grab at Kyo's extended boot.

Kyo cursed under his breath, but before he could follow up on his attack, Carmen powered forwards, forcing Kyo to hop on his feet to avoid falling over. He soon found himself forced against the corner, the Latina's strength showing as she manhandled him. Grimacing, Kyo grabbed for Carmen's shoulder and the back of her head and twisted, hoping to spin them around in the corner before his opponent could follow up with anything nasty.
by acuya on Sun Sep 21, 2014 3:02 pm
Kyo was no weakling, but at least she was strong enough to not get manhandled against him when things got head to head., not that it was the ideal way to approach this match. She was still fairly sure that going unorthodox was the wisest move possible with him, she was just unsure how to do that when her one of her arms felt like it was a few good tugs from falling off..She was seriously starting to miss the one-minute breaks in boxing. The ring girls, too.

She tries to move in when he hit the turnbuckle, maybe nail him with a knee to the solar plexus, but that was part of Kyo's plans for the day, it seemed. He caught her as soon as she came close, reversing position and throwing her in there instead, right back in the last place she wanted to be.

Carmen hit the ropes hard, knowing that she had, maybe, a split second before he made the most of it. She leaned back and tried to kick her feet out, hoping to knock him back a few steps before he even had the chance.
by Underdog21 on Sun Sep 21, 2014 9:14 pm
Things were becoming tight and frantic as Kyo and Carmen wrestled it out in the corner. Carmen had a good grip on his leg, and was strong enough to bully him towards the corner, but Kyo had enough skill and experience to move with her, twisting to reverse them around so that Carmen was backed against the corner post instead. She still had a grip on his leg, but Kyo was at less of a disadvantage now that he had Carmen boxed in the corner.

He had hoped to follow up with a drop kick with his free leg, but Carmen beat him to the punch...or rather, kick, lashing out at close range and grazing his midsection. "Ugh...!" the blow sent him stumbling back as she released his leg, leaving him momentarily winded and vulnerable...
by acuya on Sun Sep 21, 2014 10:36 pm
Well, the kick landed. It was an awkward, unwieldy sort of attack, and she would have much rather used her better limbs for striking, but in a pinch it was more than adequate to pull her fine behind out of the fire. Kyo was knocked back, stunned and had a precious moment of vulnerability. Now, all she had to do was capitalize.

Carmen let out a gruff grunt and surged towards him as fast as she could out of the corner. Her arm was still too wrapped up with pain for a good hit, but that didn't mean her upper body was useless. For instance, she could still manage a hard shoulder block, and that's exactly what she tried to to slam into Kyo with, looking to drop him flat with the impact.
by Underdog21 on Mon Sep 22, 2014 10:06 pm
Kyo regulated his breathing as he clutched his midsection, willing himself to get back into the fight. Carmen had blindsided him with a fairly good hit, but it wasn't enough to stun him or keep him down. He just needed to retaliate quickly, and retake the advantage while her arm was still sore and--

His train of thought was interrupted when Carmen suddenly lunged at him, springing from her corner. Kyo braced for a punch, but he realized that she was launching a shoulder-tackle just as she careened hard into his chest. "UUUNGH!" The air erupted from his lungs as he went toppling backwards, crashing to the mat in a stunned and surprised heap. "Guhh..."
by acuya on Tue Sep 23, 2014 3:25 am
Kyo was down. Finally. Now she just had to figure out what to do with it.

Carmen moved in, getting ready to jump on him with an elbow drop, when the referee stepped in and cut her, motioning for her to back off. It took a second for her to realize what the official was doing, but it all came together when the count began.

"1...! 2...!"

Oh. Right. The rules. In the chaos, she'd nearly forgotten this wasn't a normal match, she had to win by making Kyo stay down for the long count. She seriously doubted that would do it, knew full well he'd get up soon enough, but Carmen figured she might as well enjoy the little break. She made her way back over to the nearest corner and leaned against the turnbuckle, nursing her arm while she waited for Kyo to rise.
by Underdog21 on Wed Sep 24, 2014 12:59 am
For a few seconds, Kyo was flat on his back, breathing hard as his chest ached. Carmen's shoulder tackle had brought the Latina some breathing space that she was no doubt using, but it also gave Kyo time to recover as well. He just needed to recover quickly from this hit, and then he's be back on his feet and--

"1...! 2...!" The ref girl's count made Kyo pause for a few confused seconds, before he suddenly remembered the rules of this match. Cursing, he rolled, spinning back up to his feet before the countdown could continue. He had half expected an attack of opportunity from Carmen as he rose, but to his surprise, the Latina was reclining almost casually in the corner, as though waiting for him to rise.

He stared at her warily before starting to circle her again. "Not bad," he breathed, motioning for her to come out of the corner and resume their tussle. "Care to continue?"
by acuya on Wed Sep 24, 2014 2:24 am
And now Kyo was up, back on his feet, as sure as the sunrise. Carmen wasn't the least bit surprised, though she wouldn't have exactly cried if he stayed down for a few more seconds. As it stood, though, she had enough time to catch her breath a little, and while she was still nowhere near 100%, she'd managed to recover a few points in that direction. Better than nothing.

She let out a sigh and moved out of the corner, answer his question with her walking feet. She brought her fists up once again, but this time she favored a tighter stance, more defensive, keeping the fists close to her face and increasing her defense at the cost of range. Still, she was confident her speed could make up for switch, and her compact form would make her harder to grasp and throw. Maybe. Hopefully. Possibly.

The only way to be sure was to dive right in, so that's what Carmen did, closing the gap fast and ducking down to try and tag Kyo with two quick hooks to his ribs, getting him left and right in short order.
by Underdog21 on Wed Sep 24, 2014 4:57 pm
Carmen's response came in the form of a quick move out of her corner, fists raised in a classic boxing stance, a silent challenge in her eyes. Recognizing the fierce desire to win in those eyes, Kyo met her stare and mirrored her stance, fists raised as he circled Carmen. He wasn't a boxer, and he sure as heck didn't like to win with his fists, but there was no harm in showing a little respect to a good opponent.

And then, in an eyeblink, Carmen was lunging at him. Kyo's martial arts training kicked in, and his forearm swept to parry one fist. The other, however, came rocketing in too fast, nailing him hard in the ribs. "Gaah," he rasped, trying to back away, shooting a kick at Carmen's midsection as he tried to put some distance between himself and those flying fists.
by acuya on Thu Sep 25, 2014 2:33 am
Kyo managed to block one of her punches, but then that was why she threw two - the other one connected, and she finally got the satisfying feel of a hook that connected with no problems. Nothing quite like it.

The good thing about this stance was that it kept her upper body nice and protected. With her regular stance, Kyo's kick would have gotten to her ribs without a hitch, she would have been able to get down there quick enough to block it. But the Peek-A-Boo let her guard with just a quick drop of the elbow. It still hurt, it was made for punches and it couldn't absorb all the impact of a kick, but it was a hell of a lot better than taking it raw.

When Kyo retreated, Carmen came right after him and decided to mix things up. She threw out a quick jab with her left, then twisted around tried to rush into him with a shoulder block, putting her weight behind the charge.
by Underdog21 on Thu Sep 25, 2014 9:10 am
Kyo's ribs ached dully as he backpedaled, trying to put some distance between himself and Carmen. The Latina was beginning to demonstrate her boxing prowess now, but Kyo had still managed to keep her at bay with a retaliatory kick. She still managed to block it on the elbow, but it did the trick in slowing her down a little.

She didn't give him long to recover, though, before she came lunging at him again. Cursing, Kyo managed to block another jab, his forearm bruising dully as Carmen's knuckles slammed against it, but then Carmen caught him by complete surprise by once again dropping down and hurling herself bodily at him. "UUGH!" he grunted as Carmen's shoulder slammed against him, and he lost his balance, toppling backwards-- potentially with Carmen driving down on top of him.
by acuya on Thu Sep 25, 2014 11:36 am
The first bit of the fight hadn't gone Carmen's way, but now that seemed to be changing - she had to watch it, her arm still ached something awful, but this fight was definitely going in her favor all of the sudden. No telling how long it would last, but she'd ride it all the way.

Kyo blocked the jab, but that was small potatoes, never meant to do more than get her inside. The shoulder block was where the real actions was, and she slammed into with all the Latino fury she could muster. She put so much force into it that she even went down with him, collapsing to the mat in a heap. She was stunned for a brief second after the impact, gathering her sense, but when that was done she moved into a mad flurry, trying to get on top of him and straddle his waist before he could get away...or do the same to her.
by Underdog21 on Fri Sep 26, 2014 12:22 am
Kyo's chest was now aching dully from where Carmen's shoulder blades had repeatedly speared his ribs. He was breathing hard as he crashed onto his back underneath Carmen, and for a few vital seconds, lay stunned underneath her as the two sprawled onto the mat in a tangle of limbs.

Despite the pain, his instincts flared up as Carmen began to scrabble for position. The Latina girl began to straddle his waist, and Kyo grimaced and twisted under her, his arms shooting up to grab for her wrists as he tried to keep her from gaining a dominant position.
by acuya on Fri Sep 26, 2014 2:24 am
Carmen was no MMA fighter, but even she understood the basics of a ground and pound. You straddle the opponent, you wail on them until they either escape, give up, or go unconscious. Simple and she could definitely get down with punching Kyo right into La-La Land.

But she would need her hands to do that, and they were too busy being grabbed by Kyo. She pulled back, struggled, but you don't get to survive in Tension for so long by having a weak grip. They were locked, and she wasn't getting them free nearly fast enough.

But she did have two other limbs, might as well use those. Carmen did a quick hop up, brought her knees together, and tried to come down with both of them, right on Kyo's washboard abs.
by Underdog21 on Fri Sep 26, 2014 2:58 pm
Kyo knew what was coming, and managed to grab onto Carmen's wrists before she could start wailing on him in a dominant MMA position. She was still mounting him, but with her arms immobilized, the two fighters were now deadlocked, staring into each others eyes as they struggled and twisted for control.

Then, all of a sudden, Carmen kicked her legs up. Kyo's eyes widened, realizing his mistake a second before Carmen rammed both of her knees hard into his abs. "OOOOOOF!" he gasped, his hands coming loose as his upper body jacknifed briefly off the mat. His breathing became ragged and pained, as Carmen's arms were left free.
by acuya on Fri Sep 26, 2014 3:18 pm
It was a desperate ploy, lacking in the finesse and skill Carmen wanted to bring to the match, but, well...it worked. That was the important thing.

His body bucked and squirmed beneath her, going crazy from the pain, and she reeled back to throw a serious punch and keep him down, when she saw the referee moving in to break them up. Not good. Not what she needed. Kyo was going to need more working over before she could get a ten-count on him, which meant she'd have to do some more damage. Giving him room to breath would just let him recuperate.

She stood up and grabbed him by the shoulder and arm, hauling roughly to his feet. Not the easiest thing, but if she could pull it off, she'd try to whip him away and send him off to the corner. hoping for a second shot at using it to pulverize him.
by Underdog21 on Mon Sep 29, 2014 5:30 pm
Kyo tried to regulate his breathing into deep, steady breaths as Carmen rolled off of him. Her strikes were hurting, but Kyo knew that it could be worse-- his opponent could only win by knockout, which meant it was her strikes to his head that he would have to look out for. In the meantime, he would have to just keep blocking and weathering her blows as best he could.

As Carmen dragged him up to his feet, he winced a little, his ribs aching from the movement. In a heartbeat, she whipped him across the ropes, and he was unable to stop himself as he came bouncing back. Trying to shut out the pain as best he could, he would close his eyes, drop low to hopefully evade whatever Carmen had planned, and spin behind her, aiming to wrap his arms around his back and nail her in a surprise suplex. But this all depended on whether or not he would be fast enough, or if Carmen had a different sort of strike in mind...
by acuya on Tue Sep 30, 2014 3:00 am
Finally, Carmen had some momentum. Finally, she was taking control. As Kyo hit the turnbuckle and started to come back towards her, she saw his closed eyes and brought a knock out punch right to him, running as fast as her legs would take her and reeling back for one hell of a right cross. The other stuff wouldn't have been enough to do the job, but this was guaranteed to leave him flat for ten seconds. Maybe even a minute. Maybe even knock him out.

If it hit. Which it didn't.

Her punch sailed over him, harmlessly disrupting a few hairs on Kyo's head as he dropped. Carmen started to spin around with her elbow, trying to stop his next move, but he'd already started before she even had the chance. She squawked as Kyo jerked her up and over, sending her sailing all the way to a crash landing, right on her shoulders and neck.

Her face screwed up as she shoved off and rolled over to her stomach. Carmen clutched her head tight and wished to God that the world would stop spinning so she could get on with her damn match.
by Underdog21 on Wed Oct 01, 2014 1:08 am
Rolling with the impact, Kyo spun back up to his feet, still breathing a little hard from Carmen's earlier blows. It was clear, though, that Carmen was in worse shape-- his repeated counters had managed to floor his Latina opponent once again. So far, though, he knew that he had just been lucky to avoid most of Carmen's heavier blows: he had to press the advantage before his luck ran out.

As Carmen rolled onto her front, Kyo circled her warily for a bit, considering his next move, before dropping down into a sitting position on her back. Grabbing Carmen's arms, Kyo would try to drape them over his knees, before wrenching back on her chin in a classic camel clutch!
by acuya on Wed Oct 01, 2014 3:12 am
Carmen felt Kyo's weight drop down on her back, and she could hazard a solid guess on what was about to happen. Not that knowing would help her escape, but it let her prepare herself mentally for the pain. For all the good that would do.

She tried to fight his hands off, but the position was too good, and she bit back a scream as she was wrenched into the infamous camel clutch, her back compressed and pulled further and further in a vicious shape. Carmen's eye shut tight and she wiggled her head, trying hard to squirm out of the hold, but it wasn't happening. Powering out wasn't even an option, Kyo was too strong for that. The only option she had was to endure and stay watchful for even a moment of give in the hold. Something she didn't expect to happen soon.
by Underdog21 on Wed Oct 01, 2014 11:56 am
Kyo held his breath as he got a firm hold on Carmen's chin, and leaned back, wrenching her upper body off the mat as he locked in the camel clutch. The Latina girl squirmed and twisted underneath him in a desperate bid to escape, obviously trying to hide how much pain she was in. She was no slouch in the strength department, and was actually forcing Kyo to make an effort to keep the hold locked, but he wasn't going to let her go that easily. "You give?" he asked.

He already knew what the answer would be, though-- Carmen struck him as the type who would keep going out of sheer, thick-headed stubbornness. The moment Carmen refused, Kyo would try to transition the hold by leaning backwards and pulling Carmen up with him, hoping to get her up onto her knees. Digging a knee into Carmen's back, he would draw Carmen's head under his armpit and lean back, stretching away at her back and neck in a modified dragonsleeper/surfboard.
by acuya on Wed Oct 01, 2014 12:18 pm
Now came the part of a wrestling match that Carmen always hated - the submission holds.

Everything about them just felt so wrong for a match. They dragged fights down. Made them slosh, robbed the energy and pace. Carmen was so used to her fights being frenzied, kinetic affairs, taking it to the mat and looking in holds like this felt like singing a masterpiece in the wrong key. It just felt wrong.

Carmen shook his head at her offer, and for a moment she thought he was going to give her a little pause as he lifted up, at least move to a different sort of attack. Not happening. He just put her in a worse position than before, twisting her back even further and making her scream even louder as a result.

At least this hold gave her a free arm to work with, though she couldn't do much more than through random, wild punches where she guessed his head would, hoping to get lucky and land one of them. Aside from that, all she could do was frown and bear it.
by Underdog21 on Thu Oct 02, 2014 1:25 pm
Unlike Carmen, Kyo thought differently about submission holds. They added a much-needed layer of tension to a match: the contest of endurance between the wrestler in the hold and the one applying it, the struggles to maintain and escape the hold, and above all, the way the fans reacted. Even now, a lot of the audience members were crying out for Carmen to escape somehow, to break free from her agony. The omnipresent question of "will she tap? Won't she?" hung in the air, and Kyo knew that it was drama like this that the fans came to see.

Gritting his teeth, Kyo torqued the hold back further, stretching away at the Latina and curving her bronzed body into a slender arch. She was in obvious pain, but she wasn't taking this one lying down: her arms went crazy, lashing out in all directions. Kyo winced as two fists glanced his upper arms, before another grazed his ribs. Carmen seemed to get the angle right after that, as two more wild punches glanced against his chest. Even at a bad angle, Carmen's punches had a lot of force behind them, causing him to gasp despite himself. Knowing that he couldn't maintain this hold without making himself a target, Kyo released Carmen, before dropping to his back and rolling way, clutching his sore chest.
by acuya on Thu Oct 02, 2014 2:49 pm
Carmen didn't expect to get any pay dirt on Kyo with attacks like this, and sure enough, it didn't work. Not immediately, anyway.

She couldn't even tell what she was hitting, but she hit something, and when she locked onto it, she drilled as hard as she could manage. The punches didn't feel too substantial, but they were thankfully, mercifully enough to make him reconsider the hold. He let up on the pressure and rolled away, giving her some much-appreciated space.

She would have loved to just follow up on that and drilled him into the mat, but being worked over for two minutes had really taken a toll, and she was basically a puddle of pain in the middle of the ring. Her neck hurt. Her back hurt. Her arms hurt. It would have been easier to list the things that didn't hurt, really, and even though she was out of the hold for now, she knew there was still plenty of pain to be had. Oh, joy.

by Underdog21 on Mon Oct 06, 2014 12:48 am
Rolling away from Carmen, Kyo slowly rose up to his feet, and saw that the Latina was still flat on her front in obvious pain. His previous holds had done a number, he knew, and from here on out he should be able to maintain control of this match. Even so, a part of him silently urged Carmen back to his feet. He wanted to see just how tough she really was, and how much more she could endure. But more importantly, he wanted the girl to give him a good fight, to make him work for his win.

Moving up to Carmen, Kyo grabbed her by the head and yanked her to her feet. Unless she somehow gathered the willpower to stop him, Kyo would unceremoniously whip her towards the ropes, no doubt planning something for when she came bouncing back…


Page 2 of 8 •

1, 2, 3, 4, 5, 6, 7, 8



Similar topics
---
Permissions in this forum:
You
cannot
reply to topics in this forum