Champions & #1 contenders
Moonhearts Promo intro thread is O p e n.
Mon May 21, 2018 4:21 am by XSirenX
Feeling brave?, lost?, or without a thread to post in?, hit up the newest Moonheart if any of those apply!
CLICK HERE
What Moon has to offer?, many things...:
Comments: 0
The Austrailian Mudslide is Back.
Sat Apr 21, 2018 6:20 am by Softsquad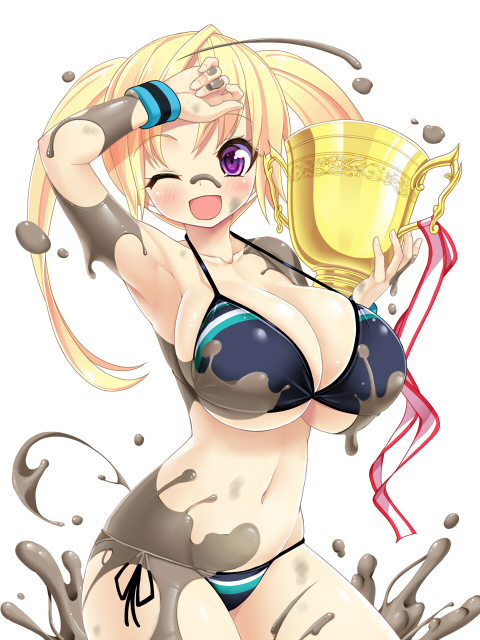 Granted that most of you won't know me or remember me, but I've had a few matches here and there some time ago. Well I think its time to become a regular around here and try to have some fun again, but at the same time keep coming back. Anyway I think its time to jump into some matches with Zoe Taylor, my mud wrestling character from Australia and get her back into the squared circle. Furthermore I will update my characters as I think some proper changes need to happen.
So if anyone would …
[
Full reading
]
Comments: 4
Page 2 of 5 •

1, 2, 3, 4, 5


Mako usually liked it rough, hard, bloody and raw - but there was something to be said for Amanda's style, too. Every movement Amanda made seemed tailored for seduction and even though Mako felt like she was in control physically, mentally it was a whole different story.

The soft kisses were like hints at something grander to come, the feel of their laps grazing against each made Mako shiver, and she couldn't help but start a slow kind. Part of her knew that the smart thing to do would be to stop playing games and just deck Amanda with a few good punches, but a much larger part knew she would regret that decision for the rest of her life.

"I have to say..." She muttered in between kisses. "It's doing something for me, too." Another kiss. "You want me? All the women you could have..."
"I could have anyone I want...I could have had an army of friends and lovers here to meet you. Instead, I hopes and prayed I'd get you...and knew if one of the others captured me, I'd find my way to you." Amanda said, again honestly. She began to gently lick at Mako's cheeks, pulling her tightly into her soft and warm hug.

"A mastermind in such an amazing body, such power behind your beautiful frame...I had to have you. That's why...I have to take you." Amanda whispered that last part, before her arms slinked around Mako's in a bearhug, forcing her adorable face in between her breasts!
_________________
Your writings and head are disordered and mixed up, so that it is exceedingly annoying to read and difficult to remember what you write.
Primarily Tension (but will take the train over to Friction)
Ro Laren
Amanda Clare
Tension
John Mitchel
- Former Tension World Champion
Anthony Fuller
A moan slipped out of Mako's mouth as Amanda licked her, a sensation she'd never even dreamed of having. Not from someone with a tongue like that and body like Amanda's to back it up. It was a girlish moan, the sort she never wanted to utter, but it came out. She couldn't help it. A girl as sexy as Amanda really thought she was sexy, and that made her feel sexier every time she thought about it.

That was, until she lost the ability to breath. Once that happened, she didn't have much coherent thought at all.

Mako's scream of rage was muffled by Amanda's breasts as she thrashed around. She always thought breasts smothers were silly, just some fake sex thing that was cute in bed but could never actually work. But Amanda had the right breasts for it. They were everywhere, enveloping Mako's small head in darkness and filled her nose with the smell of hot flesh. Water splashed all around them, she pushed away, but Amanda had a bearhug like an actual bear. There was no escape.
beangraff wrote:Amanda giggled, gladly holding the adorable Mako in place. Before she knew it, her huge breasts had totally smothered Mako out, putting her to a gentle sleep.

It wasn't TOO difficult to sneak out of the hot spring, carrying the other woman. After all, the hot springs were located in a forest. There were a half a dozen trails that led to the carpark. All she had to do was HOPE the other two girls weren't actively watching, and were rather waiting for a sign.

Hopefully, by the time they realized Mako had failed or changed the plan, Amanda would be long gone.

It was about twenty five minutes before the naked Mako would find herself on Amanda's amazingly soft bed. It was covered in pink silk sheets and a silk comforter, even silk pillowcases. Or maybe microfiber? Something OUTRAGEOUSLY soft and nice on the skin, anyway.

Amanda had taken a bold step. She hadn't even tied Mako up. She was gambling that the sexy short girl would like what was happening so much, she wouldn't attack.

For, you see, Amanda was sincere. She wanted Mako. She wanted Mako to herself. And she wanted her willingly. That it HAPPENED to jive with her and John's plan was a happy accident.

Amanda giggled, the taller, but not too tall, naked woman leaned down on Mako and rested herself between the girls legs, setting herself up to nicely worship Mako's sex to gently wake her up.
acuya wrote:Boobs. Boobs, everywhere.

That was the last thing Mako remembered when she was knocked out and the first thing she thought of when she woke up, her eyelid slowly peeling away as she shook her head and cleared off the cobwebs. She wasn't in the woods anymore, that much was obvious. She was in someone's house, didn't recognize it, smelled too clean to belong to her girls. On a bed, too. A soft bed. The softest bed she'd ever been on her life, not that there was much competition. It felt like a cloud looked, giving and inviting around her body. And that feeling between her legs...

"What is-" She looked up in time to see Amanda below, before her talented tongue sent a shiver throughout Mako's entire body. She gasped and fell back, too stunned by the alacrity of it all to do anything. "The fuck, what the fuck is this..." She moaned the word more than she said them.
beangraff wrote:Amanda giggled when Mako woke up. She slooooowly rose from what she was doing, looking up to Mako.

"It's memory fooooooaaaaaaaaam. The good stuff, not the stiff cheap knock offs." She whispered.

Grinning widely, the sloooowly licked down Mako's thigh and went back to eating her out, sliding her tongue in and out, poking and prodding at her sensitive spot.
acuya wrote:"Not what I fucking-" Mako's growl turned into a passionate moan as Amanda licked away at her like a pro. She wanted to lash out, wanted to bash this crazy girl across the head for knocking her out and kidnapping her. This, wherever it was, was not a good spot to be. Her girls didn't know where she was, and if she was here, John and Ro couldn't be too far away, which meant this could end up exceptionally bad for her. She need to get the fuck out of here, clothes or not clothes.

But, damn, Amanda was so good. Her body just did not want to follow too many orders.

She bit her lip and tried to slide away, pushing on the bed and inching towards the edge. If she could just get a few moments to catch her breath and order her mind, she could make a break for it.
beangraff wrote:Ro rubbed her eyes as she came out of the shower, with a bathrobe around her body. She was tired. She had been up all night, she may or may not be hungover…she could have been out drinking or playing Payday all night, Amanda didn't know, and she didn't wake up until 2. Ro  had to stop doing that. She slooowly walked past Amanda's room. She looked inside.

"What? Oh."


"God dammit." She mumbled.

"CLOSE THE DOOR!" Amanda interrupted what she was doing to shout.

"Sunuvabitch, I think she means it." Ro mumbled as she slammed the door shut, and then sleepily made her way back into her room to go find some asprin.

"Hehe, sowwy. My roommate." Amanda giggled, then slowly climbed up Mako's body. She licked and kissed up every inch as she went. She finally lay down ontop of Mako, gently kissing and worshiping her tit, rubbing it with her hands, kneading it like dough.

"If you're worried this is some kind of trap, don't be. I told you, I wanted sexy time, and I wanted you." she giggled, then began to gently suckle on her nipple.
acuya wrote:Mako got quiet at the sound of Ro, glad she seemed too wasted to care.  She was fairly certain she could hold her own against Big Red in a straight fight - if they met in the street. Or in the ring. Or anywhere except in Ro's house, where she had the potential  to be double or even triple teamed. She was naked, she had no idea where she was in Japan, and a woman with quite a few reasons to hate her was dangerously nearby. Whatever Amanada said, it didn't erase the fact that she was trapped.

But...that didn't mean she couldn't enjoy it, right?

Before she could really contemplate the thought, Amanda's lips went to her nipples and Mako's mind went blank along with it. Her body relaxed even though her mind didn't, getting engulfed by the bed, swallowed hole. "I just..." She weakly pushed at Amanda's head, but that was the best effort she could muster. "Yes..."
beangraff wrote:If Mako asked to leave, or asked for the answer to any of those questions, Amanda would have totally given her the answers or gladly dropped her off home. In fact, Amanda had Mako's clothes ready for her.

Of course, not that she was going to volunteer that information right now. She preferred Mako naked, much sexier.

"Hehe, Ms. Mako…like the Mako Shark, I love it." Amanda teased, gently lifting up from her breast. "You are free to leave, I'll even drive you home. Buuuut, I was hooooping you might choose to stay and play with me. We can even play sexy games, if you want." Amanda cooed, making a light growling noise as she came on top of Mako, breast to breast, face to face, lips gently brushing against hers.
acuya wrote:"I-"

Mako gave it serious though for all of the split second before Amanda moved up again and laid perfectly perpendicular, putting their bodies together. Amanda's breast almost seemed to devour her own, her lips grazing and teasing of a future kiss, those cute - yes, cute - eyes staring back at her. Her body was so soft, her flesh was so sweet, Mako felt like she could melt into, and her hips even did a few involuntary thrusts, grinding against her pussy.

What was the risk? It wasn't like Divine or Stone were coming to the rescue. Whatever happened here could stay here. Nothing would change. And if everything Amanda said was true, this incredibly sexy little psycho had a thing for her. That was rare.

Mako leaned up and suckled away on Amanda's lips for a sensual moment, before laying back down and forcing a little smirk out. "Fine. What kind of games? You got Canoodling?"
beangraff wrote: "Hehehehehe…that's a sexy game? That's just my fourth favorite past time. Though, canoodling with you is eeeextraaa fun." Amanda giggled, letting the girl suckle on her lips.

Ohhh, the perfect mastermind, just like Amanda, AND she can let loose…at least for now. Amanda really did have an honest to goodness thing for her.

"Eeeeever down a soft bed match? It's not really a fight, because you win either way. Just to see who can make the other ucm first. No hitting or squeezing or breaking, just…things liiike…" She leaned in and gently kissed Mako's lips. "Kissing," she licked up her cheak "Liiiicking." she giggled, then wrapped her arms around Mako in a hug, but one soft enough for Mako to EASILY break out of, "Maybe a bit of hugging, and grinding, and…hehe okay, maybe there is squeezing."
acuya wrote:Screw it. Mako never could turn down a challenge. Especially from a girl like this.

"You're on." She let out a low purr and kiss Amanda again...and again...and again, reaching up and wrapping an arm around her neck, holding her close, like she could suck breath clean out of her. She tried to push and roll around, looking to get on top of Amanda  - if she was going to say, she'd be on top. Assert some dominance.
beangraff wrote: "Hehe, I may have to keep you." Amanda giggled. Suddenly, though, she was taken off guard by an amazingly sexy array of kisses. She moaned, letting herself be brought into the kiss, when suddenly she was rolled over. With a squeak, she was on her back, the bed slowly swallowing HER now as she tried to get her arms up and around Mako again, grinding their pussies together.


1 new text from: Ro.

thought Mandy was supposed to make friends with the short one. they r fucking.


1 new text from: Mr. Grumpy Face.

That's how Amanda makes friends. Also I think Amanda is actually attracted to the short one.


1 new text from: Ro.

xD Amanda got into my phone and changed your name to mr grumpy face lol

1 new text from: Mr. Grumpy Face.

I am Mr. Grumpy Face.
acuya wrote:For some reason, Mako thought being on top meant she was in control, and for a few seconds, just a few, that seemed to be true. She was on top of Amanada, burying her in the bed,  riding her and taking control. She felt like she could do anything to her, total domination.

Then Amanda's arms came up and it all went downhill.

Mako closed her eyes as their sexes ground against each other and Amanda brought her close. She tried to struggle, but it was like Amanda was some sort of vampire, sucking her energy away with every touch. The best she could do was fight fire with fire - she leaned forward and began to plant kisses all around Amanda's neck, occasionally nibbling, trying to drive her wild and make her loosen up.
beangraff wrote: "Oh, the teeth!" Amanda yelped lightly. It was NOT a pained yelp. It was an AROUSED yelp, and it was obvious to hear. The nipping did it, and Amanda's grip loosened up, her grinding slowly more like a response to Mako then an attack, her eyes rolling back.

1 new text from: Ro.

o shit i thnk i herd Mandy say she wants to keep the short one1

1 new text from: Mr. Grumpy Face.

Uh oh. I think Amanda REALLY likes her. Didn't plan for that.
Mako took the opportunity to burst free and start to work her way down Amanda's body, planting a few loving kisses along the way. Chin. Collarbone. Shoulders. All the way until she made it the grand attraction - her breasts. Soft. Delicate. Welcoming. But incredibly dangerous, as Mako knew from direct experience. Like any weapon, you had to respect them, know how to treat them, or they'd come back to bite you in the ass.

Mako ran her tongue around the nipple, tracing a perfect path around it before she brought her lips down and took a few tentative nibbles, like an animal inspecting its next meal. "It is a game, by the way." She gave it the nipple a quick, harsh bite, before going back to loving kisses. "Think Monopoly. With sex."
Kisses, kisses, kisses. Sweet, soft, sexy lips on her body. Mako was not only the same kind of twisted mastermind for pleasure that Amanda was—at least, that's how Amanda saw here—but she was really, really good at being sexy. And cute. And delicious.

Amanda moaned out as those kisses gave way to a nipple, then a bite! Her mouth went wide and she reached her arms around Mako, rubbing on her back and squeezing her tightly. "Mmm…WHAT?! SEX MONOPOLY?! I want it!" Amanda said gleefully…right as she tried to roll over and park her tits on Mako's face again.

_________________
Your writings and head are disordered and mixed up, so that it is exceedingly annoying to read and difficult to remember what you write.
Primarily Tension (but will take the train over to Friction)
Ro Laren
Amanda Clare
Tension
John Mitchel
- Former Tension World Champion
Anthony Fuller
With Amanda on top once again, Mako found herself in a weird predicament. Now that they were taking a softer approach, she could properly appreciate these luscious breasts. They begged to be touched and tasted and tongued, and she was more that willing to do all that. But she liked breathing, too. She has been doing it all her life, and she didn't plan on stopping any time soon.

She could punch her way out, but that might wreck the mood. Or Amanda might like it. There were better ways, though. Sneaker ways.

She took a deep breath before she went under, keeping calm while those mammoth mammeries covered her face. Her mouth went to work, starting to bite the soft flesh, clamping down tighter by the second, trying to guage her lover's reaction. At the same time, one of Mako's hands slid over Amanda's sex and started to rub along the entrance, as if offering to trade pleasure for air.
Amanda grinned as she ground her soft, luscious breasts down on Mako's face, draining her of air. Soon, though, Mako fought back, just as Amanda hoped she would. It was always sexier when it was a challenge.

Mako's weapon of choice? Her teeth. They nibbled first, then bit harder and harder….Amanda let out a gasp! Soon the teeth were gouging into her flesh. Amanda moaned and let out a squeak, half in pain and half in pleasure from the rough treatment. Before she knew it, her sex was also being played with, teased and stroked, rubbed at. Amanda TRIED to keep the hold, but it was too much! She squirmed, letting Mako have air, and then finally she tried to back off completely, shoving off and trying to get away from those teeth. Arousing though it was, she could feel her skin starting to be cut through! And it HURT!

_________________
Your writings and head are disordered and mixed up, so that it is exceedingly annoying to read and difficult to remember what you write.
Primarily Tension (but will take the train over to Friction)
Ro Laren
Amanda Clare
Tension
John Mitchel
- Former Tension World Champion
Anthony Fuller
Mako backed off as soon as she got the desired result, smiling like a fiend. She didn't want to damage those beauties, oh no. She liked her meat fresh and raw, unblemished. She was going to devour them.

"Going so soon?" She chirped, as she started crawling after her elusive prey. "I still want to play. This game's nowhere near over yet, love."

Mako took a quick leap forward, bounced off the bed, and tried to slam into Amanda, bringing her down and getting on top, trying to establish a schoolgirl pin so she could sit down on that luscious chest.
Amanda let out a giggle as Mako teased her. "Mmmm, just moving." Amanda giggled. Her giggling was soon paused, though, as Mako leapt! "EEEK! OOOF!"

Suddenly, Amanda was on the bottom. Her body was pinned, her bouncey breasts were a chair for Mako, and her crotch was VERY close to Amanda's face.

Perfect.

Amanda squirmed and shimmied, doing her best to slide down, and bent her neck forward. She brought her lips RIGHT UP to Mako's sex, giving it a through lick and then a delicious kiss. Then she leaned forward and attacked it with pleasure, eagerly eating her out and sliding her tongue in and out.

_________________
Your writings and head are disordered and mixed up, so that it is exceedingly annoying to read and difficult to remember what you write.
Primarily Tension (but will take the train over to Friction)
Ro Laren
Amanda Clare
Tension
John Mitchel
- Former Tension World Champion
Anthony Fuller
Page 2 of 5 •

1, 2, 3, 4, 5


---
Permissions in this forum:
You
cannot
reply to topics in this forum