Champions & #1 contenders
Looking for a debut (Tag Match)
Sun Jan 14, 2018 10:29 pm by Person
I am looking for a debut for my new tag team:
Rulers of Divinity
Something to build them up before I start their main feud.
Comments: 0
Trying to get back into the saddle.
Sat Jan 13, 2018 8:11 pm by Deus001
Hi all. Deus here.
You may have noticed I am a bit quiet on the forums these days. My parents split up, I split up with my girlfriend and moved house. I am moving house again in February as well. 2017 was one slow motion punch to the dick for me and my balls are still numb to be honest.
However now that I have some semblance of normality I felt why not see if anyone wants to talk RP ideas, I have a long work week ahead but a clear weekend it seems. If you have any ideas you want to do send me …
[
Full reading
]
Comments: 3
Post Delays after Winter Storm
Sat Jan 06, 2018 4:38 pm by BrittanyW
Cause the best thing after coming back from holiday is for a bomb cyclone to hit where you are. -_-
So yeah, expect more delays of posts and stuff while I have to sort out problems from this shit.
Fuck my life.

Comments: 1
Goes By: Eske D. Mal  
Sex: Female
Age: 24
Eyes: Hazel/Gray
Hair: Brown
Height: 5' 6"
Weight: 140 Lbs
Nationality: Finnish (
As of Home 3
)
Entrance Music: The Killing Moon by Echo & The Bunnymen
Strategy:
Silent, sneaky and mean-hearted attacks. Eske takes out the eternal anger festering in her on her opponents and sees to it that they stay down. She may not be very fast, but she hits heavy and hard. She stays put and waits for her enemy to come to her (That's how she likes it anyway

) The way she stays so silent may confuse and even frustrate someone into losing their cool. That's when Eske knows that she has won the match.
Finisher
Needs more reading and research to be truly perfected......
Stats (out of 5)
Endurance: ★★
Strength: ★★★
Speed: ★★
Defense: ★★★★
Technique: ★★★★★
Overall:
16/25Personality
Quiet. Eske has only been heard a seldom few times in her entire life. Since joining the AFW league, she has only spoken in one instance. That was to give the Administration information they needed about her. Since then, she has not been heard to say one word. As a writer, her written words speak loudly and they speak in volumes. Tugging at emotions through words is what she does best. Eske can be catigorized as a 'loner', as she has never been one to be social. She looks innocent, but that is just the 'ultimate plot twist' as Eske puts it.
Past:
(Eske did not give too much information as to her past....What she did give was pieced together.)
Her family was of the upper class. Not rich, but far from poor. Eske spent her days reading, her nights reading, and any time in between.....Reading. There came points even where the girl had nothing else to read. So, she began to write stories of her own. By 8 years old, she had mastered much of Greek mythology and Roman literature. However, reading and writing so much took its toll on other aspects of her life. Eske didnt focus on social interactions at all, and books became her friends.  What she didnt know while locked away to read, was the growing tension of anger and violence growing inside of her. Eske always tried to push down the feeling of loneliness. She could imagine herself working on the farms with Lennie and George, or running across tundras with Buck as he became undomesticated, or even fighting alongside Odysseus......But thats all those were....Imagination. Fake. She didnt want to admit it, and kept it all locked up for years.
(The next 5 years of her life were kept private, even from the Administration's prodding questions)
Ms. Mal returned from wherever those 5 years took her with an entirely different attitude. Being 13 and starting her freshman year of high school, she was already looked at as a short and nerdy target to pick on. but that was not the case.....Not with Eske. She became the bully to almost every male she came in contact with. A smart bully that trumped the stereotypes. She was smart enough to cover her tracks, so she was never caught. Eske's body became fully developed by her Senior year, at 16. With her dangerous knowledge of psychological manipulation that went far beyond what even some adults knew (Which was learned from reading), Eske wrecked the minds of all and every boy that she bullied to the point that they needed therapy. To break what she called 'The Third and Final Wall', she needed to complete the triangle. Eske wanted to be smart, sexy.....And strong.
Knowing she couldnt really gain physical bulk, Eske did what she did best and read up on how to fight. With her skill, she learned very quickly how to defend herself and how to break someone that laid a hand on her. After 6 years of collage, a 22-year old Eske found that she had not used those skills at all. And thus came an appetite that rivaled her love of reading and writing.....Violence and a want to use those skills. She craved it. That same violence that she used to bully, and more. Her research and constant reading took her all the way to Japan.....And the AFW.
Appearance: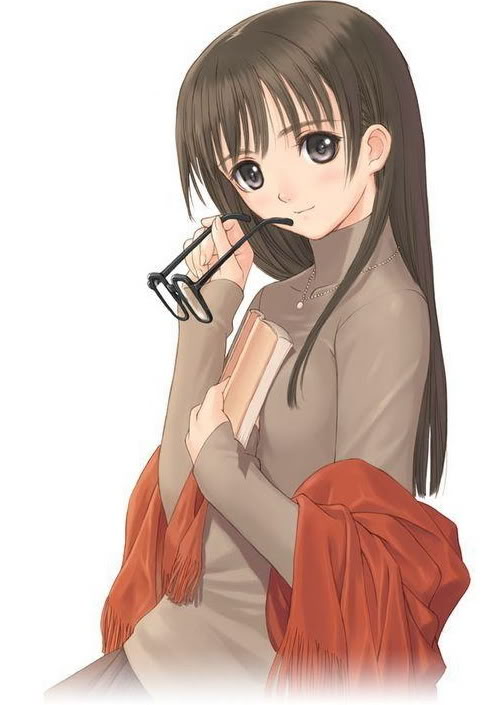 So, what ABOUT her?
-Has a Doctorate degree in English, Creative Writing, and Psychology. Which she earned ALL during her time at collage in just 6 years
-Carries around Homer's 'The Oddesy' everywhere she goes in her bag.
-Has an IQ of 124.
-Does not speak too much unless she's entertained.
-Will show affection in
some
sort of way, but only if you can find a way to please her. Which can be hard to the.....Less sensible men......
Record:
Wins: 1 (Alistair: Submission)
Loses: 3 (John Carnaby: Submission) (King: Pin) (Astolfo: Submission)
Friends: -----
Allies: -----
Rivals: -----
Enemies: -----
Crushes: -----
".........."
Story-line:
1.
"Eske starts the first fight. Against the artist John."
2.
"The second fight. Eske challenges Killer King!"
3. 
"She's ready to bend them both into pretzels..."
(Postponed)
4.
"The writer returns to the ring..."
5.
"It seems that the writer has hit a major block..." in
Home 3
6.
"The writer returns to the ring to fight Astolfo"
7.
"What an eccentric man the writer must fight
(Postponed)
8.
A little something for Christmas...
9.
"I dont care if he's injured...
10.
For Christmas
11.
Last edited by 11367 on Mon Sep 08, 2014 3:36 am; edited 8 times in total
_________________
Updated: 11/14/17
First Year
,
Home 2
,
Nick becomes a 'father'
,
Home 3
,
Juniper and Sabre
,
Home 4
,
Home 5: Ultimatum
,
Home 6: Regear
,
Update! With IndigoDragon
,
Home 7: Stage Setter
,
Home 8



Posts

: 7332


Join date

: 2013-03-05


Age

: 25


Location

: Zoar Valley, New York



---
Permissions in this forum:
You
cannot
reply to topics in this forum