Champions & #1 contenders
Highfly Flying Out Of Town
Tue May 22, 2018 1:31 am by HighFly
Hello everyone, I just wanted to inform all I have threads with that I will be gone from this coming Wednesday through Sunday. I won't be able to post consistently if at all during this time, but I will try to make up for it next week! I am sorry for the inconvenience to everyone.
Comments: 7
The Austrailian Mudslide is Back.
Sat Apr 21, 2018 6:20 am by Softsquad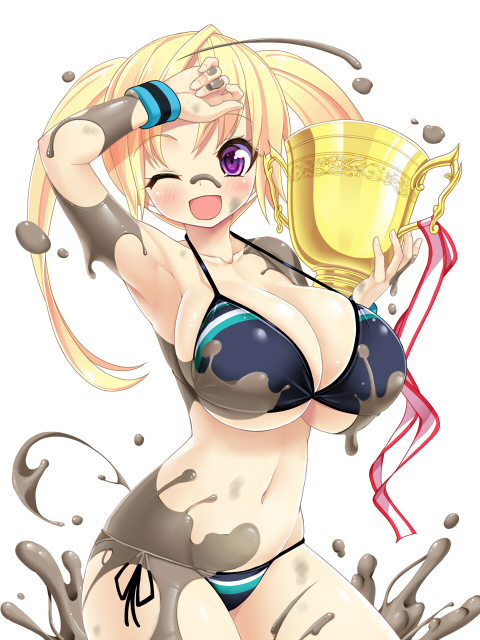 Granted that most of you won't know me or remember me, but I've had a few matches here and there some time ago. Well I think its time to become a regular around here and try to have some fun again, but at the same time keep coming back. Anyway I think its time to jump into some matches with Zoe Taylor, my mud wrestling character from Australia and get her back into the squared circle. Furthermore I will update my characters as I think some proper changes need to happen.
So if anyone would …
[
Full reading
]
Comments: 5
Page 3 of 3 •

1, 2, 3

He stopped struggling when she started talking and listened to her words before spitting to the side. He would then see her fist raise backward and he smiled slightly, "Bring it on." He then took every last one of her punches. Once her punches connected he started to close his eyes, blood slowly dribbled from the corner of his mouth, but he remained conscious, "My turn."

He would then swing his feet upward and wrap them around her neck. If it were to connect, he would pull her down onto her back and start pounding her with punches before reaching back and hooking her leg for a pin attempt.
_________________
Edmund's Roster
Looks like Morwen managed to get first blood as she saw John simply take the punches. This actually intrigued her because no one in her life would be willing to take that many punches without putting up some sort of defense. But what happened after that really impressed her. John would instantly wrap his legs around her neck and take her down for a headscissors. But adding to that, John would start punching her in the face, which made her grunt as she tried to block them.

Morwen was now feeling the pain as bruises would definitely be appearing on her face soon enough. She then felt John pulling her leg up for a pin as the ref came in to start counting.

"1!"
_________________
Focusing on good old fashioned basics and just having fun. Nothing else and nothing more.
The World of Dynamo
He looked down at her and chuckled, "Your blood shall be mine." he whispered as he heard the ref count, "2!" He closed his eyes and chuckled, just sitting on her stomach while holding her leg up as he waited patiently for the ref's counting to finish with either the three count or her kicking out of his pin attempt.
Last edited by 12715 on Mon Sep 15, 2014 3:34 pm; edited 1 time in total
_________________
Edmund's Roster
The ref was getting close to finishing the pin count and Morwen's defeat. But then a small sound came in. "Not just yet, peon," Morwen whispered as she tried to kick out of the pin. She was still determined to fight and it was too early to call the match over. If she managed to kick out, she would quickly back away fast to keep her distance. Looks like John is finally showing his skill, but Morwen has some more to show.
Last edited by 971 on Tue Sep 16, 2014 8:28 am; edited 1 time in total
_________________
Focusing on good old fashioned basics and just having fun. Nothing else and nothing more.
The World of Dynamo
He grunted with frustration when she kicked out and glared at her, he started wondering what was going through that mind of her's. But he refused to read her mind so he decided to ask, "Why toy with me? Why haven't you just finished me off already? Or is there something more to this match?"
_________________
Edmund's Roster
Morwen managed to kick out out of the pin before the count was completed. She would quickly get up and get back to her stance so that she would be prepared for John. When asked why she is toying with him and not finishing her off, she would smirk and chuckle, "Hmhmhmhm...now why would I finish you off so soon? That would be terribly boring. Besides, I haven't shown you my best moves yet. There's still time to fight, you know, so don't back own now."

The dark elf would start moving towards John again and her stance now looked like she was wielding a weapon. She was prepared to do more and John won't know what hit him.
Last edited by 971 on Wed Sep 17, 2014 5:09 am; edited 1 time in total
_________________
Focusing on good old fashioned basics and just having fun. Nothing else and nothing more.
The World of Dynamo
He looked on with curiosity and frowned. "What was she doing?" he thought to himself as he slowly moved his foot out and got into his signature stance, indicating that he was getting ready for his finisher, "No mercy." he whispered and waited for her to get closer.
_________________
Edmund's Roster
Dynamo44:
Morwen remained in her peculiar stance as she was getting closer. John also had taken initiative to take his stance and so far, the dark elf knew immediately that he may have another surprise in store for her. No matter, she just needs to beat this guy to the punch first and this match can once again turn in her favor. As soon as she was close enough, Morwen would attempt to spear John in the stomach to double him over.

If this worked, she would set him up for a suplex by wrapping one arm around his neck and using the other to lift him up before slamming.

Edmund:
He had seen her coming and tried to jump over her, but her shoulder clipped his foot and he fell head first onto the mat, almost knocking himself out as he lay spread eagle on the mat.

Dynamo44:
Morwen's attack went a little differently than planned, but at least she got John on the mat. Seeing him lay flat on the mat, she would quietly say, "Appalling display...how utterly expected." It took her a few moments to think on what to do next until she had it come to her head. She would rush to his feet and attempt to grab him by the legs under her armpits. If this worked, she would turn him over and sit on his back for a Boston crab.

The pressure, if locked in, would focus on the legs and lower back which could give Morwen an advantage.

Edmund:
He woke up and screamed in pain, "Gah! F...Fuck!" he would cry out, never having had a boston crab locked in on him before, he had no idea on what to do, so he started crawling to the ropes, but he stopped half way to them because of the pain, "I...I..." he started.

Dynamo44:
Morwen would feel John start to move to the ropes as she got the hold licked in. But hearing from his screaming and shouting, it looks like this is his first time being in this particular hold. She would even feel him stop halfway as he was going to say something. The dark elf then said, "Oh, please don't tell me that you're going in now. You do that and you will be considered a third-rated nuisance and a waste of my valuable time."

Morwen was true to her word, if John gives up, it'll be much worse for him.

Edmund:
He shook his head, "I was gonna say I'll never tap out." he hissed before attempting to kick his legs forward and throw her off. If this didn't work, then he'd just reach for the ropes. He wasn't sure how much more punishment he could take from this elf. Nor how much more punishment this elf could take, "I may just lay down and let you pin me. I don't think I can take much more of this." he said

Dynamo44:
Morwen was glad that John wouldn't tap out, but at the same time, it seemed like he can't take much more. She would try to hold on to his legs as he neared the ropes. Once he caught them, she'll let them go. The elf would then say, "Either you are taking me for a fool or you simply cannot withstand me. One way or another, you're pathetic...and you thought you can beat me...ME!!!"

Indeed, it seemed foolish to ask someone to pin them. It could be an opening for another attack.

Edmund:
He slowly got to his feet after getting to the ropes and grinned, "I lied." he would then, out of no where, try to connect with his finisher. If it were to connect, he would hit her with a jumping neck breaker.

Dynamo44:
Morwen would back away immediately as John grabbed onto the ropes, signaling his release. As she kept some distance, she still had to be aware of her opponent's movements. With that smile on his face, something was definitely coming. Sure enough, John would rush to her and jump to grab at her neck. She would try to deflect him, but her neck got grabbed and the impact of his fall made her neck start to feel a jolt of pain.

The dark elf held her neck as she grunted and fell back on the mat.

Edmund:
He would immediately role her over and try for a belly to belly pin, hooking her leg and lifting it up, smiling, "You lose." he grinned, but he decided to spare her, "I won't feed today, don't worry." he whispered in her ear as he heard the ref's hand slap the mat, One!

Dynamo44:
As Morwen held onto her neck, she would feel John go on her and grab her leg up for a pin. Hearing that ref start counting was already making her blood boil. She couldn't quite focused well with her neck still hurting, but she wanted to fight still.

"Two!"

The dark elf would try to lift kick out in order to break from the pin. Hopefully, she can get some rest and some distance away from John before fighting again. If there was one thing that Morwen detested, it was that John just makes some moves and expects to pin them immediately afterwards.

Dynamo44:
Just after kicking out of the pin (thankfully), Morwen would try to roll away fast before the kick can hit her gut. If she can do that, then she can rub at her neck a little to ease the pain. But did she just see sadness in her opponent's eyes. The dark elf just scoffed a little as she said, "If you don't like hurting me, boy, then why don't you just let me win? That will make it easier for the both of us."

Morwen found this ridiculous. Apparently, this guy is trying to win, but he seems to dislike prolonged fights. Looks like she won't make this any easier on him.

Edmund:
His compassionate side died as soon as she said that and he hissed, "I was thinking about it, but now I think I'll just destroy you." he stood up and charged her, trying for a sliding side kick to the chin. If it were to connect, he would then try for his finisher and roll away from her, hoping she were KOed.

Dynamo44:
Looks like that did it. John has returned to his hardcore side and Morwen smirked as she was slowly trying to stand up and rubbed her neck a little after that little getaway. John now was running fast towards her and was going for a sliding kick to the chin. This attack is quite lethal, but it can hard to turn back from once you're sliding in one direction. Morwen saw this and would attempt to get on her feet a little to jump to dodge. If this worked, she would even try to land on his stomach so she can start punching him down in the face.

Edmund:
He grunted as his kick missed and he fell to the ground, "This is familiar." he muttered to himself as Morwen would start to pound his face, causing his mouth to bleed along with his nose. If she kept this up, she could possibly beat him. John needed to act fast. He threw one of his legs up to kick her in the back of the head. If his foot were to connect, he would buck her off and run to her to put her in a boston crab, "A little taste of your own medicine."

Dynamo44:
Morwen would see the blood coming down from both his mouth and nose and she smiled as she felt that she now gained an upper hand. But she had no idea of what John had in store next and it definitely proved to be a big one. She would grunt in surprise as she got kicked in the back of the head. This made her lose focus and got bucked off easily. As she held onto her head, the dark elf would feel John grabbing for her legs.

Having an idea of what he might do, she would try to kick her legs out and shout, "Let go of me!" If John succeeds, then she'll find herself in the Boston crab. But if Morwen got out, she would try to plan out her own finisher to use on this moody freak.

Edmund:
He held her fast, "Not until you say those three magic words." he bent her legs farther back until he was pretty much sitting on her back. It pained him to do this to her, but a big part of him also enjoyed the pain he was causing her. He hoped she didn't give up so he could cause her more pain, but then again, she had managed to survive two of his finishers. Why would she tap out to a simple boston crab?


Dynamo44:
"NNNGH!!!" Morwen groaned as she was caught in the Boston crab. She would pound her fist a little to try and fight the pain as she looked up to see if she can find the ropes. "In your dreams..." She would refuse to tap out as she clawed her way over to the ropes. John definitely had his own weight that slowed Morwen down, but the dark elf would try to make it to the ropes. If she grabbed them for a rope break, hopefully she can recover quickly and continue.


Edmund:
He let her legs go, but after she reached the ropes, he spun around and jumped up, throwing a kick toward her head. If it were to connect, he would then stand her up and try for his finisher, "It's time to end this." he hissed.

Dynamo44:
Morwen made it to the ropes and she was immediately released from the submission. She was just trying to make her way up when she suddenly felt John's kick at the back of her head. "AAUGH!!!" she cried out as the force made her fling her head and arms over the ropes. She shook her head a little to try and refocus on the match, but then John was on his way to make her stand up.

As soon as she heard his voice, the dark elf would open her eyes as she whispered, "Agreed." Now, she attempted to give John a spear to the stomach to catch him of guard and double over. If this worked before John got to do his finisher, she would also try to give him a knee to set his sights back up before giving three chops left, right, and left.

Edmund:
It didn't go as she had planned. Instead of doubling over, he fall back and held his rib cage, groaning softly, "What the fuck was that?" he wondered to himself before making an attempt to stand, but a sudden burst of pain shot through him and he cried out in pain before laying back down onto his back, "I...I think something's broken." he said to himself as he felt his rib cage, checking for any broken bones.

Dynamo44:
After her little spear attack, Morwen would back away to see the damage. As it turns out, John was taking it rather harshly and was yelling as if something is broken. Morwen would scratch the back of her head and said, "Hmm...my apologies. I don't always know the power of my own strength." She would lotion for the ref to check on John first of any broken bones. That can disable him from continuing, but the dark elf hopes that nothing will be wrong and that he can pull through. Sure she is a dark elf, but she doesn't enjoy short fights.

Edmund:
He waved the ref away, "I'm fine, I can keep going." he grinned up at the dark elf, he was starting to like her and her style more and more. He slowly made his way to his feet before charging her for a weak spear. If it were to connect, he would then grab her hand, pull her close and preform his finisher to end the match. Not wanting this match to continue much longer.

Dynamo44:
Morwen was glad that John didn't necessarily get injured, but that doesn't mean she's going to make this easier on him. Seems as though she's hitting harder while John is rushing to just end this whole fight. That has been bothering her for quite some time and she didn't really know why. The dark elf wanted to ask him, but she cannot when the guy is already going for another attack. She would attempt to sidestep and dodge the spear to prevent John from doing any damage and perhaps slow him down a little. If she could, she would ask, "Tell me...why do you insist on ending a fight so quickly. I feel you are trying to not let me have a chance to show you what I can do."

Edmund:
"Because I want to form an unholy alliance with you. You seem like an able bodied fighter and a respectable being." he looked at her, holding his rib cage as he watched her carefully. "All you have to do is say yes." he smiled sadly at her, knowing she'd probably just punch him in the face.

Dynamo44:
Morwen would be in thought as she repeated, "An unholy alliance...and all I need to do is say "yes"?" She would later smile as she looked to John and said, "Well, I may be able to consider that. But, it won't be as simple as that I'm afraid. First, you must do something for me." Returning to her fighting stance, she would explain, "I'm about to strike and try to perform my killin special. If you survive my wrath (for the time being), then I'll consider you worthy to have this "unholy alliance"."

The dark elf would walk over to confront John again and her expression would say that she's not going back on her word.

Edmund:
John just chuckled, "I'm a vampire. Of course I'll survive it." he then waited for the blow to be struck, pondering about the possibility of losing his first match. He then frowned, "I don't want to lose my first match to her." he thought to himself, but he was willing to wait and be punished if it meant he'd finally have an ally in this federation. "Come on then. Show me your power." he grinned.

Dynamo44:
Morwen would chuckle as she was halfway there to John as she hear his reply. "Surprising! I thought you'd never accept. Very well...you asked or it." Her eyes would sharpen and shine as she was ready to keep her word. Yes, this would definitely hurt, but as told before, she never goes back on her word. Soon, Morwen would charge in and attempt to grab at the neck to go behind them for a standing sleeper.

If this worked, the dark elf would also use a thumb to "slit" across John's throat before giving a knee to the back to keep him subdued in midair.

Edmund:
John offered no resistance and closed his eyes, waiting for the end to come. After a few minutes, he opened his eyes, "Is this it?" he would ask, a little concerned as to why nothing else but a painful knee to the back had happened. He then frowned and waited one more minute for something to happen before sighing. If this was all that was gonna happen, then he would definitely finish her off with his finisher.

Dynamo44:
Morwen would smile and just whispered, "Wait for it...Wait for it..." She kept John in this position for a few seconds until she went for the remainder of her special. She would attempt to toss him up high and turn him sideways facing her as he's still in a lying down position. If this worked, she would raise her hands together like a sword and chop John directly at the stomach. "DEATH BY THE SWORD!"

This was a gutsy special she came up with and she only hoped it worked and John survived it.

Edmund:
His eyes widened as her hands racked across his skin and he gasped as he hit the mat. He then held his stomach and groaned, but slowly got to his hands and knees, "Is that all you've got?" he asked weakly, waiting for her to lash out at him again. If she didn't, he would then stand and stagger back against the ropes and flash his fangs, "That... was nothing." he held his stomach and rib cage as he watched her.

Dynamo44:
Looks like Morwen's special was powerful to make John feel it on the mat. Seeing him trying to stand while in pain, the dark elf reached down to try and set him up straight. This can rush his recovery time and it may be tougher for him to be upright. While attempting this, she would say, "What's wrong, old boy?" She smirked and chuckled at this vampire's expense. "Can't handle the pressure?"

Edmund:
He held his ribs before grinning, "Time to put you down." he would then throw a shoulder into her face to stun her before jumping up and grabbing the back of her head, setting her up for the viper. If it were to connect, it would be all over for the dark elf.

Dynamo44:
"NNGH!!" cried out Morwen as she got knocked in the face with John's shoulder. She was a bit blinded for a while, but she would feel his steps going to the back and she would say, "On the contrary, I am going to put YOU down." She knew that if John connects his finisher, it'll be over, so she has to force herself to take another drastic measure. This time, the dark elf tried to give a back kick from behind to knock John onto the mat and catch him off guard.

If this worked, Morwen would even try to get on top to pound his face in before going for a pin. But if it didn't work, John would proceed with his finisher.

Edmund:
John knew she was getting desperate, so he decided to use his special gift. He would then proceed to block her kick and preform his finisher, "Lights out." he whispered before connecting with it. He would then just lay on the mat, to exhausted to try to roll her over for the pin. He just waited a few seconds before rolling her over and laying belly to belly as he hooked one of her legs. He then whispered, "I'm sorry I used my power. I promise you'll win next time." he then closed his eyes as the ref slapped the mat, "One!"

Dynamo44:
Morwen would have her kick blocked and John would proceed with his finisher. It hit so hard that she was in a daze and was slowly becoming unconscious. She gritted her teeth in frustration as she felt John pulling up on one of her legs and whispered, "Curses!" John was able to turn this all around in spite of the dark elf's tactics, but this surely won't be the last time they'll fight.

The red hit the mat again and counted, "TWO!"

Edmund:
"THREE!" The ref signaled for the bell and John let her leg go and he rolled off her, panting softly, "Next time, I..." he groaned and held his rib cage, unable to finish his sentence. He rolled onto his knees before touching his forehead to his knees, "N...Next time, I might not be so lucky." he managed to say before blood started to dribble from his mouth and nose again. "I...I hope we could be...friends." he stammered and gasped a little as he ran a hand over his bruised rib cage.

Dynamo44:
It would be a few more moments for Morwen before she came around again. She knew that she had lost after that hit and she only laid there and panted to regain some stamina. She then turned to see John, holding his rib age and hoping that they can be friends. She gave a weak smile and chuckle as she responded, "You have kept your word...we can be allies then..."

The dark elf then offered a hand to him to shake on it and possibly be helped up.

Edmund:
He smiled as they helped each other up and he held her hand up, pointing to her and turning to the crowd who then began cheering for them. He hugged her and smiled, "Thank you." was all he managed to say before he collapsed to the mat and passed out. To exhausted to keep himself up. But he managed to keep his smile as he lay sprawled out on the mat.

Dynamo44:
Morwen smiled as she took in the cheers as much as John is. She was glad that this guy seemed to be a good sport and doesn't want anyone to feel left out. She would hear him say thanks before he collapsed and that prompted the dark elf to pick him up. "Thank YOU." She would hold onto him as they both got out of the ring. This will definitely be a very interesting friendship.
_________________
Focusing on good old fashioned basics and just having fun. Nothing else and nothing more.
The World of Dynamo
Page 3 of 3 •

1, 2, 3

---
Permissions in this forum:
You
cannot
reply to topics in this forum