Champions & #1 contenders
Highfly Flying Out Of Town
Tue May 22, 2018 1:31 am by HighFly
Hello everyone, I just wanted to inform all I have threads with that I will be gone from this coming Wednesday through Sunday. I won't be able to post consistently if at all during this time, but I will try to make up for it next week! I am sorry for the inconvenience to everyone.
Comments: 7
The Austrailian Mudslide is Back.
Sat Apr 21, 2018 6:20 am by Softsquad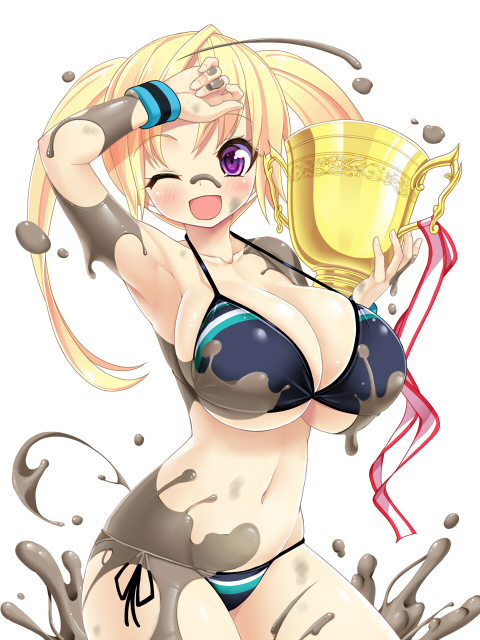 Granted that most of you won't know me or remember me, but I've had a few matches here and there some time ago. Well I think its time to become a regular around here and try to have some fun again, but at the same time keep coming back. Anyway I think its time to jump into some matches with Zoe Taylor, my mud wrestling character from Australia and get her back into the squared circle. Furthermore I will update my characters as I think some proper changes need to happen.
So if anyone would …
[
Full reading
]
Comments: 5
Page 3 of 5 •

1, 2, 3, 4, 5


A cheerleader was the exact last thing Stone wanted or needed, and it didn't help that Mako would have sucked in the role even if that wasn't the case. In a way, Stone blamed herself. After all, she'd let Mako rule the Valkyries unchallenged for so long, the little brat was starting to get a Napoleon complex and buy into her own hype. When this was over, they would have to discuss boundaries in their roles. A talk that was long overdue.

Stone had plenty of time to think on things like this as she laid on the floor. It wasn't the pain from the hurricanrana that messed her up - getting slammed on her back like that did hurt, but the sudden flip was the real problem. Her equilibrium was all discombobulated, and she tried to get her bearings as she sat up.

She never got the chance.

Before Stone could get to a 90 degree angle, Vida's back came crashing down on her chest like a massive punch to her entire body, flattening her again and leaving her a groaning mess. She stayed on her back this time, clutching her chest as she rolled from side to side. "Damn it..."
Vida bounced off of Vida with enough force to cause the luchadora to grunt, a bit. The senton allowed her to distribute the force of the blow across her entire back, but it still smarted a little in those already-aching muscles. Still, it was worth it, if it meant the rookie could get that much more of a leg up, on her powerful competition.

Knowing she couldn't sit back and rest for long, Vida sat upright out of the senton, and tried to map out her next move. For a moment, the young latina regarded the blue-haired lady at ringside, again. Vida couldn't figure out what that sour-looking woman's deal was. In the past, when someone had been in her corner, it was a friend or ally. Someone supportive. From the anger in that woman's voice and glare, that didn't seem to be her relationship to Stone, at all.

Vida shook the thought out of her head, hoping that the momentary distraction wouldn't cost her too greatly as she tried to set up her next move. Rolling off of her bottom and springing to her feet, Vida ran again to the corner post. Hopping upwards, Vida climbed to the very top rope. Keeping her glance over her right shoulder, Vida kept her eyes fixed on Stone. Hoping to get herself into position before the larger, more powerful fighter could regain her bearings, Vida prepped to launch herself into the air again, this time striking out at Stone with a high moonsault. Sweat was beading along Vida's brow, as she wondered know how long she could keep this pace up. Squaring her jaw, however, Vida resolved that while she had the strength, she owed it to herself to try and keep pushing her advantage for as long as it would last.
Mako regarded Vida, as well. With her middle finger.

She didn't know who this little Latino chocolate drop thought she was, but she was clearly a wee bit too full of herself. All energetic, starry eyed, bright and shining - it made Mako throw up in her mouth a little. Stone was having her little match, but she didn't seem to grasp what was riding, here. The Valkyries had a reputation. Losing matches was one thing, losing matches to Kawaii league fodder was another. Some things just couldn't be allowed, and if she had to step in to keep the gang's foundation solid, she'd do it in a heartbeat.

Back in the ring, Stone was a little too focused on the pain to give that sort of thing much thought. She knew what was coming. Vida would start to work her over - kicks, holds, maybe submissions. She would continue to soften Stone up, and the longer that went on, the better her chances for a retaliatory strike.

But that's not what happened. Instead, the audience started going wild, and Stone peeked to see Vida getting up on the turnbuckle, going for a high-risk maneuver. This early in the game? Stone was hurting, but she was far from being too bad to counter something like this. What was going through Vida's head? Was anything?

As sure as day follows night, Stone moonsaulted. Stone was tempted to bring her knees up, but she decided to be merciful and just tried to roll out of the way instead, giving Vida much harder landing than she'd planned for.
As Vida saw Stone writhing on the mat, she tried to put everything else out of her mind. The pain in her neck, the scrutiny of the fans at ringside. In particular, she tried to forget about the sour-looking woman flipping her off from ringside. No, in this moment, with the arena lights beating down on her oiled, brown shoulders, Vida knew that all she could focus on was the moment that she and her opponent were sharing, and trying to follow through with the move she had in store, for her.

As Vida pushed off of the ringpost, she felt the rush of adrenaline as her body launched into the sky. The cheers of the crowd rushed up to meet her ears, the sensation of gravity ready to yank her back down to earth, the knowledge that she had to execute this move perfectly, if she was going to walk away from this. It was this rush, this sensation, that had first called Vida to the ring, all those years ago. Vida's momentum carried her in a high arc, her body turning gracefully at the apex of her jump, as the young luchadora gave it completely up to faith that she would find her mark, when she came sailing back down.

That faith was crushed, as the latina warrior felt her body crash hard against the mat. "Ooooaaaaarrrrrghhhh!" Vida screamed, as she felt her soft, giving body hit hard against the mat. The breath was driven from her lungs, as the latina shot back up to her knees. Tears welling in her eyes, Vida hugged her soft and aching chest, tightly. Only able to open her eyes to small, watery slits, Vida searched for Stone. Obviously, the powerhouse had dodged her admittedly ambitious attack. But now, struggling to force air back into her lungs, every slender muscle racked with pain, Vida was could only sit back, and wait for whatever terrible retaliation her opponent was about to bring her way.
Stone was hardly a stranger to cries of anguish and pain, but even she had to cringe when she heard Vida's shrill wail. If Vida had been allowed to run wild, she'd just walk her little boots all over Stone and never look back. Stone knew all too well how disastrous it could be when a ball of fury like that got some real momentum. She didn't take any joy in stopping, just something that had to be done.

Mako, however, was being much less modest about. "Fuck yeah! About goddamn time!" She broke into wild applause. "Hey, chica, how's the mat taste?"

Stone rolled her eyes at the 'cheering' and focused on the task at hand. Luchadores were a slippery bunch and Vida had already shown herself to be good at turning things around - her jaw was still sore from that kick earlier, and it would likely be that way for days. She needed to put this girl down hard, which meant it was time to break out the power moves.

She moved over to Vida's head and wrapped her hands around her skull, forcing her to stand up and jerking her about a bit to keep her in line. Grabbing her from the back, she effortlessly lifted the little lady into the air, brought one hand between her legs to force them apart, and dropped her tailbone straight down on the knee for an atomic drop. The audience let out a collective gasp at the impact. Always a crowd pleaser, that move.
Vida's head was spinning, as she clutched her aching chest. She could hear someone's taunts, sinking into her ears through the heavy fog of pain swirling around her. Stone's? That other girl? Vida couldn't suss it out, but knew it didn't matter. She had to push through this pain, now, try to get her bearings before she lost even more ground.

Vida's whole body ached, at the force of that impact. Stone had quickly and efficiently shut her down, but the luchadora knew she only had herself to blame. Way too much, way too quick. "There will be plenty of time to kick myself later," Vida whispered, to herself. "Have to get back on my feet, now. Back in control. Back, w-wait, what~"

Vida's words of encouragement were immediately cut short, as Stone hoisted the aching latina up into the air. Vida struggled against the lift, to no avail. Vida could feel her slender, softer body squirming helplessly against Stone's cut figure as she was wrung helplessly in the hold. Stone was shaking the life out of her, and in her current shape there was nothing Vida could do, to resist. "Eee~!" Vida squealed, as her legs were forced apart. She knew what was coming, but that knowledge did nothing to help her prepare for it. As her tailbone was smashed mercilessly against Stone's knee, Vida let out a loud sob, and fell limp. The roar of the crowd and the surge of pain overwhelmed the aspiring luchadora. Listless in Stone's arms, for the moment all Vida could manage was to struggle for breath, her every muscle glistening with sweat as she tried to gather the strength to fight back.
Vida went down and the boos went up. Who didn't see that coming?

Stone hadn't even done anything to deserve it, that was the irritating thing. The Atomic Drop only looked like an illegal move. It didn't actually target the crotch, but that was the perception and she'd just have to deal with it.

She tuned the jeers from the peanut gallery out and focused on Vida as she laid on the floor, looking like she wouldn't get up for a good little while - if there was ever a time when going airborne was safe, this was it. She'd only done moves like this in practice so far, never could convince any of the Valkyries to play test dummy. Vida was going to be the first subject in a painful experiment.

Stone threw a quick thumbs down and took off to the ropes, then jumped on the middle rope and flipped backwards, swinging her large body up and over in a perfect arc while the arena come alive with camera flashes. Good or bad, it wasn't everyday the audience saw someone her size attempt a moonsault splash.
Back flat on the mat, Vida shook her head and struggled to keep her wits about her. That was the tough part, of taking a beating like Stone was giving her. Keeping your head in the game, not letting it overwhelm you so that the opponent could do whatever they wanted. Still,with the overwhelming pain shooting through Vida's entire body, it really didn't seem as if there was going to be anything she could do, to counter any moves Stone might have planned, next.

Unable to get a good, focused look at what her opponent was doing, Vida could at least tell from the sound of the crowd that something big was on its way. The latina's head shook violently, as she tried to bring the world back into focus, but nothing was working. The first thing she was able to see, was the massive figure already bearing down at her from between the piercing arena lights.

"Hhhhwwwooooouuff!" Vida groaned, every bit of air driven from her lungs, as Stone crashed down on top of her. The roar of the impressed crowd was overwhelming, even if everything sounded painfully underwater, at the moment. Stone's body coming down on her felt like a ton of bricks, her firm and muscular figure nearly crushing the latina's tiny torso. Vida's slender body recoiled in on itself, trying feebly to pull into the fetal position, following the devastating blow. Her midsection aching, her body battered and beaten, Vida' body subconsciously attempted to curl into a protective ball, desperately hoping to protect herself against a powerful opponent that was now clearly in the driver's seat.
Stone was never one for physics lessons - she never took the class, never read a paper, didn't understand most of it. But the effect of a woman her size landing on a woman Vida's size was quite easy tocomprehend. All you had to do was listen to the sound of her smaller opponent croaking to get a good idea.

When the crowd was done being wowed by the acrobatics, the boos started up once again as she sat up and revealed Vida's crushed form beneath her. The latina's small frame had been pancaked by the impact, her body naturally curling up from the heavy blow. As near as she could tell from rising din of the crowd, they thought Stone had done that move as a way to taunt Vida with her own style, just to rub in her dominance. She could prove them wrong easy enough, if she had more opportunities to break out her moves. But that all depended on Vida.

She reached down and tried to pry the small girl's body open, laying across her for a pin. The referee moved in for the three count. "1...!"

"Come on." Stone whispered, just loud enough for Vida to hear. "Impress me."
The impact had been devastating, and all Vida could focus on was the pain. Tears edged out of her eyes as her slender body folded in on itself in agony. The rookie knew she hadn't experienced much in a wrestling ring, but if she never had to take another blow like that from another woman like Stone, it would be too soon.

The roar of the crowd sounded incredibly underwater, at the moment. What she could make out, however, was their tone. The chorus of boos that settled in, after Stone had ground Vida to paste, in the center of the ring. Vida decided to take it as a show of support, hoped this meant the crowd was getting behind her. With her body and mind this close to simply giving up, Vida knew she was going to need every slight bit of support possible as Stone's heavy, muscular figure laid over her for the pin.

"Two!" Gritting her teeth, Vida threw ever bit of her willpower into rolling off of her shoulder. The crowd cheered in shock, at the smaller latina managed to shove Stone aside just enough for the referee to stop the pin count. Gasping for air, a distant look in her eyes, Vida stared back into Stone's face. "Not … not that easy …" Her chest rising and falling as she fought for breath, Vida tried to roll up into a seated position. Any minute now, she knew her opponent was going to be right on top of her, yet again. She could only hope that she'd be ready.
Page 3 of 5 •

1, 2, 3, 4, 5


---
Permissions in this forum:
You
cannot
reply to topics in this forum