Who is online?
In total there are
34
users online :: 9 Registered, 1 Hidden and 24 Guests :: 2 Bots
FlameofHope
,
LARIATO
,
LunarWolf
,
PrizewellStar12
,
Teenwrestler
,
TheWamts
,
Un3xpected
,
Underdog21
,
Vcom7418
Most users ever online was
155
on Sun Oct 09, 2016 8:33 am
Champions & #1 contenders
Debut Match wanted
Wed Mar 22, 2017 4:33 am by LadyX
Hey everyone! I'm new in town and I was wondering if any of you would be kind enough to hook my first girl Apollyon up with a debut match?
Bring it on. I am ready for anything.
There you have it, folks. Apollyon is ready to rumble in any match type. Just let me know beforehand.
Comments: 1
Mig's Match Hub
Wed Mar 22, 2017 3:38 pm by Miglico
Hi, I'm currently looking for more matches for Miria. Friction only, hentai preferred. If you like to do domination match with my character losing or even handicap, that'd be great.
Please contact me through PM instead of replying here. Thank you for your time.
Comments: 0
Small Edit.
Tue Mar 21, 2017 3:23 pm by Minion
Comments: 0
Name:
Neith Haruko
Alias:
the Sable Sun
Sex:
Female
Age:
19
Eyes:
Golden Amber
Hair:
Sliver
Height:
5'6"
Weight:
134 lbs
Nationality:
Japanese Egyptian
Alignment:
Nuetral
Entrance music:Wrestling Information
Strategy: Quick blows, try to get them in a position to be smothered or just knocked out. If they are tough, be more relentless than they can handle.
Style: Dambe and Wrestling
Favored moves:
Smothers and High Kicks
Preferred Matches:
She can deal with most matches but has some trouble in submission matches.
Stats
Wrestling:
Endurance: ▮▮▮▮▮▮▮▮▮▮
Strength: ▮▮▮▮▮▮▮▮▮▮
Speed: ▮▮▮▮▮▮▮▮▮▮
Defense: ▮▮▮▮▮▮▮▮▮▮
Technique: ▮▮▮▮▮▮▮▮▮▮
Hentai:
Strength: ▮▮▮▮▮▮▮▮▮▮
Defence: ▮▮▮▮▮▮▮▮▮▮
Libido: ▮▮▮▮▮▮▮▮▮▮
Technique: ▮▮▮▮▮▮▮▮▮▮
Difficulty based on Match Type:
Normal: ▮▮▮▮▮▮▮▮▮▮
Submission: ▮▮▮▮▮▮▮▮▮▮
Hardcore: ▮▮▮▮▮▮▮▮▮▮
Hentai: ▮▮▮▮▮▮▮▮▮▮
Finishing moves:
Drown out the Sun!
Neith takes a dazed opponent and sets her against the turnbuckle upside down, using their own arms and legs to hold them up. She climbs to the top rope and then drops her rear onto their face, smothering them underneath her large butt. She grabs their legs and keeps them spread with her strength, while her legs keep the opponent's arms pinned against the ropes. She then bounces and wiggles her rear around to make the whole thing a little more humiliating.
The Blackout
Neith strikes her opponent first in the face then in the stomach, doubling them over just in time to collect a powerful knee to the jaw. As they stumble back, she takes one step back and drives forward and up, delivering a devastating superkick up and through their chin.
Characteristics
Appearance:
[url=http://s1156.photobucket.com/user/InsanityVoid/media/41853760_zps6d0ee67e.jpg.html:10dy7na8]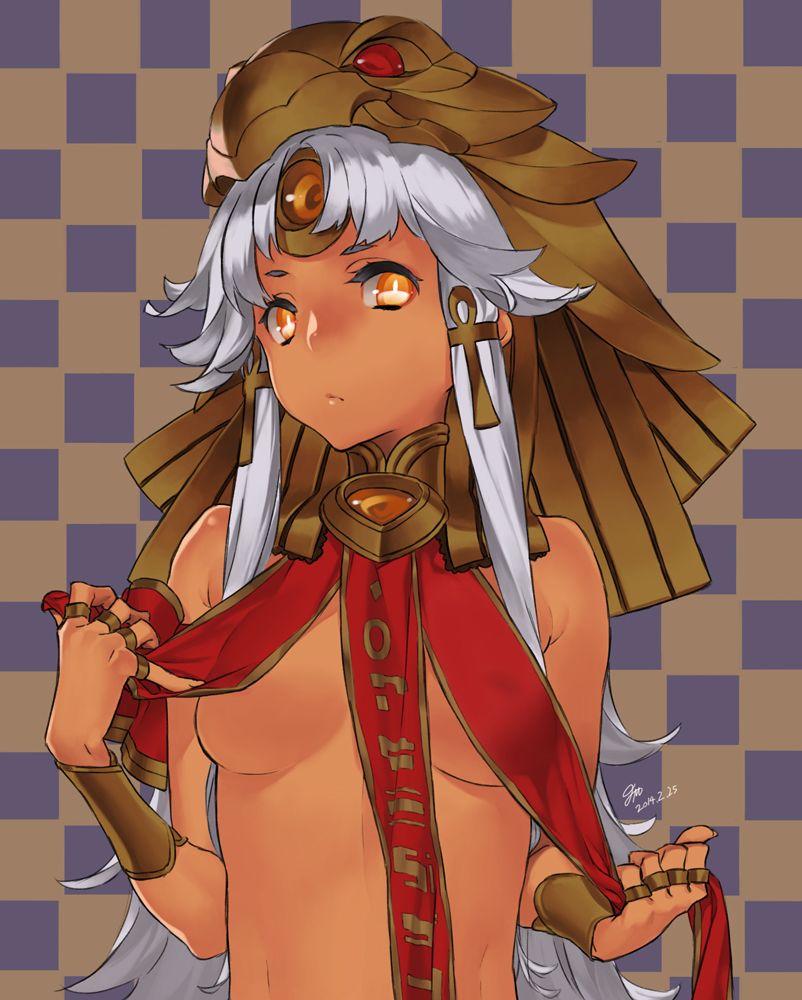 [/url:10dy7na8]
Wrestling Attire:
Neith wears the same choker/ribbons from picture, and a tight tang top with black shorts. She wraps her hands in white tape as is customary in Dambe. She takes off the actual headdress when the fight begins.
Personality:
Neith is a very passionate person; she likes to leave everything she's got in the ring, whether it's the actual wrestling ring or some other endeavor in her life. She does this ever since her father taught her about fighting for your dreams no matter how silly they seem at the time. She is a little argumentative because of how passionate she is on certain subjects. Outside of the ring she is a dork, and plays games and spends time learning about new things to add to her drawings. She is a more literal social butterfly, starting any gathering or interaction pretty reserved, but as it goes on she opens up to reveal a usually happy girl.
Past/History:
Neith was born to an Egyptian mother and a Japanese father in a very normal home. However she was always a stand-out child, always the dreamer and the friendly girl to her classmates. She grew up with her father's insistence that she focus on things she liked to do, and find purpose in them. She found art first and fell in love with it, even as a small child knowing she wanted to incorporate it into her later years. She worked and worked at it from the age of 10 and on, proving she had great talent for a youngster. However, her father encouraged her to explore even more things and never settle with just one thing, he suggested she find as many passions as she could and put them together to truly find what would make her happy when she was older.
She found gymnastics next. She began training at 12 and had a lot of fun seeing the results of her work. She kept the process up and learned a lot of things, using her father's books and the internet to teach her what they couldn't afford to get lessons for. It was when she decided to look into some of her Egyptian heritage that Neith found fighting. It was what her mother's brother did for a living down there. However this was the first time her family shut down an interest she had as soon as they found out she was letting her uncle teach her through video calls: the fighting was extremely dangerous and they didn't want her to get hurt. She still learned because she chose to follow her father's initial message and go after anything she wanted to be. It was a fighting style focused on using the strong side-fist for strikes, and training the legs to allow for explosive power. She began to improve rapidly, quickly knowing how to hit harder and more effectively than the boys on her school's boxing team. Her real strength in the style came from her legs, which had turned into well-tuned machines when it came to delivering kicks with sickening force. Then she began to notice the negative response from her peers when they saw her practicing in school to hide it from her parents. People were mocking her and her dreams: "Oh look at her now, does she think she can be a boxer too? That stupid dreamer, it will be funny when she gets her wake up call." Neith was surprised that her friends would say those things about her and it really got under her skin. She tried to change how she behaved so they would stop and things could go back to normal, but she could only keep up the façade for a little while. She felt like she was beginning to disappear in her classrooms and she was really distressed about this. She told her father about it and to try and help, he explained her name. "Your name is Egyptian and Japanese for Washed out Sun. I named you that because I saw in you a child so bright, that she darkened the sun with her brilliance." Neith eventually yelled at her friends for mocking her and told them to watch as she found happiness and they pushed buttons in front of a computer all day.
She redoubled her efforts then, as she finally settled in on what she loved the most: art, because it was her first and still her greatest; Dambe, the fighting style that let her speak with her uncle and connect with her heritage; and gymnastics, which kept her body lean and powerful and where she brought the other two together.
It was this combination that got her work after she left school. She used her art to sculpt herself beautiful outfits to wear as she performed and incorporated her Dambe into the routines creating shows with intense beauty and power; she slowly built a decent following and was able to sustain herself with the money she made from shows. But Neith was never one to simply sustain herself: she wanted to live and thrive, not to just survive. She needed that extra push, the drive that would make every day an adventure. Soon enough she thought of another way to bring her two first loves together: wrestling. Much like gymnastics, her art and costume-crafting skill made her a wonder to watch, and her experience with Dambe made her a menace to fight. She pushed herself every day and even more so after she lost, until she was the champion of her local league and was scouted out by AFW. She happily accepted the challenge to step her own fighting capacity up and make it to the big leagues. She trained by studying wrestling and the AFW for about 2 extra months before she decide it was time to show the world a dark sun in the ring.
Fun Facts:
-Neith is an artist and sculptor, she crafts parts for peoples costumes, varying from cosplay to full on theater pieces.
-Neith relaxes a home in a long shirt with a cup of hot chocolate
-Neith loves pineapples
-Neith enjoys bars and will often go drinking with close friends
-Neith is a very happy drunk
-She is angered when people mock things she believes in
AFW Information
Record:
Wins:
Losses:
Draws:
Championships/Accomplishments:
Friends:
Allies:
Rivals:
Enemies:
Crushes:
Story so Far:Neith arrives



Posts

: 40


Join date

: 2014-07-24



Approved! You may make matches and rp as you like ^ ^



Posts

: 27333


Join date

: 2009-04-02


Age

: 96


Location

: VIP Box inside the AFWDome



---
Permissions in this forum:
You
cannot
reply to topics in this forum