Champions & #1 contenders
Seeking: Friction Spar Match
Mon Nov 20, 2017 6:40 am by Yori
Looking for a spar for
Alexa.
Howdy, I'm new to the forums and figured I should get my, and my characters toes wet with some good old fashion sparring. It can be a one off, or blossom into something else down the road for a friend/rival relationship. Alexa as a character is a fresh face, and an unrefined talent. I don't mind having someone at her skill level to have an event match, or someone superior to her to have a more one sided bout. I'm looking to use this regardless as a way to build …
[
Full reading
]
Comments: 1
Gonna be slow the next week or so... just had surgery IRL
Wed Nov 15, 2017 2:33 am by SleeperAgent94
Hey guys, got back from surgery today. Ruptured abdominal wall. In a LOT of pain right now, so posts will be VERY brief the next few days.
Comments: 6
Character updates.
Wed Nov 15, 2017 4:14 pm by Lotuswarrior
Since I'm starting to get a bit busier here, I'm trying to be a bit more professional. With that I'm going to overhaul my characters and update their profiles or release them all together. I'll post any images here of the characters I release, so that you guys/girls can claim them if you want.
Also looking for some characters to interact with outside of matches.
Comments: 0
Page 1 of 7 • 1, 2, 3, 4, 5, 6, 7

Genna and Catherine's room was all set up. It looked like a normal room for two tomboys, but with cameras and other recording equipment set up. After setting everything up, Catherine left to the other room and decided to watch her sister's first fight in the living room, using a headset so she doesn't get an echo. Genna double checked everything while she waited. The nightstands had some sex toys on it and the bedsheets reflected their patriotism with the American flag. The walls had 3 real guns and a few airsoft ones on it: Catherine's Magnums, "Mercy" and "Justice", and Genna's Sniper Rifle, which has no name, and a few sniper/assault rifles, airsoft of course. Amongst the weapons there are a few video game posters. And in front of the bed is a tv with all the game consoles and 2 PCs to the side with some Hentai wallpaper.

Genna was dressed in a camo underwear for the match, as that is what she sleeps in (if she didn't have some fun first.) She was ready to fight her opponent. Funny, her sister fought a girl in a haxorous outfit for her first match and she became her first friend here. Hopefully her opponent will be the same for her.
[url=http://s1126.photobucket.com/user/armads89/media/839bb765fa.jpg.html:2jr51omq]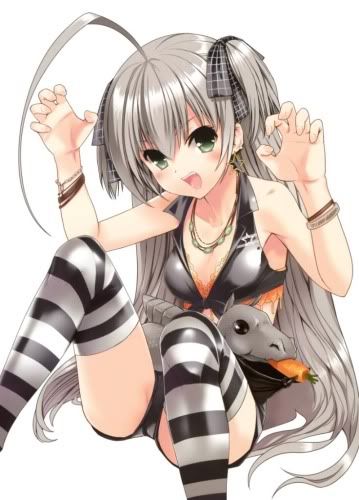 [/url:2jr51omq]
Lynwen was excited about her upcoming match. It had been awhile since she was given the opportunity to prove the might of a dragon. Lynwen entered the room where she was supposed to fight her opponent and she had to admit it was an awkward sight. Lynwen was wearing her normal attire with her stuffed dragon stuffed between her breasts.
Lynwen entered the bedroom and looked around to see her opponent. "Hey, I can't wait to make you mine. No one challenges a dragon and wins." Lynwen said before letting out a growl and hopping up onto the bed. "I am going to enjoy playing with you." Lynwen would say as she would jump on the bed a little as she waited for her opponent to make the first move.
Genna looked at her opponent. She looked cute, especially with that stuffed animal and dragon acting. She then replied. "Well, no one but me." she raises her fist up "And you are going down." she try to sound intimidating, but she only manages to sound cute. "By the way, name's Genna. I hope we have a fun match." she extends her hand.
Lynwen look at Genna and smiled "You can't beat a dragon." Lynwen said as she hopped towards Genna. "I am Lynwen the mighty dragon." Lynwen then took Genna's extended hand and shook it. "I am going to have so much fun beating you." Lynwen would say as she would hop forward to try and shove Genna's face between her small breasts.
Genna was honestly expecting an early attack like this. She didn't blame her, cause even though she is a nice girl, she would do the same. Plus she was going to give her the honor of first attack since she was her guest. Of course, expecting an attack and blocking it are two different things. Despite her resistance, Lynwen managed to place her face into her small breasts, right next to the stuffed dragon. She attempts to get out, well, if you can call flailing arms an attempt.
Lynwen smiled as she pulled Genna into her small chest. "You should get used to it in there. After i win i am going to enjoy smothering you out in there." Lynwen would say befor she pushed Genna away as Genna's struggles were becoming too much for Lynwen. After pushing Genna away Lynwen would remove the toy dragon from her shirt and place him on the ground outside the bed. "Ok, time to teach you why dragons are the best." Lynwen would say as she would try to pounce on Genna to try to pin her opponent to the bed.
Genna raised her hands and halts the pounce by grabbing her arms, at least for now, maybe Lywen would win this strength test. Maybe Genna would be able to strike. Who knows? "Hey, how about we up the ante? If you win, you get me and my sis, but if I win, she gets you for tomorrow night. Knock on the door if you are okay with that, Cath." She then knocks "What do you say? After all, I can't beat a dragon."
Last edited by 12691 on Tue Jul 22, 2014 7:32 am; edited 2 times in total
Lynwen put on a pouty face as Genna stopped her before she could tackle her opponent. "Well a dragon does love treasure and the more reward the better." Lynwen would say as she tried to overpower Genna. "Fine, you have a deal. Just don't complain when the dragon beats you." Lynwen would say as she would try to turn her hips and toss Genna down onto the bed so Lynwen could mount Genna
Genna nods as she starts to push back Lynwen, but her quick maneuver got her down on the bed. She attempts to push her off as she says. "I thought humans were the ones that mount dragons."
Lynwen smiled as she tossed Genna to the bed and mounted her. "Nope, dragons crush humans and take their treasure." Lynwen would say as she would try to start the match off right by hopping forward to place her covered crotch right on Genna's face. "The dragon will always win." Lynwen would shout before rubbing her crotch on Genna's face to show her dominance.
Page 1 of 7 • 1, 2, 3, 4, 5, 6, 7


Similar topics
---
Permissions in this forum:
You
cannot
reply to topics in this forum