Who is online?
In total there are
28
users online :: 3 Registered, 1 Hidden and 24 Guests :: 2 Bots
acuya
,
Link-mon
,
Yori
Most users ever online was
390
on Tue Jan 02, 2018 2:02 pm
Champions & #1 contenders
Serious apologies to everyone....
Mon Mar 19, 2018 1:59 am by Cy_Man
To those who I RP with, I just want to say that I am terribly sorry for all my delays that I constantly do. I just have been SO unbelievably busy as of late that I hardly have any free time to be able to attempt to make posts to our threads. I really needed to get his off my chest badly, and it makes me feel like a complete piece of shit for doing this all the time. If you don't want to RP with me, I completely understand, there should be no reason or excuse for me to have to keep you waiting …
[
Full reading
]
Comments: 1
Explanations and Apologies
Sun Mar 18, 2018 10:02 pm by acuya
Okay, so.
As some of you may have noticed, the Entropy Title Match from last year's Summer Splash has come to an abrupt conclusion.
The reason for this is because my match with Lies was taking too long, and with the next Summer Splash coming up, the Entropy Belt needed to be put in play for this year.
I won't get into the specifics of WHY that happened, suffice to say it ultimately comes down to my fault, I think. For those who haven't been here long, back in the day, I had a problem with …
[
Full reading
]
Comments: 1
A match for Takeichi
Mon Mar 12, 2018 7:31 am by GrandAkumaShogun
Since both Imai and Takeshi are currently involved in matches I was wondering if anyone is interested in taking on my first wrestler I made for here, Takeichi Mori. His profile says he's a jobber but I intend to change that and hoping a match can help with that. Anyone interested please get in touch with me on here in a pm.
Comments: 1
Page 1 of 7 • 1, 2, 3, 4, 5, 6, 7


Tag Match
Win by Pinfall or Submission.
[url=http://s1126.photobucket.com/user/armads89/media/46160_One_piece_95.jpg.html:1dp28ucq]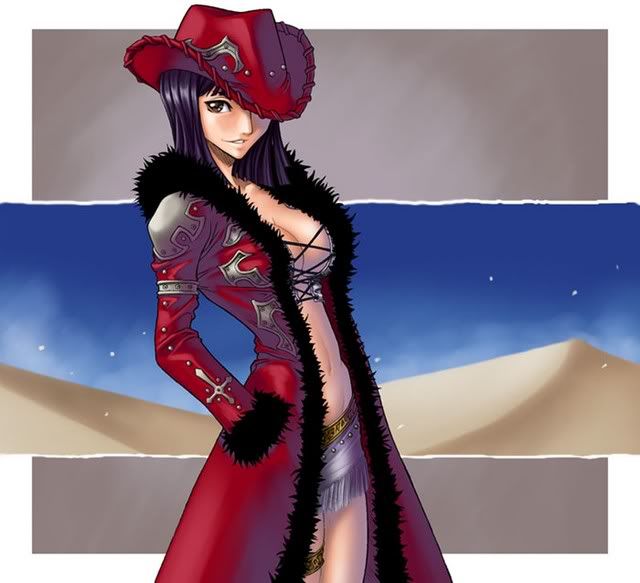 [/url:1dp28ucq]
[url=http://s1126.photobucket.com/user/armads89/media/One_Piece_25.jpg.html:1dp28ucq]
[/url:1dp28ucq]
Erica and Misha were standing backstage stretching and preparing for their upcoming match tonight. Soon Misha heard their music begin to play and she gave Erica a playful slap on the ass before moving towards the entrance. "Let's go Erica. We have some lovely new challengers to dominate tonight." Misha said before stepping out into the arena to the cheers of the fans.
Erica was not far behind Misha and she had a smile on her face as she walked behind Misha while waving to the crowd. "Oh, i hope there is a cute one. I love wrestling the cute ones." Erica would say as both girls reached the ring. Misha took the steps up while Erica slid under the bottom rope. As the tow of them stood on the apron Misha took off her hat and flung it into the audience before leaning over and giving Erica a kiss on the lips.
The crowd erupted in cheers while the two women made out in the ring. After a few seconds Misha would push Erica towards the corner and look towards the entrance "I call first dibs. i want to play a little before you have your turn." Misha would say to Erica while waiting for thier opponents to arrive.

_________________
Characters

The Den
Kat's cheeks reddened uncontrollably as she watched the monitors. "W-w-w-what are they DOING!?" She gasped and pointed, covering her mouth.
"They're making out, Kat. You know what they are doing." Seele leaned forward and pressed her lips against Kat's ear. "You've doooone it before~"
Kat shivered and pushed Seele away. "N-Not on purpose! They aren't going to do that to US are they!?"
"Just me, if I'm as good as i know I am." Seele said with a smirk as their music started up.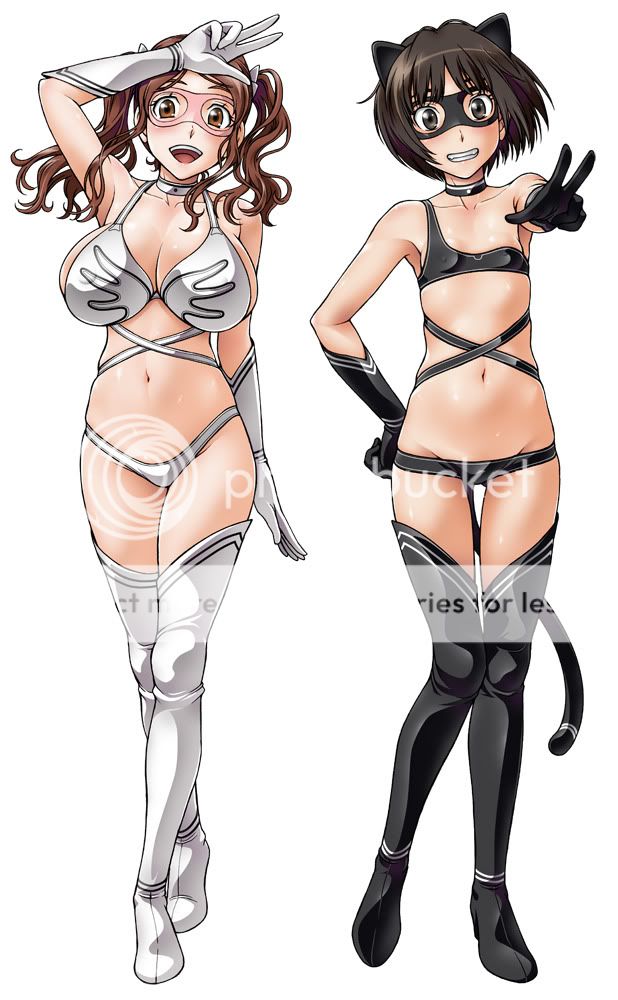 Seele and kat entered though the backstage. Kat, with her usual exhuberance ran down the ramp with her arms outstretched like airplane wings. Seele giggled and tittered her way down the ramp a bit more slower, taking time to blow kisses at the crowd and making sure her large breasts bounced precariously, threatening to spill out of her top. She giggled effervescently while Kat slid into the ring and hopped up.
"Hi!" She chirped and waved at the girls.
Seele entered shortly behind her as seductively as possible before stepping next to Kat. "Teehee!" She giggled cutely. "And what do we have here? Do you think you can stand up to the magical tricks of a fairycat?" She asked. "Teehee." She added, chuckling in a way that made her boobs extra bouncy.
Misha whistled as she saw her opponents for the night. One of them seemed like a little kid the way she acted but the girl behind looked like she could be fun to play with. As her opponents enters the ring Misha slipped off her coat and smiled at Seele and Kat. "Oh, i don't plan to stand up to a fairycat. I plan on dominating one." Misha said with a smile as she leaned closer to Seele. "I am going to enjoy breaking you." Misha would say as Erica giggled in the corner while waving to Kat.

"WE are going to have so much fun together." Erica would say before blowing Kat a kiss.

_________________
Characters

The Den
"Fun!? Yay!" Kat said as Erica waved at her. Kat waved back enthusiastically. She came here to have fun! Finally someone else got it! She hopped up and down and really wanted to go first but Seele was still in the middle of the ring, facing Misha as their breasts suddenly kissed when Misha leaned close.

The white clad fairy wasn't very thrilled at the girl's words. What a brutish blowhard. Seele thought but her beam never left her face. "Break? teehee!" She giggled obnoxiously, letting her rumbling belly wobble her huge tits against Misha's.

"You can't break a fairy, silly!" She said, lifting her hand and 'booping' Misha's nose playfully. "You should be more like your partner and try and have as much fun while you can!"

Seele teased and turned, wiggling her ass at Misha as she went back to her corner. She leaned against it and while Kat leaned next to her, Seele kept her smile but whispered darkly.

"I'm going first. I wanna fuck that ugly purple haired bitch up."

"Fun, Seele! Fun!" Kat said and gave Seele's arm a playful punch before sliding through the ropes.

The fairy wasn't interested in fun when someone was threatening her like that, however.
Misha smiled as Seele rubbed her tits against her own impressive pair "Oh, telling me i can;t just makes me want to try harder." Misha said as she woul take a step forward to press her chest into Seele's some more. "Don't worry about me. I promise you i will have plenty of fun." Misha said before stepping away from Seele as Seele went to her corner.

Misha watched as her two opponents had a little chat in the corner and when she saw Kat slipping out of the ring Misha smiled. "Oh, do i get to play with you first Little Fairy?" Misha would say to Seele as it seemed like Misah wasn't taking her opponent seriously.

_________________
Characters

The Den
"Teehee, yep!" Seele giggled as she looked at Misha, seeming like she wasn't really serious about wrestling. The fairy girl still circled and looked at Misha, keeping her eyes locked on Misha's while she made sure her chest bobbed and threatened to escape her bikini, hoping to draw Misha's attention.

"What kind of fun were you after?" She asked. "Teehee." She giggled. Seele ran her fingers down her cleavage enticingly while she circled, still not even attempting a move or even a lock up.
Misha watched Seele prance around the ring and she had to admit that Seele had an impressive chest and she seemed to like to show it off. "Oh, i think you know what type of fum i am after." Misha would say as she would start to move towards Seele at a brisk pace. "Well enough of this foreplay. Shall we get the main event started?" Misha would say as she would reach towards Seele's hair to pull her close so that their breasts were touching.

_________________
Characters

The Den
"Teehee!"

Seelee's eyes sparkled as she seemed to rile up Misha a bit. When the girl reached out for her hair, Selee dropped all the way down tot he mat and tried to hook Misha's ankles with her own and take down the traveller with a drop toe hold. She was goign to teach Misha that the fairy's tricks weren't just her devastating body. She was as good a wrestler as anyone else.
Misha smiled as Seele continued to laugh and prance around but as Misha moved towards her opponent, Seele dropped down and brought Misha down to the mat. Misha hit the mat chest first with a loud thud followed by a groan from Misha. "Uh, that wasn't very fairy like." Misha said as she would roll onto her back and rub her breasts to get rid of the pain.

_________________
Characters

The Den
"Teehee."

Seele giggled when Misha hit the mat. It was nice to watch the cocky explorer go down. Seele could get pretty technical if she wanted to but as Misha rolled onto her back, Seele tried to mount her so she could look down at the raven haired girl. "It was exactly fairy like! teehee!"

Seele would then try and breast smother Misha. "Just like this!"
Page 1 of 7 • 1, 2, 3, 4, 5, 6, 7



Similar topics
---
Permissions in this forum:
You
cannot
reply to topics in this forum