Who is online?
In total there are
46
users online :: 10 Registered, 0 Hidden and 36 Guests :: 2 Bots
Amber Fey
,
Deus001
,
french Centaur
,
kaz
,
Lobo
,
M.J.Caboose14
,
Sylvie
,
ThunderFox
,
xalex
,
Zebra Crossing
Most users ever online was
155
on Sun Oct 09, 2016 8:33 am
Champions & #1 contenders
From, Submissive Girl. Sorry about my inactivity.
Mon Oct 24, 2016 7:06 am by Submissive Girl
Hey! I know I haven't been on in a while. Unfortunately it might stay like that for a while.
I am super sorry about not being on more often. I am supper busy In real life.
Just so you understand a little bit about my life
1. I am a college sophomore taking 20 credit hours.
2. I have a job at as a cashier at a busy gift shop in a popular place in Florida (Not saying my city, but it is very busy where I am)
3. I have an intership that I work about 12 hours a week.
4. I am seeing a guy (Kind of …
[
Full reading
]
Comments: 6
First Tension Match.
Mon Oct 24, 2016 1:54 am by Zebra Crossing
Now that I've sorted some things for my FnF character, I'd like to try and get a match going for my recently approved Tension character.
------------------------------------------------------------------------------------------------------------------------------------------------------------------------------------------------------------------
I enjoy having some input from my RP partner unless I have something super specific in mind, so exactly what kind of match it is or what will happen …
[
Full reading
]
Comments: 0
Tadao Debut Match
Thu Oct 20, 2016 4:33 am by TheEditor1023
http://www.afwrpg.com/t15217-tadao-chikamatsu
Looking for a debut match for my new character, Tadao Chikamatsu. If you're interested feel free to PM me

Comments: 1
Name: Suzumi Ishikawa
Alias: The Tsunami
Sex/Gender: Female
Age: 23 (D.O.B 2/14/93)
Eyes: Brown
Hair: Silver
Height: 5'6''
Weight: 137
Nationality: Japanese
Citizenship: Japan
Ring Attire: 1-piece orange and white swimsuit, with matching kneepads and boots.  Orange arm sleeves.
Entrance Theme: Welcome To Paradise by Green Day
Alignment: Face
Stat Spread:
Strength- 82
Submission- 94
Durability- 84
Technical- 88
Speed- 80
Charisma- 97
Hardcore- 75
Stamina- 86
OVERALL- 87
Finisher: Tsunami Sleeper (Modified dragon sleeper where Suzumi locks up her opponent from behind with her strong arm around her opponents throat.  She wraps her legs around her opponents abdomen and has her left arm free to land softening strikes)
Favorite Moves:
-Powerslam
-Running Lariat
-Octopus Hold
-Ankle Lock
-German Suplex
-Fisherman Suplex
-Rear Naked Choke
-Abdominal Stretch
-Camel Clutch
Strategy: While Suzumi can come across as an airhead to people she doesn't know inside the ring she is more cerebral than most anyone realizes.  She uses her technical skill to catch opponents with reversals and goes for the kill with submissions more often than not.
Style: Defensive/counter-attacking.  She's fair with strikes, but her bread and butter are submissions, technique and grappling.
Difficulty: Medium, can be hard if her foe isn't good against submissions.  She has a lot of ring-rust to shake off after her Wrestle Angels stint.  Will she be able to recapture her in-ring mojo?
Appearance: She is fit, but not overly muscular.  Her hair is long, going down nearly to her waist.  Her bust and backside usually lead to people classifying her as curvy.  When not wrestling, she tends to wear designer clothing, which she can afford due to her old Wrestle Angel/acting career.
Background Story:  
Suzumi grew up in Tokyo to a fairly wealthy family.  Her mother was an actress who married her agent.  The two had Suzumi and she was groomed for show business.  As a child she loved acting and participated in her school plays at every turn.  However, once she hit 10 she began to enjoy watching wrestling on TV which her parents weren't a big fan of.  This didn't stop Suzumi from taking it in every chance she got.  She loved the theatrics of it, but she also found the fighting and competition to be just as thrilling.  
Once Suzumi began high school she kept up with her acting, but she also would sneak off to a wrestling gym after school.  To avoid backlash she told her parents she was at cheerleading practice.  She knew it would be fun, but she was surprised she learned it as quickly as she did.  She was as good at wrestling as she was at acting, and she'd been in plays her whole life.  As time went on Suzumi heard about a promotion called Wrestle Angels.  She saw a lot of great wrestlers in there like Thunder Ryuko, Mighty Yukiko, and Panther Risako who she wanted to go up against to test herself.  On the day of her graduation, she told her parents about her plans.  While they weren't exactly thrilled (her father took the news better than her mother) they didn't disown her or do anything drastic.  To this day her choice of career as a wrestler is just awkwardly avoided at family gatherings.
In Wrestle Angels Suzumi showed that the upstart 18 year old was more than a match for the lower card.  Upon hitting the mid-card Suzumi continued to enjoy success in some tag matches and she held one of the promotions lesser titles for a moderate title reign.  However, she hit a wall in the mid-card.  No matter how hard she tried she lost almost as many matches as she won against her equally ranked opponents and when she did fight the top-tier talent she found herself coming up short time and time again.  Two year ago, Suzumi was in a nasty match where she not only lost the match but she severely injured her leg.  After laying in the hospital bed and thinking she decided that she would leave wrestling.
For most of the last two years, Suzumi spent time acting and enjoyed it immensely.  She was already known from wrestling and the first large role she had was a successful romantic comedy.  After two more follow-up drama roles that were well received she was on her way to being an A-lister but she felt like something was missing.  One day she saw a Friction event from the AFW and knew what was missing.  Suzumi found herself going back to a wrestling gym and even though she was rusty she was still confident enough that she could wrestle again. Even if her old speed wasn't quite there.  To make up for it Suzumi took a more cerebral approach to things and found her technique to be better than it used to be.  After training for 8 months she auditioned for the AFW by beating a few other roster hopefuls.  At the end of the day, it was Suzumi Ishikawa "The Tsunami" inking another wrestling contract.  To make things even better a number of her old Wrestle Angels cohorts were also in the AFW, many on the Friction roster where she was as well!
Personality:  Suzumi can be a bit of an airhead as she only really puts thought into the very few things she cares about.  She also comes across to quite a few as something of a hot headed woman, she will not let anyone push her around and doesn't take perceived insults very well.  That being said, once she considers someone a friend she is a very loyal person.  Also because of her former work in Wrestle Angels and acting she doesn't shy away from the spotlight:  She loves it!  However, because she is famous she has the potential to appear to others as unintentionally snobby at times or overly cocky for an AFW rookie.  Obviously she wants to win like everyone else, but isn't the type to injure anyone intentionally.  However, in Wrestle Angels she had a few fierce matches and her attitude could change if she ran into an old, hated rival.
Fun Facts:
-Even though she is an athlete, she knows nothing about sports other than wrestling.
-In her spare time she enjoys TV and movies, but doesn't watch anything she was in herself.
-She doesn't like to back down from challenges in or outside the ring.  This can get her in a lot of trouble.
-She loves pizza and will request that over anything else if she has the chance.  At movie premiers people have eaten gourmet food only to see Suzumi munching on pizza delivered to the premier.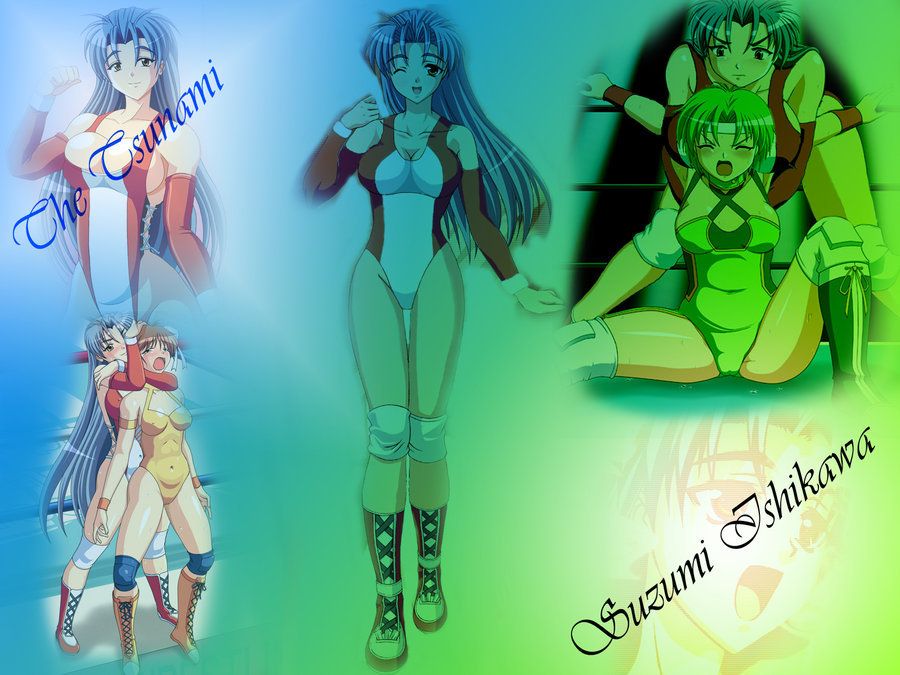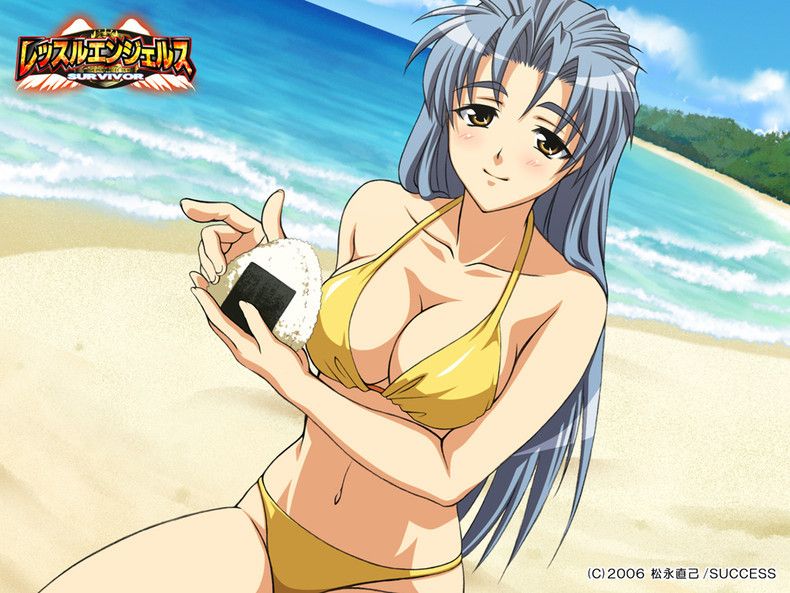 AFW Record: 7-3-0
WIN vs Mikoto Kusanagi via submission
LOSS vs. Chris Morgan via submission
WIN vs. Riyu Kikuchi via submission
LOSS vs. Bonnie Gastin via pinfall
WIN vs. Gallium Heartvia pinfall
WIN vs. Panther Risako
WIN vs. Vida Fenix
WIN vs. Kyo via submission
LOSS vs. Mikoto Kusanagi via KO
WIN vs. Sheena Akan
vs. Thunder Ryuko
vs. Lara "Silver" Abreu
Friends/Allies:
Mikoto Kusanagi - Suzumi's best friend and girl she trained back in Wrestle Angels.  Now, Mikoto is as good.. or better than Suzumi.
Blaise Cameron - Suzumi's boyfriend.  He is a sweet, well meaning guy even if he can't seem to buy a win in Tension.
Chris Morgan:  The woman who is credited with sinking Wrestle Angels and who told Suzumi that she should not risk injury... Suzumi hated her guts.  Unfortunately, the woman she hates is also one of the best wrestlers anywhere male or female.  After her match with Risako, Chris opened up about everything giving Suzumi a newfound respect for the wrestler she formerly hated.
Rivals:
Panther Risako:  Her former role model, Panther Risako lost it after Suzumi managed to defeat her in a match.  
History:
1) Angel Survivors Suzumi bumps into Mikoto, another former Wrestle Angel and the two chat and spar at the gym.... before finding out Mikoto is who Suzumi fights in her debut match.
2) Mikoto Kusanagi vs. Suzumi Ishikawa Suzumi faces her friend Mikoto in her official in-ring debut...
3)
Suzumi Ishikawa vs. Chris Morgan
Suzumi takes on Chris Morgan, the giant woman whom she holds responsible for the downfall of Wrestle Angels.
4)
Long Time No See
Suzumi trains at the gym and bumps into an old friend.... or enemy.
5)
Wrestle Angel Beach Vacation
Suzumi and Mikoto go to the beach to unwind, and to hunt down attractive guys..
6)
Riyu Kikuchi vs. Suzumi "The Tsunami" Ishikawa
Suzumi faces off against Riyu.  The two split their matches 1 to 1 in Wrestle Angels, time to see who has come further...
7)
Mandated Downtime With Swimsuits
 Suzumi meets a nice young man at the beach, and one thing moves to another....

Over The Mountain
Suzumi and Blaise go on an actual date, and find out that they enjoy one anothers company, and not just having sex.
9)
Moments Respite
Suzumi feels bad for not being ringside during a match that proved to be a disaster for Blaise.
10)
Zero Cool Laser
Suzumi meets Blaises tag partners and the first impression might be different than she hoped...
11)
Winds Of Change
Suzumi and Mikoto spar, and things get heated when Mikoto voices concern that Suzumi takes the wrong way!
12)
Bonnie Gastin vs. Suzumi Ishikawa
Suzumi faces Bonnie Gastin after a long break from ring action, ready to show haters like Chris Morgan that she is on the way up and not on the way to retirement!  *Loss via pinfall*
13)
Debut Match! Gallium Heart vs. "The Tsunami" Suzumi Ishikawa
Suzumi faces energetic rookie, and student of Silver Ace, Gallium Heart!
14)
Panther Risako vs. Suzumi Ishikawa
Fresh off her win against a rookie Suzumi finds herself against one of the absolute best Wrestle Angels had!  Will she win big or come up short?
15)
Talk Shit Get Hit
Suzumi and bomber Kishima sign autographs when they are quite rudely interrupted...
16)
Suzumi Ishikawa vs. Vida Fenix
Suzumi faces another young rookie!
17)
Tension in Ueno Cross Promotion 2 Of 3 Falls Suzumi Ishikawa vs. Kyo
No rest for the weary as Suzumi faces a male opponent for the first time!
18)
Bomber Kishima vs. Suzumi Ishikawa vs. Diana Accera
A triple threat match stemming from the autograph session gone wrong is about to go down!
19)
Finding Her Way Around
Suzumi meets a new girl wandering about the Friction gym and introduces herself!
20)
Ohayo Nippon
Blaise returns and Suzumi is beyond happy to see him!
21)
Mikoto Kusanagi vs. Suzumi Ishikawa II
Suzumi has a rematch with Mikoto!
22) [url=
http://www.afwrpg.com/t14594-suzumi-ishiwaka-vs-sheena-akan]Suzumi
Ishikawa vs. Sheena Akan[/url] Suzumi and the rookie face off in a match!
23)
Suzumi Ishikawa vs. Thunder Ryuko:  Wrestle Angels Reunion
Suzumi faces off against an old friend she admires!
24)
Lara "Silver" Abreu vs. Suzumi Ishikawa
Suzumi faces a newcomer and realizes that she is indeed a big girl!
Last edited by 12579 on Fri Sep 12, 2014 2:32 am; edited 3 times in total



Posts

: 3170


Join date

: 2014-03-11




Similar topics
---
Permissions in this forum:
You
cannot
reply to topics in this forum