Champions & #1 contenders
Highfly Flying Out Of Town
Tue May 22, 2018 1:31 am by HighFly
Hello everyone, I just wanted to inform all I have threads with that I will be gone from this coming Wednesday through Sunday. I won't be able to post consistently if at all during this time, but I will try to make up for it next week! I am sorry for the inconvenience to everyone.
Comments: 7
The Austrailian Mudslide is Back.
Sat Apr 21, 2018 6:20 am by Softsquad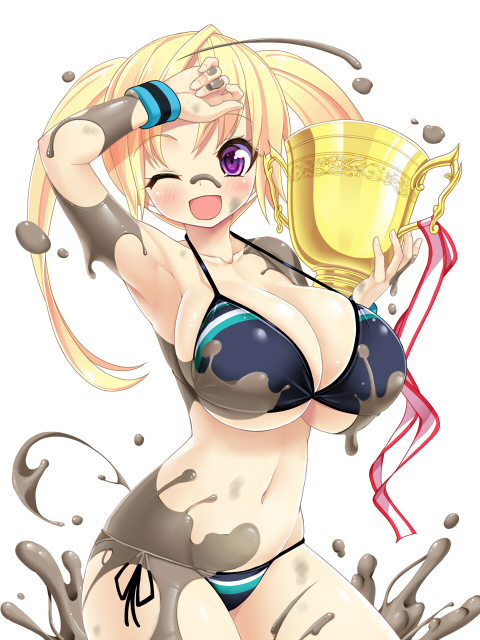 Granted that most of you won't know me or remember me, but I've had a few matches here and there some time ago. Well I think its time to become a regular around here and try to have some fun again, but at the same time keep coming back. Anyway I think its time to jump into some matches with Zoe Taylor, my mud wrestling character from Australia and get her back into the squared circle. Furthermore I will update my characters as I think some proper changes need to happen.
So if anyone would …
[
Full reading
]
Comments: 5
Page 1 of 7 • 1, 2, 3, 4, 5, 6, 7


It's the first friday of the month at the Downward Spiral. On a good night, the club is hectic, intense, filled with all manner of debauchery. But the first friday? That's always a different story. Fetish Night.

This club lives up to its name - it's mostly underground, and each floor slants downwards, complete with tables for service, bars to accommodate almost all tastes, backrooms for those in need of a little privacy. Tonight, though, the focus is on kinks, celebrating it in as many forms. Each floor is furnished with the finished play areas, with dommes from all over the country holding sample sessions. Sensual play? We have that. Whips, chains? We have that. Would you like to be dominated by another man? That's doable? Two men? Two women? Strapped to the chair? On the cross? Blindfolded? Rubbed in oil? Clamps? Foot worship? Biting? If it's legal, you just have to look for it. If it's illegal, you just have to look harder.

The atmosphere is buzzing, but the real show is at the bottom, in the pit, on the dance floor. Everything runs down to it, and tonight it's a mesmerizing mass of leather and flesh. There's the usual stuff, expected fetishes - women dressed like nurses, schoolgirls looking to be punished. Men with leashes around their neck, looking for someone to lead them around. Girl on guy, guy on guy, girl on guy on girl, guy on guy on guy...everyone either has someone or someones. The [url=https://www.youtube.com/watch?v=OF8oKPqlHNc:1or5bk3f]music[/url:1or5bk3f] moves at a fever pitch, and the crowd undulates along with
it.

Above, girls dance along in cages, swaying from side to side. In front, the DJ controls the crowd like it was magic, moving them along to the beat. At the sides, girls rolls around in two mudpits, wrestling and switching out for a new match every few minutes. Sex. The air is thick with the smell of it.

Devine loved it. During her singing career, she had spent quite a bit of time in places like this, sneaking off from her manager when she just needed some time to go wild. The darkness, the heavy beat, the thick crowd on the dance floor - it was second nature to her, and she moved through it like she controlled it with her mind. But she didn't stop, she didn't dance. Not yet. No, tonight she was hunting for one girl in particular...
Last edited by 12547 on Fri Jun 27, 2014 7:11 am; edited 1 time in total
Ro loved Fetish Night. She had a good time out at clubs in general, but Fetish night was the best. There was anything she could want here. She could loose herself in the crowd, dance, go wild, find a playmate, find a guy to fight, find a girl to dom…anything she wanted on a night like this. A girl like Ro did not go unnoticed, especially when she was a bit of a switch. Both sides of the spectrum took notice of her.
Sheâ€
d been dancing, sheâ€
d had some fun in a dom session, sheâ€
d spent time in the mud pits…though thankfully they had a shower set up, though her red hair was completely matted wet. Her skin still glowed a bit, making the multiple colors of the stroking lights seem to glisten off of her. She was just wearing a short sleeve leather top, which was so open at her cleavage it showed most of her tits. It laced all the way down, having to be tied on boths ides, and showed quite a bit of skin. Her leather short shorts were so high most of her legs were showing.
Still, even though it had only been about a few minutes, sheâ€
d found something else to occupy her. She sat on a chair that had been set up, where two rather muscular looking men in collars were crawling towards her. They were wearing nothing but speedos, and she had their leashes in both hands. She gave them a yank, choking them a bit with the collars. The men were obviously very aroused. She pulled them in, dragging them to her feet. "Mmmm…" she moaned out as they worshiped them. A crowd was watching.
"Ohhh yes….you know, this is wonderful…but I only want
one
strong man tonight…" She pulled her bare feet away and let go of their leashes. "Why donâ€
t the two of you see who can pin the other one first." Ro smirked, and they both kinds looked at each ohter. "Go on." They slowly smirked and then turned to each other. They began to grapple, though they clearly werenâ€
t experienced wrestlers. That was good, they werenâ€
t hurting each other really. Ro grinned as she watched, sheâ€
d break it up if it went too far…but this was very hot.
_________________
Your writings and head are disordered and mixed up, so that it is exceedingly annoying to read and difficult to remember what you write.
Primarily Tension (but will take the train over to Friction)
Ro Laren
Amanda Clare
Tension
John Mitchel
- Former Tension World Champion
Anthony Fuller
Rosalita - Divine, as her friends called her - liked to think of herself as a huntress. A lioness, stalking her prey, drawing them in for the kill. A club like this was the Savannah, wild and free. A perfect killing ground, and she was hungry. Starving. in fact.

It had been easy to track Ro, ridiculously so. A woman like her would have attracted attention even if she wasn't one of the bigger names in Tension. Beautiful. Strong. Sexy. Blazing red hair. She stood out in a crowd, and her fame left a trail of breadcrumbs that were nearly impossible to miss. They all lead to this one spot, this one night. The perfect time to strike - Ro was relaxing, off her guard, thinking she was relatively safe. Divine's job tonight was to show just how wrong she was.

Divine made her way through the club, turning a few heads as she walked. Her dark, caramel skin was a rarity in Japan, and her dress showed it off. Short and black. Loose like silk, but hugging at all the right areas. Open in the back, showing her firm shoulder and teasing a few tattoos all the edge. Cut low in the front, just low enough to showcase her generous chest, but high enough to make anyone want to see more. She slid through the crowd like she controlled it, weaving her way around lovers, sliding along the walls until she zeroed in on her unsuspecting prey.

Ro couldn't have been easier to find if she throw up a searchlight. The crowd was enraptured by the sight of her domination, two hapless males wrestling at her feet like she was a goddess of fire waiting for their sacrifice. Divine had to admit, she was a lovely creature, brimming with sexuality. She admired it. She longed for it. That would make this all the sweeter.

She walked out of the crowd and made her way to the throne, feet slowly sliding along the floor as she eyed Ro from behind her braided tresses, as if her face were shadowed in a veil. "You look lonely on that throne." She cooed out, pursing her lips and making their dark color glisten. "Do you mind if I join you?"
Ro grinned as she watched the two males fight. One of them reached forward and squeezed the crotch of the other one, making him shout out as they grappled. "Now, now…donâ€
t hurt each other….much." Ro smirked. The two guys laughed, then the one on top squeezed again lightly as they fought.
Suddenly, though, Ro noticed an oddity. Normally, when Ro played Mistress, everyone gathered around and watched. But…today an oddity approached. A beutifull, sexy woman with dark skin made her way across the crowd. She extruded dominance, much like Ro. She seamed to control everyone, willing them to make way for her.
Then, even more unusual, she brazenly came right up to Ro and asked to join her. Ro had no idea this was a threat…if anything, Ro thought she saw someone who,
potentially
, was the right kind of girl to make this a stand out night…she wondered if this girl had any fun fighting… "Ohhh, itâ€
s very lonely being the Queen…Iâ€
d welcome company." She smirked, inviting her over.
_________________
Your writings and head are disordered and mixed up, so that it is exceedingly annoying to read and difficult to remember what you write.
Primarily Tension (but will take the train over to Friction)
Ro Laren
Amanda Clare
Tension
John Mitchel
- Former Tension World Champion
Anthony Fuller
The first key to hunting is to know your prey

Ro's sexuality was no secret. If anything, it was legendary, and anyone who kept up with her matches would attest to it and knew exactly what she went for. Someone like her, someone who was used to drawing everyone in the room at a command, had to appreciate a woman who was willing to step forward. She was aggressive, and aggression always sought more aggression.

She walked forward, stepping between the two dueling males and making them clear a path with a few quick slaps on their backs. They looked confused for a moment, until the saw the dangerous glint in her eyes and backed away, following her silent instructions. Divine pressed on, only stopping to take off her shoes and laid them to the side, and she sat down on the throne...or, to be more specific, she sat down on Ro.

She slid into Ro's lap, fitting in perfectly as she leaned back, her bare skin pressing against the carnal wrestler. "You're too kind, my queen." She drew her bare foot up Ro's leg, her toes gently rubbing as they rose. "Tell me - what does a queen want her suitor to do?"
Ro waved the two males away once Divine had stepped past them. Those two submissives were fun, but Ro loved playing with doms way more. This woman SCREAMED dominant. The two men quickly had fun playing with each other while Ro grinned, feeling her weight on her.
Ro smirked evilly, wrapping her arms around the other aggressive woman, pulling her close. She felt bare toes rubbing against her legs, which always drove her wild. "Heh..somehow, this suitor doesnâ€
t strike me as someone who takes orders." She smirked, leaning in to kiss her neck. "I see two Queens, not a Queen and a suitor…but can two Queens share the same thrown? One has to be the most dominant…" She grinned, wondering if this girl knew what she meant.
_________________
Your writings and head are disordered and mixed up, so that it is exceedingly annoying to read and difficult to remember what you write.
Primarily Tension (but will take the train over to Friction)
Ro Laren
Amanda Clare
Tension
John Mitchel
- Former Tension World Champion
Anthony Fuller
The second key to hunting was to never back down from your prey. Never. Confidence, always.

Divine took Ro by the wrists and raised her arms, putting those hands where she wanted them to be. She pressed Ro's palms against her chest and trusted that the redhead could take a hint. She breathed out with a raspy sigh as her neck was kissed on, hitting her favorite spot. She would have to ask Mako to send her out on 'missions' like this more often.

"Indeed. Very true." She started to grind down even harder into Ro's sex, putting her weight into it. "One throne, two queens. Wars are started that way."

Divine looked over her shoulder, mirroring the wild look in Ro's eyes. "Do you want to go to war with me, Ms. Larren?"
Ro loved to fight. Ro loved rivals. Roâ€
s idea of a date was a quite candlelit romantic dinner…followed by a KO only hardcore no rules brawl in the kitchen. Followed by sex. Roâ€
s said it many times, love and fighting are the same thing to her. She loved someone who could give her a good brawl.
This girl was basically offering all that and more. Ro didnâ€
t know this was a trap…but hell, if it turned into the most brutal fight Ro ever had…that would actually ELATE Ro…. As far as Ro knew, though, she just met a kindred spirit, someone just like her in that regard. The only thing that would ruin that was her opponent being in it to be a bitch, not for the enjoyment of a brawl and sex.
Ro grinned as her hands were moved, then let out a gasp as she felt her sex rubbed into. "Ohh, yes they are…Iâ€
d love nothing more." 'She knows my name? Oh! She follows Tension…she DEFINITELY wants a fight…â€
Ro thought to herself. "Here? Or do you have….something else in mind?" She smirked, moving her hands out of her grip, or trying to, while nibbling on her neck to distract her.
_________________
Your writings and head are disordered and mixed up, so that it is exceedingly annoying to read and difficult to remember what you write.
Primarily Tension (but will take the train over to Friction)
Ro Laren
Amanda Clare
Tension
John Mitchel
- Former Tension World Champion
Anthony Fuller
Other women, other men, almost anyone else would have been more coy with Divine. Flirting, playing their little games, courtship. That was all well and good, and some days she even preferred it. But too much talk would have complicated the trap, this time - needless to say, Ro's eagerness was greatly appreciated.

Divine turned around in Ro's lap, letting their bodies rub against each other and feeling all the muscle and succulent flesh that the brutal beast had to offer. She moved in and gave her a brief, heated kiss - pressing hard against her lips, dipping her tongue, sucking her breath. It only lasted a couple of seconds, like the shortest preview of things to come.

"There are rooms in the back. Private. Anything you want. Oil? Mud?" She pushed away and stood before her fellow queen, holding her hand as she rose and tugging at her arm. "Any arena you like - it doesn't matter to me. I'll win, either way."

True words.
Ro grinned as the other girl turned around. "Oh, is that so?" She chuckled, then gently pushed the other girl off so she could stand. "Wellll…mud IS a sexy setting…a perfect place to tame a rival Queen." Ro grinned.
She slowly stood up, taking Divineâ€
s hand. "And maybe when the winner…which will beme, by the way…well, if the winner wantâ€
s to take their prize home…" Ro chuckled, walking with her to the back and implying a stake…or implying a desire to see more of Divine after. Or both. "Thatâ€
s a queenâ€
s right."
_________________
Your writings and head are disordered and mixed up, so that it is exceedingly annoying to read and difficult to remember what you write.
Primarily Tension (but will take the train over to Friction)
Ro Laren
Amanda Clare
Tension
John Mitchel
- Former Tension World Champion
Anthony Fuller
Page 1 of 7 • 1, 2, 3, 4, 5, 6, 7


---
Permissions in this forum:
You
cannot
reply to topics in this forum