Champions & #1 contenders
Highfly Flying Out Of Town
Tue May 22, 2018 1:31 am by HighFly
Hello everyone, I just wanted to inform all I have threads with that I will be gone from this coming Wednesday through Sunday. I won't be able to post consistently if at all during this time, but I will try to make up for it next week! I am sorry for the inconvenience to everyone.
Comments: 7
The Austrailian Mudslide is Back.
Sat Apr 21, 2018 6:20 am by Softsquad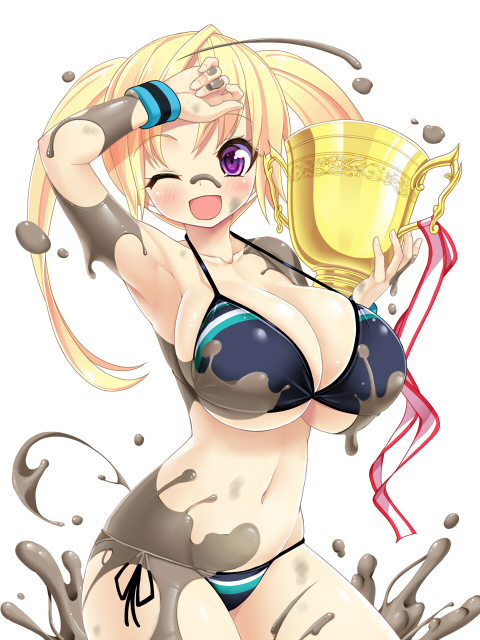 Granted that most of you won't know me or remember me, but I've had a few matches here and there some time ago. Well I think its time to become a regular around here and try to have some fun again, but at the same time keep coming back. Anyway I think its time to jump into some matches with Zoe Taylor, my mud wrestling character from Australia and get her back into the squared circle. Furthermore I will update my characters as I think some proper changes need to happen.
So if anyone would …
[
Full reading
]
Comments: 5
Page 2 of 5 •

1, 2, 3, 4, 5


"Tch." Bonnie scoffed immediately at Allison's words, she was so full of it. Why wouldn't Bonnie be upset? This woman was almost single handedly the source of all her misery over the various months. She couldn't relax even if her own mom begged her. "You'll pardon me if you keep me on my toes." Bonnie muttered to the Brit.

But despite Bonnie's reluctancy to play along, she did in fact listen to every single word that spewed out of Allison's perfect looking lips, but whatever she was saying was vauge and made no sense. Spirital expereinces? Hearing that made Bonnie raise her eyebrow at Allison. She wasn't saying what it was, just that some folks liked this 'experience' and other did not. Bonnie felt she'd fit in with the latter crowd. But just why was it an identity crisis? Bonnie always knew who she was. But more importantly what did this have to do with Yi Lan and what exactly did she embrace.

Concern was on Bonnie's face as she turned quickly to Allison upon hearing that girl's name. "Huh? The heck you goin' on about? What did you make her 'embrace' or whatever?" Bonnie said, thinking about Lan more and more, and how it seemed like she was just going to toyed with by Allison and Jocelyn. "I swear. Y'all need ta' leave that gal alone. Fer' Good." Bonnie growled as she pointed at Allison.
Last edited by 621 on Fri Jun 27, 2014 7:19 am; edited 1 time in total
There was a short pause before Allison spoke again. She took a drink of wine from a glass on the table at her left hand, where there was also an oil lamp, unlit. She placed the glass carefully back on the table, and kept her two fingertips on the base.

"I have nothing to do with the girl. She has crossed paths with me on a small number of occasions, and her match with Jocelyn was certainly not worthy of note. I don't know how you expect me to have any less to do with her." Her voice took on a lighter, more academic tone. "Little Yi Lan is no fighter. A stutterer, yes. She's quite good at that, and at crying as well. It seems that even a simple conversation reduces her to rubble. You can see, of course, how her delusions with fighting and with Friction are so harmful to her. As long as she is trying to be someone she's not, she can only be hurt.

"Am I to assume that you did not help her, then?" She asked innocently.
Bonnie frowned deeply, hung her head and held her arm. "Yeah." Bonnie muttered, the match with Jocelyn wasn't exactly a 5-Star contest. But that was only the beginning, every single thing Allison was saying was exactly right on the damn money. She had to agree with this woman one-hundred percent. Part of that made Bonnie immensely upset with herself, acknowledging that Allison was right just made her feel all nasty inside.

"Y-...." Lan was more of stutter than a fighter and seemed prone to tears. Bonnie agreed, cutting herself off and nodding.

And then finally, the inevitable truth. Yi Lan was trying to be something she wasn't suited to do and was just going to get hurt. "....I know...." Bonnie's confidence was breaking and her guilt was rising. She failed to be cold enough to get Yi Lan out of AFW, and she might have ended up dooming the poor girl to a miserable future here until something broke her and made her quit.

Allison only poured salt on Bonnie's wound, shutting her eyes tightly. She wanted to get even with Allison so bad in the ring, to regain her honor, but she failed not only her family, but Yi Lan as well.

Finally she spoke up, a bit meekly "Well... No... B-But..." Bonnie tried to defend herself and her voice rose with it. "B-But I AM tryin ta' help her She's..!" Bonnie paused, her bubbling emotions almost made her blurt out that Lan was staying with her. "I just couldn't... Dammit I fuckin' tried ta' be a bitch to her! I hit her and mocked her, cursed her and screamed at her and hit her again and again and... I just couldn't go through with it! S-She just wouldn't fuckin stop cryin'! And defendin' that bitch Jocelyn! I ain't fucking heartless like you!" Bonnie yelled angrily, clinching her fists tightly, feeling responsible for anything that were to happen to Yi Lan from here on out.

"Look. Jocelyn is the one ta' blame. She's a bad influence on Yi Lan. That girl is blindly in love with Jocelyn! Can't we still fight If I keep yer goon away from Yi Lan and teach her that she ain't right for her? Ain't that what you wanted? I still hold up my end of the deal but... It's gonna take some time. " Bonnie muttered in a softer tone.
Last edited by 621 on Sat Jun 28, 2014 9:30 pm; edited 1 time in total
"Darling..." Allison said, in quiet exasperation. "Poor little Yi Lan, this is exactly the sort of thing I warned her about. Ms Gastin, it is because I care for Yi Lan's well-being that I wanted you to help her see her mistake. I did not want you to simply heap abuse on her of the very sort I'm trying to prevent. I... am very disappointed. Come here."

She reached out and opened the hood of the oil lamp at her left hand enough to faintly illuminate that end of the room, and then picked up her wine glass. She fixed her cat-like emerald eyes on the Texan, as though she could destroy her with only her gaze. "Jocelyn is bad for Yi Lan," she said, as a matter of fact. "And Yi Lan is bad for Jocelyn. You've certainly never thought about Jocelyn's well-being, and you apparently aren't concerned with Yi Lan's. I want you to stay away from both of them, do you understand?"
Bonnie felt the guilt pour on her as Allison spoke to her about her intention to help Yi Lan and not abuse her. That she was trying to prevent that. It angered Bonnie. And now Allison said she was dissapointed? Bonnie found herself feeling guilty and angry at the same time, but mostly angry at herself. "I-I tried! She wouldn't listen ta me!" Bonnie yelled, trying to convince herself more than Allison that she had not hurt Yi Lan.

And for some reason, Bonnie obeyed Allison's orders but with hesitation of course. A small trek forward, marching to the center of the room slowly, she didn't want to get too close, she still felt the need to be ready despite feeling so defeated right now.

The room illuminated a bit more and Bonnie could now see Allison's bright green eyes looking at her. It was such an intimidating stare that Bonnie's blue eyes could not match, rather she hung her head in shame, looking up at Allison's gaze through the bangs of her blonde hair as she listened to Allison speak.

She nearly gasped at what she was told. "C-Concerned!? Why would I be concerned with her!? I intend to throttle her for the shit she's pulled! Hurting my girlfriend! Handcuffing my brother! I..." Her spirit rose as her hate for Jocelyn sighed through, but the fire faded as she comprehended what Allison had just asked of her.

"W-Why? I can help Yi Lan. If left alone, she'll be chasing after or be open to Jocelyn and she'll just keep messing with her head." Bonnie stated. "And further more! I intend to fight her...."
Allison raised her voice, slightly. "You've done quite enough for Yi Lan. And you will not fight Jocelyn," she said, with crushing authority. "I know the kind of person you are."
Bonnie's eyes widened at Allison's words. They felt so final and they spelled out complete and utter failure for Bonnie. She was originally upset that she might not be able to fight Allison... But to not fight Jocelyn either!? It was like her chance to avenge herself, her family and redeem herself had just gone up and smoke. And only because this woman said so.

But what affected Bonnie the most was that she knew what kind of person she was. For some reason, it sounded like was in fact the bad guy here just by the tone Allison used.

"W-What?" Bonnie gasped, taking a few steps closer to Allison. "And just exactly what kind of person am I then!? Why can't I fight either of you!?" She screamed.
Allison looked irritated. "I can handle brats like you. You're no more a threat to me now than when you rode on Missus Gastin's hip. The ring is no different. You were a fun diversion, darling, nothing more.

"But to people like Jocelyn and Yi Lan, who cannot protect themselves, you're dangerous. You and your lunatic brother, and I won't have you preying on the weak while pretending to be some kind of wrestler. You're not a wrestler, darling, you don't even know what it means. You're here complaining to me like a petulant child, and you expect me to acknowledge you as a competitor? I've wrestled since you were in middle school. I know you're type, and I'm not interested."

She took a long drink of wine, and put the glass down.
Bonnie being called a brat was one thing, bringing her mom into this was another. Didn't matter if her comment towards her was barely an insult towards her, Bonnie didn't want Allison talking about her mother in the slightest. Bonnie's eyes narrowed quickly though they softened slightly as Allison claimed that Bonnie was nothing more than a diversion. That really sucked to hear and it only got worse when Allison told the texan girl that she was dangerous and that she was preying on the weak.

"Tha't aint true!" Bonnie said defensively. "They ain't..." And then Bonnie remembered attacking Jocelyn, who could barely defend herself at all. Her bad win/loss record and the fact she had trouble fighting Yi Lan of all people... Lots of Jocelyn's attacks on Clyde and Duffy were based on her being tricky rather than a skilled fighter... And that was just Jocelyn, Bonnie had completely bullied Yi Lan into tears.

She felt horrible. What was her type? It clawed at Bonnie's mind so hard she wanted to know, but she had a hunch and it angered her, frightened her, the chance that she could be someone just like Allison or worse.

"Oh... Oh god." Bonnie felt her stomach churn, her heart pounding madly as she staggered back, her eyes watering. "I'm not a... I..." She wanted to say something to justify her actions but, she didn't know if she could anymore. She felt like hell. Was she really a child? Was she really just some ant compared to Allison and not even worth her time?

It felt like it.

Bonnie staggered back against the door way and buried her face in her hands, before they slid up to her hair, her eyes watering, she didn't know what to think of herself or the others anymore. She couldn't handle it, she turned around immeidately and tugged violently at the door, trying to burst out of it and just run as fast she could out of the spa, grab her truck and just get out of there.
Allison watched calmly as Bonnie finally crumbled. Seeing her come apart at the seems was... most enjoyable.

"Goodbye, darling, thank you for stopping by," she called sweetly as Bonnie ran off. "The pleasure is all mine, as always."

She looked at her empty wine glass, and then turned off the oil lamp next to her. She crossed the room, and after a moment of reflection spent staring at the place where Bonnie had stood, she smiled. She turned off the other lamp, and then sat on the rug, bathed in total darkness and wrapped in heavy silence.
Page 2 of 5 •

1, 2, 3, 4, 5


---
Permissions in this forum:
You
cannot
reply to topics in this forum