Champions & #1 contenders
Summer Splash interest in Natasha Loclear?
Mon Apr 09, 2018 11:30 pm by daemongirl
Well my girl hasn't missed a summer splash yet, would anyone be interested in a match with her? Open to just about anything match wise, just pm me!
Comments: 1
Been Out with the Flu
Sun Apr 22, 2018 7:47 pm by daemongirl
Just letting those I have threads with know I've been out with the flu since early last week, but I will be back to posting tomorrow.
Comments: 0
The Austrailian Mudslide is Back.
Sat Apr 21, 2018 6:20 am by Softsquad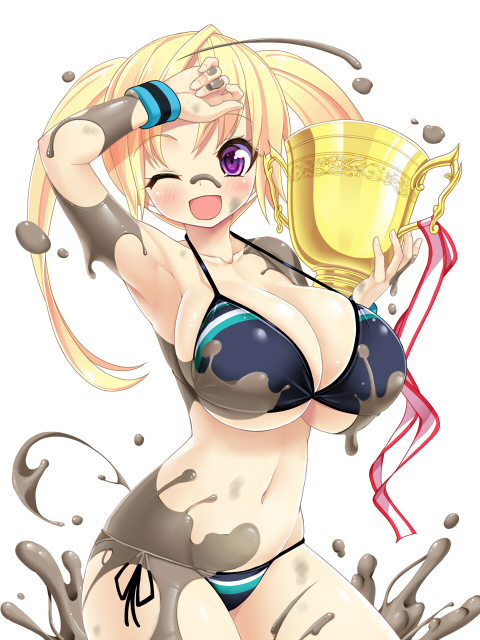 Granted that most of you won't know me or remember me, but I've had a few matches here and there some time ago. Well I think its time to become a regular around here and try to have some fun again, but at the same time keep coming back. Anyway I think its time to jump into some matches with Zoe Taylor, my mud wrestling character from Australia and get her back into the squared circle. Furthermore I will update my characters as I think some proper changes need to happen.
So if anyone would …
[
Full reading
]
Comments: 0
Page 5 of 9 •

1, 2, 3, 4, 5, 6, 7, 8, 9


"I meant the friendly atmosphere. When it comes to strictly watching a movie, there is no better way than this." He said, raising his glass and taking a sip of the fine champagne. "But... " He said, looking at Cassie in her simple dress and messy hair.

His eyes widened when she said the word intimate. Was he hearing things? Hearing what he wanted to hear? he lowered his head and comfortably slipped his hand onto Cassie's so it gently cupped hers. "I understand what you mean, Cassie-san." He said with the barest hint of ruefulness in his tone.

Cassie's thoughts shifted and her words changed though. She was still thinking about Gwendolyn? Shinobu had pushed the heiress aside to focus on much more pleasant things like how soft Cassie's lips were or even if she would like the movie.

"You weren't rude one bit, Cassie-san. If you would like to talk to her, I'm sure she won't be hard to find." He mused as the screen flashed to life.

The movie, The Phantom Detective and the Case of the Golden Bell, was the 6th installment of the series. It featured various creatures of all shapes and sizes following around Shinobu playing the titular phantom detective, Sensui Uematsu. Though the "creatures" looked scary, they all behaved friendly towards Sensui, helping him solve a series of murders that ultimately ended with the curator of the museum being foiled in his attempt to steal an ancient golden bell that was part of the museum's collection. Part Scooby-Doo, part tween drama and part murder mystery, Shinobu had a satisfied face as the credits rolled. He knew he wasn't breaking the mold when it came to movies but they were his stamp on the world and they were definitely popular and he certainly believed that they had to be SOME kind of good for all the success they brought him.

During the movie, Shinobu's hand slowly began to intertwine with Cassie's. He had wished to do more but an overt arm around the shoulder or a hand on the leg might be going a bit too far for just a first date.

'Even though I was ready to kiss her!' He chastised himself.

As the lights slowly came back on, Shinobu looked eagerly at Cassie. He wouldn't be upset if they weren't her thing. He told himself over and over. She was an adult, not a child. How could she be into it as deeply as the appropriate fan base. He just hoped she didn't find them to be completely awful. Maybe she liked SOMETHING about them!
"Look!" Cassie grinned at Shinobu and pointed to the screen. "It's you!"

She was quiet and reserved while she watched, huddled on her chair. She held onto Shinobu's hand for as long as he would let her. She couldn't get over the surreal feeling of watching the dashing Phantom Detective on the screen while sitting next to him in the flesh. Holding his hand, no less. She'd have a lot to tell mom and dad about the next time she called.

She was enthralled throughout, giggling at the round little monster guy who served as the comic relief, and holding her breath during tense moments. She couldn't help but melt during the scenes with the girl. The way Shinobu, Sensui Uematsu, looked at her, so handsome and brave and awesome with his purple eyes and dreamy smile... Cassie couldn't help but think about those eyes looking into her own. And she couldn't believe she had been so hung up on Mamouru for so long! Mamouru wasn't even a nice guy, he was just full of good manners and empty promises, while Shinobu was... just better.

Until the movie ended, she gave very little indication of what she thought about it, but when the credits began to roll, she applauded.

"Yay!" She cheered. "You're really good!" She somewhat awkwardly thought to hug him, but the arms of the chairs and the distance between them would've made it rather difficult.

"I liked it! My friend Taylor likes action movies, and movies where bad things happen, like Braveheart, but I like movies that make you feel good. I like happy endings and stuff, funny movies. And mysteries! Now I just have to watch the rest of them!"

Somewhere during the course of the movie, she had finished her champagne, and she set the glass down on a nearby table. She turned her body so that she faced Shinobu directly, and for a moment she only smiled at him. She wasn't sure what to do.

"Sooooo... what's next?"
Shinobu beamed at Cassie's words. He humbly bowed tot he girl in appreciation of everything she said and it warmed his heart that she was generally interested. "Domo Arigatou, Cassie-san." He said with another deep bow.

Now that the movie was over, there was still more left for them, or at least Shinobu, to do. "I have to mingle some more, it is my duty." He said frowning. "But beyond that, we can do anything you like. It IS a party so there will be plenty of music and dancing and all the normal pleasantries." Though Shinobu wondered if Cassie went to many parties. Probably not like these.

"If it's not for you, I'm sure we could sneak away and find something else to do. Fujiko would cover for me for sure." He said, smiling as he took her arm and began to lead her out of the boxed seats and back into the main gathering hall to the cheers and applause of the patrons gathered in the lobby.

Shinobu released Cassie's arm and then bowed deeply as he stood on the step. Fujiko appeared out of nowhere and handed him a microphone before disappearing just as swiftly.

"Thank you, thank you everyone." He said. "I hope you all enjoyed the movie. All of the crew involved all the companies and investors that go into bringing the Phantom Detective series to life, I think they have truly outdone themselves. I'm grateful to be a cog in the wheel and I hope all of you will eagerly await the next installment! If this is any indication of box office success, I know that we'll be meeting again soon for another occasion like this!

"Please enjoy yourselves! I'd like to thank the Primol subsidiaries for putting on this wonderful gala! Please stay and enjoy yourselves, everyone!"

Shinobu bowed again and when the heads turned away he sighed deeply. "Please forgive me, Cassie-san." he said. "As an actor, things just must be done." he said. Shinobu smiled at the red head pleasantly as he descended the stairs completely and waved to some of the other guests as they came and greeted him and gave their praises for the job he did. Fellow actors and other celebrities much like when he had entered, however the atmosphere was far more relaxed now that the movie was over with.

Shinobu made friendly chatter with all of them, politely introducing Cassie to some of his co-stars as well as some Japanese A-list stars.
"Ooh." Mingling with movie stars!

"Ooh." Dancing!

"Ooooh..." Sneak away and find something something. That sounded good. "It's okay. Let's go meet some people!"

She followed behind Shinobu like a shadow, remaining inconspicuous while he addressed the crowd, and she clapped when he finished, even if others didn't. She grinned eagerly at him when he returned, and then skipped off to meet some famous people with a fresh spring in her step.

"Hi!" She said brightly with a wave to each person she was introduced to. Before long, she found that she had drifted apart from Shinobu in the crowd, and was talking to people all by herself. They were all so nice! She just got a dud to start it all off.

"My name is Cassie!" She said, her face lit up like an August sunset. "Well, I'm a pro wrestler, which... well, it's like fighting. Like, there's a ring, and I compete against other girls, and the object is to pin them for three seconds, or make them give up, or a couple other things. I've won all of mine by making them submit, because my background is in submission fighting. Jiujitsu, mostly, and judo, wrestling, kickboxing. I really fell in love with pro wrestling, though, and it's really hard, but it's what I really want to do, so...

"What? Oh, no, no. Well..." She blushed. "Maybe a little, sorta. But I don't do that. A lot of people are only there to compete, like as a sport. And it's a sport, I don't like to hurt people or anything.

"Well, sometimes I get hurt, but I'm super tough. Don't I look tough?" She put on a pretty smile and bent one knee, posing in her dress like the girliest girl in the world. Her interviewers laughed, and she laughed with them. She was really getting the hang of this! They were actually interested in what she did!

"The movie was really awesome, by the way. I loved it! And... how did we meet? Oh, um... at another party. Not a party like this one! I was home for a few months, and I just got back so my friends threw me a party. It was really great.

"Canada. I'm from Canada. Eh? Hahaha!"

She glanced over at Shinobu, brimming with pride with how well she was doing mixing with the movie stars, and grinning from ear to ear. She was really having fun! She wondered if there was more champagne somewhere...
Shinobu hadn't realized that the two had been separated until he was found with no one left to meet and/or greet. He saw Cassie chatting away happily and grinned widely. It was nice that she had integrated herself well into these sort of thing.

He grabbed two glasses of champagne and made his way towards Cassie. He passed one off to her and took a sip from his own long stemmed glass.

"Cassie-san! It looks like you've gotten this down pat! How good to-"

Suddenly Shinobu was pulled on the arm. "Fujiwara-san!" It was Fujiko. "You HAVE to come with me, Yuu-chan is here and she insists on getting a picture with you! It will be great publicity!"

Yes, but what about-"

"Oh, Fujiwara-san! I'm smart but I'm not cruel!" Fujiko winked at Cassie. "It's just a photo op. Yuu-chan is engaged. Shhh, don't tell anyone. It's supposed to be a secret." Fujiko whispered as she dragged Shinobu off.
".....Heâ€
s a natural, isnâ€
t he?" The familiar sounds of a posh British accent would creep up from behind Cassie, the heiress recognizing that dress from a mile away and deciding now was the most opportune moment to converse with her without Shinobu there to come to her aid. Stepping from behind Cassandra and standing shoulder to shoulder next to her with a fresh champagne glass in her hand, Gwen kept her attention centered on the young actor himself, busy taking pictures and flaunting his celebrity.
"Shinobu-san....he possesses such a way with words and an innate charisma. Almost as if he were born to thrive in this world...itâ€
s what draws you towards him, isnâ€
t it?," Gwen would look towards with a bright smile on her face, almost as if the disturbing scene between the three of them had never happened. Honestly the heiress was somewhat surprised to see Cassie in the crowd after the feature presentation, from her view it appeared she ran all the way home.
"....*giggle*....Iâ€
m pleased to finally see you enjoying yourself, Cassandra. Was the feature to your liking? My favorite scene was the action set piece where he rode that one creature through the night sky to catch whom he thought had the golden bell." Gwen would gesture a flight motion with her hand moving left and right to emphasize the scene she was referring, deciding to feign ignorance towards any hurt feelings Cassie might have had and keep the conversation light for now.
Cassie gave Shinobu a sad smile and a wave goodbye, and watched him as he was led away through the crowd. Her attention was so focused on him and his smile and his magnetism that she was taken completely by surprise.

"Huh? Oh! Hi!" She turned to face the returned heiress with a smile. "Shinobu's really great. I'm really glad he invited me. I'm having a lot of fun." She chose to ignore the weirder parts of what Gwendolyn said.

She nodded enthusiastically. "It was great! Yeah, that was great too, um..." She hesitated, and her brow knit together in an altogether adorable look of concern. "So I'm sorry I ran off earlier. I was just feeling really overwhelmed. But you've heard of me, then? You've seen my matches? That's awesome! Did you say you were a fighter too?"
Gwen took another sip of her sparkling champagne with a raised eyebrow toward Cassie as she let loose with pleasantries and inquiries into her knowledge of Cassâ€
wrestling career as well as asking about Gwendolynâ€
s. Apparently Cassie was as quiet as a church mouse when she wasnâ€
t discussing her wrestling career, but once the conversation turned to AFW you could practically see the lights in her eyes flash away. What gave Gwen a moment to pause was how friendly she still acted around the heiress, not handling any animosity towards her from earlier.
"As I mentioned earlier tonight….only highlights Iâ€
m afraid. A cerebral submission based grappler feared for her violent tendencies….that was about the gist of it~….." Gwen would turn more towards Cass as she delivered the potentially upsetting news. Not that she cared if It did, though when she did turn and witness that doe-eyed expression she couldnâ€
t but be reminded of her new-found 'partnerâ€
and very close friend, Nikolette. Her heart already beating faster from the thought of their heated exchange when they met last, Gwen almost lost herself before continuing.
"Ah….yes, a card carrying AFW wrestler for the past few months, and yet Iâ€
m already scheduled for a SummerSplash match. Not a headlining match, though it will suffice for now…."Gwen flicked back her lengthy curls as she beamed proudly, looking back confidently towards Cass with a knowing smirk, fully aware of what she was thinking.
"I donâ€
t look the part of your typical wrestler~, do I?…"
This time Cassie didn't flinch. She smiled right through Gwendolyn's second attempt to be a jerk. "I don't think I'm feared by anyone," she laughed. "And I always try to end matches without hurting anyone too much." And that was all there was to it, no matter what the stuck-up heiress said.

"Awww, don't say that!" Cassie encouraged. "There are wrestlers of all different kinds, of all different skill levels. I know that the AFW can find plenty of opponents at your level so you can have fun, competitive matches. And good luck with them! Keep at it, and train hard!"
"...Oh I agree wholeheartedly. There's absolutely no reason why anyone should ever be afraid of you...at all~..." From a distance it would appear that Gwen and Cass were engaging in some light-hearted banter while people watching from a distance, but the cattiness of their conversation had the potential to escalate if things kept up.

Gwen smirked all through out Cassie's condescension laden 'encouragement', almost thinking she was serious for a second. Seeing the bait laid out for Gwen to bring herself down to Cass's level, Gwen opted to change the subject abruptly instead. Sometimes the only way to win was not to play.

"Hmm....you reminded me of someone, do you know that? Tell me, have you ever been associated with an individual named Nikolette Tesla?"
Page 5 of 9 •

1, 2, 3, 4, 5, 6, 7, 8, 9



Similar topics
---
Permissions in this forum:
You
cannot
reply to topics in this forum