Champions & #1 contenders
Summer Splash interest in Natasha Loclear?
Mon Apr 09, 2018 11:30 pm by daemongirl
Well my girl hasn't missed a summer splash yet, would anyone be interested in a match with her? Open to just about anything match wise, just pm me!
Comments: 1
Been Out with the Flu
Sun Apr 22, 2018 7:47 pm by daemongirl
Just letting those I have threads with know I've been out with the flu since early last week, but I will be back to posting tomorrow.
Comments: 0
The Austrailian Mudslide is Back.
Sat Apr 21, 2018 6:20 am by Softsquad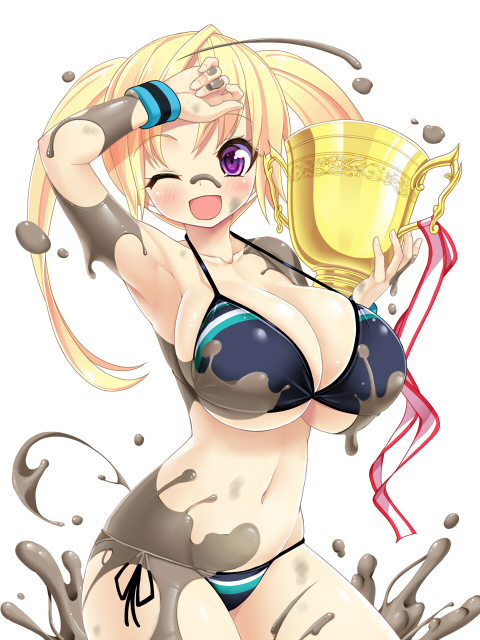 Granted that most of you won't know me or remember me, but I've had a few matches here and there some time ago. Well I think its time to become a regular around here and try to have some fun again, but at the same time keep coming back. Anyway I think its time to jump into some matches with Zoe Taylor, my mud wrestling character from Australia and get her back into the squared circle. Furthermore I will update my characters as I think some proper changes need to happen.
So if anyone would …
[
Full reading
]
Comments: 0
Page 4 of 9 •

1, 2, 3, 4, 5, 6, 7, 8, 9


Shinobu burst through the door, expecting Cassie to still be fleeing the scene. When she wasn't, he stopped and caught his breath, thankful that she was right there. He looked up at her and saw her coy attitude. He smiled instantly.

Shinobu stepped forward and took Cassie's hands and stared at her intently. "Cassie-san." He said. "You're famous. You're pretty. This may not be your world, but when it comes to criteria, you have every right to be here as anyone else, including Dupont-Bettencourt-san." Shinobu turned his head.

"Don't let those words of hers get to you. She's jealous, I'm sure. If not, then certainly petty. You're... " Shinobu looked back at her and blushed. "You don't need to take her words in stride or ...." Shinobu bit his lip.

"Actually, Cassie-san." He said and looked at the door, then looked back, wondering if she would be ok to head back in. "I think whatever you're doing is just right." He said with a smile. "The movie will start soon. I won't make you suffer another gauntlet of press and princesses." Shinobu grabbed the door and opened it. Then he suddenly let go and let it close.

"Actually." he said. "Now that I think about it. We still have a few minuets before we need to get to our seats. I'm sure we could enjoy the evening's cool breeze until then." He said as he gave her hand a gentle squeeze.
Last edited by 445 on Mon Jun 30, 2014 11:22 pm; edited 1 time in total
Cassie's smile became more genuine. "Thanks, Shinobu. You're sweet." She squeezed his hand back, and then whimsically surveyed the city in a way that made her think of cinematic cliches, though the view was always more romantic in the movies.

"I'm okay, really. Don't worry about me. If... you think I'm okay being here like this, then I don't care what other people think. They probably don't think anything about me, anyway," she said with an airy laugh. "That girl inside... Did you know her from before? Did she say she was a fighter too? Because... she really didn't look like one."
Shinobu blushed when Cassie squeezed his hand back. Her fingers were not rough but nor were they delicate like the heiress' hands.She did work but was still a lady. He liked it.

"I don't think I've met her before. Surely a woman like that would be hard to forget. But my agent mentioned her family would be funding the event, at least in part and that I should be on my toes and make nice. I hope I did alright. She didn't make it very easy."

Shinobu chuckled. "I think her family runs a very industrious corporation or some such thing. Perhaps she's a fighter the way I, technically, wear the mantle and disgrace the true professionals like yourself." He smiled at Casseie.

"The view's nice. I hope you aren't turned off at this sort of thing from what you've experienced so far."
"Yeah," Cassie nodded. "It is." She found herself paying more attention to Shinobu's hand than the cityscape. His famous-person hand in hers felt just like anyone else's, and it made him seem real. He was real, obviously, but standing there holding his hand, she felt like maybe he was a little bit hers.

"Not at all, everything's great. It's... I guess it's kind of a lot to take in. I've never been around these sorts of things. I grew up in a gym. I'm just simple and plain. My friend Taylor could get through this stuff, because she can just be flashy and be the center of attention and not care what people think... You should've brought her, but I don't know if Johnny would've liked that." She glanced up at him. "I like how you make me feel like everything's okay, and I'm okay. Do you... do you really like me? Like, if it were me or one of the other girls here, would you ever pick me to be your date?"
Shinobu brought his hand to his mouth to cover his lips. It was hard not to chuckle and that seemed extremely rude. However, Cassie was quite adorable and it made him smile wide enough that even his hand could not hide it.

"You don't seem plain or simple to me, Cassie-san." He said. "I'm sure Taylor-san would do well here. She might even like it a lot, the atmosphere. However, I wanted you to come because I thought that would be the most fun." He said, bowing his head.

"I DO have the choice. I'm not naive to my situation. I have lots of fans, most are girls. If I pointed in a direction, I could certainly bring any girl my finger fell upon. Even Dupont-Bettoncourt-san, I'd say." Shinobu smirked with confidence.

"But, that's not really my style. You're nice. I'd like to get to know you more. You're interesting. I think that you belong here even if you don't necessarily fit in. Maybe because you don't." He said. "But, yes, Cassie-san. I would pick you over all the other girls. I know that because I did."

Shinobu let his other hand slide onto Cassie's hand to clasp it between both of hers as he looked her in the eyes and smiled.
"I- oh." Cassie said. Suddenly, she had no words, and only stared up into Shinobu's kind and oddly purple eyes. Her cheeks were almost instantly bright red, and she had to look away.

Especially after everything with Mamouru, and how nothing ever seemed to go her way, it just seemed to good to be true. How had she managed to catch Shinobu Fujiwara's eye, but not stupid idiot Mamouru Higurashi's?

She freed her hand and stepped back for a moment, giving Shinobu a funny, uncertain look before she wrapped her arms around his waist in a tight hug. "Thanks," she said. She probably should've let go, but she held on tight.

"So I'm nice and interesting, but you never actually said that you like me." She peered up at him with a coy little smile.
This time Shinobu chuckled as Cassie hugged him. He smiled down at her and his cheeks flushed as their bodies connected. "Is that so important?" He said, still smiling. "Cassie-san, of course I like you. I thought it was quite obvious." He said. He wouldn't have even brought her here if he hadn't thought otherwise but once again, she focused on on details that seemed almost trivial to him. He liked the way she looked at life and he liked the way she acted. Or, rather, DIDN'T act.

Shinobu wasn't single because he had no interest in women. He was a playboy but not a playER. He didn't like to carouse, he liked to be in relationships. Those were hard to come by int he glamorous world of acting, unfortunately. It was hard to root out the pretenders from the deviously self interested. In the grand scheme of things, being single was just easier. He and a starlet could hook up for a small tryst if he missed the scene but he always played it professional and always went in with the best intentions.

Cassie was different. Purposefully so, perhaps. He had found the company of wrestlers much more agreeable than that of his own professional comrades. Maybe that's why he was so interested in Cassie. Maybe it was just her? She was quite infectious with her personality.

As he looked into her eyes, Shinobu felt an irresistible force pull him down. The moment felt right and his head leaned in to meet up with Cassie's at the lips. Would it be too bold for him to steal a kiss? He wouldn't let it go with just that for sure but he wouldn't be too aggressive either. One kiss might be fun and Shinobu decided that it would be great. His thumping heart agreed. His eyes closed softly as their lips were about to touch.

"FUJIWARA-SAN I- uhhhhh!"

The door swung open and Shinobu froze. His head craned up and towards the door, away from Cassie but his arms hugged her tightly, protectively from the intruder.

The one ambushing them was a tiny Japanese girl. She had big glasses and her hair was cropped in a boyish yet rigid bob. She wore a sleek dress that said professional without being as glitzy as the rest of the guests at the event. Her face was frozen as she stared agape at the scene. While her body stayed a statue, her hand came up and, without even looking, the phone in her hand pointed at the two and, with a quick stab of her thumb, a small flash washed over the pair.

Shinobu shrugged Cassie off him and pivoted, waving a finger at the girl and scolding her with a furrowed brow. "FUJIKO!" He growled. "I'm busy!" He said. "And you had better delete that picture!"

"She's cute." The girl said as her eyes peered at Cassie. "Fujiwara-san, I've BEEN calling. You may be able to sneak away from everyone else but not from me! I only came to tell you the movie is starting! You need to be in your seat! By the way, you and your friend are already making waves on the internet sites. That's good!" Fujiko smiled.

"There's pictures, of course, but none like thiiiis~" Fujiko waved her phone at Shinobu who swiped for it but missed. "It will give us leverage. All the tabloids will want a picture of the not new couple hugging in secret. We'll save it for the right time. You know how these things work, Fujiwars-san. I wouldn't wreck your image. I'd fire myself if I did that. Just hurry up and get to your seats."

Fujiko then looked at Cassie and bowed. As she lifted up her head, she smiled slyly at the red head and quickly exited.

Shinobu sighed deeply. "That... is Fujiko. She's my agent. She's a dear and I'd be lost without her but she certainly has her own way of doing things..."

Shinobu looked down at Cassie. They had almost kissed. The actor's cheeks flushed and he turned his head. "We should... probably go. The next one that comes through may not be on our side." He said with a wink.
"I just wanted to hear you say it, that's all," Cassie said contentedly. As she smiled up at Shinobu, she couldn't think of anything in the world that could make the moment better. Until...

Wait, what was he doing? At first, she pulled her neck back away from him, but she quickly recognized it. A kiss!

A kiss?! Holy crap!

Her mind raced to keep up with her heart, and all she could think was ohmigodohmigodohmigodohmigodohmigodohmigodohmigod. She closed her eyes as the moment drew near, and her lips parted slightly. This was the greatest most awesome moment of her entire life!

"AIE!" She shrieked, and looked up in shock at the interloper. A girl? Who was this girl? She looked back at Shinobu like she was hoping to be able to salvage the moment and kiss him anyway, girl or no girl, but the moment was long gone.

GODDAMMIT!

She threw a split-second mental kick-fit, and finished just in time to stare dumbly at the flash as Fujiko took a picture. She blinked. That couldn't be good, though she couldn't think of how.

"I..." She opened her mouth to speak, but had no words to follow. She stared at Fujiko like a spooked sheep until she disappeared again.

Then she nodded earnestly at Shinobu and started for the door. "Yeah, let's make sure we get good seats!"
Shinobu didn't catch any of Cassie's inward cursing, too focused on Fujiko's whirlwind. By the time he was ready, Cassie was already breezing off like it was no big deal. Shinobu wondered, as he escorted Cassie from the patio towards the theatre if maybe he had made a mistake. Maybe she really WASN'T looking for anything? Maybe he was too forward with her? Johnny had told him to be careful with Cassie. That if he hurt her or got any fancy ideas that Johnny would kick his ass personally. Had Shinobu been too forward? Was Cassie really off limits? Did he want to pursue her or was he caught in a fleeting moment of circumstance?

He meandered the lobby until they reached the doors of the theatre. The ushers opened it for him and a blast of cool air washed over the two. Shinobu smiled and took Cassi's arm as the usher led them up a flight of stairs.

"Cassie-san, we have the best seats." He said as they were lead to a small room with perfectly plush, recliner style seats and a fully stocked minibar behind them. Being one the mezzanine floor provided them with the best view. There were other suits like it on this level and there were a few other guests who had filled up the rest of the seats in the VIP suite-like room. A host came buy and handed them each some champagne.

Shinobu took it and took a sip of the cool, bubbly liquid. "What do you think, Cassie-san? He said as the lights slowly began to dim. "This is how to watch a movie." He said. "Though, I think I might prefer the set up Taylor-can had on most occasions."
Cassie followed Shinobu up to his private booth, and suddenly felt really dumb for thinking they had to find their own seats like common people. What a life Shinobu had!

"Wow," she said, and hopped into one of the seats. She took the champagne and sniffed it. Unlike in the limo, she didn't feel so timid about having something to drink. She took a sip.

"It's super awesome!" She grinned. "It's like... well, it's really great, but I guess I can see how with all this, you might want simpler stuff? Or maybe, like... something more private. I... Your publicist seems really great, but I can see how being surrounded by all that might kinda make it hard to really feel... intimate."

Was that the wrong word? She might've worried, but there was something else on her mind.

"Dupont-Bettencourt...san. She was being a jerk, right?" Cassie asked honestly. "Sorry, I guess I'm a little stuck on her. I'm worried that I might've been a little rude. I didn't mean to just run off when she came over to say hi. I think I should talk to her again before we leave, if I can. I can ask her about fighting and stuff. I'm sure it'll be fine."

She didn't want to just keep talking about that girl, though. They had bigger fish to fry. She wriggled into her seat and got comfortable, eventually picking her feet up next to her on the chair so that she lounged on one hip, careful to keep her dress under control. She was captivated from the moment the projector started rolling.
Page 4 of 9 •

1, 2, 3, 4, 5, 6, 7, 8, 9



Similar topics
---
Permissions in this forum:
You
cannot
reply to topics in this forum