Champions & #1 contenders
Summer Splash interest in Natasha Loclear?
Mon Apr 09, 2018 11:30 pm by daemongirl
Well my girl hasn't missed a summer splash yet, would anyone be interested in a match with her? Open to just about anything match wise, just pm me!
Comments: 1
Been Out with the Flu
Sun Apr 22, 2018 7:47 pm by daemongirl
Just letting those I have threads with know I've been out with the flu since early last week, but I will be back to posting tomorrow.
Comments: 0
The Austrailian Mudslide is Back.
Sat Apr 21, 2018 6:20 am by Softsquad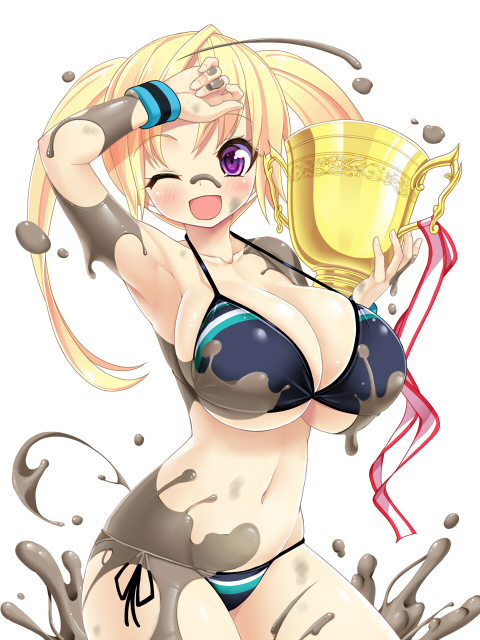 Granted that most of you won't know me or remember me, but I've had a few matches here and there some time ago. Well I think its time to become a regular around here and try to have some fun again, but at the same time keep coming back. Anyway I think its time to jump into some matches with Zoe Taylor, my mud wrestling character from Australia and get her back into the squared circle. Furthermore I will update my characters as I think some proper changes need to happen.
So if anyone would …
[
Full reading
]
Comments: 0
Page 1 of 2 • 1, 2


Match Conditions: Make your opponent submit. Winner gets to do whatever they want to the loser.
This was it. It was finally time. Kyo was nervous as fuck. As his entrance music played, he made a less than enthusiastic showing as he walked down the ramp and entered the ring, a stoic look plastered on his face. The crowd wouldn't be able to see that he was sweating almost profusely. He wiped the water beads off his forehead before they had a chance to burn his eyes with their salty concentration. Kyo certainly didn't look like a normal wrestler outside the ring. His somewhat slim body was covered in a white and blue gi, the outfit most people saw him in backstage, plus the absurdly long green scarf he would adorn around his neck. Tonight, however, he was dressed in proper wrestling gear; sporting some tight fitting black nylon wrestling shorts, wrestling boots, knee  and elbow pads, and fingerless gloves.
Going back to his nervousness, the newbie wasn't nervous about this night being his big debut in the ring or because of how large the crowd was. It was...more personal...
Some could call him weird. ..others might considered him bipolar. Kyo was just fearful for the people who triggered it. He was nervous about his "personality - changing sex drive." Even if he was turned on alittle, his personality would do a full 180 and he would become an almost sadistic being, hell bent on doing just about anything to fulfill his sexual desires. It was troubling for him and even more so for his opponent, if they happened to be a sexy female. The probability of that was always 100% at AFW. Kyo could only hope that his first match could go without the "sexual intervention". That hope would be quite the fantasy though, Since anyone that had wrestled in this ring NEVER had fighting and winning as the only thing going through their mind.
Last edited by kamina_tamotsu on Tue Dec 30, 2014 2:43 am; edited 2 times in total
It's been a while since Iroha had been in a match, it was a bit disappointing for her as she wanted to wrestle very often for her master's sake. She was more then ready for tonight and hoped to give her master a great show to both see her kick some butt and maybe get herself tortured by submission holds for him as well, since she learned that he liked seeing Iroha trapped in submissions and that she looks sexy while trapped in them.

She took a nice shower in the locker room before putting on one of her many pairs of clean custom maid outfits that really showed off her figure and sexiness which draws many to her. Iroha went and waited to be called, and when she did with her theme starting up the maid enters the arena and walks elegantly towards the ring. Her breasts bounced around a bit up and down as they aren't being held by a bra at all while she walked, but it didn't really bother her at all nor did she even notice how much attention it was drawing towards the maid with cat calls and whistles blowing, especially since she wears this all the time in public.

Iroha climbs up and into the ring as she arrives with many of the people behind her to get a good view of her fine butt, and then she walks to the ring's center and begins to bow to 4 corners of the arena to the audience before walking over to her corner and facing her opponent and bowing to him as well while she introduces herself to him. "It is nice to make your acquaintance fellow wrestler-sama, I am Iroha Miyazaki and I will be your opponent for the day."
" title="zomg" /> Kyo was mortified.....in a good way. While the fed was filled with sexy females, this one, his opponent, just seem to blow the rest away.
"Ahh....ah...."
He sputtered out his gaping mouth as she made her way down to the ring. As the boy watched her large breasts bounce, a large blush was painted on his face, and he couldn't help but feel his dick harden up and rise slightly in his wrestling shorts. God damn was she unbelievably hot. Unfortunately, that was the sort of opponent he was hoping he wouldn't have to face tonight. ....the thoughts....the thoughts had already enter his mind; Thoughts of how he was going to have his sexual way with her flooded his mind and cut into his better conscious. It was scary how he had already made his decision with what he was going to do withher.... He was going to wreck this little hottie during the post match and he was going to take his sweet sweet time doing so. It was too late for his other, innocent and kiddish side. By the time she had entered the ring, the "switch" had already begun.
Kyo watched as his opponent made her way around the ring, bowing at every post. Each time she bowed, the boy got the best view of her perfectly shaped ass. The breasts, and now her ass....he wondered for a second who might of made such a "well-designed" dress. It looked like a cosplay....made her look like a ninja-maid. But the second soon came and went, and Kyo didn't really care....he soon be up close and personal with it all. As the girl bowed to him from her side of the corner and introduced herself, Kyo grinned and crossed his arms...noticing the great amount of cleavage as she stood up right. "
Wrestler-sama huh? You sure are friendly, aren't you cutie?"
He said, his tone brimming with confidence, one of the side effects of his switch. If he was his normal self, he would have probably keeled after saying one word in his reply.
"The names Kyo Shin. I guess you can call me "Kyo-sama" if you prefer..."
He said in a chuckle, playing along. "
Its quite nice to..."meet"...you too Iroha-san. I look forward to making you to submit to me in my debut match tonight..."
Last edited by 10463 on Fri Jun 27, 2014 1:01 am; edited 1 time in total
Iroha always made sure she showed great manners and proper etiquette around others, including people she has to introduce herself to even if they are to be her opponents in a wrestling match. Kyo was of course no exception as well as she introduced herself properly to him, but she didn't know his name beforehand so the maid had to refer to him by something until he told Iroha his name. "As you wish, Kyo-sama." Iroha said to confirm her opponent's request on what to call him. As always, the sexy maid never notices how most of the crowd's reaction towards her is because of her wondrous sex appeal which makes everyone want a piece of her in some way or another.

Hearing her opponent say that he looked forward to making the maid submit reminded her of the match stipulations in which the winner were to have their way with the loser in any way they want. Thanks to Iroha's previous match with Killer King, she thinks that this kinds of matches always results in the winner having sex with the loser, and if that is the case then the maid wants Kyo to know what will be waiting for him afterwards.

"If you can force me to submit...." She started to say as she brings both of her hands up in a cross to grab both of the straps of her outfit before she lowers them down to expose her upper chest to show her bare breasts to her opponent. "You are free to have your way with my body in any way you want for as long as you like for tonight, Kyo-sama." Iroha finished as she bows her upper body down to her opponent for the night while also giving him a "better" view of her cleavage before she pulls her straps back up to cover herself back up.
Kyo eyes suddenly widened as Iroha showed him her massive endowment as she pulled down her top. Those pink nips were sure enticing..... Surprisingly, while he was starting to get sexually turned on by his opponent, sex post-match hadn't been on his mind. Her words...and her actions changed all of that. Kyo could not help but grin wickedly at his opponent, his sexual arousal pushing his battle poweress and confidence to new heights. Iroha showing off her breasts was the worse thing she could have done for herself...as it would make Kyo fight all the more better. He cracked his knuckles as Iroha covered herself up. "hrrr.....Well well well Iroha-san. I think you read my mind alittle bit! Thanks for giving me an even better reason to beat you down!" He quickly spread his legs out and clenched his fists as he assumed his fighting stance. "However, I hope you don't expect me to constrain myself fully while we fight!" He chuckled, the words reaching her only a few seconds before the bell rang. "DING!"

Kyo was fast on his feet as he charged at a great burst of speed towards the maid. He wanted to gain quick control of her; to dominate her early. The best way was the get her on the floor so that extract what weak points her body had....the painful holds would come in after that. Making it seem like he was just eager to lock up with her, Kyo quickly feinted to her left only to try and sweep her feet out from under her. "Haaaa!"
Last edited by 10463 on Sat Aug 02, 2014 3:15 am; edited 1 time in total
Iroha stood up straight and formally with both of her hands in front of her waist after she covered herself back up when she offered her body to Kyo to have his way with if he can defeat her in this match, and like everything else, she plans to make good on that reward should it come to past. But there is still a wrestling match that has to be done before that happens to see if the maid's opponent can pull it off and win Iroha's body for himself tonight. "Your welcome, Kyo-sama. I feel it is best to have more reasons to a cause at times, especially ones like this one." She would say before raising her own arms up to get into her own Crane style martial arts stance to show she is ready. "And I do not expect you to hold yourself back, come at me with everything."

Once the gong rings, Iroha moves out of her corner in a cautious way for whatever Kyo will throw at her. Seeing how he just dashes out of his corner instantly, it seems predictable that he would just do a charge tactic on the maid. Iroha fully prepares herself to counter against her opponent, and it seems like it would have work, if his charge wasn't a feint. "What??" Iroha was surprised and her guard was thrown off, giving Kyo a clear opening to kick sweep the sexy maid off of her feet. "Oof!" She let out when she hit the canvas square on her butt, leaving herself open for Kyo to take advantage of her in this position.
Kyo grinned happily as his plan worked just like he wanted it to. As the the sexy battle maid hit ground, the boy completed the spin from his sweep kick and glared right at her. "Guess you weren't expecting that huh?" He said playfully as he quickly moved towards her. It seemed to him like the strongest parts of her body might be those thick thighs of hers. He thought it would be best to work on those first...perhaps with the hope of finding some weaknesses within them. He grabbed her ankles and lifted it up slightly. "I'm curious about your how flexible you are Iroha-san! Lets see it!" He chuckled as he suddenly did a sort of barrel roll maneuver over her. Landing above her head, he pulled both of her legs with him. The movement forced the maid on her back, and Kyo pulled her legs, trying to force them flush against her body ( even though that was impossible to do with her breasts). Because of the force his weight had carried the momentum...he hoped such a move would jar and sent a strong strain to the back of her thigh muscles and butt. It would help with the next part of the hold, as he sat and spread his legs out...hopefully locking her down in the straining hold.
Last edited by 10463 on Tue Sep 02, 2014 1:30 am; edited 2 times in total
Iroha had taken quite a sneak attack that forced her off of her feet and onto her sexy shapely butt, it really caught her off guard and she couldn't believe that she fell for such a feint. She laid down on the canvas with Kyo right above her as she was about to get herself up before her opponent grabbed her ankles and lifted them with her legs up off the ground. "A-ah..!" Before she knew it, Iroha was then folded forward by Kyo who rolled over her and sat above her head while keeping his grip on her lovely legs, stretching them hard in this position as pain went through her legs and her rear while they were pressed against her big breasts. "Aaaaaahhh...!" The maid cried out as she was held here, in the mercy of her opponent.
Kyo grunted as he locked the hold down on the maid, landing flat on his stomach. If she wanted to break free of such a hold, she would have to overcome his weight with her legs! "Hrm!!" He grinned, his eyes focused down on hers through her lower legs, her cries of pain only seem to make the grin become larger. "Hmmmm! Hmmmm! Whats the matter Iroha-san? You forget to stretch or something before the match? If you didn't, I guess I could..."help" with that." Kyo chuckled and then lifted his body up off the ground, pushing his arms out straight. The resulting weight shift forced more pressure onto her legs through his arms. As he lifted himself up, Kyo forced Iroha's legs to be pushed further down against her body...until they locked straight and the tips of her toes were touching the mat. Now with the intensified straining, the hold heighten the pain she felt on her ass and thighs...but also the backs of her knees. As an added bonus, Kyo had put on display Iroha's strained but perfect ass for those watching! In this raised position, he was getting the best view!
Iroha continued to grunt and moan in pain as her body was being folded tightly by her legs being pressed over her chest by her opponent. The weight of Kyo's hold on the maid was too heavy for her to try and lift her legs to overcome it, so she had no choice but to endure the sharp pain in her legs and hips as much as she could. "Aaaaaaahhhhhh...!!" It was surprising how very this match is and already Iroha was in trouble, and she cannot do much about it. The pain would get worse for the maid as Kyo sits himself up and presses his arms down more on her legs, which sends more pain through her body, but more specifically her thighs and rear which increases the volume of the cries. "A-aaaaaaaahhhhhhh...!!!" The poor girl really cannot do anything to escape or counter and was still at Kyo's mercy.
Page 1 of 2 • 1, 2



Similar topics
---
Permissions in this forum:
You
cannot
reply to topics in this forum