Champions & #1 contenders
Summer Splash interest in Natasha Loclear?
Mon Apr 09, 2018 11:30 pm by daemongirl
Well my girl hasn't missed a summer splash yet, would anyone be interested in a match with her? Open to just about anything match wise, just pm me!
Comments: 1
Been Out with the Flu
Sun Apr 22, 2018 7:47 pm by daemongirl
Just letting those I have threads with know I've been out with the flu since early last week, but I will be back to posting tomorrow.
Comments: 0
The Austrailian Mudslide is Back.
Sat Apr 21, 2018 6:20 am by Softsquad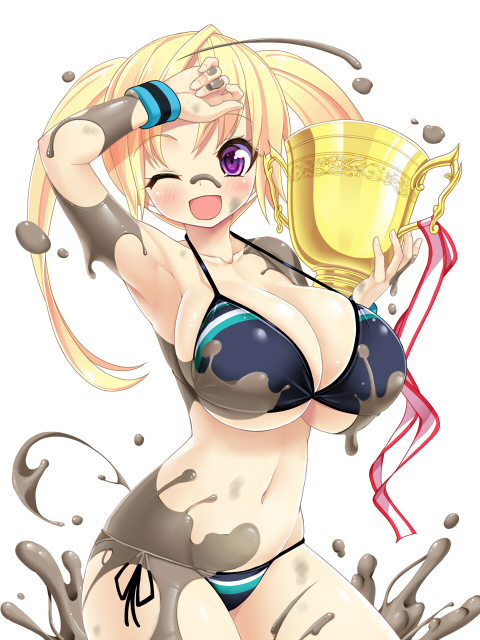 Granted that most of you won't know me or remember me, but I've had a few matches here and there some time ago. Well I think its time to become a regular around here and try to have some fun again, but at the same time keep coming back. Anyway I think its time to jump into some matches with Zoe Taylor, my mud wrestling character from Australia and get her back into the squared circle. Furthermore I will update my characters as I think some proper changes need to happen.
So if anyone would …
[
Full reading
]
Comments: 0
Page 5 of 6 •

1, 2, 3, 4, 5, 6


Cameras still flashed well after the power bomb had worked its magic to catch the tantalizing sight thereafter, a limp D.B. spread-eagled on top of Bomber with the side of her rose red face panting heavily against the throbbing mound inches away. Bunny's head was swimming from the sensations of audible sound finally hitting her ears and cool air on her face still from having her head encased by those warm, fleshy thighs.

After some inadvertent nuzzling into what she briefly thought was her heated rabbit plushy back home, Bunny shot her head back up with widened eyes once she realized she was nuzzling cutely into Bomber's crotch. She palmed her forehead as she steadily climbed upward, her damaged pride stinging more than the throbbing pains in her head. Bomber had really done a number on D.B., the playboy opponent having never missed an opportunity to degrade and smother D.B. into submission beneath her curvy rump and bust.

Teeming with frustration at this point, D.B. bent down and lifted Bomber upward by her purple locks before, the ominous wooden table by now a a short distance from the battling bunnies. D.B. was intent on finishing this colossal headache of a match before things could possibly get any worse….but not before sending one final message.

"From one bunny girl to another, just gotta say…..you're a disgrace to the ears…." Bunny snarled into Bomber's face inches away with her hands still clenched tightly into her hair. Soon after D.B. would clamp onto Bomber's abundant chest with both gloved hands, kneading her fingers into them until she found that sweet spot of a grip. In one deft hoist Bomber would find herself nearly a foot off the mat in D.B.'s dreaded O.H.T.!!
Bomber weakly cried out, as she felt Death tugging on her locks, pulling her back up to her feet. Her scalp burned, and her body felt wrecked. Once again, Death had turned things around on her, and this time it seemed that the bunny had nowhere to go and no way to stop her. Death seemed pissed, and after that powerbomb, Bomber just didn't have the energy yet to try and fight her off.

A light blush crossed her face as Death snarled at her, a whimper passing through her lips. She opened her mouth to try and fire a reply back at the woman, but before she could do so, she suddenly felt her hair being released, and soon after that the feel of Death's strong hands, clamping down on her massive, soft breasts.

"Aa....AAAAHHH!" Bomber began to scream, her face scrunched up into an expression of utmost pain as she was lifted up and off of her feet, hanging in the air, Death squeezing at her chest, digging her fingers into the soft titflesh of Bunny's breasts. The pain was incredible. She had never been attacked like this before! It was almost too much to handle!

"L-let me GO!" she screaming, pleading for mercy from Death, as she struggled in her hold. Her hands came up to grab at the bunnygirl's wrists, trying weakly to pry loose her grip, her legs desperately kicking at her, as the pain from the simple, yet undeniably effective hold, coursed through her body.
Darkness.
The AFW lights blinked out. No power outage, not a flash. A few of the lights over head flickered away, then...nothing.
Thousands of phones lit up all across the stands, forming a glorious sea of stars all around the ring, as if the two bunnies had been plunged into the middle of the universe and were cast out, adrift and alone. Confused whispers echoed all around them, mumblings and murmurs, the occasional shout from a pervert using the opportunity to cop a few feels.
The lights came on, and all of the sudden, there were
three
bunnies in the ring.
She
was there.
She crouched in the shadow of Death Bunny, her amber eyes glowing hot red behind her, narrowed in a fierce stare. Alone, save for Bugsy, the trusty bear in her right hand. A very special bear. A very
hard
bear. Her breath was heavy and ragged, blood boiling as it raced through her veins.
She'd waited so long. Two years. Five months. Three weeks. One Day. Fourteen hours. Nineteen minutes. Thirty seconds.
But it was time. Finally time.
She swung her lead-filled teddy bear into Death Bunny's back, channeling all her hate, all her malice, all her rage and frustration into the vicious blow and punctuating it with a long war cry.
"REVENGE!"
Let bunnygirls the world over tremble in floppy-eared fear. Cayin the Revenger had come to the AFW.
Last edited by acuya on Sun Dec 07, 2014 11:28 pm; edited 2 times in total
Death's arms wobbled and shook somewhat from Bomber's struggles but remained rigid with her kneading fingers maintaining her vice like grip on the playboy bunny's tortured breasts. The wild flailing's of her opponent's legs bounced off D.B.'s chest and would be largely ignored as her clenching fingers' brought inhumane strain on her tits, bouncing and jiggling to the point Bomber's one piece costume hardly contained them anymore.

"Now why would I do that?….*pant*….you've never looked better~….*pant*..." A once in a lifetime smile flashed across DB's sweat covered face. As exhausted as she was the sight of Bomber begging for mercy and wailing in agony gave DB more than enough incentive to hold for as long as possible, not even noticing the flickering of the arena lights until the stadium became as pitch black to the point where you couldn't see a hand in front of your face…or in this case the quivering bunny girl.

DB shoved back the dead weight in her hands with the sound of Bomber collapsing to the canvas the only indication to the fans over what was happening in the ring. Bunny clenched her hands into fists in preparation for whoever thought was a smart idea to interrupt her right in the middle of her much deserved vengeance. She squinted her eyes when the stadium became illuminated once again, noticing that feeling you get when you can sense something's behind you…

"GAAHHH!!!" DB wailed bloody murder as she arched her spine and collapsed to her hands and knees, a paralyzing pain crippling her with the stunned audience baffled over not only who the loud mouthed interloper was, but why did DB get chopped down so easily by a teddy bear of all things. Flares fired up all around her lower back, DB essentially crippled in agony with one hand fruitlessly soothing her tormented area. Slowly turning her head to the side from being pressed against the canvas, Bunny wearily squinted upward to try and make out the interfering imp standing just to her side, still not quit making her out from the sweat in her eyes and the glare from the stadium lights blinding her…
Bomber hit the mat as Death went down, releasing her grip on the former model's chest. She rolled onto her side, panting, writhing in pain and clutching her hurt breasts with both of her hands, quite obviously glad to be free of Death's hold.

She caught a glimpse of the newcomer bunnygirl out of the corner of her eye, though, and immediately got nervous, wondering just what the hell was going on.

With a deep breath, she rolled over onto her frontside, and pushed herself up to her hands and knees, weakly lifting her head to look up at Cayin. "Nn...w-who the hell are you...?" she asked, exhaustion and honest confusion in her voice.
The sound of Death Bunny wailing in agony.

Cayin had waited so long to hear that sweet, sweet sound. She'd longed for it. Craved it. It was the oasis in the desert of her life, and after so much slaving and toiling, so many hard, tear-stained nights and brutal days of training, it was finally upon her. It was sweet. So sweet, that she could hardly wait to recieve it on a regular basis.

She started to move towards her precious prey, when the other bunny girl spoke up. Cayin had not forgotten about the Bomber, but she was not part of the plan. An unwitting pawn in all of this, a mere witness to the onslaught that was to come. She had the right to know what was unfolding before her, to know what name she would be uttering in praise and thanking in prayer when this day was through.

"I am the one who was lost, but now is found. Forgotten, but now remember. Broken, but now remade.  The flame that was thought extinguished, but now rises again." She turned her fiery glare to the one who deserved it most, Death Bunny, as she writhed on the floor. "I am proof - living, breathing proof - that no sin goes unpunished in this universe, and that all that is done in the dark will come to the light. Seeker of justice. Seeker of vengence. Seeker of retribution. Know the name of Cayin and know fear!"

Cayin brought her boot up and stomped hard into the small of Death Bunny's back, digging the heel into the very spot she had just struck and pressing her weight into it. "Suffer, coward!" She shrieked. "Suffer!" She screamed.
Regrettably, the throbbing pain in her lower back wasn't nearly distracting enough to block out the long winded villain monologue taking place just above by her mystery mugger. Cringe worthy was an understatement, Bunny's groans half the result of her being incapacitated by this ornery brat and the other half from being forced to lay there and listen to her drone on and on about fiery vengeance to a simple question…perhaps more torturous than the searing discomfort shooting through her lumbar.

"Grrah!! The fuck off!!" Stomping down where the offending teddy bear struck planted DB back down against the canvas, her right boot kicking against the mat as the grinding heel intensified her spinal injury. Pounding the mat in frustration, DB made a swiping attempt at Cayin's other leg to knock her off balance enough for her to attempt the seemingly impossible and get back to her own feet.

With one inspiring motion DB shot one arm to clamp onto the wooden table aside her and use it as solid enough foundation to hoist herself up to her knees and hopefully to her shaky legs, gritting her teeth to stifle any cries of anguish from her tightening back muscles. Bunny had still yet to get an eye-full of whoever this Cayin idiot was, though hearing her insufferable speech...her voice...so...familiar...
"Riiiight..." Bomber just sort of stared at Cayin, watching as she stomped away at Death, unrelenting in her assault against her fellow bunnygirl. She wondered, briefly, where the referee was, and glanced about, finally spotting her, knocked out on one side of the ring. She assumed Cayin must have taken her out too, before she came after Death. Bomber certainly wasn't going to complain about that, not so long as it meant that Death was going to get the beating she so rightfully deserved!

She watched Cayin for a moment longer, then glanced at Death trying to drag herself up, when she suddenly got a nasty idea. "Hey! New girl! Keep her busy for me!" The pink-haired bunny snarled at Cayin, before turning to the table that had been set up earlier. She went to grab it, trying to pull it into a better position for what she had planned, hoping that Cayin would keep Death busy for her until she was ready.
Cayin rolled her neck and cackled as Death Bunny wallowed beneath her feet, writhed under her boot, flopped about the floor like the pig she truly was. "Do you feel that, traitor?" She watched as Death Bunny struggled and kicked, and her weak resistence only made Cayin wish that she were heavier so she could ground her heel down even harder. She had considered wearing some extra weigths, but decided she needed to stay mobile. "That pain in your back? You think its nerves? You think your body is sending pain signals to your brain to warn you of incoming trauma?" She threw her fists into the sky. "You are wrong! That senation is the feeling of raw justice coursing through your veins, a shot of righteous fury that is long overdue. You brought it on yourself, sealed your fate, like Macbeth in the plays of old. And not unlike like that bastard king, you earned your deminse when you-"

Cayin's epic speech was interrupted when Death Bunny had the nerve - the unmitigated gall - to fight back and forestall the punishment she rightly deserved. "...you would dare?" She sat up and looked at Death Bunny with a glare that would have sent a thousands rabbits fleeing back into their holes. "Coward! You would dare?"

Cayin nodded at Bunny Bomber and flipped back to her feet as Death Bunny began to rise up, trying to get back to her feet. Coincidentally, it put her in the perfect spot for what she had in mind next.

She came at her from behind, grabbed Death Bunny by her stupid ears and rammed her stupid face into the stupid table, hoping she would hear a stupid scream for all her efforts. Between her and Bunny Bomber, this traitorous bitch would get what was coming to her. It was inevitable. "You cannot escape your sins! They flock to you, always!"
In what was already a world gone mad from the sudden interference and nonsensical blathering of a loud mouthed despot nearly suppressed by the indignant boos reigning down from the audience, D.B. felt some modicum of relief from briefly getting the monkey off her back, so to speak. At this point winning the match was becoming less and less of a priority behind simple tasks like getting back to her feet and solving the mystery of who seemed to have penchant for quoting Macbeth and blindsiding cheap shots.

Rising up too quickly reigniting the searing pain in her spine from the point of impact, D.B. clenching her teeth and propping her left arm against the setup table. The muscles in her body tensed up upon reaction and left her feeling somewhat paralyzed as a result before having her face slammed into the table by her floppy bunny ears. A brief flash of blackened unconsciousness blinked throughout her vision before she fell back down to one knee, a hand on her head and the other arm laid out on the table...

With the mystery assailant relentlessly working her over from behind atop her already exhausted state from a little matter of a table match she was in the middle of, D.B. was a hollow, groaning shell of her normal self….
Page 5 of 6 •

1, 2, 3, 4, 5, 6



Similar topics
---
Permissions in this forum:
You
cannot
reply to topics in this forum