Champions & #1 contenders
Match for Takeichi
Tue Jun 12, 2018 6:13 am by GrandAkumaShogun
So with my other two guys having their own matches I figure I should do something with my first character on here, Takeichi Mori. If anyone is interested feel free to post here or get in touch through a pm so we can plan it out. I can either have Takeichi remain a jobber or begin to work him towards being a more serious competitor.
Comments: 1
Kawaii Opportunities
Sun Jun 17, 2018 3:04 pm by Daaharu
Hey, guys!
With the kawaii title match at Avalanche taking on an interesting wrinkle with the interruption by the Brat Pack, we are moving forward with the overall kawaii storyline, and at this point I'd just like to take stock of what kawaiis are out there that are interested in participating in a cohesive storyline.
Can't make any promises about titles or what exactly each girl's given role would be. We can talk a little more about the specifics of where the story is going soon, but I …
[
Full reading
]
Comments: 2
Match or RP?
Wed Jun 13, 2018 3:48 pm by Lotuswarrior
I'm just looking to do something while I wait for match replies. Really want to get some characters cemented a bit with a rival or some interactions with other characters here.
If anyone wants to do something hit me up.
Comments: 0

Standard prostyle rules apply
Victory by pin, K.O. or submission
It was another busy Wednesday night, and the AFW stadium was packed. Between all the unique speciality matches that AFW had to offer, the fans still attended in droves for a good, standard prostyle match between superstar lady wrestlers. Tonight would be no exception.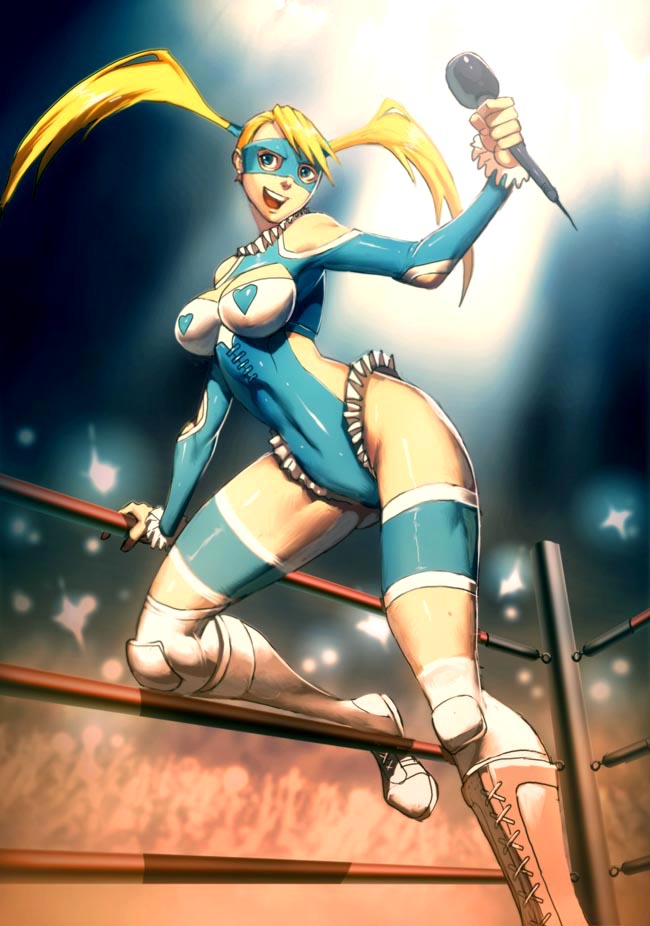 [url=http://www.youtube.com/watch?v=nm0M5MMKEyg:1ght0wtb]A very peppy, vibrant electro theme began to play,[/url:1ght0wtb] and many members of the audience, upon recognizing the theme, burst into cheering. A second later, Rainbow Mika bounded into the arena, waving and cheering to her ecstatic fans. As usual, the Rainbow Warrior wore her trademark blue-and-white frilly one piece that left little to the imagination, complete with matching boots, pads, and mask, and her generous bust bounced as she skipped lightheartedly towards the ring.
It had been a few months since Mika had fought Angel for a shot at the AFW Title, and had lost. Since then, she had steadily been building up her courage and getting over her defeat. She may have been defeated, but she was not done-- and as long as she was in the AFW, she was going to do whatever she could to prove to the fans and to the management that she deserved another shot at that title.
Sliding under the ropes, Mika quickly climbed to the top of the turnbuckle and smiled, raising a fist to her cheering fans. As the crowd roared with applause, the Rainbow Warrior dropped back down to the ring and waited for her opponent...
It had been about a month since her match against Cassie and the embarssing defeat she had suffered at the hands of the grapplers powers. Not at least to mention the breathlessness she had suffered with. She had now fully recovered and was ready to fight again. They put her in yet again a tough match, this time against a woman was a well known powerful fighter. Mika was going to be a tough one, Mika was quite muscled and knew how to take a punch yet alone throw one.
Once the woman's theme had stopped a rock theme would blast threw the speakers as Toshiko walked out to the crowd. While they were not as receptive to her as Mika she would run down the ramp and slide under the ropes. She was wearing her usual appeal but the main exception was the fact she was wearing full blown wrestling boots in a black colour along with some knee pad, elbow pads and some padded gloves "You ready to see a blonde bitch get knocked and smacked around?!' She shouted to the crowd, fist pumping the air.
Mika watched quietly as Toshiko entered the ring, and frowned at her ring antics. "Hey...I'm standing right here, you know!" she grumbled. "That...that's not very nice!"

It didn't matter, as a large portion of the crowd cheered at Toshiko's shout. Annoyed, Mika knew that she couldn't allow herself to be outdone like this. Turning away from Toshiko, she clambered onto the opposite turnbuckle and gave her fans a smile and a V-sign. "There is only ONE superstar of the ring! RAINBOW VICTORY!" At this, her fans went wild, erupting into cheers and applause at their champion's usual exuberance.
"I am not here to be nice" Toshiko jeered. She would laugh as she watched Mikas actions "Please you are going to get destroyed here tonight. I came out here to show everyone how rubbish and old you have become. You are not even a champion now!" Toshiko would take a second and get into her wrestling/fighting stance. Her legs quite tight together to make sure she could throw punches quickly and with as much power as possible. Suddenly the bell would find and Toshiko would start "Come on them princess rainbow. Ready to get bloodied?"
Mika smiled at Toshiko as she settled into a crouch. "I'm more of a champion than you'll ever be!" she fired back. As the bell rang, she began to circle the other girl warily. "I'm always ready to win! Come on!"

Without a further word, Mika would dart in as though looking for a lockup. At the last second, though, she would drop and spin, hoping to take Toshiko by surprise with a spin kick!
The disadvantage of Toshiko's stance was the fact that it struggled to adapt to speed. Mika's speed was way above what Toshiko had originally anticipated. The speed caught her off guard and the kick nailed into Toshiko, the hard boot smacking into Toshiko's soft skin. The power of the hit would send most people to the ground, but thanks to the rigidity of her stance she was able to resist falling down and instead take a few steps back, a few dangerous steps towards the corner however, never a good place to be.

"Should of been expecting a dirty trick from a old hag" Toshiko would grit her teeth and close the gap between them, throwing a jab towards the womans face before spinning around to try and spinning elbow strike to the side of the wrestlers head.


Similar topics
---
Permissions in this forum:
You
cannot
reply to topics in this forum