Champions & #1 contenders
Looking for a debut match
Sat Apr 29, 2017 2:29 pm by SimplyMoon
Hey all, new here. Just got my character approved so I am now looking for a debut match. It can really be anything and it doesn't matter to me if she wins or loses this first one. Just someone whom can be a bit forgiving as I am new to this.
http://www.afwrpg.com/t16742-aisha-love-the-pink-bomber
Comments: 0
Summer Splash with Natasha Loclear?
Mon Apr 17, 2017 7:33 pm by daemongirl
Hey everyone, now that its April just thought I'd begin looking for plans for SS. Now that Natasha is no longer the champion I'm looking for where to go from here so anyone with a fun SS idea that could involve her let me know!
(edited thanks to Lobo pointing out I have WWE on thre brain lol))
Comments: 2
Some updates
Fri Apr 28, 2017 8:32 pm by Winner3
I wanted to make a notice board post to boost visibility on the subreddit I made for this forum. The discussion post where I introduced and explained the sub can be found
here
And the subreddit itself can be found here: https://www.reddit.com/r/afwrpg/
I made various updates since first posting about it. I'm happy that it has a few subscribers, and that despite the fact that the comment count is low, people seem to be up voting and down voting matches and posts. And I hope to see activity …
[
Full reading
]
Comments: 3
[align=center:3gp3313d]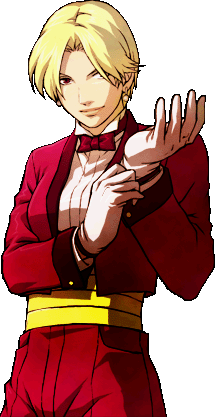 [/align:3gp3313d]
[align=center:3gp3313d][size=150:3gp3313d]~
|KING|
~[/align:3gp3313d]
Real Name:
Jeanne Lemieux
Sex:
Female (biologically) prefers 'both'.
Age:
23
Eyes:
Blue
Hair:
Blonde
Height:
5"8'
Weight:
130
Nationality:

France
Entrance music:
[url=https://www.youtube.com/watch?v=ys2rRGEFP70:3gp3313d]Piano Black[/url:3gp3313d] by Yoko Kanno
Wrestling InformationStrategy:
The moment the bell rings, King gets up close and personal. Kicks, knees, punches, elbows, all coming off in one rapid stream with very little pause or letup - everything chains into everything else, and if her opponents aren't careful, they'll quickly find themselves overwhelmed. She also has an impressive array of grappling techniques, specifically favoring moves like the DDT and sleeperholds.
Style:
High-Speed, Aggressive
Type:
Striker
Preferred Attacks:
Spoiler:

Strikes
Tornado Kick
Springboard Savate Kick
Downward Roundhouse Kick
Knee Bomb
Foot Thrust

DDTs
Scissored DDT
Headscissors DDT
Legsweep DDT
Snap DDT

Chokeholds
Guillotine Choke
Rear Naked Choke
Dragon Sleeper
Straightjacket
Preferred Matches:
Willing to participate in standard matches or hardcore variations. No interest in 'soft' matches.
Physical StatisticsEndurance:
★★★ - An experienced street fighter, she's built up decent resistance for her size.
Strength:
★★★ - Works out regularly and has good power overall, especially in her legs.
Speed:
★★★★★ - Not only has the ability to use a variety of strikes, but can deliver them with lightning speed and razor precision.
Defense:
★★ - Her style is highly offensive, tends to falter when put on defense.
Technique:
★★★ - Her skills are self-taught, and while they're more than adequate for her purposes, some formal training would improve them.
Wrestling Statistics
Strikes:
★★★★★ - King's bread and butter.
Submissions:
★★★ - Knows a few, particularly fond of sleeperholds.
Powerhouse:
★★ - Might perform simple suplexes if the opportunity presents itself.
Aerial:
★★★ - NoT above using the ropes to get a little air time for kicks.
Counters:
★★★ - Has fast hands, can slip through out of simpler moves easily if given half a chance.
- Signature Moves -
Crescent Moon:
King tosses an opponent to the turnbuckle, then quickly runs after them.and does a backflip off their chest, kicking them in the chin as she leaps. If they're still standing when she lands, she'll follow up with a knee bomb.
Full Moon:
King grabs the opponent from behind and catches them in a classic sleeperhold. Before they can start to pry loose, she flips back in a double knee backbreaker, keeps a hold of them after the impact, and rolls them over into a camel clutch.
- Finishing Move -
Venom Shot:
When the opponent is stand and stunned, King runs up the turnbuckle, leaps off in a spin without even turned around, and hits her with a spinning heel kick, using the drop to give it some extra power.
Characteristics
Visual Appearance
Typically dresses in very masculine clothes, to the point where anything but a careful glance will lead you to believe she's a man. It's even hard to tell it by her voice or the way she walks.
Physical Appearance
Spoiler:
Winding down after work..
Spoiler:
Throwing out a fierce kick.
Spoiler:
One of the few times she's been seen wearing a dress. Not too happy with it.
Personality:
Like the music she so enjoys, King is consistently relaxed. It's extremely rare to hear her yell or show real anger, and even when she's truly mad, she tends to simmer, not burn. She likes to be in control of herself and her surroundings, and has a penchant for order and style.
She likes things neat, she likes things clean, she likes things cool. As a fighter, a businesswoman and a bartender, this mentality has served her well. As a person, it can occasionally cause her to come off as a perfectionist, which turns off people. She's trying to learn to be a little more flexible.
History:
Here's a curious question - how does a French crossdressing streetfighter wind up in Japan, wrestling in an all-female wrestling federation?
The story starts in Lyon, France, at an all-girl'school on the edge of town, with a little tomboy named Jeanne. Her father was bartender and owner of a fairly famous jazz bar, Illusion. Her family wasn't super-rich, but they had enough money to send her to a fine school, hoping she would get the best education.
Jeanne hated it. She absolutely hated it.
Firstly, there was the dress code. For whatever reason, Jeanne never felt quite right wearing a skirt and other girl's clothing. It was hard to put into words exactly why she felt so weird in them. Like she wasn't made for them, like she wasn't meant to wear them. Whatever the reason, she was uncomfortable at the school, and that showed itself with an awkward nature. She was quiet, sullen, distanced from the other girls, which made her a prime target for bullying.
The bullying went on for a year, until her father took her to see a movie by a certain Belgian kickboxer, Timecop. The movie was a rather poor Terminator knockoff, in her opinion, but the fighting fascinated her. She couldn't get her father to pay for lessons, but she managed to acquire a few books and started to learn kickboxing in secret, taking various elements from all sorts of styles - Muy Thai, Savate, Tae Kwon Do - and blending her own style out of it. It all came together when she got in a fight with a particularly persistent bully during lunch one day, taking the girl down with a knee bomb to the face, in what she still considers the greatest fight of her life.
It got her suspended for two weeks. Her father was not quite as pleased.
From that day on, she started crafting her own identity at the school, cutting her hair and opening up a bit, building her confidence. The few friends she had often joked about her being a boy that snuck into the school, and she got a nickname: King of St. Amitus boarding school. As time went on, the nickname stuck and shortened, and her old name faded out, until her parents were the only ones who still called her Jeanne.
She went through school, kept training and improving her style and acquiring a talent for business, wanting to take over Illusions, but just as she was about to get into it, the place fell on hard times as the jazz took a bit of a dip in France. More modern clubs were starting to win out, and the comforts they provided weren't in high demand anymore. This would have been bad enough on its own, but her little brother, Jan, got into a car accident around this time. He came out alive, but was paralyzed from the waste down - the surgery and care needed for him was extremely expensive.
The family needed extra money. It was time to expand.
As her fighting styles grew, she had occasionally tested herself in street fights with great success and earned some money on the side, and after taking down a famous Muy Thai champion, she pocketed enough to start up her own bar. Seeing the AFW as a good chance to build publicity for both her own branch and her father's, she moved out to Japan and decided to try her luck in Friction, all while running a bar near the arena - an interesting experiment.
Wrestling Attire:
Spoiler:
Ever the stylish striker, King patterns her clothing after the same style her father wore in his hey-day. It's usually not apparent that she's a woman until she removes her jacket.
Fun Facts:
+ Is a very skilled billiard player, one of many skills she picked up from her father. She actually has a standing challenge, that any who defeats her in a game can come in and get free drinks for life. None of her patrons have ever pulled it off.
+ Absolutely hates being called a 'dyke'. It's one of the few things that can immediately tick her off, The word sticks in her craw, for some reason.
+ As one can imagine, she has some gender identity issues. For a time, she actually identified as a man, but she's since become a little more centered with her femininity, and she feels that going by male or female exclusively doesn't quite fit - 'both' is her favorite word for it. These days, she tends to just go with whatever people call her - she won't 'correct' them unless it becomes relevant. As far as sexuality is concerned, she prefers men, but has an eye for women, too.
+ She became a staunch vegetarian after doing a school project on how meat is processed. Doesn't begrudge others eating it, but the project pretty much ruined her taste for it.
+ Sally and Elizabeth are two friends from her boarding school that she brought along to Japan as waitresses. She's hired others since arriving, but they're the only two she trusts enough to mind the bar when she's away.
Spoiler:
Championships/Accomplishments:
Friends:
Allies:
Rivals:
Enemies:
Crushes:
Last edited by 12547 on Wed Jun 04, 2014 9:47 am; edited 2 times in total



Posts

: 11608


Join date

: 2014-02-14


Age

: 30


Location

: Charlotte, North Carolina, WOOOO!




Similar topics
---
Permissions in this forum:
You
cannot
reply to topics in this forum