Champions & #1 contenders
Highfly Flying Out Of Town
Tue May 22, 2018 1:31 am by HighFly
Hello everyone, I just wanted to inform all I have threads with that I will be gone from this coming Wednesday through Sunday. I won't be able to post consistently if at all during this time, but I will try to make up for it next week! I am sorry for the inconvenience to everyone.
Comments: 7
The Austrailian Mudslide is Back.
Sat Apr 21, 2018 6:20 am by Softsquad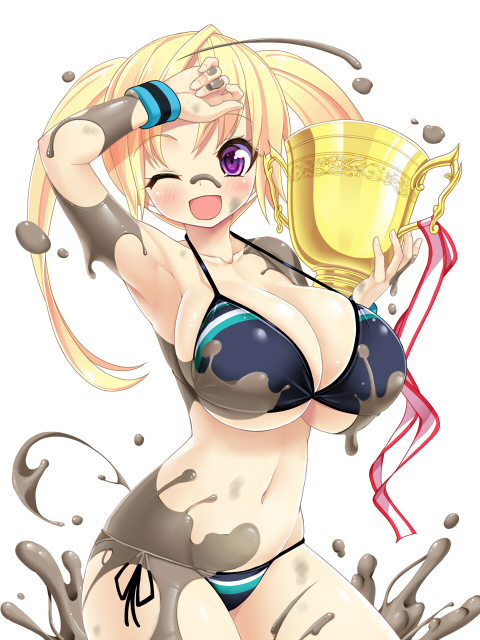 Granted that most of you won't know me or remember me, but I've had a few matches here and there some time ago. Well I think its time to become a regular around here and try to have some fun again, but at the same time keep coming back. Anyway I think its time to jump into some matches with Zoe Taylor, my mud wrestling character from Australia and get her back into the squared circle. Furthermore I will update my characters as I think some proper changes need to happen.
So if anyone would …
[
Full reading
]
Comments: 5
Page 3 of 4 •

1, 2, 3, 4


It was times like this when Valley was not so subtly reminded that she needed to look into getting a skill besides wrestling. "Have to say, I'm a little jealous." She moved over to the cabinet and stood on her tiptoes, fishing around for the oatmeal cookies and taking out a box after she'd moved a bunch of cooking supplies out of the way. "You've got this whole skillset - if you stopped wrestling today, never did it again, you'd be totally fine. Me? If I don't wrestle, I starve. Or I go back to living with Mom. Not sure which is worse."

She laid a napkin out on the table and sat back down, putting down some cookies for them both to gnosh on. "And believe me, I know. No hentai matches for me, spoken for."

She leaned over as she took a cookie and nibbled away at it. "Nope. Haven't even been living here a year, doesn't apply. What would be the problem if it did?"
Chris gave a smile.
"Aww, and the sounds of many broken hearted fans echo throughout the arena...!" she said in response to Val's comment about hentai matches, doing a bad imitation of a wrestling announcer. "Really though, I couldn't imagine trying something like that."
She thanked the host for the cookies, taking one and eating it as Val talked.

"Well, if you had taken in a Japanese citizen, it would've gotten you a tax break actually. America and Japan have a sort of 'good neighbors' loophole of sorts in their tax laws, where if an American resident living abroad takes in a Japanese citizen, you can get a deduction on your taxes." she replied back to Valley.

"You know, when I got back to the States after the Wrestle Angels fell apart that never occurred to me. I was so upset about...my pride, my reputation, that the well being of the other girls didn't even occur to me. Of course having them and their fans screaming obscenities at me every chance they got might have had something to do with my poor attitude." she replied back. "Eventually, months later, I had gotten a job at that accounting firm, and was working my way up the ladder of that place. One night, I was working way late on getting a presentation ready, and the janitorial staff came in. One of them was a mid-carder from the league, this girl named Jessica Curtis. There was a moment where we stared at each other, and I saw her clench a fist around the broom she had. I thought I was going to be in a fight right there and then. I mean, the last time I saw her, people were keeping her from rushing me. But, she gave this big sigh, and looked down and away from me, and asked if there was any trash I'd like her to take away."
Chris's face had grown solemn as she continued to work.
"She looked bad, Val. She was always a thin girl, but she looked like she hadn't eaten a decent meal in months. And the way she spoke, it was like she was broken. Nothing like she was back when she was in the Wrestle Angels. That's when I knew how fortunate I was. I couldn't think of anything to say, I was too shocked. So I just shook my head no, and let her move on...."
Valley sighed at the story - depressing, yes, but not surprising.

"It was a little different with the Slamazons." She started on another cookie, making a mental note to work the calories off, later. "The show just sort of ran downhill, you know? Slow burn. More and more of us started leaving, until the card was pretty much just newbies and a few vets hanging on. We tried a lot of things to spice it up, but the manager never really had a good eye for promotion - our old manager passed away the year before, and his son took over. Nice kid, but he didn't have any real love for the business."

She leaned back and got a little starry eyed, remembering those darker days. So many mistakes, so many bad turns. "I got lucky, found work. Don't know how the others did. Maybe I just don't want to know." God, this was depressing. Another cookie would soothe the pain. "Sometimes, I wish it had been more like what happened with you. With the Wrestle Angels, it was a sudden sort of thing. Slamazons...watching it fall was like seeing someone you care about waste away on life support. Hurt to watch. I couldn't even look at the tapes after the show, near the end."
"Oh...yeah I can agree with that. Watching a league you've given so much just hang on and gradually fail...that sucks." Chris agreed.
Reaching out, she took a cookie and ate it, thinking for a moment.

"You know though, before we get entirely too emo and wind up slashing at our wrists...I did look up Jessica a few weeks later and talked things out with her. It was hard going at first, we were both pretty emotional, and I had to work hard to get her to believe me. I wouldn't say we parted as friends, but I had gotten her information about a wrestling promoter who was looking for talent so he could start a league in Cali. So, at least there was a civilized closure there." the taller of the women went on after finishing her cookie. "There's always hope. After all, you've rebuilt your life, and got a spot in one of Asia's bigger wrestling promotions. Not to mention finding your Ace of hearts...."
She grinned, referring to Valley's girlfriend.

Returning to work, she continued typing away at her laptop.
"Say, do you own property back in the States? If not, this might not be as as hard as you'd think..."
Okay, no more cookies, she had a match coming up and she didn't want to come out looking like a blimp. She pushed the rest to Chris. She was bigger, they wouldn't have much of a effect on her.

"That's good. We should be able to keep doing what we love, until..." She let that sentence go off on it's own for a moment, thinking through her words carefully. It was a touchy little subject. "Well, until we can't anymore. Not sure how long that is, though. Sometimes I wonder how much I should get involved, you know? I had my time. Do I step back, let the younger generation take the spotlight? Do I go all out?" She pushed off the table and made her way to the fridge, standing her toes to get the radio off the top of the fridge. "Like, I'm in Summer Splash with Ace. That's good. I could probably do more PPVs in the future, but I'm not sure how much I want to take the spotlight."

She started to fiddle with the stations, still getting used to where everything was in Japan. "Property? Don't think so, no. My parents do, if that helps, but I only ever lived in an apartment." She took the antenna and started to straight it out. "What kind of of music do you go for? Pick, or you'll suffer through all the 80s hair band albums I own."
"You know, there's nothing wrong with wanting some of the light for yourself. I mean, you wouldn't be in it if you didn't want at least some recognition." the tax preparing titan responded to Val. "Don't put yourself out to pasture yet. You've still got a lot left in you. As for the younger generation, well, they'll find their way into the sun. If we could, surely they can. As for going all out....yes. Everyone in the league gives their all, people like you and me can't just sit back on our laurels and count on our history to carry us. After all, we need to set the bar for those 'younger generation' types, right? And I don't know about you, but I want to set that sucker high. Give 'em something to work towards."

Chris perked up at the mention of 80's head bands.
"Well, I wouldn't necessarily call it suffering. I mean, some of the best music came from hair bands." she said. "Then again so did some of the worst." she added.
"'Set that sucker high' says the giantess." She started moving through the stations and settled down on some good rock - [url=https://www.youtube.com/watch?v=V2smLdYfe-o:23a655ex]Holiday[/url:23a655ex], by the Scorpions. And pretty near the start of the song, too. "Let me take you far away. You'd Like. A hooooliiiidaaaaay." Fortunately, the music was loud enough to mask how not like the lead singer she sounded like.

"You're right, though. I just worry about becoming one of those wrestlers who hang around years after they really should have stepped down." Valley pulled the volume down a few notches so they could still hold a decent conversation. This was probably the best chat she'd had in a while, not including anything with Ace. "There's going to be a day when I really should stop, I just hope I know when it is."

She danced a bit, shaking her hips to the music before she came back to the chair and sat across from Chris. "So, what are you into, then? Wait, don't tell me - gangsta rap?" That brought up some interesting mental images.
Chris let out a laugh at Val's suggestion that she liked gangsta rap.
"Oh yes. West side fo life, yo." she said sarcastically, deepening her voice to try and sound like a 'thug's'. "Really, though, old rock, like this song. Journey. Anytime someone puts on a Journey song I have to stop and sing along. I almost wanted to use 'Wheel in the Sky' as an entrance theme. Luckily someone with good sense talked me out of it. But, between you and me, pop music is my oh so guilty pleasure. When I was a girl I danced to Madonna, doing the vogue thing all day. These days, I put on Lady Gaga or Charli XCX."
She then gave Val a mock glare. "And if you tell anyone I'm gonna run out during one of your matches and give you the wedgie to end all wedgies." she threatened with a grin.

Val was surprisingly fun to talk to, and Chris had to admit, it was good to have a friend in the wrestling business again. Especially one from the same generation as she was.

She then thought about the blonde's earlier comment, trying to decide what to say.
"You know, I can relate to that 'not wanting to be a wrestler going on when she should've stopped' sentiment." Chris said. "You seem like a smart woman. A realist. I believe you'll know, probably before anyone else around you does, when the time comes for you to hang up the boots. It's the women like me that need watching. You know, the dreamer types. The ones who keep trying to prove their worth, letting their pride override good sense. I know you and I haven't know each other long but, I'll make you a promise, if you want. If the time comes when it looks like you're doing yourself more harm than good in the ring, I'll step forward and tell you 'no more.' Even if everyone else around you is telling you to stay. Especially if everyone else is telling you to stay."
Valley gave Chris a little clap, always happy to meet a fellow Journey fan. "Aw, I could totally see you coming out to Wheel in the Sky', should have gone with it. But Madonna is fine, used to love La Isla Bonita." She tapped her chin, humming a few notes from the song, full of saucy Latin flavor. "Don't have to worry about me spilling the beans, though, because I have no idea who those two are. I mean, I've heard Lady Gaga's name, think I've seen her, but don't know her music. Kind of an old fart, like that."

That was putting it mildly. She couldn't even remember the last time she tuned to anything non-rock on her stations. A little embarrassing, really.

"And thanks, I'll hold you to that. I'd promise the same thing, but I'll do it over the phone. Just in case you don't take it too well." Valley winked, then pulled her leg up as Valentine strolled under the table, aimlessly wandering around like he always did when the music played. Which reminded her of a little problem she needed to take care of...

"Um..." She canted her head to the side. "You say you like cats, right? How do you feel about catsitting?"
Chris petted Valentine absently as the cat wandered over, drawing a purr from the feline.

"Catsitting? I'd be ok with it. Why, do you need someone to look after this guy?"
Page 3 of 4 •

1, 2, 3, 4


---
Permissions in this forum:
You
cannot
reply to topics in this forum