Who is online?
In total there are
50
users online :: 9 Registered, 1 Hidden and 40 Guests :: 2 Bots
Cicilia
,
LunarWolf
,
Nelv
,
Old_Man_Tai
,
OmegaVan0
,
scorn53
,
TomboyTsuka
,
XSirenX
,
Yori
Most users ever online was
390
on Tue Jan 02, 2018 2:02 pm
Champions & #1 contenders
Looking for character debut
Sat May 26, 2018 9:07 pm by Hedgehawk
Hey Guys,
So i have finished rounding the basics off my new guy
Ichiro Kuo
.
I was wondering if anyone would be up for threading with him for his debut. It doesn't have to be match, it can be some backstage stuff. Just wanna set something up to get the creative juices flowing.
Comments: 0
Highfly Flying Out Of Town
Tue May 22, 2018 1:31 am by HighFly
Hello everyone, I just wanted to inform all I have threads with that I will be gone from this coming Wednesday through Sunday. I won't be able to post consistently if at all during this time, but I will try to make up for it next week! I am sorry for the inconvenience to everyone.
Comments: 7
Page 2 of 2 •

1, 2

"Hey, chipmunks can fuck you up....though this one would rather leave the "up" out of that sentence.."

Ace teased back, though she had to admit she had concerns about the match herself. Ace and Valley had never teamed up before, they didn't really know how much chemistry they would have in the ring or if they had what it took to work together in the ring. Ace's own recent performances in the ring didn't give her a whole lot of confidence in her abilities either.

Still, she didn't want to seem like she didn't have faith in her mentors skills, or their partnership.

"So you alright? Recovered from your flying anxiety?"
Last edited by 143 on Sat Jun 07, 2014 8:26 am; edited 1 time in total
"More or less." She gave Ace a little peck before pulling away and stepping to the side, making sure to step on the black tiles of the checkered floor around them - a little minigame from her childhood that she never let go. "That stuff from Die Hard about making fists with your toes doesn't help one bit, found that out. And for the record?" She wagged a finger back Ace's way. "I don't have 'flying anxiety'. I have 'crashing in a fiery inferno' anxiety. So there."
She was about to elaborate when her phone buzzed from her back pocket, a quick rumble for a text message. There were only two people who texted her with any regularity, and one of them was standing right here, which meant...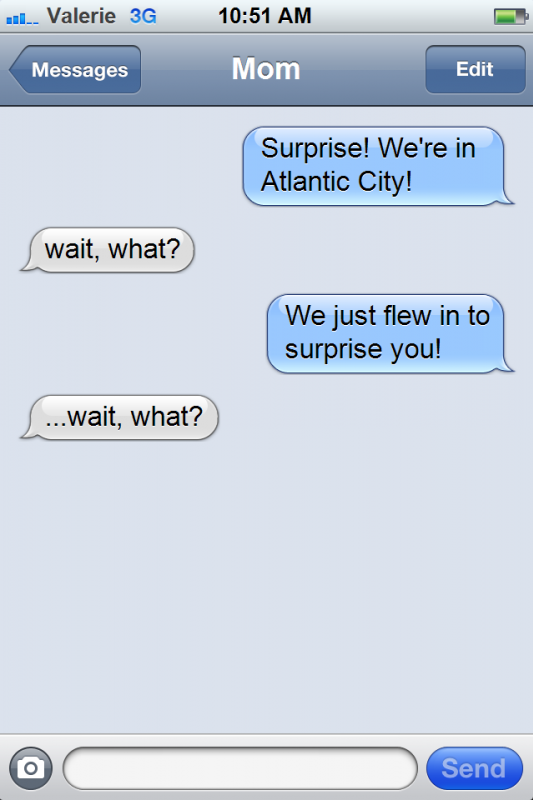 Valley bit her lip and looked back up after a moment. "Huh. Looks like my parents are in town."
Ace blinked, surprised at what Valley had to say.

"Really? That's nice of them, coming from California all the way over here."

Ace actually felt a little twinge of jealousy to be honest, she was nearing the 5 year mark of her career, and her parents had never once come to visit her in her travels. Pushing the feeling aside, she leaned against the wall. Watching Valley's face, Ace couldn't help but notice the lack of a happy reaction.

"...You alright Val? No offense but...you don't exactly look thrilled..."
"Yes. Nice. Very...nice." It was really, and it was the sort of thing her mother would do. Back in Cali, she always made a habit of randomly attending Valley's matches to cheer her on, and the encouragement was always appreciated...but those times, she had always wrestled alone. Now Valley had a partner. And that made her curious.

Valley went to typing for a good minute, staring at the screen occasionally giving out a little grunt of frustration. She told her about Ace - tried to tell her, anyway, but Valley got the distinct impression that when she told her Mom that Ace was her 'girlfriend', she took that as 'friend who just so happens to be a girl'. Valley had only really seriously dated men before, and the one girl she had a fling with didn't come to much. Her parents always seemed to write it off to one of her many phases, and there was a flicker of a second when Valley was tempted to do the same. But there wasn't any such doubt with Ace.

She sighed and finally finished up, turning off the phone. "Okay. Quick, semi-relevant question - did you tell your parents about me? Us?"
Ace went a little wide eyed at the question, putting her hands behind her back and looking around, avoiding Valleys gaze.

"Wellll......kinda?"

She blushed a little and rubbed the back of her head in embarrassment.

"We uh...don't talk all that often. I told them I had a girlfriend the last time I called, but they kinda just gave it a "That's nice dear" reaction. Which is pretty much the same reaction they gave towards my last girlfriend, my decision to drop out of school and become a wrestler, being hired by AFW, and that time I accidentally almost exploded Berlin."

She leaned back against the wall, looking at Valley.

"So they know, but I don't think it really made any difference. Did you tell your parents about us?"

Valley was glad that she wasn't likely to meet Ace's parents anytime soon. She kind of wanted to give them a slap. Her own mother could be a little annoying at times. Overzealous. Overeager. A little too ready to live vicariously through her youth. Sure. All those things. But Valley would rather have a Mom that cared too much than one that didn't care much at all.

But that was another thing for another day. "I did, yeah. Kind of." She blew some hairs off her face as tucked the phone back away. "I mean, I told them that I was wrestling with my girlfriend, but I'm not sure if they think you're my girlfriend or my girlfriend. The age difference might be throwing her off a little. Not terribly common to be dating someone that was in third grade while you were graduating high school."

She brought her hand up, quick. "Not that I mind doing it, of course. Just saying. Fairly rare."
Ace just smirked, understanding Valley's intended meaning.

"No offense taken. Of course its rare, girls as attractive, smart, and generally awesome as I am don't come along everyday. I'm one in a million."

She said with a giggle

"I admit, it's a bit unorthodox, but we have something special, something real, and that's worth it."

She cocked her head to the side, curious about something now.

"...Unless like.....you think your folks are gonna freak out when they meet me and realize what you meant?"
"One in a million? Nope." She reached up and gave her a little thwip on the nose. "There's only one Silver Ace, and she's all mine. One and only." She wagged her thwipping finger. "But I like your head the size it's at now, so don't get too big about it."

She reached down and took Ace by the hand, starting to walk a bit with her, entwining their fingers. They were getting a few awkward stares, a sullen reminder that the Red, White and Blue was a little less accepting of their relationship than Japan, but she couldn't have conceivably cared less about it.

"Freak out?" Her face twisted, trying to picture that. They weren't really 'freak out' parents. Valley could count on two hands all the times they'd really spazzed out on her, preferring to take a more laid back approach to her rearing. "I don't know, hard to say. I've never known them to be against same-sex relationships, but I've never known them to be for it, either. It never really comes up, and I'm pretty sure they never considered I'd be a..." She wobbled her head from side to side, trying to think up a good euphemism. She could just say 'bisexual', but where was the fun in that? "Can't say I'm on the other team, can I? I'm...a double agent. Does that work?"
Ace smiled back, enjoying having Valley's hand in hers as they walked through the Palaestra, blushing a little as she noticed people staring at them. Her past relationships in Canada didn't gain any attention, written off as "puppy love" or something similar, and in Japan, nobody had ever given her and Valley a second look, being more accepting. Here though, even if they didn't mean anything, it still felt awkward when one or two Americans would stare at them, as if they were something unusual to be stared at and judged. She didn't like it.

Ace leaned a little closer to the older blonde as they walked and talked, focusing on what she was saying and how good it felt just holding hands with each other.

"Heh, double agent huh? That's fair, though I might have to try and convince you to switch fully to my side."

She said teasingly, adding a little humor to the conversation...and leaning in to give Valley's ear the briefest of nibbles, to demonstrate how she'd try to convince her.

After that though, she came back to the matter at hand.

"So...obviously you have to meet with them...you want me to come with you, for support? Or would you rather I not?"
Oh, she was doing her ear-nibbling thing, Valley loved when she did that. She practically melted right there in the hallway. She had to settle for pulling Ace in and engulfing her in full kiss, letting her tongue roam around the younger girl's mouth and tapping the elevator open behind her.

She pulled away after a moment and flicker away the spit trail between their lips. "You make a very convincing argument." She pulled her in when the elevator opened. "And of course you're coming with me. Partners, remember? My parents make a tough tag team, but we can handle it."

[And thus ends the topic hogging. Feel free to post stuff, people. Or not.]
Last edited by 12547 on Sun Jun 08, 2014 11:38 pm; edited 1 time in total
Page 2 of 2 •

1, 2

---
Permissions in this forum:
You
cannot
reply to topics in this forum