Champions & #1 contenders
Highfly Flying Out Of Town
Tue May 22, 2018 1:31 am by HighFly
Hello everyone, I just wanted to inform all I have threads with that I will be gone from this coming Wednesday through Sunday. I won't be able to post consistently if at all during this time, but I will try to make up for it next week! I am sorry for the inconvenience to everyone.
Comments: 7
The Austrailian Mudslide is Back.
Sat Apr 21, 2018 6:20 am by Softsquad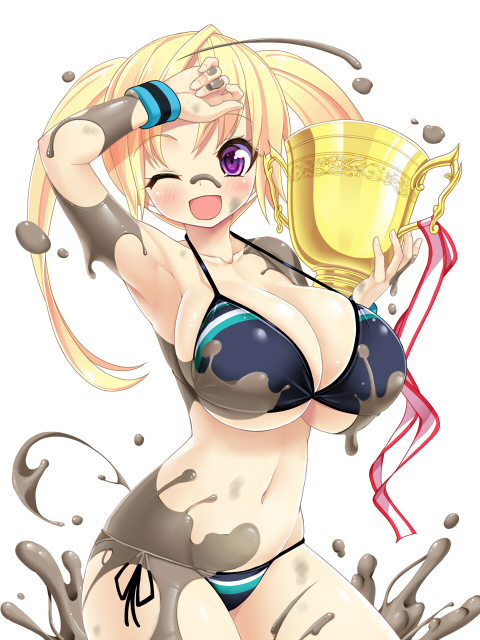 Granted that most of you won't know me or remember me, but I've had a few matches here and there some time ago. Well I think its time to become a regular around here and try to have some fun again, but at the same time keep coming back. Anyway I think its time to jump into some matches with Zoe Taylor, my mud wrestling character from Australia and get her back into the squared circle. Furthermore I will update my characters as I think some proper changes need to happen.
So if anyone would …
[
Full reading
]
Comments: 5
Page 5 of 5 •

1, 2, 3, 4, 5

Domino's abs ache from the kick, unexpected as it was. When her hand sets to his chin, his head tips up to look at her. Those dark amethyst eyes meet her yellow-hued gaze.

...

And then he's promptly slapped across the face he'd been protecting. He recoils, but the slaps continue, striking against his cheek, causing his eyes to water. His defense flails a little, trying to get the stinging pain to cease, but it's pretty clear this chick has some experience smacking people around. The final slap is a forceful one, ending with the young model spun around in a daze. His bleary gaze comes to rest on the audience.
Jewels's special was turning out well in her favor and her slaps have gotten Domino dazed and spinning to face the audience. Her eyes would glow in mischief as she smiled and wanted to do the second and final part of her signature. She would rush over to Domino and say, "Oi! Don't look over there, look at me! I'm the best thing to look at right now."

The rich blonde would reach out to try and grab Domino and turn him around before putting her boot on the mat between the guy's legs and tripping the right foot to the side. If this worked, the result should make Domino fall to one knee before Jewels also attempted to rush in and jump to give a Shining Wizard knee strike to the face.
_________________
Focusing on good old fashioned basics and just having fun. Nothing else and nothing more.
The World of Dynamo
Amidst beration for not paying Jewels her 'due' amount of attention, Domino is whirled around to face her. Her foot slips between his legs and trips him down, ending with the young wrestler taking a knee before her. His eyes start to focus only in time for her to come charging back. His head turns only a hair, ending with her knee smacking into his face and flooring him down to the mat.

Finally, the spunky teen is down, flat on his back and splayed out for her. Arms cast out to either side, one knee folded, resting awkwardly against the mat. Eyes are shut, toned chest and sleek abdominals rising and falling with each breath. A quiet groan escapes him, his head swimming.
Dynamo44:
Jewels would land on her own two feet after she's aged to successfully knee Domino in the face with a Shining Wizard. This completes her special technique as she smirks and whispers, "Severance Package." The crowd would apparently be impressed by that and it was definitely a new special to be feared. Seeing her opponent layed out flat, the blonde would take this as a good chance to win.

Jewels would rush and fall on top of Domino to try and hold him down for a pin. Once that's done, the ref would come in and start the pin count by saying, "ONE!"

CyanDimitrik:
The crowd is loving the remorseless brutality of the kick and how Jewels seems to've turned things around on the young face. Domino continues to lie on the mat, dazed, his mind racing to get back into the swing of things. She... well, let's just say she cleared his sinuses with that kick. And soon, he's feeling a feminine body drop across his frame, jostling him in his stupor. One arm lifts, only to drop again, resting between her legs along the back of her thigh. It isn't quite deliberate, more just shifting, but the audience is enjoying the tangle.

When the referee counts to one, Domino's eyes open slowly, taking in the wash of overhead lighting. "Nng..." His knees steeple, boots dragging across the mat, the girl's body rising and falling over him with each breath he takes.

Dynamo44:
Jewels was getting the match to her side now as the crowd seems to be loving the action here. The first number was counted by the ref and she did her best to keep Domino pinned as best as she could. All she needs is the last two numbers to be counted out and victory is hers. The blonde did see Domino start to open his eyes, but she yet remained in her position, determined to keep him down.

The ref would then hit the mat and count out,"TWO!"

CyanDimitrik:
As the second count rings out, Domino's focus sharpens. He can feel the girl's weight spread across his chest, hear the cheer of the audience... he's being pinned. Suddenly, the teen jerks his body to the right, lifting his shoulder from the mat and breaking the pin! It's probably not quite enough to shove her body off of his, but enough to cause the referee to declare no pinfall!

Dynamo44:
Just one more hit on the mat and Jewels would win this. But then, she felt the body beneath her jerk up and made her bounce up. "What?! HOW?!" She was shocked as she backed away from Domino who managed to break the pin. As Domino was making his way up, the blonde would just stomp her boot on the mat as she shouted, "No fair, no fair, no fair!!!"

That settles it. Jewels is done playing games and she now wants to tear this boy apart.

CyanDimitrik:
Domino's head is spinning, even as he gives it a shake. He gathers himself to his knees, feeling the vibrations of Jewels' furious tantrum reverberating along the mat. He makes it up to his feet with a final wobble, one hand set to his sleekly-toned midsection, the other hand lifted as if to challenge her to grapple. His eyes focus on her, taking careful note of her frustration. If he's careful, he can make use of that. Otherwise, that kick to the noggin could spell his end. If he can goad her into rushing him, he could hope to reverse it...

"What's the matter, beautiful?," he calls over to her. An impish smile tugs at the corners of his lips. "Never met a guy who could handle ya? Bring it on!"

Dynamo44:
Jewels was still in a fit as Domino was slowly making his way up. He would see that she was in deed flipped off about him breaking off that pin, but maybe she took it rather...harshly. She would glare her greedy yellow eyes at her opponent as she shouted, "I...am an Augustus! I always get what I want! I want to win and I want it now! And YOU will give this match to ME! NOW!"

With that, Jewels was rushing to Domino, blind in her rage. Now, Domino may see why she is called "Jewels" for she's really a rich and spoiled brat.

_________________
Focusing on good old fashioned basics and just having fun. Nothing else and nothing more.
The World of Dynamo
CyanDimitrik:
Up until now, Domino has only observed Jewels to be a posh, arrogant upstart. Haughty, superior, and typical of wealth. But seeing this... outburst paints it in a new light. She really is used to getting her way. It's actually enough to earn a blink from the teen.

But that moment of reflection lasts only that - a moment. She charges at him, and it's exactly what Domino wanted. He widens his stance, muscles visibly tensing at the ready... and at the last moment, he dips low and to the side to let her swing past him. His arms lash out to catch her about the belly, body jerking back to attempt slinging the blonde into the air to slam her down against her head and shoulders in a German suplex. But that wouldn't be the end of it. He has every intention to roll his body over hers and carry her back up to her feet, arms still locked in place around her stomach.

Dynamo44:
Jewels'a blind rage had gotten the better of her and it showed as Donino pulled off another move. She would feel his arms wrap around her from behind after dodging and she was lifted into the air. There was nothing she could do as she was slammed onto the mat on her head and back. "AAGH!!!" The blonde cried out in pain from the impact. It really did a good number on her, but Domino wasn't through.

As she was being carried up after Donino rolled over her body, Jewels would whine, "You're gonna kill my profit margins!!"

CyanDimitrik:
As she whines, Domino actually lets out a little snicker. His forearms grind into her midsection, hugging her back and shoulders to his firm body, his hips firmly planted to her rear - a fact not lost on the Tension audience. His back arches again, snapping the girl into the air to slam her down a second time! And just like the first, he'll curl over her to draw her up to her feet again.

"Your audience might actually like seeing a sweaty fitness model pinning you down," he whispers, breath hot against her ear. "Y'never know..."

Dynamo44:
It was already bad enough that Jewels got slammed once in the German suplex. The impact affecting her head and shoulders was definitely much, but Domino insisted on doing it a second time. She grunted loudly as the pain from the second was combined with the first and she found herself moaning in pain. As she was being pulled up again, Jewels would say, "This is supposed to be MY match! I'm supposed to get my maximum earnings! Not you!!"

But talk was becomin cheap as the rich blonde was feeling wiped out and Domino might pull off another devastating blow.

CyanDimitrik:
Now that both are standing again, and Jewels is looking rather bad off, Domino is feeling very confident. The momentum is with him, the audience is roaring for a finish. A thin sheen of sweat causes his body to glisten under the overhead lights, and the skin of her exposed shoulders is quite warm to the touch. He relocates his left arm from around her middle to beneath her chin, pulling her head back.

"Sorry, baby. I'm buckin' for a title. Can't get that by takin' losses..."

He suddenly drops to a knee, yanking her body down backwards and spiking his other knee up into her midback in a modified backbreaker!

Dynamo44:
Jewels was hearing the cheering from the audience and they definitely weren't for her. She gritted her teeth as she wanted to make them hear from her lawyers about this. But she couldn't do that just yet since she is being positioned for another devastating move. Within moments, the blonde felt a very sharp pain spiking against her back. "AAAAAAAAAAHHHHH!!!!" she screamed out in pain as her arms fell limp.

Jewels now felt helpless as she was being handled like this.

CyanDimitrik:
Domino remains in that position a moment, soaking in the praise from the audience and keeping the strain on the rich girl's spine. After several seconds, he releases her to let her drop to the mat and roll her onto her back. He grabs onto her wrists and begins dragging her across the mat.

"It's almost over, beautiful. Almost over...," he assures.

The girl will be lain out a few feet from a turnbuckle, keeping her arms high above her head to try to keep her body stretched out and defenseless. Domino then leaves her, hurrying up the ropes to perch at their top. Facing the audience, he throws his right fist into the air, signalling his finisher. Oh, it's going to hurt him, for sure. Splashes always do. But they also always hurt the victim so, so much worse. He's confident if he can land this, the match will be over and Jewels will be out.

Dynamo44:
Jewels groaned in pain as she was released and laid flat on the mat. Her eyes would be half open as she felt that this fight took so much out of her. She would pant as she got dragged over to the turnbuckle and her arms were placed high above her head. At first, the blonde didn't know what Domino is trying to do, but she would slowly turn her gaze to see him climb up the turnbuckle.

Jewels would only sigh as she said through clenched teeth, "Oh, bloody hell..."

CyanDimitrik:
The audience is calling for the finisher.

Domino springs from his lofty position into a high arc, initiating the Falling Star!

The overall oxygen level of the arena drops as the crowd draws a collective gasp.

Domino twists into a graceful backflip, his body stretching out, toned body tensed for impact. Finally, his sleek, firm abdominals slam down across Jewels's unprotected stomach, crushing her slender, feminine frame beneath his muscle. The landing is hard enough to force Domino to grit his teeth, but he pushes through the pain to reach back and hook the blonde's closest leg. His back arches, pressing his stomach tight across her belly for the pin!

Dynamo44:
Jewels would see Domino jump off the turnbuckle and backflip and twist in the air before se felt it. "GAAAAAAAAAAAAUGH!!!" she coughed out loud as his heavy weight took a toll on her slender body. She was now gasping and panting for air as she now being set up to be pinned. As the ref came in to begin the pin count, the blonde would only groan out, "No...this can't be...how can I..."

CyanDimitrik:
"Shh. Don't fight it," Domino eases to the blonde. He keeps her leg pulled tight at his side, abs ground down hard over her stomach. "You fought well. Kick hurt like Hell. No one thinks less'a ya..."

The referee slaps the mat. One!

Domino looks out at the roaring audience, a bright smile on his face. The girl proved to be a handful, but after a few power hits, it feels like he has it in the bag. Each victory is a step closer to a title shot, a step closer to realizing his goals. It's an electrifying feeling, energizing, his adrenaline pumping.

The girl slaps the mat again. Two!

He turns his head to look towards Jewels's face.

Dynamo44:
Jewels would hear the red count out and she wanted to be out, but Domino proved to be more superior in this fight. She only sighed as the ref slaps the mat one more time. THREE! And with that, the bell rang to signal the end of the match. The crowd would be loud with cheers for the victor and Jewels had to live with the fact it's not her.

The blonde would lie for a moment before getting on her hands and knees in defeat. Tears started to burn her eyes and she clenched her hands into fists as she felt sad and angry for this loss on her first match. She feared that this will cut her wages as she's fighting now.

CyanDimitrik:
The referee-girl takes Domino's wrist and he lifts his weight from Jewels. Once on his feet, his right arm is raised in victory! His head tips back, the other arm lifting to bask in the praise of the audience, drinking in the adoration.

Once the referee has released his arm, he turns his attention down to the blonde. Spotting her on her hands and knees, he reaches down to hook an arm around her waist and throw one of her arms over his shoulders to immediately help her up to her feet without so much as asking her permission. Whether she remains tucked at his side or not, he catches sight of her teary eyes. That's a kick in the gut if ever there was one.

"C'mon, don't be like that... There'll be others. You're tough!"

Dynamo44:
At this point, Jewels would have thrown a massive fit and go in a tantrum if it hadn't been for Domino helping her up. She was still doubled over after that splash to the stomach and she looked to Domino with her teary eyes. She would listen to Donino encouraging her to not feel so down for she is a competitive fighter. Jewels wanted to believe him, but she only stared at the mat as tears continued to slowly stream from her eyes. "You think so? I don't think others will take me seriously after this and this would count as receiving minimum wage."

CyanDimitrik:
She may have had a bratty tantrum in the ring, but there's nothing satisfying about making a girl cry. Well, not unless it's due to a submission hold. And this isn't the kind of submission he wants. This is just heartbreaking, and there's no way he's going to let her take it so hard on the chin.

"Wanna know a secret?," Domino asks as he gives the girl's waist a reassuring little squeeze - careful not to risk hurting her midsection further. "Nobody took me seriously for a year just because'a my work outside the ring. Point is, what they think can change. As long as you know you're not a loser and you don't give up, they'll catch on."

Domino redirects his gaze out to the audience and gestures his free hand towards her, redirecting some of the praise her way.

Dynamo44:
Jewels would feel Domino squeezing her again, but it wasn't for pain. Rather, it was for reassurance and comfort. She would then turn her ears to his own secret. As it turns out, he too had once felt that he wouldn't fit in because of what others thought. The blonde then heard him say one important quote and she repeated to herself. "What they think can change." This is definitely something she must keep in mind. Maybe she isn't such a big loser after just one loss. She just needs to train more and keep believing in herself.

Jewels was then surprised when Domino invited the audience to cheer for her as well and it instantly made her smile as she waved to them. She then looked at Domino and said, "Thanks, Domino. You know, you're okay...for someone who has less than me." Her eyes then returned to a determined and confident state. "Next time when we meet, I'll be stronger than ever and then I'll beat you for sure!"

CyanDimitrik:
Seeing her loosen up for the audience goes a long way in making Domino feel better about pinning her earlier. And her comment about him having less than her causes him to stick his tongue out at her. Nyeh! But afterwards, she gets another friendly, gentle squeeze. "I'm lookin' forward to it, Jewels. I'm lookin' forward to it."

And from there, he'll help ease the girl out of the ring as long as she'll allow, until they disappear backstage.

Dynamo44:
Jewels would be grateful to Domino for the help, but she didn't want to leave without her bottle and glass of wine. After all, as the winner, Domino deserves it. And as for Jewels, she needs it.

Winner by pinfall: Domino
_________________
Focusing on good old fashioned basics and just having fun. Nothing else and nothing more.
The World of Dynamo
Page 5 of 5 •

1, 2, 3, 4, 5

---
Permissions in this forum:
You
cannot
reply to topics in this forum