Who is online?
In total there are
31
users online :: 3 Registered, 1 Hidden and 27 Guests :: 1 Bot
Lobo
,
LunarWolf
,
RadiantKarna332
Most users ever online was
390
on Tue Jan 02, 2018 2:02 pm
Champions & #1 contenders
The Austrailian Mudslide is Back.
Sat Apr 21, 2018 6:20 am by Softsquad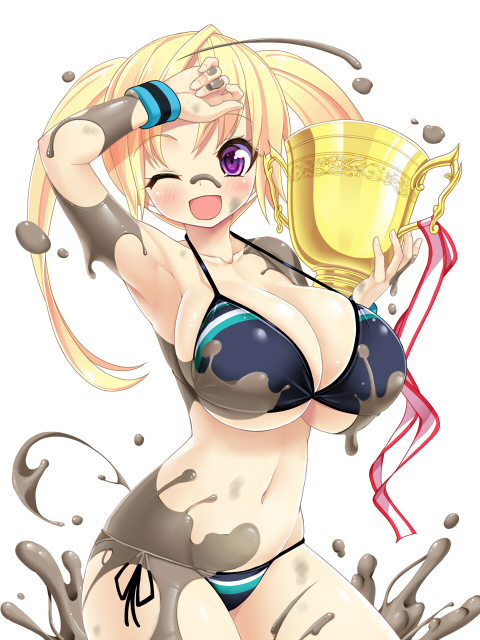 Granted that most of you won't know me or remember me, but I've had a few matches here and there some time ago. Well I think its time to become a regular around here and try to have some fun again, but at the same time keep coming back. Anyway I think its time to jump into some matches with Zoe Taylor, my mud wrestling character from Australia and get her back into the squared circle. Furthermore I will update my characters as I think some proper changes need to happen.
So if anyone would …
[
Full reading
]
Comments: 4
Looking for debut thread.
Sat May 12, 2018 9:28 pm by Hedgehawk
Hello All.
I am looking for a debut for my girl Trinity (http://www.afwrpg.com/t18107-trinity-cordova#495678).
This doesn't have to be a match, it could be a gym battle, interview or anything else. I just want something to help get Trinity off the ground. If you wanna plot feel free to reply to this message or fire me a PM.
Many thanks in advance and thank you for reading my message,
Hedge
Comments: 0
Page 3 of 5 •

1, 2, 3, 4, 5


Asami sensed the moral chasm yawning beneath her. If she delivered the killing blow, then Elise would never be able to trouble the people of Tokyo again. Not only that, when word of her quite deserved passing spread, Kunoichi was certain that the rest of the scum behind this madness would have second thoughts about trying it again if they knew that she was willing to kill them to stop this. All in and all, Kunoichi couldn't produce a single argument for sparing Elise.

But if killing her was so right, then why did Asami feel that it was so wrong?

"No!" someone's yell cut into her thoughts, echoing Asami's conscience.
Turning, Kunoichi was blasted backwards by Marco's aerial kick, her hold on Elise broken by the loaded boot. Hitting the ground, the force of the blow continued to make her roll backwards. Using that momentum, she rolled back to her feet, only to be greeted by one of Marco's well aimed kicks to the side of the head. This one sent back against the wall, which she crashed into, hard, with a groan. She remained standing, but only because she had the wall to lean against.

"You....you would've killed her!" Marco screamed, balling his fists. "You...bitch!"
Before Asami could comment on this bit of hypocrisy, the Frenchman let out a loud yell of rage and sprang forward, his foot aiming at where Kunoichi's head rested on the wall.

Forcing her body to move, Kunoichi sprang to the side. Marco's kick hit the wall, sending cracks spreading through the area the Japanese woman's face was a half second before!
This was very quickly going to a place that Dmitri did not want to follow.

Elise was down and didn't seem to be getting up any time soon, but that hardly mattered, as her partner was up with more than enough strength to compensate, sending him back with ridiculous force. Dmitri understood the distress - as near as he could tell, Marco and Elise were married. But that didn't erase the fact that it was starting to look like someone was going to die in the near future, if this madness wasn't put to a very abrupt stop.

Dmitri made his way up as the fight rage, against every protest his body was making and lurched forward as Marco pressed the attack. Coming at him from behind. he wrapped his arms around Marco as he pulled back for a deadly kick, looking to crack Kunoichi's head against the wall. He wasn't much for upper body strength, but neither was the Frenchman.

"Let go!" He wriggled around, furious as Dmitri squeezed and pulled him back, leaving him wide open.
Kunoichi watched as Marco pulled his leg back for another kick. Still battered from his earlier assault, she was in no shape to mount any sort of counter attack with the Frenchman on the offensive like he was. Although she was still able to evade the worst of his kicks thus war, Kunoichi knew that he would make contact sooner or later. Once that happened, she knew she would be at his mercy. Or lack thereof.

Then Dmitri staggered in, grasping Marco around his arms, leaving him exposed. The man looked beaten half to death. Then again, Asami guessed she couldn't be looking any better.
*All the more reason to bring this to an end.* she told herself.

As Dmitri pulled Marco back a step, readied herself, and then surged forward, throwing all of her force behind a massive superkick that crashed into Marco's exposed face!
As she moved in, Dmitri's eyes widened - it dawned on him that he could have very well been setting Marco up for the killing shot that Kunoichi was going for. Obviously, he and Marco weren't exactly best buds, and Dmitri was hoping that the man would spend a long, long time behind bars. But that would be justice. That would be fair. What he deserved. What Kunoichi seemed to be going for was beyond that.

Fortunately, her kick was just enough to snap his neck backing without snapping his neck. Marco let out a groan, his body jackknifed, and he immediately slumped, forcing Dmitri to drop him, the weight too much for him to even think about holding onto with the beating he'd taken. He managed to stay upright for a few seconds himself, before his legs gave way and he fell to his knees, gasping.

"Thanks." He spoke in between ragged breathes, occasionally looking up her way. "Thanks for coming, along, but..." He looked over to the semi-conscious Elise, blissfully unaware how close she'd come to staying down in a more permanent fashion.
After delivering that kick, Asami stumbled back until she was resting against the wall, panting from both pain and exertion.
"[I think. I need a. Vacation.]" she manged to gasp out in Japanese, more to herself than Dmitri.

Looking up as the victim of Elise and Marco's initial beating spoke, Asami made sure to keep her voice in Kunoichi's slightly deeper, joyless, cold tone. She also saw Dmitri's look at Elise, and mistook it as a look of fear of the French woman.
"It's ok, she's not getting up anytime soon. How about you? Are you hurt?" she asked. "There is a clinic a few blocks from here I can escort you to, once I finish with these two."
She paused for a moment before continuing.
"And, I should thank you." she added in a slightly gentler tone. "These two...they're different from what I usually find. If you had decided to run....I'd be dead."
Asami felt a pulse of anger tinged with fear as she admitted that and took shelter in the coldness of being Kunoichi.
"Also, I've never had the opportunity to question anybody like these two." she added grimly. "What they have to say should be....educational."

Starting to move again, she let out a pained gasp as she reached into one of the inner pockets of the leather outer jacket she wore. Producing a pack of heavy duty zip ties, Kunoichi went to Elise, who had gotten her attention with a quiet groan. Kneeling down, she roughly grabbed one of the woman's arms and forced her onto her stomach. Yanking the arm back, she began to use the zip ties to restrain her hands behind her back, making sure to take Elise's spiked knuckles away from her.
"Oh, I could use these..." she'd say, looking to add the weapon to her arsenal before starting to tie her legs together.
Yeah. A vacation didn't sound like a bad idea.

Dmitri nodded as she came to check on him, agreeing with her suggestion - going to see a doctor wouldn't be a bad idea, either. He didn't feel like there was any internal bleeding or anything that needed immediate attention, but certainly something was broken in there, and getting a few scans wouldn't hurt. It would definitely be two or three weeks before he went into the ring again, that was for sure.

His look of worry increased when she started talking about interrogating these two, though. Part of him knew that he really should've been minding his own business here. There was clearly a lot of trouble going on with whatever this was about, the sort of trouble he did not need in his life. Things were just getting stable, he was finally in a job he enjoyed and making decent money, even getting a small bit of fame to go along with it. The last thing he should have been doing was messing that up and risking it all just to stick his nose in unknown places.

But, nonetheless...

"What do you mean 'question them'?" He moved behind her, not sure what to make of Kunoichi. He thought she was a good guy, but it seemed like that line was blurry. "Shouldn't you leave that to the police?"
"
Kunoichi looked back over her shoulder at Dmitri. Thunder rumbled as a storm front began to move in, the temperature starting to cool.
"The police?" she echoed. "Yes, because leaving matters to the police would've worked out really well a few minutes ago."
Sarcasm and contempt lined every word of that sentence as Asami's frustration with Tokyo's finest began to show through.
Getting up, she went and gave Marco the same treatment, speaking as she did.
"From where I've been standing, the cops are either one of two things. At best, our police force is woefully incompetent, unable to keep the streets safe from the gangs that have come about like some kind of plague. At worst, they're corrupt and in the pocket of someone who has them turn a blind eye to it. Foreigners are being abducted right off the streets here. I got...caught up in one such attempt. There was a guy in charge, and after he was beaten, and I said something about the cops, he laughed. Said he'd be out in a short time. He promised all sorts of violent and horrible payback. So I made sure he wouldn't be able to do that anytime soon." Asami explained.

"I broke his arm." Kunoichi said coldly, nodding to herself as she checked Marco's bonds. Rain began to sprinkle down on them in a light drizzle.

"Of course, I called the police, told them about what happened. Attacks and abductions continued, only more violent. I thought, 'Oh surely the police will do something, step up patrols or something.' You know what happened? Nothing. Hell I saw some of the same guys that were with that guy out on the streets in broad daylight a week after that. They were a block from my home! Luckily they didn't recognize me. That taught me the value of a mask. It also decided what I should do. I was going to keep people out here safe. Well as safe as I could. I stopped things from happening. Muggings and kidnappings mostly. A rape attempt here and there. But...the tide keeps rising. And....people like these guys come out every so often. The last one almost killed me. If you weren't here, these two would have. I need answers. I need to know why." Asami began to stammer on her last sentence as she decided on her course of action. "A-and I....I need to do something. Something that changes things. Something more permanent than a broken limb or a beating. Because if I don't, they'll do it to me...or worse, someone close to me. And I won't let that happen."
She dashed a hand over her eyes, wiping away tears as she decided on what she had to do.
"You might want to leave this alley. Things here are about to get....dark." she said grimly. "Head down one of the these others. I'll catch up to you and help you get to that clinic."
Dmitri listened. He listened to the whole thing.

He understood her point. Tokyo wasn't a perfect city, he'd lived in it his entire life. He'd heard of crimes going unpunished. Heard of gangs running the streets. Bribes and backdoor deals. Everyone knew about it, but few had the courage to do anything, and those few where easy to strike down. It was a long, never-ending battle, and Dmitri didn't envy her one bit. He wouldn't want to be the one out here.

But this? This could not be the answer. He refused to accept that the only way to fight men like this was to become like them,to do what they would do. It just seemed like a spiral. Once you crossed the line, how far did you go?

He moved back, standing between her and Elise - a supremely bad idea, but that seemed like his specialty. "I'm sorry - I respect everything you're saying. I do. But I can't just walk away."
"What do you think you're doing?" Kunoichi demanded. "What sort of nonsense is this?"

Elise began to stir, starting to come to as the cold rain fell harder upon them, in one of Tokyo's downpours. Her blurry vision wavered in and out as Dmitri stood between her and the vengeful vigilante.
"Unnh...Marco?" she mumbled

The black clad woman took a step closer, than another drawing closer to Dmitri.
"Is it because she's a woman? Maybe you feel a touch of chivalry, urging you to protect this woman?" she asked. "Ah look. Sleeping Beauty here is waking up. Fine. Then I'll start with the other one. I need answers. And I'm making sure Twiddle-dee and Twiddle-dum are taken out of the equation. If you're going to remain, then stay out of my way!"

Turning on her heel she began to walk towards Marco, who was tied up where he had fallen, a short distance away from Elise but within her field of vision.
Pausing, she found the trashcan lid that Dmitri had hurled. Picking it up, she continued to walk over to Marco, letting it fill with water.
"It's not a lot....but then again, it doesn't take much to drown a person. Especially one who's unconscious." Kunoichi informed the onlooking French woman.
At least, that's what Asami thought. Torture and murder weren't exactly her areas of expertise. Still, she reasoned if drunks and drug addicts could choke to death on their own vomit, killing someone with roughly three inches of water couldn't be too far of a stretch.
"<Wait...don't do this, please..>" Elise groaned as Kunoichi knelt down, raising Marco's head by the hair and sliding the trashcan lid full of water under his face. "<Not him, he wouldn't have killed you! He's the one that keeps me from going too far! He doesn't deserve....this!>"
Just coming out of unconsciousness and confronted with their intended victim standing over Marco, Elise reverted back to her native language, talking at a fast pace as Kunoichi held Marco'd head above the water by his hair.
"Yeah, I don't understand whatever it is you're speaking. But you spoke English back during the fight, so you'd better starting speaking it. Now." Kunoichi said.
"It's not because she's a woman!" Maybe it was a little, really. Dmitri was getting better, much better, at eschewing some of his old conceptions about women and their place and how to treat them. He was making progress. He thought he was making progress. Maybe he wasn't making as much as he'd hoped?

He snapped out of it as she started to fill up the lid, and he hobbled after. "Hey - hey! You cannot seriously expect me to just...just stand here, while you kill someone in front of me! I'm not-"

Before he could get his words out - as if they'd do any good - Elise got up and started pleading for Marco's life. It was genuine, all the way - they were husband and wife, and whatever ill will they had towards Dmitri and Kunoichi, they were good to each other. She cared. It mattered.

"She's pleading for his life." Dmitri grunted and groaned, rubbing his battered ribs. The irony of saving the guy who gave him that damage wasn't lost, but what was right was right. "You can't do this. You know you can't do this. And what's more, I'm not going to stand here and let you - I'm serious." He didn't want to fight her, and truth be told, she could probably beat him down. They were both tore up, but she was less so. Even so, he wouldn't be a passive witness to murder.
Page 3 of 5 •

1, 2, 3, 4, 5


---
Permissions in this forum:
You
cannot
reply to topics in this forum