Champions & #1 contenders
Moonhearts Promo intro thread is O p e n.
Mon May 21, 2018 4:21 am by XSirenX
Feeling brave?, lost?, or without a thread to post in?, hit up the newest Moonheart if any of those apply!
CLICK HERE
What Moon has to offer?, many things...:
Comments: 0
The Austrailian Mudslide is Back.
Sat Apr 21, 2018 6:20 am by Softsquad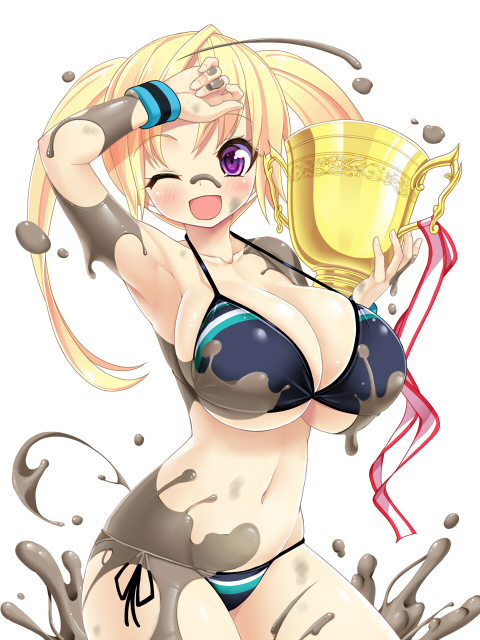 Granted that most of you won't know me or remember me, but I've had a few matches here and there some time ago. Well I think its time to become a regular around here and try to have some fun again, but at the same time keep coming back. Anyway I think its time to jump into some matches with Zoe Taylor, my mud wrestling character from Australia and get her back into the squared circle. Furthermore I will update my characters as I think some proper changes need to happen.
So if anyone would …
[
Full reading
]
Comments: 4
Page 1 of 4 • 1, 2, 3, 4


After going through a couple of rough weeks, Charlene felt like taking a break from the whole wrestling thing for once. The results had been going against her, which kinda frustrating even if it's somewhat expected. Perhaps she was too naive when she accepted the offer, but there's no turning back now. She's been trying to improve herself, but today the blonde felt like she could take some time to relax at the nearby public pool.
The former model had to wear sunglasses and all since her popularity seemed to rise after her move to the wrestling world, and so she felt a bit more at ease once she got inside the changing room. Humming to herself as she undressed herself, Charlene took out an orange bikini set that had a skirt-like bottom with some black stripes on it - her favorite from her collection.
Once she finished changing, the blonde put all her belongings to her bag and walked out towards the locker room to store it, not really paying attention to her surrounding as she already imagined herself relaxing inside the warm pool.
Through all of her time in the AFW Maya had been placed in one crazy match after another, her debut match involving a pool of ice cream, and in that time she had yet to get booked in a match that didn't involve sex. It wasn't all bad though as not only had she grown more comfortable with the sensual side to herself she had kept hidden back in her days as a gymnast, but she had also picked up a dear friend after that first wild match in Lisa, without whom she may not have still been in the league today.
Unfortunately when she finally managed to get a full day off from her AFW duties Lisa was out of town for some kind of shoot, leaving her with no one to spend the day with. With the temperature on the rise thanks to Spring Maya figured today was the perfect day to spend some time at the pool. Before joining the AFW Maya would have been too embarrassed to be seen in a swimsuit by total strangers, but after being watched on television for the past year in far less clothing she no longer had that hang up. Looking through her small collection of swim suits Maya took out a dark red one Lisa had helped her pick out for the coming beach season, stuffing it into her bag before heading down to the AFW pool.
When she arrived she drew a few looks but in her casual clothes she didn't much resemble the sexy Maya Williams of Friction and they turned away before long, something she had a feeling would change in a moment as she ducked into the nearest changing room. She could hear some light humming but the melody was pleasant and the voice sweet so she simply kept quiet and enjoyed it as she unbuttoned her jacket, pulling it off and folding it neatly before placing it into her bag. The rest of her clothes followed suit, Maya working quicker than normal as this was a public space in the end, and soon she was giving her red top a few final adjustments to make sure it wasn't going to slip down or anything before gathering up her bag and stepping out of the changing room.
Little did Maya know someone else had the same idea as her and before she even knew what hit her she bumped into someone and fell down onto her butt. Groaning from the unexpected fall and the rough landing that followed, Maya gingerly rubbed her now sore butt for a few moments before looking over at the woman she had run into. "Uhhh sorry about that...it was my fault I wasn't looking where I was going and..." Maya said as apologetically as she could before her voice faded away upon seeing a cute girl with a similar expression as her sitting across from her, Maya blinking in surprise as she began to think she knew her from somewhere.
Last edited by 10067 on Sat May 10, 2014 9:31 am; edited 1 time in total
"Waahh?!" Charlene yelped as she landed on her butt as well after a collision that seemingly came out of nowhere.

She wasn't sure who bumped onto who since she didn't pay attention to her surroundings either, but seeing the other girl began to apologize, the blonde didn't feel like yelling at her. While rubbing her own sore rear, Charlene felt like she had seen this girl somewhere, but figured out that they never met until today. The only thing she could say was that the girl looked hot in that red bikini of hers. She quickly shook her head to brush off the thought, however.

"Uhh... that's fine... I wasn't paying attention either soo..." she replied before picking herself up.

Taking up her bag, she sighed and offered a hand to the other girl to help her get up. It's just a small accident, and Charlene was generally a clumsy girl herself. There's no need to ruin her mood because of it.

"You alright...?"
Maya held her breath as she waited for the other girl to erupt in some angry rant about how she had best start watching where she was going, imagining the worst possible outcome only to be pleasantly surprised when the blonde girl offered an apology of her own. Maya blinked a few times before breathing out a sigh of relief, feeling fortunate that the person she had knocked over seemed as gentle and polite as herself. "Oh well thanks for being so understanding!" She answered excitedly while nodding her head for a few seconds before she turned her head in search of her fallen bag.

"Ah got it." She mumbled to herself as collected her bag only to then turn back around and fall silent as she watched the girl rise to her feet, staring as she only now realized how lovely the blonde girl really was. She shook her head to clear it of such thoughts before they led her somewhere dirtier, Maya blushing when the girl offered to help her up as she thought she had been caught in her stare.

She gave the girl a little bow of her head but hesitated in taking her hand for a moment, only to then realize she probably seemed nervous or worse rude so she smiled and took the girl's hand who then helped drag her back to her feet. "Thanks and yes I'm fine, that wasn't the first time I've fallen like that and I doubt it will be the last." Maya replied while still holding onto the girl's hand, glancing down after several seconds before giggling nervously while she let go and took a step back to respect the girl's personal space.
"No problem!" Charlene smiled at the girl. "Really...? So am I... haha..." she laughed sheepishly, a little embarrassed at what she just admitted.

The blonde was just about as nervous as the other girl, especially after she had a better look on her body. Charlene managed to stop her thoughts from wandering too far, though, and she was about to head off to the locker room to put her stuffs before going to the pool area, only to stop herself at the last second.

"Umm... You're going to the pool too, right...? Maybe we can go together?" she offered pleasantly. "Ah, my name is Charlene, by the way!"

This might be a good opportunity to make a new friend, or so the blonde thought. After her horrible start in the wrestling world, having a new friend could help her getting through her new career. She didn't really know where exactly she had seen this girl before, but Charlene was only looking for someone to talk to anyways, maybe hanging out as well, but that could be stretching it.
Maya nodded her head to the girl and giggled when the woman admitted she too had a habit of falling on her butt, a soft blush appearing on her cheeks as she realized just how embarrassing what she had just told this stranger was. Only she didn't feel embarrassed, or at least not nearly as much as she knew she should have after saying all that, instead she felt almost at ease with the blonde woman despite not even knowing her name.

"Well it was nice running into you...uh I don't mean the actually running into you part but ummmm, you know the meeting you and everything." Maya said nervously but with a smile all the same, turning her head towards the pool as she prepared to leave the girl be when the stranger introduced herself and asked if she wanted to go to the pool with her. Blinking in surprise Maya turned back to meet the eyes of Charlene and for a moment seemed like she was going to turn the blonde down, but after a few seconds she smiled brightly and nodded excitedly. "Sure that sounds like a lot of fun! It will be nice to have someone like me to hang out with. Oh and I'm Maya, a pleasure to meet you!" She answered happily before giving Charlene a slight bow of her head.
"Nice to meet you, Maya!" Charlene exclaimed happily before she tilted her head to the locker room's direction. "Shall we?"

The blonde would then start walking towards the locker area besides her new friend. Despite that little accident, things seemed to look bright today. Charlene couldn't help but to glance towards Maya few times discreetly. Being a former model before, she was kinda used in seeing pretty girls, and AFW itself was full of stunning beauties. However, it's only recently she starting to feel something else about meeting girls. She couldn't really explain it yet, but it's probably had something to do with her move to the wrestling world, or so she thought.

"Uumm... soo..." she decided to start a conversation. "You know, I have a feeling I've seen you before! Are you working somewhere?"
"Likewise Charlene!" Maya replied with a bright smile on her lips and a joyful look in her eyes, pleased to have found someone so easy to get along with when she needed one the most.

"Lead the way." She then said complete with a curtsey and a wave towards the lockers to accompany it, Maya finding herself feeling quite playful in the presence of Charlene. The day had made a quick turn for the better from Maya's point of view and soon the pair of lovely ladies were walking side by side on their way to the locker area, Maya sneaking quick glances sideways at her incredibly cute new friend, never looking for more than a second or two at a time before averting her gaze to keep from being caught. She opened her mouth to speak as they walked but promptly closed it and blushed when she realized she had no idea what to say to Charlene, her shyness getting the better of her even with the blonde woman who seemed so much like herself.

When Charlene spoke up and asked where she might have seen her from Maya's cheeks turned a bright crimson and she began to twiddle her fingers out of nervousness. She didn't want to lie to the girl but she also didn't want Charlene to see her differently once she found out she worked for the AFW, worried the girl might have seen one of her matches and then ditch her once she remembered just how...lustful she could be inside a ring.

Shaking her head Maya resolved to tell her the truth anyway, deciding it was better to tell the truth and risk it than lie to her. "Well ummm...truthfully? You may have seen me on tv before, I work for the AFW here in town..." Maya managed to say at last, turning her head from Charlene to hide just how deep her blush was at this point.
Hearing the words AFW made Charlene's eyes blinked a few times. That might explain why she felt that she had seen Maya before. It's probably from one of the clips that were shown to her to convince her in joining AFW. She initially wanted to say that she's also working in the same place, but hesitated for a bit. Her career in the wrestling world wasn't the most glorious one after all, to put it lightly. The blonde then shook her head and decided to be honest since Maya seemed to be rather uncomfortable about working in AFW.

"H-huh...? S-so am I...!" she confessed without looking at Maya's face as her cheeks were blushing deep. "W-what a coincidence! Haha..."

She suddenly felt awkward to talk about work or anything else and decided to keep quiet until they reached their destination. At the moment, talking seemed to require a good amount of courage after both of them admitted to each other about working in AFW. It's funny, because Charlene felt that normally it should made people more comfortable to find out that they're working in the same place.

When they arrived in the locker area, Charlene headed towards the empty ones to store her belongings before locking it. Meanwhile, she tried about thinking of another topic to brought up, not wanting things to stay awkward between her and her new friend.
An uncomfortable silence fell over the two women after she confessed to working for the highly sexually oriented AFW, every passing second only adding to the nervousness Maya was feeling, afraid that Charlene would find some way to excuse herself from her company now that she knew where she worked. To her shock however Charlene then revealed that she too worked for the famous wrestling promotion, Maya's jaw literally dropping as her mind struggled to process this new bit of information.

Charlene just didn't seem like the type of woman who would be in the AFW, but then again anyone meeting her for the first time would never guess she would be a good fit for the league either. "Re...really?" Maya stammered out after several long seconds had passed, unsure of what else to say in that moment. Looking over at the blonde beauty Maya squinted her eyes as if she were trying to see deeper into the woman walking beside her, wondering if like her Charlene had a more embarrassing side that the AFW allowed to come out and realizing that they had much more in common than originally thought.

As they both tucked away their belongings into lockers Maya did her best to think of something else to say, anything that might break this new found tension between them, one which felt strange considering how well things seemed to have been going earlier. "Its crazy right...running into each other like this?" Maya began to say after settling on just winging it. "I mean we never met at any of the AFW facilities yet here we are, at a public pool, literally running into one another. Its kinda funny really..."
Page 1 of 4 • 1, 2, 3, 4



Similar topics
---
Permissions in this forum:
You
cannot
reply to topics in this forum