Champions & #1 contenders
Highfly Flying Out Of Town
Tue May 22, 2018 1:31 am by HighFly
Hello everyone, I just wanted to inform all I have threads with that I will be gone from this coming Wednesday through Sunday. I won't be able to post consistently if at all during this time, but I will try to make up for it next week! I am sorry for the inconvenience to everyone.
Comments: 7
The Austrailian Mudslide is Back.
Sat Apr 21, 2018 6:20 am by Softsquad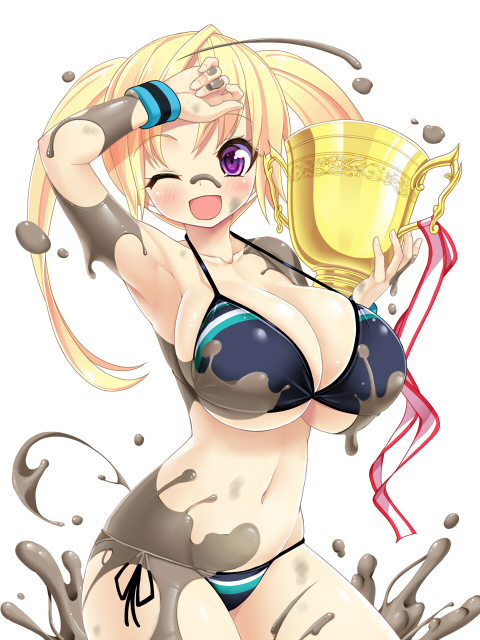 Granted that most of you won't know me or remember me, but I've had a few matches here and there some time ago. Well I think its time to become a regular around here and try to have some fun again, but at the same time keep coming back. Anyway I think its time to jump into some matches with Zoe Taylor, my mud wrestling character from Australia and get her back into the squared circle. Furthermore I will update my characters as I think some proper changes need to happen.
So if anyone would …
[
Full reading
]
Comments: 5
Page 1 of 2 • 1, 2


"Ok here I am...." Charlie said as he took a seat at a nice looking cafe style shop. It wasn't far from where Talia worked, so he made sure to show up a little bit early. He was dressed in khaki pants and a dark blue polo shirt. This was a far cry from his usual shorts and t-shirt which he was accustomed to.

Instead of having his dog with him, he was armed with some roses. He wasn't sure if flowers were a good or bad idea, but after running it by Alaina she gave flowers a thumbs up. Charlie figured that, by virtue of being a female herself, Alaina knew more about women than he did. If she said roses would be a good idea, then Charlie decided to make it happen for Talia.

"All right... she's not here yet, but I am early so no worries." Charlie thought to himself. Waiting was never a strong point of his. Rehab really sucked for that reason but right now that wasn't on his mind at all. Charlie did a quick last-minute check of himself... his breath was minty thanks to a pack of mints in his pocket. He sniffed his armpits quickly, still odor-free and dry. He checked his reflection in a nearby glass.... as good as he'd ever get he guessed.
Talia hurried towards the cafe where she was meeting Charlie. She was worried about making it back on time but she was beginning to notice how little her manager seemed to care about that kind of thing. She was more worried about the fact that she was going on a real, actual date. It wasn't a shopping trip with fleeting muse, it was an actual meal with someone. And it was with, of all people, a tension wrestler. Just half a year before she would never have agreed to something like this.

A half a year, though, was a long time.

"Hey Charlie!" Talia said excitedly when she noticed the flowers. "Aww, did you get these for me? That was really sweet of you." The orange-haired girl was wearing her work attire, including her glasses and jacket. She picked up the flowers and smelled them. Nothing. They never seemed to smell like anything to her. And frankly, up until that moment she never understood flowers. That was, at least, until someone actually got them for her. Now they were the best things in the world.

"I hope you weren't waiting too long...I only have half an hour...but that should be enough time for lunch. So...how'd the medical thing go? Are you almost cleared to wrestle?"
"Its all good, I'm just glad you like roses!" Charlie said, ecstatic to see that Talia liked them. "Oh, it went ok I guess. I get out of this brace in a month. After that I will be clear to jog and lift very light weights. If all goes well I'll be running, jumping and doing what I used to do to get ready for matches. Unfortunately I am realistically 4 months away from a debut match."

Charlie decided that was enough about him. This was about Talia, and he'd rather be known as a guy who listened instead of one who just talked about himself all the time. "So what about you? How's everything going with work and stuff?" Charlie asked as he smiled a bit. "I was surprised you'd ask me for lunch, usually women as pretty as you are have boyfriends already, or have zero interest in short people who spend much of their time as a minion to a small welsh corgi."
Talia smiled and listened intently as Charlie spoke about himself. 4 months was a long time, unfortunately, but he had good hopes about it. She couldn't argue with his optimism regarding it all. After her own injury, she felt like the world was at an end. It was refreshing to see someone so positive about everything. "I hope your recovery is quick so you can get into action!" Ironically that was the first real interest she had in wrestling since she quit.

"Oh...well..." Talia slightly blushed at Charlie's comment. People had called her beautiful and attractive in the past but it never had the same effect as it did then. She usually didn't care about their 'wrong' opinions so she brushed them off. In her mind, Talia realized that meant she did care what Charlie thought. "Thanks, but don't self yourself short." Her face slightly reddened even more when she realized she made a short joke. "But I haven't really met anyone nice in awhile...I've mostly made enemies really..."

The redhead sighed and tilted her head. She remembered why she had made so many enemies. It was like a block on her conscious. "Back when I use to wrestle in the AFW...I butted heads with a lot of people and they all had friends. By the end of it...I was kinda an outcast." Talia finally remembered what hiding the truth did with Taylor. And she didn't want to repeat that all over again. "Yea...I umm..." But she also didn't want to scare away Charlie so suddenly. She wasn't comfortable with herself at that moment.
Charlie laughed at Talia's comment about selling himself short. Charlie wasn't sure what it as about Talia, but the more he was around her the more he enjoyed her company.

When she began talking about making enemies, Charlie was surprised. "I mean, butting heads happens in wrestling for sure but I just have a hard time seeing someone as gentle and kind hearted as you making enemies." Charlie said as he drank a bit of water. He was equally surprised at her calling herself an outcast. "I have trouble seeing you as an outcast too. I mean, I was an outcast for a long time but I'm also a zany goofball so the outcast label makes more sense being applied to me. I bet your friends would agree with me too." Charlie added with a smile.

He could see that Talia didn't have a lot of confidence in herself for whatever reason. As far as Charlie could tell she had every reason to be confident: She was pretty, very attractive and smart. Charlie wanted to make her feel better about, well being her. It was then that he opened his mouth and let it run without thinking. "For what its worth, I think your enemies were stupid. I don't see how anyone could hate you. I mean, I just met ya not long ago and I really enjoy spending time with you." Charlie was blushing and nervously rubbed his forehead with his hand. Was that too straightforward a thing to say? Regardless even if he didn't mean to come on so strong, he did mean what he said.
Talia tilted her head in a bit of a frown. She'd like to say she hadn't been herself when she made all those enemies. But she was. A pushed past breaking point, unstable, vengeful self...but herself nonetheless. "I'll be honest with you Charlie...I kinda deserved it..." Well...not all of it. Looking back she felt so guilty about many of the things she ended up doing. Some of them...may have been justified but most weren't. "I didn't know anyone back then...I was kinda alone. And it was hard being alone in this business." She crossed her arms in discomfort again.

"I wrestled last year under the name Dark Angel...I don't know if you were following anything in the AFW back then." She didn't think he had. Especially since it wasn't like her identity as Dark Angel was a secret anymore. She regretfully solved that in her last match. "But I hurt a lot of people then. I really...kinda felt like the whole world was against me and it was just what I ended up doing. Looking back, I wish I hadn't done any of it."

She looked outside uncomfortably. "I just...I just don't want to mislead people anymore...that whole hiding thing worked well at first. Then it exploded and my life collapsed around me. I don't want you to like the fake me and not the real me. And frankly...I'm not even sure whether Dark Angel or Talia Wilson is the real one anymore."
Charlie listened intently and looked into her beautiful eyes as she told her story. He nodded sympathetically and let her talk. He guessed that she hadn't told this to anyone and needed to get everything she said off her chest based on the amount of pain Charlie saw in her eyes. He knew there were scumbags out there that would take advantage of someone like that, hell for all he know someone already had at some point.

Not Charles Cornelius Haines III. The way he saw it, he had one mission and one mission only: To make Talia smile and laugh before they finished lunch.

"The way I see it the real you is an honest, kind hearted young lady who had a lot on her chest that she needed to tell someone." Charlie said when she finished and looked outside. "Most people look the other way when a gimp-tastic guy like me walks by but you didn't, you helped me out. How you treat people who can't do anything for you speaks volumes about who you really are and that's what I like about you more than anything."

Charlie paused for a second. He didn't have any secrets aside from not being close to his family, but he didn't want to tell a "woe is me" story. He wanted to cheer up Talia. He figured now is as good a time as ever to tell her about his second part-time career. "I have a really dorky secret, sort of. To make money to ease the financial burden on my roommate while I'm out of work, I signed up to do some voiceover work and do dumb impersonations. Charlie said before continuing on, sounding as much like Commander Shepard of the Mass Effect series as he could. "I'm Commander Shepard, and this is my favorite lunch stop on the Citadel."
Charlie's lightheartedness made Talia smile. She knew that he was being optimistic and that if he knew the whole story he may not be that way. But he genuinely seemed interested in trying to cheer her up. And that almost made her forget all tr stuff that had happened in the past. A little smile formed across her face when he did his little impersonation. It was goofy. But in a world of fighting and hostility, goofy was a good thing.

"Hah...that's-"

"Tal?" a voice from six feet behind Talia asked. If it was any other sound, Talia would've shrunk into her chair to hide. But she recognized the voice and turned around to see her sister, Aurora. "I thought you said you were in Canada."

Even though it was her sister, Talia wasn't exactly overjoyed to see her. "Yea I was...I've been back in town for about a month now." She'd only told a handful of people that she came back. Aurora wasn't one of them.

"Why didn't you tell me?" the blonde suddenly asked angrily. "I thought you had gone for good...I thought you were done with all this?" She walked up to the table not even acknowledging Charlie. She crossed her arms and looked down at her sister with a scowl. "And what was the deal with Canada anyways? Are you just giving up on everything, what's the deal?" She didn't even give Talia a chance to respond. "You just left me in the dark and did your own thing. Why did you do that match anyways, were you nuts?"

"Leave me alone, Aury," Talia finally said back and sunk into her seat. She couldn't fight Aurora about that. They were all mistakes she had made and knew she was in the wrong. She didn't need Aurora telling her that.

"Stop being such a self-centered brat. I was trying to help you, why didn't you just let me do that? Did you ever think that was that reason everything was tough? Because you kept making it harder for yourself?" Talia sunk deeper into her seat and looked away from both of them. She wished her boss would suddenly show up and yell at her to get back to work. Then she could run away and no one could her otherwise.
Charlie watched as some blonde woman who knew Talia approached and began to yell. "Jeez... Ms. Personality right there...." Charlie thought to himself as she continued to lay into Talia.

It pained Charlie to watch Talia shrink back down into her seat the way she did. It was like watching a flower bloom, then slowly wither right in front of him. "Whoa, take it easy there Ram-Rod." Charlie said to the woman as she finished her rant. "Take a breath and relax once in a while. I'm sure Talia would have answered if ya gave her a chance to instead of flipping out and calling her a brat, which for the record she isn't. Besides, Talia's old enough to make her own choices if I'm not mistaken. If she's doing what she thinks is right or doing something that makes her happy whats wrong with that?"
Aurora turned her head towards Charlie suddenly, somewhat surprised by the response from him. "I'm sorry, who are you?" she asked with a little snark. She didn't recognize the man but if he associated himself with Talia then clearly he didn't know what he was talking about. He didn't know their history or what all Talia did and didn't do in the AFW. "You don't know her. You don't know how stupid she's been. It's ridiculous."

"I am not stupid!" the redhead suddenly barked back.

"What have you done right in the past year, hmm? Was your little crusade worth it?" Talia tried her best to stand her ground but she knew what Aurora was getting at. "Or before that, what were you doing, hmm? Getting your butt kicked by guys?" She crossed her arms, standing high over her little sister. "Yea you really know what you're doing, you little genius."

Talia's wrestling career was a joke and she knew it. "Shut up, Aurora," was all she could mutter in response as she sunk back into her seat and covered her watery eyes with her sleeve. She didn't disagree with what her sister said. That's what made her feel so bad about it. She wished Aurora would just leave her alone about it. She didn't need more people reminding her about how much she had failed. But she didn't have the self-confidence to defend herself anymore.
Page 1 of 2 • 1, 2


---
Permissions in this forum:
You
cannot
reply to topics in this forum