Who is online?
In total there are
34
users online :: 11 Registered, 0 Hidden and 23 Guests :: 1 Bot
bricktown
,
Cirno
,
Kelsea
,
LARIATO
,
Link-mon
,
mnpinner
,
Mystery Dragon
,
Ragdoll_Jobbers
,
RJD
,
starvalentine
,
ThunderFox
Most users ever online was
155
on Sun Oct 09, 2016 8:33 am
Champions & #1 contenders
Match For Max.
Thu Jan 19, 2017 5:52 pm by Scarf
Just wondering if I could get something going for my
newest Friction wrestler.
If anybody finds themselves interested or has any possible ideas for the future don't hesitate to hit me up, I'd be happy to hear from you.
Comments: 0
Inconsistent posting
Mon Jan 16, 2017 8:53 pm by RJD
I have stuff coming up in the next couple of weeks and will not be able to post anywhere near as often as usual/before. To be honest this has already been showing it's effects lately but it will do so even more from now on. I'll prioritise my Avalanche match and multi character matches but other than that I'll respond probably once every few days, I'll try not to leave anyone hanging though.
Comments: 10
Looking for Friction matches!
Sun Jan 15, 2017 2:07 am by tehbohemian
Hey everybody just posting a notice I have 2 wrestlers that could use some love!
Shinobu just got out of her match and I'm looking for some wins or losses to add to her record, she is a serious fighter and is looking for more straight forward fights, she could be a good match up against other "martial artist" type characters looking for a challenge or she could stand up to a violent heel, anything works.
Sonic is also up for matches, people familiar with Ring Dream or Wrestle Angels should …
[
Full reading
]
Comments: 3
Page 2 of 2 •

1, 2
Aoi stood there keeping herself from shivering at Ofelia's grip on her butt, sighing in relief the blue haired girl looked at Ofelia and Momo as she thought on the caramel beauty proposal. It would be easier for her to take on the the stronger looking Kawaii with this rookie but she was hoping for one on one fights not a two on one, however something nagged her that she would get steamed rolled by Ofelia very easily. Taking a deep breath Aoi looked at the Caramel Beauty and held the mic to her mouth, "You're on sweety if my double is up to it still, you vs her and myself." Aoi said she at least hoped that Momo was still up to the match after hearing what it really was.

Stepping up to Ofelia Aoi would do something daring as she would slap her hand on Ofelia's butt, and gave it a firm squeezing having a little smirk to her face as her eyes showed fire in them now. She was fired up and couldn't wait for the match.

_________________
Dragonswills' girls
Momo honestly thought that her question was a good one. She understood just from the title of the match that it would be pretty... out there. But she didn't know any of the finer details. She was a stranger to this business after all, and she had a lot of learning to do before she was well versed in this "wrestling lingo." But Ofelia... she just laughed like she was a toddler who asked why leaves are green. It didn't seem patronizing or anything. Just a little unexpected.

Momo looked at the Brazilian beauty,watching her as she came closer, leaning close and whispering softly into her ear. The explanation was... holy crap. "O-oh..." A shiver ran down the idol's spine, both from the thought of participating in what was basically wrestling porn, and the way Ofelia said it. Her soft whisper, coupled with her warm breath against her ear was a little overwhelming. Not a good thing. If she was flustered by just that, she probably wouldn't make it too far in a match like that...

But she knew that when she came here. She knew the AFW had a reputation for this stuff. It was common for them. Momo had accepted that when she came here, she would have to take part in matches like that if she wanted to satisfy her desire to be on stage again. This was just a different kind of performance.

"F-fine! Yes! I'm in! Me and... Aoi was it? Yeah! Me and Aoi against you!" Momo said, grinning like an idiot at the two of them. "When do we do it? Now? I'm not in my uniform... can I change first? Or are we waiting?" She didn't know if it was because she was nervous, or if it was her awkwardness shining through, but she couldn't stop the flood of questions. She probably looked like a dope... Oh well!



Posts

: 1790


Join date

: 2012-08-29


Age

: 26


Location

: Chasing angry cats



Ofélia purred when Aoi slapped her butt and gave it a squeeze. She extended her tush so the kawaii champ could have all the time she wanted with her luscious booty. Until Momo spoke and delcared her eagerness as well.

"Ohohoho~" Ofélia chuckled at Momo's almost eagerness to join in and face off against the lusty Brazilian. "Oh, we can have the match soon. You two will need to get together and strategize." She said as she brought her cigar up to her lips, took a few puffs and blew a ring of smoke at each of the girls.

She spun around and showed off her tush once more. She raised her hand and wiggled a few fingers. "Toodles, gals. I'm lookin forward to makin you two squirt!" She gave them each a sensual wink before seductively sliding out of the ring and sauntering robustly back up the ring as her saucy music played.



Posts

: 27333


Join date

: 2009-04-02


Age

: 96


Location

: VIP Box inside the AFWDome



Aoi squeezed Ofelia's butt more almost enjoying how it felt, Stopping once Momo spoke looking at the fellow blue haired girl relief came over Aoi that she has help now against Ofelia. Letting go of Ofelia's tush Aoi watch the caramel Kawaii leave and would go over to Momo with a soft smiled "shes right about one thing we do need to get together and discuss our battle plan... something tells me she will be a very tough person to fight and we might get beat easily if we dont have a strategy befor hand." Aoi said touching her lip "and we also need to discuss the match me and you will have after we fight that Ofelia."

Aoi started to walk to the edge of the ring and looked back to Momo " come on I think I know a place where we can have a battle plan." Aoi said getting out of the ring and walking to backstage

_________________
Dragonswills' girls
As the three Kawaiis talked in the ring and before Aoi and Momo could leave a loud roar blasted over the loudspeakers and a cloud of fog began to billow out of the entrance to the arena. After a few seconds a young girl sprinted out from the fog and down towards the ring.
[url=http://s1126.photobucket.com/user/armads89/media/839bb765fa.jpg.html:3f19b6ru]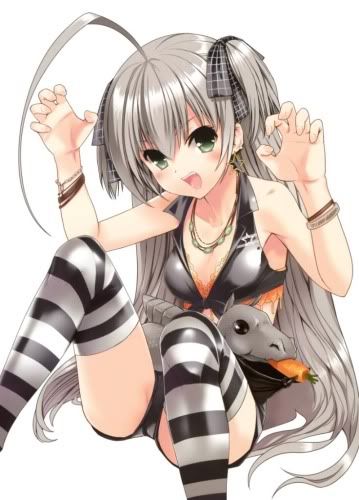 [/url:3f19b6ru]
The young girl was Lynwen and she was hear to make a name for herself. As Lynwen got to the ring she slid under the bottom rope and quickly ran towards the nearest turnbuckle. Lynwen scurried up the corner and stood on the top rope before placing a toy stuffed dragon on top of her head which she had been hiding in her shirt. "Alright! I hear you are looking for a challenge. Well, now that i, a mighty dragon, have appeared your doom is at hand. I will beat any of you in any challenge." Lynwen said as she pointed down at the ring while sweeping her eyes across the three girls. "So are you ready to take me on?" Lynwen would say as she stood on the ropes.

_________________
Characters

The Den



Posts

: 8071


Join date

: 2009-03-02



Aoi was just at the ropes when the roar was heard in the loudspeakers "What the?"Aoi said looking at the entrance when the other Kawaii ran to the ring watching the would be dragon she smiled walking up to her "Hello there dragon I issued the challenge and you will be my the last one i will fight after that Ofelia and Momo here so tell me what match do you want Little dragon?" Aoi said adding the little dragon to get her mad.

not sure what to make of this other kawaii Aoi simply looked at her trying not to stare at her stuff dragon.

_________________
Dragonswills' girls
Lynwen looked at Aoi as she addressed her "So you are the one who dares challenge the dragon." Lynwen said as she would hop down off of the turnbuckle and approach Aoi "Well i think i have the perfect match where i can prove that you are no match for the dragon." Lynwen would then smile as she would point her finger in Aoi's face "I challenge you to a stuffed toys match. It i a match where the ring is filled with stuffed animals. The only way to win is to pin your opponent and you can use any stuffed animal as a weapon." Lynwen said as she figured that Aoi would not stand a chance in such a match.

_________________
Characters

The Den



Posts

: 8071


Join date

: 2009-03-02



"Yes I'm the one that dares challenge you little dragon."Aoi said looking at Lynwen as she stats she has the perfect match upon hearing the match Aoi didn't laugh at it she simply smiled "Fine by me small dragon i accept your match." Aoi said as she turned her back to the dragon and looked at Momo " and what match did you wanted Momo?" She asked the fellow blue haired girl

_________________
Dragonswills' girls
Page 2 of 2 •

1, 2
---
Permissions in this forum:
You
cannot
reply to topics in this forum