Champions & #1 contenders
The Austrailian Mudslide is Back.
Sat Apr 21, 2018 6:20 am by Softsquad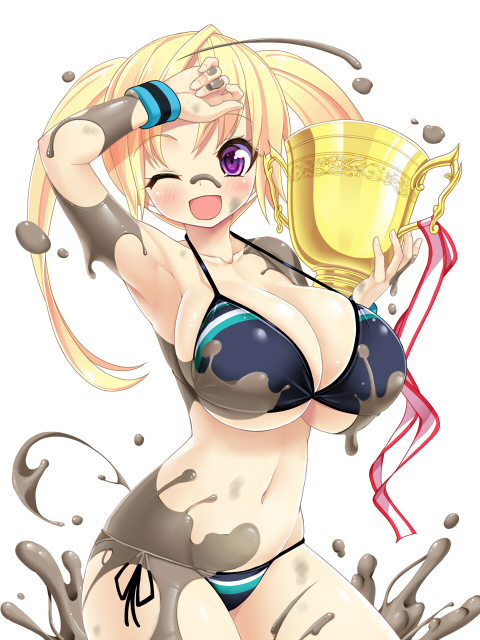 Granted that most of you won't know me or remember me, but I've had a few matches here and there some time ago. Well I think its time to become a regular around here and try to have some fun again, but at the same time keep coming back. Anyway I think its time to jump into some matches with Zoe Taylor, my mud wrestling character from Australia and get her back into the squared circle. Furthermore I will update my characters as I think some proper changes need to happen.
So if anyone would …
[
Full reading
]
Comments: 4
Looking for debut thread.
Sat May 12, 2018 9:28 pm by Hedgehawk
Hello All.
I am looking for a debut for my girl Trinity (http://www.afwrpg.com/t18107-trinity-cordova#495678).
This doesn't have to be a match, it could be a gym battle, interview or anything else. I just want something to help get Trinity off the ground. If you wanna plot feel free to reply to this message or fire me a PM.
Many thanks in advance and thank you for reading my message,
Hedge
Comments: 0
Page 1 of 3 • 1, 2, 3


It was late, but not dark. It never got dark in Tokyo. As the daylight vanished it was replaced by brash neon and the glow from signs attached to every shop that stretched high above the street, giving the whole place a carnival-like atmosphere. The air was alive with the constant murmuring of the crowd and the distant drone of passing traffic, all humming together in a concrete, organic ambiance.

Taylor stood on the sidewalk and leaned against the wall of a ramen shop while she took in the crisp night air. It was unseasonably warm, so she wasn't uncomfortable in what she was wearing. Her lean, muscular shoulders were displayed in a red, racerback tank top, layered over a similar black one, with the silhouette of a female wrestler on the front with her fist in the air and the words "Start a Fire". Her tight jeans hugged the firm, athletic curves of her hips and thighs, and her ruby-red Doc Martens were scuffed from walking miles around the city. Her blonde hair was in two pigtails, and her red-streaked bangs were swept to one side, with a small eyebrow ring just showing from under them. She had a small stud in her nostril, and two small rings in each ear. Her eyes were darkly outlined and shadowed, and her deep blue irises shown with enticing complexity. She pulled her phone out of her back pocket and checked to see if she had a message from Cassie. She didn't.

She was supposed to meet her. She'd arrived from Hamamatsu an hour ago and walked from the train station to the block by AFW Friction where many of the wrestlers went to relax and blow off steam. She was pretty sure this was the street corner Cassie had meant. She didn't want to call her to make sure, because probably the Canadian's training had just run long and she was on her way.

She fiddled with her many brightly colored bracelets while she waited. She was hungry, as usual, and she hoped Cassie showed up soon or else she might end up eating one.
Last edited by 1167 on Thu Apr 17, 2014 6:52 am; edited 1 time in total
Even after living in Tokyo for nearly two years it seemed every other night she learned of some new place she simply had to try, sometimes it was from a coworker or from Heather but no matter the source rarely did such nights where she heeded said advice turn out to be dull. She had just finished her workout down at the AFW complex when one of the trainers mentioned a ramen shop nearby that a lot of wrestlers frequented, especially after long days in the gym or Friction shows when they needed both some good food and to unwind. Always up to try something new the french woman put in a call to Heather to invite her out but she was already home resting after her own grueling workout, telling Natasha to bring her back something good and not to worry if she wanted to eat at the shop, after all she said it was an experience to eat at a genuine Japanese ramen shop, one she shouldn't miss.

After a shower she changed into a set of going out clothes she kept in her locker for just such an occasion and then followed the directions given to her as she walked the few blocks between the gym and the ramen shop, quietly wondering to herself why Tokyo wasn't known as the city that never slept thanks to the dazzling array of lights assaulting her senses at every moment.

The air was just beginning to warm up now that spring had arrived but there was just enough of a chil in the air for her to feel at ease in what she was wearing. Natasha's slender yet toned arms were on full display unlike her breasts in the midnight blue top she had on which ran up to her neck, the thick material soft upon her skin and would have been quite warm if not for the lack of sleeves. From her waist fell a skirt which reached to just above her knees, jet black in color and doing very little to hide the curves of her hips and thighs as it clung to her skin like silk. Plain black boots finished the ensemble while her long blue hair resembled a waterfall cascading down around her shoulders, Natahsa having simply left her hair loose instead of pulling it back behind her shoulders.

She found the famous shop easily enough amidst the sea of neon that was Tokyo and had just been about to step inside when she caught sight of someone out of the corner of her eye she swore she recognized. Turning to face the woman, who was leaning against the outside wall of the shop, she realized immediately she had just run into Taylor. Part of her wanted to pretend she hadn't seen her former team captain but if she had seen Taylor then Taylor had seen her, and as much as she wanted to Natasha just couldn't be as rude as to simply ignore her.

"I was told this place attracted a lot of AFW talent, but I wouldn't have thought I'd run into you down here this late. I didn't think you still lived in Tokyo." Natasha said, doing her best to sound as polite and well normal as she could despite the urge she was feeling to tell the woman off. She may even had done just that if she hadn't gotten to vent a bit to Aurora the other day.
Taylor perked up, but it wasn't her petite redheaded friend coming toward her. It took a moment to recognize Natasha Loclear. Sometimes it was hard to spot wrestlers out in public, not only because of the civilian clothes that replaced the ring gear and workout clothes, but because the change in surroundings made them seen unfamiliar. She looked like the polar opposite of Taylor: busty, rich, and well-mannered.

Of course, Taylor had money now, which still seemed weird, but she definitely didn't go out of her way to flaunt it. Most of her clothes either came from the same places or she had made them herself. Going to expensive boutiques and stuff was just so uncool.

"Yeah, man," she said, without much of a smile. "But I'm in Tokyo a couple nights a week, usually, training, business, friends, family and stuff, ya know. Johnny's great, but I still need my training partners." She paused to study the French woman, and then cut right to the chase. "So you're probably, like, all pissed off at me, right?"
For an instant Natasha could have sworn Taylor was happy to see her, but after a few moments Taylor lost that excited air about her. Presumably she was waiting for someone and thought Natasha was her for a moment before she got a better look, returning to her uninterested self she usually was around her. She drew closer after calling out to Taylor until she too was standing next to the wall of the ramen shop, not wanting to keep yelling over the symphony of sound that was the night in this city, and as she did she got a better look at the woman who seemed to despise her craft with a passion.

Taylor looked every bit the punk rock attitude she displayed in the ring complete with a few facial piercings, further cementing in Natasha's mind just how different their backgrounds really were. Unlike Natasha whose clothes were anything but flashy Taylor's choice of outfit certainly drew the eye with its flashy red top and matching shoes, her blonde hair further separating her from the crowd of mostly black hair around her though she supposed her blue hair did much the same.

As Taylor answered her question Natasha was secretly grinding her teeth behind her closed lips, struggling with herself to figure out if she wanted to bring up the interview the other day or not. Fortunately Taylor made that decision for her and asked Natasha directly, the french woman looking startled for a brief moment before collecting herself, deciding to just speak from the top of her head and go with it. "I don't know Taylor...you only insulted half of my craft at that interview show of yours, dismissing those of us who partake in the hentai division along with your new buddy Adrian." Natasha answered, a hint of the anger she had been sorting through since then apparent in her voice.

After a short pause to breathe she continued, "Lets cut out the others though, do you honestly not see me as any kind of threat in the ring?"
Taylor shrugged. "Well, dude, whatever. I'm not gonna lie about it, I just don't get into that shit. I'm allowed."

She looked Natasha down and up and thought that anyone passing by would be able to immediately pick out which one of them favored hentai. Taylor's body was lean, slender, and muscular. She carried little extraneous body fat, and while the curves of her hips and her waist and her thighs were strongly defined, they also had a certain minimal quality to them, as if every part of her body was practical. The definition in the sliver of midsection that showed between her tank top and her jeans, as well as the slight bulk in her squared shoulders, the visible traces of solid muscle in her arms, and her loose, easy posture made her look like a feral cat standing next to the buxom, voluptuous, blue-haired sex-wrestler, whose luxurious body might also have been equally practical to her, though for different purposes.

She met Natasha's gaze while she thought about her question. The answer was undeniably simple. "No," she said. "I mean, sorry, but... Nope. Look, if you want to be taken seriously as a hentai chick, then great. Go for it. People that like that stuff probably know you're a big deal. But don't look at me. Just because you decide that you want respect as a fighter too, ya know... that's not my problem. It's like Adrian, she got all serious a year or two ago, kinda because of you, I think, but like... I've been serious about this shit for a long-ass time. Ya know? You only adopted this shit, I was born in it, and stuff. I never saw that movie, but whatever. Point is, no, I don't think you're a threat."
The answer that came wasn't any surprise to Natasha, she had long since known about Taylor's thoughts on hentai wrestling in general and it had been the driving factor behind her not working much with Taylor even when she was a member of the woman's team not long after her debut. The interview show had only reminded her of the bad impression Taylor had made on her almost two years ago, Adrian's connection to it all only further souring her thoughts on Taylor as now she had this connection between them formed in her mind. Taylor was a lot like the cosplayer in her mind, a woman who believed herself to be superior to those around her for she was what defined a true wrestler, and those who strayed from that path couldn't be threats to her as in her eyes they were not serious competition.

Natasha took a moment to digest Taylor's words as the woman expanded upon her thoughts, only worsening Natasha's view of her in the process. She had been ready to respond in a moment to her lack of respect for hentai wrestlers but the comment about her adopting wrestling stunned her for a moment. She had heard it all before, that because of her background she couldn't be serious about wrestling or anything beyond money, and while Taylor may not have meant it that way Natasha immediately took her words to mean as such.

It just seemed impossible to her that someone could be so full of themselves that they would look down on anyone who wasn't like her. Natasha had trained just as hard as anyone to get into the AFW and her body showed those results, her body was certainly bustier than Taylor's but so too was it toned, her arms and legs while slender were firm with muscle from countless hours spent in the gym and from her childhood training in martial arts. Her torso, while hidden underneath the thick material of her top, bore little fat besides her breasts, her stomach flat with the firm lines of her abdominal muscles just visible. Her body wasn't overly muscular but instead well toned, a trait of martial artists who kept themselves quick yet strong through not bulking up like most, but all Taylor seemed to see was her chest.

"You know how old that argument gets and how little merit it possesses?" Natasha said softly at first, shaking her head gently before looking back up into Taylor's eyes. "I don't know your history so I won't pretend to be able to judge it...but just because you may have started earlier in life than I doesn't mean that I am any less dedicated to wrestling then you. I have money yes, but that does not define who I am and just as I don't know you, you don't have any fucking idea about who I am outside of hentai." Natasha had to take a pause to catch her breath, having grown a little flustered, before going on. "I know having an ego in wrestling is essentially required but you are too much Taylor, sorry for the outburst but the idea that someone can look down on an entire group of wrestlers as less than herself, its unreal."
Taylor cocked an eyebrow at Natasha. "I'm not arguing..." She said, and shrugged again. "Look, I really didn't ask about your life story or anything, though I guess you heard a whole bunch of mine the other night. I mean, Jesus, man, why do you even care what I think?"

She slipped her phone back in her pocket and leaned against the wall with one foot propped up behind her. "Like... You think people don't say shit to me? You're this pissed because I don't like hentai stuff, and I think I could take you in a fight. But goddamn, I mean... Everone told me I couldn't cut it, and I was worthless, and I'm just a little brat who starts fights and can't finish them, that I was just riding on Akashi and couldn't do anything without her. People talk shit about Akashi to try to get at me, they talk shit about my husband, and my mom. Do you see me crying about it?

"That's the job, man. We're all designed to be against each other, so whether we're assholes or not, probably everyone's gonna rub you the wrong way at least once in a while. I mean, shit, Akashi does that, so we just beat the crap out of each in training and forget about it. You just gotta lighten up, man. If you want respect, fight hard and earn it, and if someone still doesn't get it, fuck 'em."
Natasha couldn't believe how Taylor could go from insulting her to acting as if she hadn't said anything out of the ordinary, it was really amazing to see and it left her speechless for a moment which allowed Taylor to say the rest of her piece. "You may find this hard to believe but its not what you think that bothers me, its this belief I see in many of the wrestlers outside the hentai division that those within it are worthless. You just seem to be the prime example of such a person." She replied with an air of disbelief in her voice. While there was truth to what she said Natasha had also lied, for some reason she did care what this woman thought and just that alone frustrated her for she couldn't figure out why.

"You say you took a lot of shit but then you turn around and spread the exact same nonsense, judging those you have no right to judge. If you can tell me hearing so many label you as not a threat, as some worthless wannabe who could only rely on Akashi for help, didn't get under your skin I won't believe it, even if you have convinced yourself it isn't the truth." Natasha answered, her tone angry at first but her words softened as she spoke until she sounded more let down than anything. She leaned her shoulder against the wall and stood there while her next words formed in her head.

"I am not upset because you dislike hentai, to each their own, but it does frustrate me to know you don't even consider me serious competition because of it, and that others feel the same. Your advice is sound though, if it takes me kicking the ass of everyone who thinks as you do to prove to them their error then I am fine with that. Of course Taylor that means you are on that list as well."
Taylor tilted her head at Natasha and hooked a thumb in a belt loop on her jeans. "Natasha. I never said you were worthless. This whole thing is just stupid. It's like, people come at me about hentai, and I say 'I don't like hentai', and then I get 'so you don't think I'm a real fighter? It's crazy." She sighed heavily and glanced down the street toward AFW to see if Cassie was coming yet.

"I understand that you're good at hentai stuff. I've seen your fights, too, and I think I can beat you. It's my job to think about that shit, man, it's that simple."

She frowned thoughtfully down at the sidewalk. There was something she wanted to ask, but Natasha probably wasn't the one to ask. Then again, maybe she was, and beggars couldn't be choosers...

"So..." She said, suddenly looking uncharacteristically uncomfortable in her own skin. "Like, you're not in Tension, but like... Do you think Tension is always about sex? Like... even if it's just like a guy and a girl in a real fight?"
Last edited by 1167 on Thu Apr 17, 2014 9:54 pm; edited 1 time in total
"Taylor my question was never do you think you can beat me..." She started to say only to abruptly cut herself off in the middle, banging the side of her head against the wall as if trying to stop herself from saying the rest. "It was do you consider me a threat...as in would you take me seriously as a competitor or just brush me off. I have watched your matches as well Taylor and I believe you are wrong, I can beat you, but that doesn't mean I don't consider you a threat."

Was all of this just a misunderstanding between them she asked herself, dwelling on that question for a time before ultimately coming to the conclusion that no it was not as simple as that. Even if Taylor would treat her like any other wrestler she went up against it didn't change the fact that Taylor looked down on her for her involvement in the hentai division, and as she had no intention of leaving it completely she could see that wasn't likely to ever change.

What Taylor said next caught her by surprise, the question about Tension having nothing to do with what they had been discussing up until now. It was an abrupt change of topic and one Taylor wasn't making just to stop talking about how she saw Natasha, no this was something that was bothering her and likely had been for a while. Natasha decided to let the other matter drop for the moment and carefully considered the question, unsure what answer the woman wanted to hear and so she simply answered truthfully.

"No, no I don't believe Tension is all about sex. I have no illusions about a lot of the men who wrestle in it, they do it just to get in the ring with beautiful women and do their best to make it all about sex, but thats not all of them. I have seen enough matches from Tension to know the men who stay around the longest are there not for sex, but to genuinely fight, and those seeking only to job out to the women for sex never last." Natasha answered softly. "Taylor...why do you ask?"
Page 1 of 3 • 1, 2, 3



Similar topics
---
Permissions in this forum:
You
cannot
reply to topics in this forum