Champions & #1 contenders
Highfly Flying Out Of Town
Tue May 22, 2018 1:31 am by HighFly
Hello everyone, I just wanted to inform all I have threads with that I will be gone from this coming Wednesday through Sunday. I won't be able to post consistently if at all during this time, but I will try to make up for it next week! I am sorry for the inconvenience to everyone.
Comments: 7
The Austrailian Mudslide is Back.
Sat Apr 21, 2018 6:20 am by Softsquad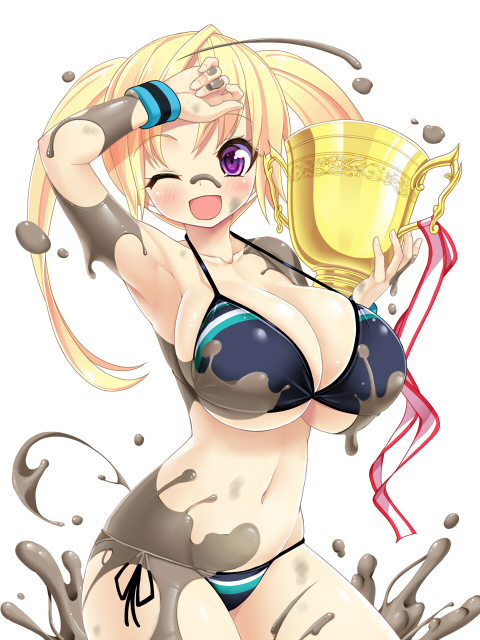 Granted that most of you won't know me or remember me, but I've had a few matches here and there some time ago. Well I think its time to become a regular around here and try to have some fun again, but at the same time keep coming back. Anyway I think its time to jump into some matches with Zoe Taylor, my mud wrestling character from Australia and get her back into the squared circle. Furthermore I will update my characters as I think some proper changes need to happen.
So if anyone would …
[
Full reading
]
Comments: 5

The AFW crowd began to roar, jumping to their feet in applause and cheers as the [url=https://www.youtube.com/watch?v=nxCsy0wPlIE:17a1x6ya]theme music of their champion[/url:17a1x6ya] began to play, Angel herself quickly stepping out from the backstage area and into the arena proper. Clad in a pair of sandals and a silky looking, navy blue robe, she stood proudly on the stage atop the ramp leading down to the ring, her title slung casually over one shoulder. She grinned at her fans, at the cheering people in attendance, taking a few moments to pose for them, basking in their adoration. She loved it. This was her moment. She was the champion, and she was loving every moment of it. Her entire AFW career had led up to this, and it was amazing. It felt so, so damn good to finally be at the top.

After a few moments of posing and posturing atop the stage, Angel began her walk down to the ring, her head held proudly high, every one of her steps full of energy, confidence. Angel was the best, and she knew it. That's what her confidence was telling the crowd, and they were eating it all up, every moment of it.

When Angel finally reached the ring, she moved around to the steel steps, and slowly made her way up them, climbing up onto the apron. She motioned for a ringside official to hand her a microphone, then slowly stepped through the ropes, gesturing for her music to be cut off as she stepped towards the center of the ring. She lifted the microphone to her lips, and waited just a moment longer, letting the crowd die down before she began to speak.

"I don't think I need to tell you all why I'm here. It's almost summertime, so I think all of you know what that means. It's Summer Splash time!" The audience, predictably, began to cheer in anticipation for the annual event, leading Angel to wait for a few moments for them to die down again. "Now now. Don't get too excited. You see, I have a little problem this year, concerning our summertime event..."

Angel closing her eyes, shaking her head slowly from one side to the other before opening them again to continue. "You see, in past years, I've fought the champion of Friction for their title at Summer Splash. But...this year though?" Her free hand rose up, grabbing her title and thrusting it up into the air above her head, getting another round of cheers from her fans. "This year though, I'm the champion! The best in the company! The numero uno among the women of Friction! Which leads me to my problem."

The Latina paused again, stepping towards the ropes of the ring, leaning against them as if she was trying to get closer to the crowd. "I can't very well fight the champion if I'm the champion, right? Unless you all want to see me fight myself. I'm sure there's a few of you out there that might get a kick out of that." She flashed the crowd a quick wink, getting a laugh from them as she pushed off of the ropes, moving to the other side of the ring to address the other half of the audience. "So what do I do? I thought about offering a chance at the title to another woman, but who to pick?" She gave the crowd a thoughtful look, then pushed off the ropes again, moving to the center of the ring. "As much as I'm sure you'd all love to see me and Akashi throw down with each other again..." Another pause, as she waited for the crowd to stop cheering again, obviously in approval of a rematch between the sumo and the Latina. "...she's made it clear to me that she doesn't have any interest in fighting me again. She wants to take care of other things, and that's cool. I'd love to get a rematch against Gatt, too, but...you know. Sarah turned tail and fled the company, like the chickenshit coward she is. Natalia, perhaps? Does she even do any real matches anymore, ones that aren't hentai?" The crowd began to roar at the shot at Natalia, but Angel was quick to quiet them down. "Don't even think it. You're not getting me in a hentai match at Summer Splash, no matter how much you want it!"

Angel shook her head again as she continued. "I even thought about giving little Taylor a shot. But you know, it's not like she really deserves it. It's not like she's done anything since her big return other then beat up a handful of newbies, you know." Her head tilted to the side, as the Latina finally came to her point. "So there you have it. Just what do I do? Just who should I beat at this year's Summer Splash? There's really not a lot of options, it seems. But don't worry!" She grinned again, taking a moment to look out over the crowd. "You will see me in action at this year's Summer Splash! I've been in every one of them so far, and that's not going to change this year! And you know why?" Angel grabbed her belt off of her shoulder again, leaning down to place it at her feet, before straightening back up again.

"Because I am more then just the Friction champion! Because I am Miss! Summer! Splash! I'm the only woman in this company that's been in every single one of them, and I'll continue to be in every single one of them for as long as I'm in this company! More then any woman here, I represent Summer Splash and what it means to all of us, and to all of you! As if you're not convinced that I deserve to be known as your Miss Summer Splash...?"

With one quick motion, Angel suddenly reached for her robe, ripping it wide open and letting it drop off her body, to the mat below. Beneath it, she wore very little. Only a tight fitting, navy blue bikini, hugging her body nicely, showing off every single one of her curves, giving the audience a perfect view of her strong, well toned body. Once more that microphone came to her lips, and once more she spoke, her voice raising louder as she continued.

"Then I'll prove it this year! By defending my title against the first woman to walk out out from backstage and into this arena! So come on! If any of you little chicas backstage think you can handle it, then get out here, right now, and prove it to me!"
Last edited by 549 on Wed Apr 16, 2014 4:14 am; edited 3 times in total
The crowd roared and cheered after the champion made her open challenge. All the looks were on the entrance area as the fans wondered who would be coming out to take on the the champs offer, but as time passed and nobody showed up the crowd began to grow restless. Soon some of the fans began to boo and whistle clearly unhappy. Time passed and when the crowd began to think nobody was going to come out the lights of the arena suddenly went out making the booing and whistling stop.

The crowd went from silence to a thunderous roar in a second when a [url=https://www.youtube.com/watch?v=HyNSrtZ9L1g:3zbacqwo]well known melody[/url:3zbacqwo] began to sound through the arena. A series of pinkish lights started to bathe the arena, pulsing rhythmically while laser beams danced around making the whole place look very much like a huge rave. And the fans got even louder when The Dream herself showed up, posing in the entrance area behind the huge tv screens that started showing a collage of the blue-eyed beauty posing in different bikinis.

Natalia looked all ready for the summer, wearing a cute one piece blue swimsuit, bare back and with a high cut on the hips, making Natalia's slender legs look even longer. A pair of flip-flops and sunglasses over her forehead like holding her hair completed her attire and over her right shoulder, carrying it in the very same way Angel carried the championship belt, Natalia brought a cute pink inflatable ring.

The Dream waved her free hand to the fans and blew them kisses as she walked slowly towards the ring. She then walked around it towards the announcers' table to get a mic and only then climbed up the stairs to slip inside the ring. She then walked towards Angel until she was standing in front of the champ mirroring Angel posture. The blue eyed cutie stood there facing Angel for a giving the crowd time to calm down and quiet down a bit before talking. "Heeeeeello, Angel-chan!" Natalia said with a playful tone.

The fans roared again and Natalia covered her mouth to half hide a giggle before continuing. "It is so nice to see the World Champion getting ready for Summer Splash..." Natalia said nodding and then she turned to the crowd. "Lets all give a big cheer for our champion, Angel!" The crowd began to cheer and Natalia herself too started to clap and cheer. "Wooooooo!" The cheers continued for a while while Natalia pumped up the crowd.

Then Natalia approached Angel again, letting the crowd's cheer die down a bit. "You surely must be proud of yourself and with good reason being the champ an all, Angel-chan." Natalia added with a friendly smile as she reached with one hand to rub Angel's title belt. "You make a fine champ, Angel-chan... yes you do!." Natalia then began to circle around Angel as she kept talking. "Coming out here... challenging the entire roster. Offering up your title for the main event at Summer Splash. This is the way a champion should behave." Natalia said nodding.

"But... I am a bit worried, Angel-chan..." Natalia pouted as she walked back to face Angel. "There is something you are doing... that a true Champ would never do..." Natalia made a pause to let those words sink in Angel's and the crowds head before continuing. "A true champ shouldn't claim honors that she doesn't deserves..." Natalia moved closer to Angel getting inside the sexy Latina's personal space.

"Angel-chan... There is someone who, like you, has been in EVERY SINGLE Summer Splash to date. Someone who, unlike you, has WON matches at Summer Splash...nearly all of them actually. Someone who has left Summer Splash with a championship belt... and a boat!" Natalia said giggling and then she looked into Angel's lovely eyes deeply."Angel... you are not Miss Summer Splash..." Natalia said calmly. "That title belongs to someone who has done... a lot more than you... for Summer Splash. Someone whose mere presence has DEFINED what Summer Splash is about. Someone who IS Summer Splash. I am talking about the one that puts the summer and the splash in Summer Splash...and I think you... everybody... know whom she is..." Natalia had a hard time containing a giggle but managed to continue, then she simply placed her free hand on her chest and smiled innocently with feign modesty. "moi!"

The crowd cheered wildly as they could see where this was going to end. Natalia stepped back to blow some kisses to the fans before she spoke again. "Now... I understand that you want to challenge me for the Title of Miss Summer Splash..." Natalia said with a mischievous confident smile. "And I understand if you are too scared to face me in a Hentai match..." the blue eyed cutie added getting an uproar from the fans that booed and cheered in equal manner. ... but since I am so magnanimous... I am willing to offer you a non-hentai match for my Miss Summer Splash title..." Natalia said glamorously as she lifted the inflatable ring over her head, showing everybody that it said 'MISS SUMMER SPLASH' in big white letters, making the crowd cheer loudly once more.

"IF... Natalia added once the fans had calmed down a bit again. "... you are willing to put your title on the line as well..." Natalia said with a lovely evil grin.
Last edited by 909 on Fri Apr 18, 2014 5:21 pm; edited 1 time in total
Angel watched as Natalia made her entrance, a light smirk crossing her lips as the Dream appeared. She was a little surprised that it was Natalia that had met her challenge. She had assumed the woman was already taken for Summer Splash. I guess not, Angel thought to herself, feeling a little antsy as she waited for Natalia to finish her entrance and reach the ring. She stepped back as the Dream entered the ring, letting her take center stage as she went about her little rant towards the Latina. When she finally finished, Angel lifted her microphone up to her lips again, meeting Natalia's gaze, a playful look in her own eyes.

"It took you long enough to get out here, Natty," Angel began, giving Natalia a li'l wink as she started to circle back around Natalia, mimicking the Dream's early actions. "How long did it take you to change into that swimsuit, hmm? Or were you just waiting around backstage wearing it already, waiting for a chance to come out here with it?"

She stepped back in front of Natalia, raising one hand, wiggling her finger at the dark-haired beauty. "I guess I should start at the top then, chica?" she asked, taking a moment to let her eyes trace down over Natalia's body, then right back up again. "While I am glad that you think of me as a fine, deserving champion...and trust me, there's plenty of little bitches in this company that think otherwise...I think we should straighten a few things up here." Angel held up her hand, a single finger pointed upwards on it. "I've won a single match at Summer Splash. It may have been a meaningless, throwaway match, but a win is still a win." Angel then stuck up a second finger as she continued. "But out of my three Summer Splash matches, I've main evented two of them, whereas you've only been the main event in one. I'll give you your credit where it's due though. You did win the Hentai title at Summer Splash...but then you lost it the very next year. As for your first year though? Correct me if I'm wrong chica, but that match officially ended in a tie, didn't it?"

Angel then took a step back towards Natalia, just a tiny bit of space between them as she continued. "But I don't think we're here to nitpick the tiny details, are we? I made a challenge, and you were the only woman here brave enough to accept it." She gave Natalia another wink as she continued. "Of course I'm willing to put my title on the line chica. That's why I made this little challenge." She reached for her own belt, lifting it up into the air to match Natalia's cute little pink ring. "So of course, I accept. I just hope you're not too sore when I kick your cute little ass at Summer Splash. After all...I've done it once before. Should be easy to do it again, right chica?" She grinned smugly, waiting for Natalia's reaction as her last words got quite the bit of applause from the audience.
Natalia put on a cute frown as Angel teased her but once the sexy Latina was done, The Dream smiled again. "Awww poor poor Angel-chan... Seems the title has got onto her pretty little head..." Natalia teased as she pointed at Angel's head. "You think that lucky win you got means something?" Natalia said, her pride still hurt. That was one of the reasons why she was here tonight, to make Angel pay for defeating her. "Poor poor Angel-chan..."

"This time you won't be so lucky..." Natalia said with a smug smile. "This time around, Angel-chan, I am going to crush you." Natalia said nodding confidently, and then her cute smug smile twisted a bit into a lovely evil grin. "Actually Angel-chan... I think that instead of crushing you... I am going to wreck you...or more likely...rack you..." Natalia giggled.

"I've noticed that is your favorite way to end Summer Splashes... draped over your opponent's shoulders like worn cloth..." Natalia looked deeply into Angel's eyes as she tried to in her opponent's head. "You moan so hard then... it is kind of embarrassing, Angel-chan...but don't worry!" Natalia smiled proudly. "I'll show you that I am the best went it comes to torture racks, Angel-chan. You are going to love it!" Natalia said cheerful. "You will walk funny for a couple of days... but it will be great fun and I am sure people would love to see you submitting to a torture rack...again."
As soon as Natalia brought up the method of Angel's losses at past Summer Splashes, Angel's smile dropped from her face, the Latina suddenly looking more serious then before. She glared at the Dream for a moment, staring deep into her eyes, then suddenly her smile came back onto her face, the microphone rushing back up to her lips.

"Oh, chica. Oh, poor little Natalia," she began, stepping away from the woman, tsking into the microphone as she shook her head. She started to slowly circle back around the Dream again, considering her next words carefully before she continued. "You seem to think you already know how our match is going to end. Well, I've got some bad, bad news for you..."

She stopped in front of Natalia again, lifting one hand, gently poking the woman in her chest. "You won't be making anyone submit at Summer Splash. You will be lucky if you can even crawl out of the event by yourself..." With each use of the word 'you', she gave Natalia another poke, adding emphasis to her words. "I might have lost like that before, but you are forgetting something, Natalia..."

She placed one hand on her hip, jutting her hip out towards the side, in a sort of sexy, playful post, tilting her head to the side as well as she continued. "Akashi? Gatt? Those girls were real wrestlers. You? Well, nothing personal, but you're the queen of the hentai girls...well, at least you were before you lost your title." She chuckled softly, then continued on again. "You may have been the top dog once before, in your division, but we've fought before...and trust me, I know now that you can't handle yourself against a real wrestler like me!" She grinned, letting some of her fans cheer for her, before she got to her point. "So, you can talk big out here, and make whatever little threats you want...but come Summer Splash, the only one that will be moaning is you, after I make you submit to me!"

She thought for a moment, then came across a nasty idea, standing up straight again, staring into the Dream's eyes once more. "In fact...maybe I'll be the one putting you into a torture rack, chica! Then we'll see which one of us is the most like worn out cloth!"
Natalia's cute frown only got more pronounced as she heard Angel. She was getting quite tired of people thinking she wasn't a real wrestler just because she enjoyed sexy wrestling. It wasn't her fault that she was just sexier than all other girls in the AFW, including Angel. Natalia knew they were all jealous of her but it really annoyed her that they kept doubting her skills. Now Natalia felt that she had to show Angel a lesson or two about pure wrestling, which didn't meant she was going to spare the hot Latina of her repertoire of sexy moves; actually Natalia had already decided Angel was going to be stripped of a lot more than just her title belt in this fight.

The Dream placed a hand on her hips and mirrored Angel's pose but done sexier. She moved her mic to her lips and acting dignified and doing a poor job hiding how annoyed she was. "Oh poor poor Angel... I know you are jealous because you can't wrestle as sexily as I do. But don't feel bad... nobody makes wrestling look as good as I do." Natalia said with a mischievous smile although she was still annoyed. "But don't worry, silly Angel. We will have lots of fun. You'll lose... but I'll make sure you look hotter than you have ever look while losing." Natalia added and then she took a step to get close to Angel, standing but inches of the hot Latina so that any move would make their chests press together and then blew Angel a kiss while winking.
Angel rolled her eyes at Natalia, as the Dream pushed up against her. Was the Dream really this vain and concerned with being sexy? She arched her back, so that her own chest pushed further outwards, smushing right up into Natalia's own, and started to speak again.

"Oh, Natty," she began, raising her microphone up yet again. "You just don't get it, do you? This isn't about looking good, silly chica." She shook her head slowly, pushing a little closer to Natalia. "This is about wrestling, plain and simple. So when we get out there, and I wrap you up in my legs, and have you screaming out my name in defeat, in submission?" Her eyes sparkled, as Angel stared back into Natalia's own. "Well, we'll see how much you care about looking good then. Don't worry though, I'll try not to embarrass you too bad out there. Just enough to remind you which of us is the champion, and which one of us is just a pretender..."

---
Permissions in this forum:
You
cannot
reply to topics in this forum